Planning to franchise a business? Discover the Franchising Trends This 2020!
Finding the right franchise can be very challenging, given its nature and requirements. Yet, despite this, many are still attracted to having a franchise as an investment. Franchising is a competitive industry to discover endless opportunities as an entrepreneur and is one of the stepping stones towards financial independence.
There are several franchises in the Philippines that offer the chance for entrepreneurs to manage a business so if you are one of them, then stay updated with the latest franchising opportunities for 2020.
10 Business Trends in the Philippines (2020)
Change is the only constant in this world. Cliché but true. Humans have to keep up with all the changes in order to survive. This goes the same way for businesses. Entrepreneurs have to also adapt to changes most especially with their businesses to continuously thrive in the industry.
If you plan to become a business owner in 2020, you might want to consider one of the trendy businesses that you can start here in the country.
1. Food Cart Business
Filipinos love food and they love to eat. There's no argument on that. Food cart business never goes out of style. It is affordable and easy to market. There is a variety of food to choose from—french fries, siomai, fruit shakes, nachos, waffles, and others. This business offers a wide array of advantages in terms of generating sales. One is the convenience to set up the cart anywhere you want. You can assemble it near the malls, schools, parks, or places where there are a lot of people. If you are someone new in the business industry, it is safe to try first on franchising a food cart. It's a great training ground to learn the science of food industry and business. 
2. Eco-friendly Products
More and more entrepreneurs are starting to dominate in the business world producing eco-friendly products as more people are switching and supporting those products. Driven by the passion and mission to save the environment, more organic and sustainable products are being produced and well-received by clients. 
3. Healthcare Business
Health is wealth. It surely is when you start your own healthcare business. It is a rewarding business venture most especially that it caters to a wide range of customers. Pharmacy is just one of the many choices to choose from when entering into the healthcare business. Although it can't be easy because of the established rules and regulations governing pharmaceuticals, it can surely provide you with more advantages and benefits. Franchising a pharmacy is an easier option when you want to have a pharmaceutical business since the people recognize already the brand name and there are an existing customer base and vendor relations.
4. Beauty and Wellness Business
With the onset of social media, people are more concerned with their physical appearances. Beauty salon business has been a staple in the industry because a lot of Filipinos go to such establishments to pamper and relieve themselves from stress. They want to improve their physical appearances and feel good about themselves. Another thing, a study revealed that Filipinos are very particular in taking care of their hairstyles. The most common salon found in the Philippines is a hair beauty salon, barbershop salon, skincare salon, nails salon, and facial salon and spa salon. Despite the tough competition in this type of business industry, more entrepreneurs are interested to put up their own salon due to its high demand in the market. 
5. Water Refilling Station
Water keeps everyone alive. It is the most important resource that humans need to survive. However, due to the presence of pollutants, water becomes polluted and undrinkable. Thus, the water refilling station business has become an in-demand and profitable business in the country. Unlike other products offered in the market, water will always be high in demand which makes the business relatively easier to handle. You can start your own brand of water refilling station, but the stress and risk of loss can overwhelm you.
Check out more of the trending businesses this 2020 here.
How ready are you to franchise?
In franchising, having enough funds is not everything. There are factors that you might overlook at first but are technically the important ones. It is only after you assessed those factors that you can consider yourself ready for a franchise in the Philippines.
Being ready does not always mean you are well-prepared about what lies ahead of you. Sometimes, you still need to consider a few tips coming from the franchise experts. Check here the tips that you must know.
Tips on Franchise Selection
If you finally decided that you should try your luck in delving with franchising opportunities for 2020, prepare yourself with the basics of franchise selection, including deciding the franchise location.
In the Philippines, some franchisors are not that proactive in giving you advice regarding the proposed business location. Although some may offer to help you in researching the feasibility of the place, it is still beneficial to know how to do this on your own.
Preliminary Research and Site Inspection
It is for sure that franchisors have researched some places prior to the agreement, but they do not share this unless you also have yours. They know where a franchised business is fit within a certain area.
In most cases, franchisors will ask the franchisee to conduct preliminary research on potential sites, getting information from property owners, real estate brokers, or shopping mall managers to provide the demographics and information about the place.
The franchisee and employees might have to spend some time at a location to do traffic or pedestrian count and to study the entire feasibility of the place in terms of audience and accessibility.
The Need for a Great Research Team
Finding a good location and negotiating a favorable lease is a serious challenge for franchisees when they opt to have a site-based franchise system.
Although most site-based franchises have support available for this, it is exceptionally subjective as it varies from one company to another. One of the critical issues to address in your research of prospective franchise offerings is the amount and type of such real estate support.
Hence, you need a team that has a strong foundation and background in location research. Such a group is responsible for finding the location, negotiating, and finalizing the lease. It usually consists of you, the franchisor, a local commercial real estate broker, and a reasonable lease attorney.
Site Approval by the Franchisor
Franchisors should approve only suitable locations or those places that accept company-owned leasing. However, some franchisors also approve not suited areas just for the sake of getting the franchise fee from the applicants, which is technically unacceptable. Hence, beware of this type of arrangement.
On the other hand, good franchisors turn down up to 90% of location applications to make sure the location is profitable for the franchisee.
Most franchisors have specific selection criteria for finding an excellent site. This information covers topics such as the following:
Demographic characteristics 
Population density
Traffic and parking parameters
Check the importance of site visibility to the success of your business
Tenant mix
Given the criteria, most franchise systems assume you will do most of the work in locating a prospective site. Often, the franchisor requires that they have consented to any site. They will ask you to provide specific information and supporting details such as pictures or videos before agreeing with the location.
For some franchisors, they send one of their personnel to your market to personally verify the acceptability of the site prior to consent. Refer here for the important aspects to check when evaluating a franchise location.
Beware of the Franchising Scams
In franchising, the chances of encountering a great franchisor with a legitimate business are always possible. However, there are also some illegal entities in the industry that are conning aspiring business owners.
The presence of scammers in the franchising industry is affecting the trust of prospect individuals to pursue the franchise deal. This is a big deal in the franchising world as illegal activities continue to taint the credibility of the industry.
From the term itself, a franchise scam happens when a franchise deal occurred in which the business itself is not even successful or has no proven business model in the first place. In this case, the franchisee has no idea about it.
Remember to do a thorough evaluation first using the best tips on how to select a franchise in the Philippines, and checking the most commonly asked questions from franchisees. Moreover, watch out for the following red flags.
1. Lacking Legal Documents
The Philippine government has been strict in implementing rules and regulations related to the legality of businesses operating in the country. There are legal requirements needed to start the business which includes the following:
Department of Trade and Industry (DTI) registration for Sole Proprietor
Securities and Exchange Commission (SEC) for Partnership and Corporation
Updated or renewed Mayor's Permit and other local permits such as sanitary, building, occupancy, and additional applicable licenses
Bureau of Internal Revenue (BIR) registered for proper tax documentation
Other necessary certification and permit from any government agency concerned with the operations of the company such as the Bureau of Food and Drugs (BFAD) and Department of Health (DOH) for food-related franchises, Technical Education and Skills Development Authority (TESDA), Department of Education (DepEd), and Commission on Higher Education (CHED) for school and training related franchises
Please note that all of these legal papers must be consistent and registered under the company name itself with appropriate signatories like the president, proprietor or the managing director.
Hence, consider it a warning if the franchisor is unable to secure these documents or if there are discrepancies and inconsistencies in the declaration of business details in the legal papers prior to offering a franchise deal.
2. No Trademark
Companies that care for their brands will always make ways to secure their trademarks, logos, and slogans. This can be done by registering all of that with the Intellectual Property Office of the Philippines.
Franchisees must always ask this to a franchisor during the Franchise Discovery Day. It helps to know this ahead of time since having a secured trademark means an assurance of the business identity is protected, and nobody can claim it anymore.
Somehow, this is considered a red flag because this makes the business suffer when lawsuits arise out of the unprotected trademark. That is disadvantageous on the side of the business.
3. Less Than a Year of Company Operation
Most businesses that venture into franchising are already established and have effective business models tested over the years. This means the company has enough knowledge of its market and the target consumers, and therefore, can compete against its competitors with an edge over the others.
Make sure that the company operates for at least more than two years under the same company name, with no records of any litigations and with complete business systems. Otherwise, it should become a red flag that you should be wary of.
4. Lack of Available Retrievable Public Documents
In some instances, you can also verify a business's legitimacy by checking its available public documents like the SEC registration, articles of incorporation, and some audited financial statements.
If this seems impossible, then be careful again because you might fall prey to those scammers.
5. No Established Physical or Franchise Outlets
Another thing to consider is the number of outlets the business has, at least two more operating outlets. Although in franchising there is such thing as being the first franchisee, it is still a gamble to do. It is safe to franchise from a business with at least two or more franchise outlets already.
Again, if this is something that a franchise does not have, you should give it some second thoughts.
Check out the other red flags to look for when franchising a business and be guided accordingly.
In the end, having a franchise in the Philippines is a complicated but worthwhile investment and experience. Stay updated as this page will be constantly updated for all things about franchising opportunities for 2020.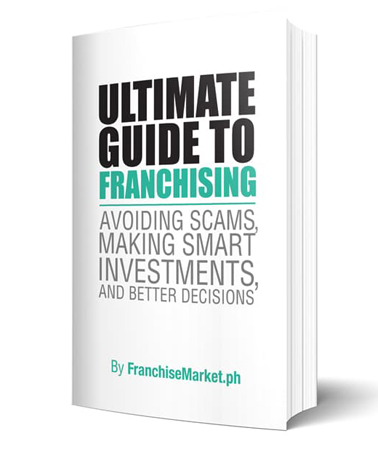 Ultimate Guide to Franchising
Avoiding Scams, Making Smart Investments, and Better Decisions
The franchise industry is booming, and entrepreneurs are wondering about how this sector works. This ebook aims to help aspiring franchisees achieve their business goals.
Learn more
Back to Blog
Disclaimer: Franchise Market Philippines strives to provide relevant and accurate information in all its articles. However, some information in our articles may differ or might be outdated from what you can see or read directly from the establishments' or businesses' websites. Please get in touch with us directly for any discrepancies.