Girl Power. Woman Empowerment.
Those are common expressions that are so meaningful in today's society. After all, every woman deserves recognition and the chance to fulfill their dreams, especially in the entrepreneurial world.
There is no need to go technical with all the history of woman empowerment to prove a point here. Instead, it is best to start by recognizing the fact that everyone deserves equality, regardless of age, race, and sexuality.
And, luckily, this has been the case in business ownership in the Philippines.
Quick Facts Regarding Women Entrepreneurs
But, before anything else, here are some statistics to take note of.
According to MasterCard Index for Women Entrepreneurs Report in 2018, the Philippines ranks ninth worldwide for having the best economy for female entrepreneurs.
Another report from World Bank states that the Philippines has 81.25 scores in Women, Business, and Law Index. This score gave us a fourth place amongst ASEAN nations.
The 81.25 score is a good sign since it is close to 100 and suggests that women and men enjoy equal rights in the country.
Women make up 56.5% of the workforce. Out of this, 47% belonged to the upper management of local companies.
15 Empowered Women Entrepreneurs in the Philippines
Alright!
So, why don't you take a break and be inspired by these 15 successful Filipina entrepreneurs who proved that challenges could be overcome when you have the dedication and will to defy all odds.
Please note that this list is in no particular order nor ranking.
1. Angeline Tham
Founded in 2016, Angkas has been one of the most in-demand transportation modes in the country.
And do you know the brain behind this genius idea? 
Well, it is Angeline Tham, founder, and CEO of the motorcycle taxi service Angkas.
This is indeed surprising, considering that men always dominate the motorcycle industry. But, again, time to make a difference, and Angeline did well.
Before launching Angkas, Tham worked as a banker for JP Morgan for five years. During these years, she witnessed the traffic problem in the country and understood its downsides.
Years after, Angkas was launched. Since then, it has had over 1.5 million downloads and boasts a high percentage of safety records.
This is despite the national controversies concerned with authorizing two-wheeled vehicles as an official transportation mode in the country.
However, Angeline and her team have surpassed the problems and prove that their solution is safe and effective.
2. Mica Tan
Maria Francesca Tan or Mica started her dream by trading at the Philippine Stock Exchange. Within two years, she learned foreign exchange, and then at 19 years old, she started a business.
She is now the co-founder and CEO of MFT Group of Companies, a private equity firm operating in nine countries and 18 cities around the globe with an asset worth more than $61 million.
She won the Influential Filipina in the Filipino Women's Network Award last 2019.
3. Anne Arcenas Gonzales
Anne is the managing president of Terry SA, a known lifestyle and fashion retail company in the Philippines. This company is also the only company distributing Havaianas in the country.
Aside from this, she owned the Common Thread, a Filipino store with a mix of international brands, while Thread 365 sells basic tee shirts designed by her.
4. Abba Napa
Abba is the co-founder of The Moment Group, a food and beverage operator and developer.
They offer various brands in the country, such as the Manam Comfort Filipino, 8Cuts Burgers, and Ooma Bold New Japanese.
TMG recently partnered with the Michelin-rated Din Tai Fung to bring the restaurant's famous xiao long bao to the country.
She is also an active part of the World Wide Fund for Nature (WWF) Philippines' Next Generation Council and a supporter of the Sustainability Solutions Expo 2020.
5. Angely Dub
Angely is the CEO-Founder of Access Travel and Tours, a travel agency with the most recommended celebrities and a whopping 225,000 followers.
Her agency becomes the most favorite of local artists, travel bloggers, and influencers through the years. She has perfected the art of maximizing your time through useful itineraries.
6. Rissa Mananquil Trillo
Rissa is the co-founder of Happy Skin, a popular cosmetics and beauty product brand.
Her cosmetic brand is known for its dynamic makeup lines that make the skin young and refreshing. Over the years, her brand garnered 30 beauty awards, such as the Most Promising New Cosmetic Brand from Watsons Philippines.
7. Teresita Sy-Coson
Teresita serves as the co-chair of the SM Investments Corporation, one of the country's biggest conglomerates that focuses on banking, property, and retail.
She is the daughter of Henry Sy that also takes care of BDO Unibank and its subsidiaries. Moreover, in 2003, she became one of the delegates of the Philippines to the ASEAN Business Advisory Council and has received several prestigious awards for her work in the retail and banking industry.
8. Sofia Elizalde
Sofia Zobel Elizalde is the founder of Steps Dance Studio and Project, a company that advocates upholding the culture and arts of the country through dance.
At the same time, she is also the director of the Scholarship Foundation of the same studio and has been focused on honing other ballet dancers over the years.
Among the prestigious schools where she enhanced her training are Ballet Philippines, San Francisco Ballet School, and School of American Ballet in New York.
9. Jeannie Javelosa
Jeannie is the founder of ECHOstore Sustainable Lifestyle.
It is a company involved in selling natural fair trade products made by communities, such as organic farm produce, coffee, and market produce.
She is also an active member of GREAT Women, a Philippine Commission's project.
10. Alice Eduardo
Alice is the CEO-President of Sta. Elena Construction and Development Corporation, an infrastructure company.
Running a business is not new to her as her family owned a rice-milling business. Still, she chose to study a management course, and later on, worked in the construction industry.
It was notable that the Sta. Elena Construction was affected during the 1997 Asian Financial Crisis, but she managed to survive and recover. 
11. Ginger Gaddi
Ginger Gaddi launched Ginger Event Styling in September 2017. A fun and exciting vacation in Batanes opened her eyes to the possibility of starting her company, and indeed, she did not fail. Now, Ginger has been immersed in the industry and has been continuing her passion ever since.
12. Ayn Bernos
Ayn Bernos is the founder of Morena the Label (@morenathelabel), a clothing line celebrating sun-kissed skin or the morena skin tone. She is also a vlogger and a writer with topics focused on travel, lifestyle, and confidence.
13. Abbie Victorino
Abbie is the owner of StyleGenie Asia, the pioneer in online personal styling services. Since 2016, her business has been involved in delivering curated outfits in a box. So, there you go! Get your style delivered right to your doorstep.
14. Bianca Amparo
Bianca Amparo and her partner Nikko Pilongo own Luna Organics, a local beauty brand.
Established in 2019, this FDA-registered startup brand aims to provide affordable, safe, and effective products. They introduced clay blushes in the market, which has been one of the best sellers online.
15. Rizza Lana
Rizza owns Le Cat Coffee Shop, a place where you can enjoy coffee with the presence of lovable cats and Lana PH, cruelty-free skincare and zero-waste lifestyle brand.
Key Takeaways
That's it!
You now know 15 amazing women who braved all odds and started realizing their dreams despite the obstacles.
Like them, failure is not always the ultimate decision-maker. You need to understand that doing business is always a mix of success and failure. You always need to find the right balance and success formula.
Always remember that the Philippines stands high in giving equal legal rights to everyone, so there is no reason for you to get intimidated.
You should practice removing that old picture you have instilled in your mind of a woman who must stay at the house to take care of her family and household the entire time.
It has been years, and society has changed. It is also now the perfect time to embrace this change and make the best out of it.
Dream high and work hard for it. You are a woman that can nurture and empower everyone in whatever field they choose to thrive in.
Who knows? You may be included in the next list of empowered women entrepreneurs in the coming years.
For more informative business and franchising articles, check out useful Franchise Market Philippines articles specifically crafted for your entrepreneurial journey.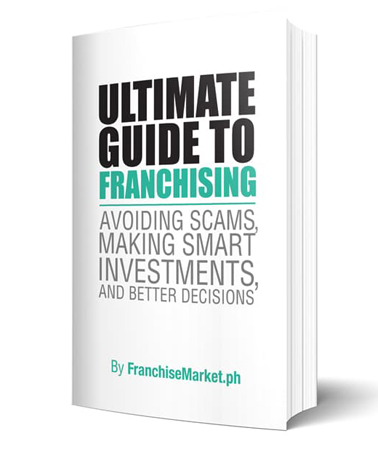 Ultimate Guide to Franchising
Avoiding Scams, Making Smart Investments, and Better Decisions
The franchise industry is booming, and entrepreneurs are wondering about how this sector works. This ebook aims to help aspiring franchisees achieve their business goals.
Learn more
Back to Blog