As the global market gets competitive, entrepreneurs must also step up the game and find more secure ways to invest money. Through the years, having a business as an investment is the trend, with the majority of people looking for ways to create start-ups or even engage in the franchising business.
In the Philippines, retirees are not the only ones fascinated with the idea of franchising. Even Filipino young professionals are now also catching up in learning how Philippine franchise works.
The Benefits of Franchising
Unknown to many, the Philippine franchise business is booming. In the latest data from the Philippine Franchising Association (PFA), the country's franchising industry is expected to have an increase of a whopping 25% to $31 billion this year attributed to the strong economic growth of the Philippines.
Dubbed as the franchising hub in Asia, there are various benefits associated with owning a franchise. It is no wonder Filipino young professionals are so drawn into its concepts.
Here are some of the benefits of franchising:
Lower Risks
Opting to franchise a business is the best alternative for many franchisees because it has a lower risk of failure than a start-up company or independent business.
Established Business
In franchising, you are assured that the products are already sold successfully in the market. Compared to an independent business that starts from scratch, a franchise is already established and has been tested in the market, facing obstacles that could have possibly make the business go down.
Experienced Franchisor
There is much you can learn in franchising given that every franchisor has been working in the business for years already. The franchisor's management experience and team increase the success of the business.
Group Purchasing Power
Franchisors always have ways to obtain lower-cost goods and supplies. This lower costs result from the group purchasing power of all franchises. Hence, to protect this benefit, most franchise agreements restrict franchisees from purchasing goods and supplies through other sources.
Name Recognition
Established franchises can offer regional, national, or even international name recognition in the market. Example, engaging in a top Philippine franchise such as Jollibee can make you gain international attention because of its vast network and popularity.
Efficient Operation and Management Assistance
Franchisors are responsible for making efficient workflows in the business. They discover operating and management efficiencies, including quality control services that benefit new franchisees. Moreover, a franchisor provides management assistance to a franchisee. Mostly, it includes accounting procedures, personnel management, facility management, etc.
Marketing Assistance
Every franchisor typically offers several marketing advantages. It may include preparing and paying for the development of professional advertising campaigns, widening of regional or national marketing, and developing effective marketing programs for a local area. 
Proven System of Operation
Lastly, an attractive feature of the most franchise in the Philippines is the proven system of operation. It is the type of system that is unique to the franchisor since he/she developed it. A franchisor with many franchisees will typically have a highly refined system based on the entire experience of all these operations.
Franchising Success Rate
With most of the available franchises having proven business models, the success rate of franchising in the Philippines has reached 90%. This percentage is based on PFA's latest statistical data, citing that this is better than the retailing business with only 25% success rate.
However, while this fact drives aspiring entrepreneurs to dive in the business, one must still weigh the possibility of failing in this undertaking. This part is usually the 10% unspoken truth about franchising and the percentage that shatters dreams of franchisees who failed to make it on top.
Independent Business vs. Franchising
Going back, there is nothing wrong with having an independent business. Since both independent and franchise business has pros and cons, it is necessary to have a thorough research before investing your money, time, and efforts.
Here's a quick comparison of the two:
 
Independent Business
Franchising

Ownership Model
 

Independent business owners don't have the security of knowing their product lines and testing it if it's optimized in the marketplace is a challenge.
 
Franchise owners don't have the freedom to change their products or services based on their desires or changing market conditions.

Cost
 

Independent business owners are likely to have higher investment costs to buy and operate their business, but they also have more control over the investment.
 
Franchise business buyers typically have lower total investment costs but need to fulfill the obligations set by franchisors.

Brand Recognition
 

Unless the independent business seller has proactively cultivated the brand, it's unlikely that the business will enjoy the brand recognition that comes with standard franchise business opportunities.
 
Franchise buyers have an advantage over independent business owners when it comes to brand recognition

Operational Resources
 
Independent business owners, on the other hand, typically have to go it alone.

Franchise businesses tend to be popular with buyers who lack extensive business or industry experience.
 
Top Philippine Franchises and Success Stories
Over the years, franchising in the Philippines has evolved, giving franchisees the freedom to choose the kind of business they want to try. The rise of the known business names in the industry today has been rooted to the success rate of the franchising industry in the country and up until now, the names Jollibee, McDonald's, and other large fast-food chains have dominated the market.
Let us take a look at some of the most successful businesses that offer franchising option in the Philippines.
Jollibee
The famous bee in town is a Filipino multinational chain of fast-food restaurants. It is owned by Jollibee Foods Corporation (JFC) under Tony Tan Caktiong's leadership. Initially, it was a 1978 Magnolia Ice Cream parlor in Cubao, Quezon City until Caktiong decided to shift his line of business and coined the 'langhap sarap' tagline for the brand. JFC is now the owner too of other brands such as Chowking, Mang Inasal, Red Ribbon, Burger King Philippines, Greenwich Pizza, and just recently, the Coffee Bean and Tea Leaf.
Today, it is the leading fast-food chain conglomerate offering franchising options to interested investors. In the Philippines, a Jollibee franchise may range from P35 million to P55 million.
To be eligible as a franchise owner, Jollibee requires franchisees to have the following characteristics:
With good community standing
Strong leadership and people-handling skills
Willingness to devote time in managing the restaurant
Can successfully complete the required training program
According to JFC, Jollibee franchising is open only to individual franchisees. However, upon approval of the franchise application, the individual can create a corporation, but he or she must have clear majority ownership in said corporation.
Chatime Philippines
The milk tea craze is not yet over! With the overgrowing popularity of milk tea in the Philippines, the franchising industry has also expanded its offerings to those interested in the milk tea business.
One of the best milk tea franchise to consider is Chatime Philippines. Chatime is a well-known milk tea outlet in the country offering various flavored milk tea that you can enjoy anytime and anywhere.
Its founder, Henry Wang Yao-Hui established Chatime over a decade ago in Hisnchu, Taiwan. Defying his customers in the market, Hui managed to differentiate his business and become a known household name when it comes to milk and bubble tea superiority.
Chatime has an established business model that has been tried and tested for years. It also has a training program to support day to day operations, so you are assured that Chatime will continue becoming the best of milk tea franchises.
Potato Corner
Who could ever forget Potato Corner? Considered as one of the first food carts in the Philippines, Potato Corner is the idea of Cinco Corporation. It offered flavored fries and has started its operations since 1992.
Today, Potato Corner is a leading food cart franchise in the Philippines with over 200 outlets nationwide and 70% of it being operated by franchisees. As a food cart franchise, Potato Corner has changed the mindset of investors that franchising is limited to famous brands.
Potato Corner's business model is unique and less costly compared to other brands. Their franchise package ranges from P230,000 to P1.2M. Starting a food cart franchise is ideal since Filipinos love food that tastes good and budget-friendly. 
Franchising in 2020
The promising start of the year 2020 has been put to a halt when the coronavirus pandemic hit the Philippines. Many industries are affected by this problem, and workers lose their jobs. However, some business industries are struggling to survive the economic downturn, including the franchise industry.
Given the current situation, the 'new normal' norm is changing the franchise aspect. Many franchisors are looking for innovative ways to leverage their businesses in the market, including introducing cashless payment methods and delivery options. The companies' operability during the lockdowns is usually dependent on the nature of the business itself, with most of those under the leisure segment such as gym, spas, parlors, and cinemas being significantly affected with the impact of the pandemic.
On the other hand, some restaurants manage to operate still, especially the fast-food chains, a few months after the initial lockdown. Yet, despite this, some did not survive the aftermath of the pandemic, prompting them to shut down completely.
So, the big question is, "Will it be a good choice to franchise a business today?" Well, the answer is "Yes," because, despite the breakout, some franchised businesses have proven their capability to remain functional. In fact, in one of Franchise Market Philippines' recent online expo, Mr. Rudolf Kotik of RK Franchise Consultancy said that now is an excellent time to get a franchise. Here are some reasons cited:
Space rentals and lease are cheaper now than before
Food and beverage businesses are in demand, especially that delivery services are available
Franchisors offer discounts for franchise and royalty fees
 
Conclusion
In the end, it is recommended for millennials and young professionals to start early in franchising a business. This is because of the high success rate and the booming franchise industry that is still expected to prosper more in the coming years.
Starting a franchise today is not just a matter of trying how to manage one. It entails a deep understanding of concepts that can be the key to your success in the franchising industry.
So, the best practice? Start early but do it right. This way, your money, time, and effort will not be wasted.
Let us help you in achieving your franchising goals! Check the latest franchise listings too!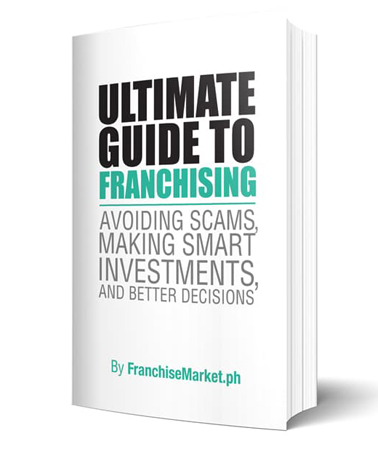 Ultimate Guide to Franchising
Avoiding Scams, Making Smart Investments, and Better Decisions
The franchise industry is booming, and entrepreneurs are wondering about how this sector works. This ebook aims to help aspiring franchisees achieve their business goals.
Learn more
Back to Blog
Disclaimer: Franchise Market Philippines strives to provide relevant and accurate information in all its articles. However, some information in our articles may differ or might be outdated from what you can see or read directly from the establishments' or businesses' websites. Please get in touch with us directly for any discrepancies.