Nowadays, Filipinos are drawn into various forms of investments. Everyone has plenty of options to consider, ranging from the real estate properties (condos, house and lot, apartments, etc.), stock market, mutual funds, unit investment trust fund (UITF), start-ups, and franchise business. However, choosing the best one for you needs a rational decision to avoid failure.
Statistical data shows that the Philippines has been the new hub of franchises in Asia. This achievement is mainly attributed to its high success rate in the past years, which means more and more businesses now offers franchising options to Filipinos. This is particularly true for the middle class and millennials. In return, this readies everyone towards their road to financial success in the next years.
The key to this success is understanding franchising benefits as a long-term investment rather than a short one. Hence, it is essential to determine whether this investment falls under a long or short term period by understanding its details.
Long-Term Investment Defined
First, let us define what a long-term investment is.
According to Wealth Pilgrim, the best definition of a long-term investment is something that can give you a higher chance of maximizing your returns over 10 years as compared to other alternatives available in the market.
Let us have an example. Many people think about life insurance when talking about long-term investment. This is because paying monthly premiums for a certain period assures them of getting more than what they paid for after a certain number of years. This is the same thought you should think about franchising and why it is a new way of long-term investment.
Practically, franchising gives you a business that will start showing results after a specific timeframe. The usual goal is to get your capital and generate income but this has changed over time because establishing the credibility of the business and its name is now very important for franchisees too. Market recognition is a brand factor and this influences franchise businesses too.
Franchising: A New Long-Term Investment
Now, let us apply the concept of long-term investment in the franchising matrix. As mentioned, a franchise enables you to grow money over time by making you invest a capital that will mature after a specified timeframe.
While most people might be enticed with having their capital money returned within two to six-month period, the return on investment (ROI) in franchising won't happen that fast. Hence, the idea of a long-term plan.
Knowing this ROI fact ahead of time will make you feel at ease and focus on your business. Keep up with the pace and do your best to learn the craft of your chosen franchise business. This way, you will gain independence to work on your own and get minimal supervision from your franchisor.
Furthermore, you must think of franchising as an investment that can maintain long-term sustainability in the market. It should always remain as a long-term business idea and a secured venture that will thrive despite the competition and risks.
The best practice as a franchisee is to focus on how long can your business be able to compete in the industry rather than how to get your investment back the fastest way. Always think of the best possibilities and unlock its potential to become a market leader in the future.
A Business That's Close To Your Heart
Everyone works hard these days since one cannot stay as an employee forever. It is a common reason why many are interested in putting up a business, either by creating a start-up or thru franchising.
It is beneficial for prospective franchisees to understand the idea of franchising in a holistic view since this can guide them in managing the business effectively. Aside from the fact that it is a good long-term investment, franchising gives franchisees more exclusive perks and opportunities to explore.
To maximize the potential of franchising, your chosen business must be close to your heart, to what you like, and to what you love doing. However, the most important thing to consider here is understanding the business concept and framework while checking if it is already established in the market. Setting up a franchise business does not end with buying the franchise and starting operations; you must work hard and be committed all the time.
Most franchises have stable and working operations that are proven over time but doing your research will make you feel confident about pursuing the deal or not. It is best to choose something that you like because you can find happiness not just in the business itself but also in the returns it will have in the future.
In the end, everyone has the right to choose what's best for them. Whether you choose to have more estates than a business or vice-versa, it will always be a matter of how you understand the processes and the requirements plus the commitment and effort you can dedicate. If you see yourself investing long term, then choose the best option and make the best out of it.
Look for the franchise in our listings and start your long-term investment now.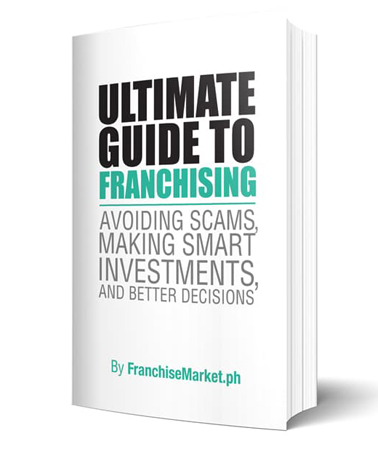 Ultimate Guide to Franchising
Avoiding Scams, Making Smart Investments, and Better Decisions
The franchise industry is booming, and entrepreneurs are wondering about how this sector works. This ebook aims to help aspiring franchisees achieve their business goals.
Learn more
Back to Blog