With the latest economic changes, it has been evident that the booming franchise industry is promising enough for aspiring entrepreneurs to venture into the world of franchising. As a form of investment, many hope that it will be their avenue towards financial independence. Its relevance to millennials and even overseas Filipino workers (OFWs) and retirees make franchising a truly enticing undertaking for anyone.
The Key Role of Franchising
In 2013, it was predicted by then Finance Secretary Cesar Purisima that franchising will have a crucial role in sustaining the Philippine economy. Years after, it is obvious that the franchise venture has a great impact on society, providing opportunities to Filipinos here and abroad.
Today, franchising plays a crucial role in sustaining the country's economy by creating job opportunities, boosting consumption growth, and promoting tourism. Franchisees and franchisors should be proud of contributing much to the economy, despite the unpredicted changes. 
Diverse Business Ventures
It is undeniable that in Asia, the Philippines is one of the countries that drives franchising into the next level. Many big and known Philippine brands are expanding their networks by offering franchise opportunities abroad.
A great example is the Philippines' most famous bee - Jollibee, which has been known for having outlets around the world. It opens opportunities for foreign investors and Filipinos abroad who think that franchising is a good investment.
Revolutionary Franchise Trends
Years ago, franchise trends are predicted as a revolutionary and industry-changing undertaking. It is no wonder that today, franchises are everywhere and are conquering the markets with varied ideas that people patronize.
Part of this trend is the booming food cart franchise industry.
Food carts are everywhere because people love food, which means more food cart franchise concepts are happening today. It is considered as one of the top small businesses to start in the country, requiring capital that is affordable for newbie investors. 
The process of acquiring a food cart is not complex unlike going start-up. The requirements and set-up entice potential franchisees to get a franchise. The market trend in the Philippines, especially in the food cart industry shows how it becomes one of the top choices of budding entrepreneurs.
What makes this industry appealing? It is the low capital outlay. After all, your 10,000 is what it takes to actually start a simple food cart business. The capital varies depending on the type of food cart you want to pursue.
For once, Potato Corner founder Jorge Wieneke shared some of the best practices in the food cart business such as the following:
The food cart may be small, but its aesthetic value should not suffer. Make it an attractive cart. Create a 'wow' factor for their eyes.
Strengthen your USP  (Unique Selling Point.)
Check your equipment. It is the heart of the business.
Get into the business with a strategy in mind.
Cleanliness is paramount.
Never underestimate the value of good signage. Have an interesting name and logo.
Franchising As Part of the Fourth Industrial Revolution (FIRe)
In a recent Philippine Star article, the upcoming 2020 Franchise Asia Philippines (FAPHL) will be focusing on the challenges and opportunities presented by the FIRe on the domestic franchising industry.
FAHPL is recognized globally as Asia's biggest and grandest franchising event and is made possible through the help of the Philippine Franchise Association (PFA). It will run from March 25-29 at SMX Convention Center in Manila.
PFA chose the said theme to make interested individuals know that there is a promising future in franchising. It aims to send the message that the industry is bent on emerging from Industry 4.0 with a more vibrant and stronger catalyst of inclusive growth in the country.
This is the 28th edition of the FAPHL and will focus mainly on harnessing the power of technology and how it is affecting the way people live, work and interact in today's fast-paced society.
The international conference will feature more than 80 experts in the franchise field, seven plenary sessions, 15 breakout sessions, and 40 roundtable discussions. The event will be graced by the presence of Sen. Aquilino 'Koko' Pimentel III and Catherine Monson, who chairs the US-based International Franchise Association.
It will also feature the international franchise guru Greg Nathan and motivational speaker Scott Friedman. Various local brands also have spots in the event, with speakers and industry experts representing renowned brands such as Shopee, Lalamove, Angkas, Lazada, Zomato, Kasa Arkhitekton, McDonald's, and Jollibee.
There will also be a rounding of the week-long line-up of over 800 brands in the ground and 2nd floors of the venue.
Should you invest now in franchising business?
The answer is yes. Many kinds of investments are available in the market today but come with risks and challenges. There is no such thing as 'easy investment' but one can make good of his/her money when invested properly.
Statistical data shows that the Philippines has been the new hub of franchises in Asia. This achievement is mainly attributed to its high success rate in the past years, which means more and more businesses now offer franchising options to Filipinos. This is particularly true for the middle class and millennials. In return, this readies everyone towards their road to financial success in the next years.
The key to this success is understanding franchising benefits as a long-term investment rather than a short one. Hence, it is essential to determine whether this investment falls under a long or short term period by understanding its details.
What is a long-term investment?
According to Wealth Pilgrim, the best definition of a long-term investment is something that can give you a higher chance of maximizing your returns over 10 years as compared to other alternatives available in the market.
Let us have an example. Many people think about life insurance when talking about long-term investment. This is because paying monthly premiums for a certain period assures them of getting more than what they paid for after a certain number of years. This is the same thought you should think about franchising and why it is a new way of long-term investment.
Practically, franchising gives you a business that will start showing results after a specific timeframe. The usual goal is to get your capital and generate income but this has changed over time because establishing the credibility of the business and its name is now very important for franchisees too. Market recognition is a brand factor and this influences franchise businesses too.
Now, let us apply the concept of long-term investment in the franchising matrix. As mentioned, a franchise enables you to grow money over time by making you invest a capital that will mature after a specified timeframe.
While most people might be enticed with having their capital money returned within a two to six-month period, the return on investment (ROI) in franchising won't happen that fast. Hence, the idea of a long-term plan.
So, why is franchising considered relevant today?
Given the facts and figures, the growth of the franchising industry is overwhelming. Given the nature of the Philippine economy, the market changes quickly depending on factors that affect the economic status of the country.
Therefore, if you want to grow money over time, it is relevant and timely to choose franchise as an avenue to financial stability. With franchising, you are doubling money more by doing what you like.
In general, the timely and booming franchising industry has the following benefits:
Low capital investment compared to a start-up
Secured ROI after a certain time
You are the own boss
It is an investment
You are a part of an established brand
Although you cannot relax that much as a franchisee, it is fulfilling to manage a business at your own pace. Being a franchisee gives you the right to become one of the business owners, but it is still challenging and overwhelming.
Anyone is encouraged to venture into the franchise world as soon as possible. This field offers varied opportunities that promise growth given a certain timeframe. The key is to stay optimistic all the way and believe that investing in an established business is not money wasted.
Do not be afraid of risks. Instead, beware of them and avoid the usual mistakes as a franchisee. Always do research and be confident that you can stabilize the business faster than the usual. If you need help, your franchisor is there for help. Also, there are various organizations that can provide assistance, so do not hesitate to tap them.
We are hoping that this article helps you well with your franchise decision-making. Franchise Market continually advocates providing important information to everyone who is interested in franchising. We are here to help you throughout the process. 
In the end, we hope that you find the Franchise Market portal helpful in your franchising journey. We aim that you embrace the franchising concept in an optimistic manner because it has more advantages than its downfall. Check out more of our useful articles here.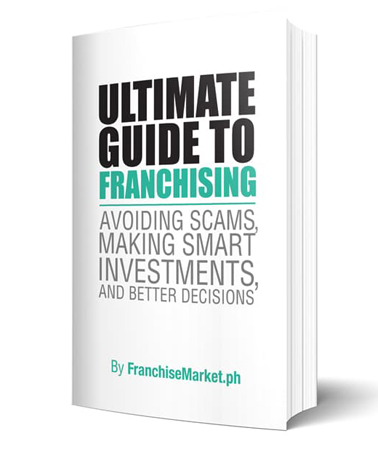 Ultimate Guide to Franchising
Avoiding Scams, Making Smart Investments, and Better Decisions
The franchise industry is booming, and entrepreneurs are wondering about how this sector works. This ebook aims to help aspiring franchisees achieve their business goals.
Learn more
Back to Blog
Disclaimer: Franchise Market Philippines strives to provide relevant and accurate information in all its articles. However, some information in our articles may differ or might be outdated from what you can see or read directly from the establishments' or businesses' websites. Please get in touch with us directly for any discrepancies.