Photo from Crystal Clear
Water is the source of life. Human bodies can survive for weeks with water only and without solid food. While water is for quenching our thirst, it is necessary as well to support our body's primary functions. However, not every household has access to safe and clean water. Good thing, water refilling stations exist, where everyone can buy galloons of potable water. You can also have one, start your brand or franchise an existing brand, established in your neighborhood to provide your neighbors with fresh and drinkable water. It is a profitable business since there will always be a high demand for water.  This also makes the business relatively easier to handle.
Before anything else, it is important to identify which type of water you will offer to the public. There are three types of water according to how they are purified.
Mineral Water
the type of water that undergoes a filtration system to eliminate the impurities that are seen by the naked eye. From the name itself, it is full of minerals, including sulfur, magnesium, and calcium, which the body cannot create on its own. It can help as well in digestion, reduce skin blemishes, and improve one's bone health.
Purified Water
the water which underwent purification treatment in a plant after being derived from its source. All bacteria, fungi, parasites, contaminants, and dissolved solids are removed during the process to make the water suitable for drinking. This can help in reducing the possibilities of developing gallstones as it absorbs the toxins from your body and flushes them out through your urinary system.
Alkaline water
it is produced by removing the acid content of the water and increasing the pH level. It contains alkaline minerals and negative oxidation-reduction potential (ORP), which help in reducing the acid in the bloodstream, boost metabolism, and prevent oxidation.
Once you have decided what type of water you will offer to the public, then the next step is to follow these guidelines on how to start a water refilling station:
1. Study the business thoroughly and comprehensively
Starting a business requires a considerable amount of time and effort. As an aspiring entrepreneur, you need to learn the importance of researching and studying the kind of business that you wish to venture and the right model of it. Water can be easily marketed to the public, given its nature as a necessity to the people. Thus, it would be best if you were prepared to face fierce competition in the market. Establish your unique selling point meticulously to attract more customers.
2. Conduct a feasibility study
The feasibility study is an assessment of a business idea in terms of practicality and its likelihood to succeed. The following factors are needed to be investigated to come up with one feasible comprehensive study:
Competitors – The number of similar businesses around your neighborhood must be taken into consideration. The higher the competition, the more difficult it is to establish your brand in the market.
Location – A strategic location is a must to attract your first few customers. You need to have at least 20-25 square meters to operate a water refilling station.
Water Source – The source of the water in the provinces differs from those in the cities. The former usually gets from the spring, deep well, or balon, while the latter gets from water providers like Maynilad in Manila or Metropolitan Cebu Water District in Cebu.
pH Level of Water – The total dissolved solids (TDS) in the water will determine which purification processes are suitable to make it drinkable.
3. Find a reliable supplier of the water refilling machines
Identify first the kinds of machines that are needed for the water refilling business. List down all of them and canvass the prices from different suppliers. Then compare which of them offers the best price for the highest quality of machines you need. Among the equipment you need are:
Multimedia Sediment Filter – This is a tank made from fiber-reinforced plastic that does the depth filtration and backwash, which removes the sediments such as sand and various other particles from the water.
Active Carbon Filter – It does the backwash, as well, to remove any foul taste, odor, and color caused by organic chemicals.
Water Softener Tank – It is responsible for removing the hard minerals in the water and replaces it with soft minerals through ion exchange.
Reverse Osmosis Membrane – This is the most expensive unit, and its primary function is to remove all inorganic minerals, bacteria, and viruses while retaining the water's oxygen content through reverse osmosis or hyper-filtration.
Polishing Carbon – It improves the taste of the water.
Ultraviolet Lamp/Sterilizer – Ultraviolet rays are emitted as the water passes through a reaction chamber to ensure that any germs or disease-causing micro-organisms have been eliminated.
Ozone Generator – Water has to go through this machine to prolong the shelf life of the water by preventing the bacteria from growing inside the product tank.
Once you have finalized your machine list, you may then proceed to negotiate with your suppliers about the prices of the machine. They can as well help you in creating the layout for your water station and guide your contractor during the construction of the station. Pipelines, drainage, and washing area have to be established according to the layout.
4. Register your business and secure needed permits
Crucial to the success of your business is complying with the necessary legal requirements to obtain your business registration and permits. It would be best if you secured the following:
DTI Business Permit – To acquire this, you need to prepare your barangay clearance, residence certificate, etc. submitted to your local DTI branch. You also need to make at least five to ten business names.
Mayor's permit – This can be processed in your municipal office and will be issued two to three weeks from the date of application. You might be required to submit (a) water analysis of potability from your water source (physical, chemical, and bacteriological tests); and (b) engineering drawings signed by a sanitary engineer.
BIR – You have to fill up Form 0506 and pay the required fees to continue with your registration.
5. Install the equipment
It may take two to three days to complete the installation of the equipment. It would help if you also dried run the machine for three days to ensure the safety of the water supply.
According to the Sanitation Code of the Philippines, water refilling stations are subject to regular monitoring by local health offices. The following procedures are done:
Bacteriological quality – once a month
Physical quality – every six months
Chemical quality – every six months
Biological quality – once a year
Monitoring of radioactive contaminants – only conducted if there's a significant amount of radiation input from the surrounding environment.
These steps can be pretty overwhelming for you, most especially if you don't have the background in running a water refilling station. With franchising, most of the work is already done for you. You don't have to conduct a feasibility study to determine your total cost. The franchisor also provides the equipment. This is to ensure that they are consistent with the quality of water they offer to the public. Some of the water refilling brands that are open for franchising are:
Driven by their goal to provide the best water and services for their customers and franchisees, they are committed to their principles of quality, service, value, and technology. They boast their advanced technology and excellent customer care that make them stay afloat in the industry. They offer Aquabest with Grander, Aquabest Mineral Plus, Aquabest Alkaline Plus, and Nanogen. The franchise fee is P 100,000 with three years franchise terms.
Bluewaters
Bluewaters has been in the industry for more than 25 years now. They have three different types of the water station. You will choose which one suits you best should you decide to franchise them. All of its water station types come in with necessary equipment, full installation, staff training, and marketing. Each water station type has its corresponding franchise fee. For example, Safe Alkaline Water Station ranges from P80,000 to P140,000. Safe Mineral Water Station starts from P80,000 to P180,000. Safe R.O. Water Station starts from P98,000 to P180,000.
Crystal Clear ensures to provide purified water with the highest quality. The components are assembled in the USA, under the strictest specifications, tailored to suit Philippine conditions, and have passed rigid FDA standards. Their facility is equipped with high-pressured sterilizers that thoroughly clean bottles to ensure a germ- and bacteria-free environment. The franchise fee is P100,000 with five years franchise terms.
Living Water
They are the pioneer water refilling station that introduced the 3-in-1 system—purified water, mineral water, and alkaline water. They used to serve customers only around Manila, but now they have more than 1,800 franchises nationwide. They aim to contribute to operational excellence to their customers through quality, efficient, and most advanced products and services in the market that meet the latter's water treatment requirements. Investment started at P250,000 and guaranteed no franchise fee.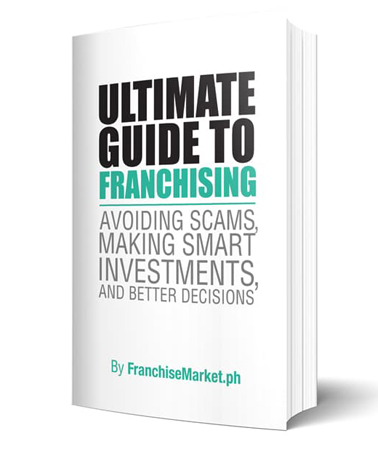 Ultimate Guide to Franchising
Avoiding Scams, Making Smart Investments, and Better Decisions
The franchise industry is booming, and entrepreneurs are wondering about how this sector works. This ebook aims to help aspiring franchisees achieve their business goals.
Learn more
Back to Blog