Starting a business in the Philippines is not always a smooth sailing process. Even the idea of what business to do is tedious but still manageable in the long run.
If you are reading this article, you have probably researched some viable businesses to do this time, especially during this COVID-19 scare. You may now know what business to pursue and probably consider the vending machine business as an option.
Indeed, the vending machine business is lucrative, given its perks and advantages. But, the tricky part is determining what type of vending machine to have and the requirements needed.
Do not worry! This article will cover most of the things you need to know about starting a vending machine business in the Philippines.
Specifically, you will learn the following topics:
What is a vending machine?
Why start a vending machine business?
The Pros and Cons of Vending Machine
How to choose the right vending machine?
Choosing Your Vending Machine Location
Selecting the Right Product
Machine Maintenance
Summarized Steps on Starting a Vending Machine Business
Tips on Starting a Vending Machine Business
Key Takeaways
That is quite a list, so here you go!
 
What is a vending machine?
A vending machine is a machine that dispenses products such as foods and drinks. However, today's modern vending machine also offers other products such as cigarettes, sanitary pads, and other hygiene products.
To make it work, the customer needs to insert a coin, bill, or token that corresponds to the product's amount. After entering the correct amount and choosing the product, the machine will release the item to you.
It is that simple.
But as simple as it sounds, many considerations should be taken into when getting a vending machine.
Hence, it is best to know some reasons why you should start a vending machine business. 
Why start a vending machine business?
For some, getting a vending machine is a form of passive income. That is acceptable.
You can technically get a machine, put it in a place where there are customers, leave it there, and then go back after a few days or weeks.
Depending on the number of customers you get in that location, you should collect a fair amount of earnings. Then, you can get a part of it to repurchase new products and refill your machine.
Owning a vending machine does not require 24/7 staffing, so it is practically your best option if you want to own a business without much supervision.
You may be wondering what the other advantages of having a vending machine business are. We heard you, so the next topic will discuss the advantages and disadvantages of venturing into this business.
The Pros and Cons of Vending Machine
Just like any other business, the vending machine venture also has its fair share of advantages and disadvantages that you must consider before signing that purchase form.
Take a look at the following pros and cons.
Pros
Simple Concept
The idea of a vending machine is simple and easy to understand, unlike the other types of businesses that have complex business models.
Cost-Effective
Compared to other businesses, a vending machine does not require you to have a hefty amount of capital. You can practically work within a tight budget without the need to get a loan or borrow money to get started. You can even start this business with as low as PHP 20,000 capital.
Automated System
As mentioned before, a vending machine does not need an actual person to perform its primary job. Due to its sophisticated and systematized processes, it is already programmed to analyze the necessary functions and do the job.
You only need staff to collect the earnings and refill the machine, which you can practically do independently. That saves you a few more bucks.
Growth Opportunity
In a vending machine business, you can start even with only one machine. There is no need for a one-time purchase of several machines in one go. But this does not mean that you cannot maximize your profits. The truth is, you can eventually try to add more machines in different strategic locations.
Less Risk
If you are afraid to take risks but still want to try your luck, this business model fits you. It is less risky to invest in a single machine than spending your hard-earned money to create a business from scratch.
You Are the Boss
When managing a vending machine business, you have your time and schedule without any pressure. You do not need to adhere to strict schedules because you control everything - you are the boss.
You set your hours and decide on the frequency with which you visit and stock your machine. If you put it at a convenience store, you just have to agree with the store owner about your schedule.
Cons
Competition in Locations
It is essential to find the best location for your machine. This means you need to do thorough research on the possible places to put your machine or machines (if you decided to run more than one simultaneously).
You need to understand that even though this business is not everyone's choice, there are still others out there who are vying for the same strategic location because, like you, they want to start this business.
So, it is better to be quick and thorough when it comes to finding your locations, or else you lose the chance to maximize your profits.
Periodic Maintenance
Since your primary tool is a machine, it means there is a need for regular maintenance. Doing this keeps your machine fine and in good condition.
Long Hours 
You indeed get flexible hours when running a vending machine business, but it is not always the case.
You may often end up working longer and harder than with the usual eight-hour job or business operations.
This means that the more machines you own, the more time you will need to put into the stocking and servicing them. And the only way to pull this off and be successful is to be committed to working overtime when deemed necessary.
Keeping Up With the Trend
Back in the old days, a vending machine is best known for dispensing sweet treats and beverages. But this is not the case anymore.
You need to monitor and continuously improve your product offerings. You are lucky if the current trends are fit for the current type of machine that you have. But what if it is not the case?
For example, you have a machine for snacks but now want to offer hot coffee or chocolate drinks. This could be a problem because you need to have another kind of device designed to do the work.
This would mean buying a new machine and disposing of or relocating your current machine to a different location where it can get more sales.
Additional Expenses
This is most common primarily if your machine is located at a run by another owner, such as a supermarket or a convenience store. 
Sure, this is the perfect location, but this might require paying an incentive to the site's owners, too. Moreover, for other areas, you need to pay for the space and electricity your machine uses. These expenses are usually a certain percentage of your earnings.
Aside from this, some products you sell may require special taxes levied on your final sales, so think twice before displaying them on your machine's shelves.
How to choose the right vending machine?
In choosing the right vending machine, you need to understand the concept of "New Era Vending Machine."
As its name suggests, the new era means trying to blend in with the industry's current trends - sustainable, healthy, more alternatives.
However, when you choose which one is the best, you should have a purpose and a goal in mind.
Once you have a goal in mind, it would be easier for you to decide what kind of vending machine to get.               
Most standard vending machines are still stocked with candy, junk food, or soda which are not always the only opinions right now. The rise of healthy foods and fresh-food dispensing machines is now part of the trend. So, you might want to consider that.
At times, some machines are designed to serve specific purposes. One typical example is the wifi vending machine and those machines that accept online and card payments.
Furthermore, you must consider your capacity and resources to fulfill specific products in your vending machine.
Choosing Your Vending Machine Location
Like in real estate, the most important thing is location.
The golden rule is to find locations with a lot of foot traffic because this means having secured customers. It needs a lot of research and right thinking.
Here are some essential tips you can consider trying.
Generate high-quality location leads
The vending machine business is always a "location generation" business.
There are other things involved in the process, but this business is unlikely to boom without securing the location first.
So, yes! When choosing a location, it should not only be an ordinary location. It must be the "best" one you can find.
Make a location plan
Yes, it sounds weird, but just like a business plan, it is best to have a location plan.
This means listing down your possible locations and the owners' contact information and planning a strategy for approaching.
In other words, plan your contact strategy. This means having clearly defined objectives and proposals that would provide answers on how your vending business might meet the needs of this location.
Qualify your location leads
Well, if you think having the perfect number of leads is already the best answer to your location needs, then you are wrong.
You just cannot visit each location (especially if you have a hundred on your list) and waste your time. Hence, you need to qualify your leads.
This means narrowing down the funnel, filtering the most qualified ones, and then from there, you begin looking for the perfect prospect.
When evaluating each lead, try to ask the following questions:
What is the location's estimated daily foot traffic?
Do they currently provide vending or food service options? If so, who is the vendor?
Do they have a contract with any current vendors? If yes, how long is the deal?
Do they currently receive a commission from vending machine sales? What is the percentage?
Are there additional services?
It is also a best practice to avoid asking open-ended questions. Just stick to the close-ended ones so it will be easier for you to evaluate the answers later on.
Build rapport
The keyword here is to "engage." You must build a connection with your leads.
You will likely get in touch with the same person from that place on several occasions, so build rapport with him or her as early as you can.
At the same time, keep things unique and fresh by diversifying your methods of communication. This will make the negotiation more enjoyable and can increase the chances of getting higher results.
Schedule the meeting
After successful screening and initial communications, it is now time to meet with your location lead in person.
The best strategy to set the appointment is to come prepared. This means being confident to deliver information that is relevant and powerful. They should feel that you need them, not the other way around.
Also, never forget to follow-up. This is one crucial part of the process. Otherwise, your efforts will all be put in vain.
Close the deal
Finally! It is now time to close the deal with your qualified location lead, who accepted your proposal.
Remember that you should give them ample time to evaluate things on their side too. Hence, do not hurry them. Wait for a few days, and if you have not heard from them within a week, send a polite follow-up email or call them at the best time.
Selecting the Right Product
Now, this part talks about selecting the right product for your vending machine business.
You have first to understand that doing this is necessary if you want to maximize your revenues.
The equation here is simple: putting the incorrect products in the right place will not generate sales and vice versa.
If you are planning to have food products on your machine's shelves, consider doing the following when sourcing food products:
Taste
This is the most critical variable when creating a product mix for your machine. If your products do not match the taste profile of your average customers, then expect low sales.
Nutritional Value
Lifestyle changes and personal preferences are now part of the vending machine trend, so you might want to consider putting up nutritious snacks only like low-carb foods.
Affordability
Of course, price is also one factor. Price your products accordingly - not too expensive or cheap. The key here is to find suppliers that give more affordable products without sacrificing taste and quality.
Brand Name
When it comes to brand recognition, customers are always more likely to purchase a brand they know. Although there is still a chance that they will patronize new products, it is a gamble. They first need to see the products that they trust and know over the years.
Novelty
In connection with the previous point, consider introducing new products gradually. There is always room for customers to try something new. 
Machine Maintenance
A vending machine works like a robot: it is automated and follows codes and processes. And just like the usual machine, they tend to get wear and tear over time.
You do not want your machine to get broken just because you failed to take good care of it, don't you?
Hence, bear in mind to do regular maintenance for all your machines (if you own more than one). This is one way to prevent malfunctioning units that will cost a problem with your sales or even hurt your savings if you end up replacing it with a brand new unit.
Most owners prefer to check their machines once a month, but the frequency really depends on you.
Summarized Steps on Starting a Vending Machine Business
Alright! We are almost done giving all the facts you need to know about the vending machine business.
However, since this is the "ultimate" guide, here are two bonus parts you get to know to prepare yourself thoroughly.
First, here is a summary of the steps you should follow to start your dream vending machine business.
1. Learning the basics
You need to remember all the basics of this business and remember them by heart. It is the only way to get a holistic perspective on how to run the business. This means understanding what a business plan is and how to make one, familiarizing yourself with the vending machine's business model, doing a market and competitor analysis, and other stuff you need to know.
2. Making the business plan
Creating your business plan is one task you should take seriously. It is not just any essay you can write without any basis - it needs strong support and data to back up all your claims. A comprehensive business plan must be detailed, concise, and valuable enough to keep you on track at all times.
3. Finding a suitable location
This has been elaborated on in the previous section, so you should have mastered by now the art of finding the best location for your business.
4. Preparing contracts and other requirements
A business should always be done legally. Hence, never forget to get your lawyer's advice in every decision you make regarding this business, especially if you are going full scale. Make sure the following are also included in your papers.
Statement of Compensation and Sales
Machine and Product Type
Duration of the Contract
Exclusivity Clause
5. Getting the best equipment and products
As mentioned, you can already start this business with meager capital investment. At the same time, it is best to consider getting a brand new machine because it has a good warranty for one or two years. There is nothing wrong with getting a second-hand machine, but if you want to ensure that it is free from any defects, then a brand new unit is the answer. 
Conclusion
Alright!
Everything has been almost covered in this article, so the rest of the work now relies on you. It is easy to decide that you want to start this kind of business, but there is so much to think about in reality.
Of course, this remains true if you are an aspiring entrepreneur who takes this venture seriously. Some people may make impulse decisions and still end up successful, so really, it is all about how you manage it.
But you can never deny that planning everything has its advantages. It gives you fewer risks and ensures you more revenues. This is the main goal, and you should go for it.
In the end, we hope that this article helps you a lot in your decision-making process. Best luck!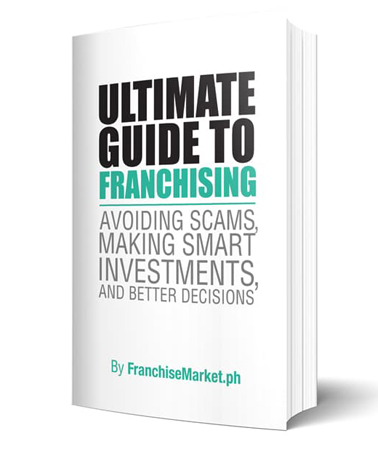 Ultimate Guide to Franchising
Avoiding Scams, Making Smart Investments, and Better Decisions
The franchise industry is booming, and entrepreneurs are wondering about how this sector works. This ebook aims to help aspiring franchisees achieve their business goals.
Learn more
Back to Blog