Are you looking for the ideal franchise to have right before this year ends?
If this is taking your time in the past few days, scroll down this list of the 30 most searched franchises this year.
With all the extra money you have this Christmas season, putting it into a good investment is the right choice.
You see, many investment options are available for you; franchising is only one.
So, choose well.
Please look at this list of the 30 most searched franchises on our platform and some vital franchise information you should know.
Oops! Before you proceed, please note of the updated rankings of some franchises compared to FMPH's top 30 franchises last 2020.
Top Searched Franchises in the Philippines 2022 [UPDATED]
30. Jollibee
Last FMPH Rank: Not Included
Jollibee is the largest fast-food chain in the Philippines, operating a nationwide network of over 750 stores. A dominant market leader in the Philippines, Jollibee enjoys the lion's share of the local market, which is more than all the other multinational brands combined. The company has also embarked on an aggressive international expansion plan in the USA, Vietnam, Hong Kong, Saudi Arabia, Qatar, and Brunei, firmly establishing itself as a growing global QSR player.
Check out Jollibee's franchise details now!
29. Bo's Coffee
Last FMPH Rank: Not Included
Bo's Coffee is a homegrown brand. It is in the spotlight of #PhilippineCoffee, where their culture is rooted. Moreover, they support businesses and local coffee farmers. 
Their mission is to create a positive social impact by empowering social enterprises. They also pursue delivering unparalleled hospitality and a complete homegrown experience to our patrons.
Check out Bo's Coffee franchise details now!
28. Philippine Charity Sweepstakes Office (PCSO)
Last FMPH Rank: Not Included
The Philippine Charity Sweepstakes Office (PCSO) is the principal government agency for raising and providing funds for health programs, medical assistance and services, and charities of national character.
The PCSO holds and conducts charity sweepstakes, races, and lotteries and engages in health and welfare-related investments, projects, and activities to provide permanent and continuing sources of funds for its programs. It also undertakes other activities to enhance and expand fund-generating operations and strengthen the agency's fund-management capabilities.
Check out PCSO's franchise details now!
27. L.C Bigmak
Last FMPH Rank: 30th
Famous for the tagline "Big, fresh, convenient, affordable and made-to-order," L. C. Bigmak is one of Filipinos' favorites.
Nothing beats a good old burger to save the day for one's hunger pangs for snacks or a main meal.
Unknown to many, the original home of Quezon Province's best-tasting burgers lies at the corner of Lucena City's very own burger van, where the first L.C. BIGMAK burger was born. For over 30 years, L.C. BIGMAK INC. has mastered the art of burger making, serving millions of burgers since 1984.
Check out L.C. Bigmak franchise details.
26. 7-Eleven
Last FMPH Rank: Not Included
On October 26, 1982, Philippine Seven Corp. (PSC) acquired the license agreement to use the 7-Eleven Convenience Store system in the Philippines,  with the chief mission to introduce an entirely new retailing concept to Filipino consumers: operating a chain of 24-hours convenience stores.
During this rough time for the economy and political climate in the country, PSC initiated the 7-Eleven project and opened its first store at the corner of EDSA and Kamias Road in Quezon City in 1984. Amidst the challenges of introducing a new retail format, PSC slowly made it to their landmark 100th store in Balibago, Laguna, by 1996
Since then, PSC has continually met and surpassed the expectation of the Filipino consumer through constant improvement of its products and services, operating and business systems, then eventually opened its doors to franchising in 1998.
With a broad offering of everyday grocery items, fast food, telecom, bill payment, and banking kiosk services, 7-Eleven has been awarded numerous times by the Philippine Franchise Association and Entrepreneur Philippines. 7-Eleven has won titles such as Best Foreign Franchise, Fastest Growing Franchise, Best in Franchise Support, Marketing Campaign of the Year, and Hall of Fame International Master Franchise award.
Check out 7-Eleven's franchise details now!
25. Goldilocks
Last FMPH Rank: Not Included
Goldilocks is the leading brand in the Philippine bakeshop industry, cutting across all economic classes with various products at prices within the consumers' reach. 
Ask any Pinoy what his favorite Goldilocks products are, and he's sure to name at least one!
Join the Goldilocks franchise family. You are assured of sweet success with over 40 years of experience, more than 300 stores worldwide, and the 2005 Hall of Fame Award for Outstanding Filipino Franchise of the Year.
Check out Goldilocks' franchise details now!
24. Flexfuel
Last FMPH Rank: 8th
Flex Fuel is an independent fuel company in the Philippines geared towards meeting motorists' and travelers' needs by providing them with affordable gasoline, clean and safe ambiance, and membership card advantages.
Flex Fuel was established on June 5, 2016, by Bong Medel and Luis Manzano. Bong has been in the automotive sector since 1998, specifically in automotive repair. A few years later, Bong and Luis entered a joint venture to form a public transportation company called LBR in 2007.
Discover FlexFuel's franchise details today!
23. Burger King
Last FMPH Rank: Not Included
Burger King has more than 11,000 restaurants globally in more than 60 countries. This impressive growth relies on their franchisees' success, which is why Burger King's market plan focuses on "restaurant-level economics." 
It continues to create franchise opportunities around the globe in both new key markets where other Burger King restaurants have already proven themselves. To appeal to a broader customer base, Burger King offers a variety of food options, such as a full line of breakfast products, salads, BK VEGGIE® burgers, desserts, and more. 
Read more about Burger King's franchise details now!
22. Don Benitos
Last FMPH Rank: 27th
As Filipinos, everyone loves the goodness of our classic merienda favorites.
Don Benito's has been a known local delicacy shop for years, offering different "kakanin" that our palate always looks for.
It is a family heritage business that offers its own "Cassava Cake" and quality Filipino delicacies. Most people describe their cassava cake as a "Melting Cassava Cake" due to its soft and delectable quality.
Bring in your hometown the awesome goodness of this food.
Check out Don Benito's complete franchise details.
21. Petron Gasul
Last FMPH Rank: 16th
Petron Gasul is one of the country's leading petroleum companies.
It is the largest oil company in the Philippines and has always remained on top in market share. When you think about LPG, Gasul is still top of mind.
Browse more of Petron Gasul's franchise information.
20. Mister Donut
Last FMPH Rank: Not Included
Mister Donut started serving warm, delicious donuts, complimented by a special brew of hot coffee in the streets of Boston, U.S.A., in 1955.
The word about this delightful donut spread, prompting Mister Donut to open stores in different states and other countries. The first Mister Donut store in the Philippines opened in Recto, Manila, in 1982.
Year after year, our number of stores grew. Today, it has over 3,000 networks of shops, including innovative tie-ups with leading convenience and petroleum stores, making it the most accessible and most franchised American brand in the Philippines.
Check out Mister Donut's franchise details now!
19. Waffle Time
Last FMPH Rank: Not Included
Waffle Time opened its door to franchising on March 2004. With an established business system and a remarkable brand, Franchisees came in line to have their own franchised outlets, which has brought exponential growth in the number of branches we have nationwide.
Today, Waffle Time boasts over 400 outlets nationwide and is still actively expanding into new regions and territories. From being Ang Pambansang Waffle ng Pilipinas, Waffle Time aims to become the Best Waffles in the World!
Browse Waffle Time's complete franchise details now!
18. RBX (Rice-in-a-Box)
Last FMPH Rank: Not Included
RBX Rice In A Box is a rice meal take-out company that started its way into the food take-out business in 2000 in Manila's Chinatown. 
It specializes in authentic Chinese food take-out. The company's main products are fried rice and rice toppings prepared fresh in front of the customers.
These are uniquely packed in convenient take-out boxes served hot and ready for people on the go. From food carts, RBX has found its way to stalls, mini-diners, and restaurants in major malls, supermarkets, and universities. 
For the past 17 years, RBX Rice in a Box has established 150 outlets serving quality food and service for its customers in and around Metro Manila. The legacy of RBX Rice in a Box is now expanding to major cities in provinces outside Metro Manila.
For more information, check RBX's franchise details now!
17. Minute Burger
Last FMPH Rank: 17th (retained rank)
Minute Burger is best known for its rockstar buy-one-take-one premium burgers.
For over 30 years, Minute Burger has served customers delicious and affordable products. Since 2003, it has been a recognizable, stable, and profitable franchise business for many franchisees.
Check out Minute Burger's franchise details.
16. Potato Corner
Last FMPH Rank: 20th
Filipinos love food, especially fries.
If doing a food business is your dream, try checking out Potato Corner.
Potato Corner opened its first outlet in the Philippines in October 1992 and began franchising the year after. 
Today, it has grown from small carts into in-line stores in almost every corner of the world – in malls, schools, hospitals, bus stations, amusement parks, and even tourist destinations in multiple countries. In every corner of the world, someone wants Potato Corner.
Here is a complete list of Potato Corner's franchise details.
15. Happy Haus Donuts
Last FMPH Rank: 19th
Another "maka-masa" donut brand known in the country is Happy Haus Donuts.
The company was established in 2005 by individuals in the donut industry. They aim to create quality donut products at affordable prices. Hence, the birth of Happy Haus Donuts, a franchising business, giving not only quality and budget-friendly products but also formulates a superb business opportunity for Filipino families.
Check out Happy Haus Donuts franchise details now.
14. Tim Hortons
Last FMPH Rank: Not Included
Tim Hortons is Canada's largest quick-service restaurant chain. Founded in 1964 as a coffee and donut shop, it has evolved to meet consumer tastes with a menu that now includes premium coffee, flavored cappuccinos, specialty teas, homestyle soups, fresh sandwiches, and fresh baked goods. 
It was founded in 1964 in Hamilton, Ontario. The chain's focus on top quality, always fresh products, value, great service, and community leadership has allowed it to grow into Canada's largest quick-service restaurant chain, specializing in always fresh coffee, baked goods, and homestyle lunches.
Check the complete Tim Horton's franchise requirements here!
13. Mang Inasal
Last FMPH Rank: 12th
As the country's pioneer in unlimited rice meals, Mang Inasal has gained massive popularity over a short time.
Mang Inasal is recognized as one of the leading chicken inasal in the Philippines' branded eat-out category. Being one of Jollibee Foods Corporation (JFC), Mang Inasal has leveraged strategic business units on JFC's existing system that ensures high-quality food and exemplary customer service. 
Building JFC's business units, resources, and success factors, Mang Inasal has successfully penetrated strategic locations in the Philippine market.
Check out Mang Inasal's franchise details now!
12. Macao Imperial Tea
Last FMPH Rank: 1st
Although known globally as the 'Vegas of China,' Macau is more than just a casino. Macau is beautiful, vibrant, and alive, and this change in perspective is what we want the world to see. 
As one of the fastest-growing cafe chains proudly born in Macau, Macao Imperial Tea takes a deeply-rooted approach highlighting a mix of the rich Macanese culture and a personalized experience.
Learn more about Macao Imperial Tea's franchise details now!
11. Ministop
Last FMPH Rank: 15th
Ministop is another famous convenience store brand in the Philippines.
In 2000, Robinsons Retail Holdings, Inc., through a subsidiary, partnered with Japan's Ministop Co. Ltd and Mitsubishi Corporation to open one of the leading convenience store chains in Asia to service the Filipino market.
Ministop takes pride in its ready-to-eat offerings that suit the Filipinos' tastes and wants, such as the best-selling Uncle John's Fried Chicken. Being the first convenience store in the country equipped with an in-store kitchen facility, Ministop's food selections are served hot and fresh every day.
Check out Ministop's franchise details now!
10. Krispy Kreme
Last FMPH Rank: Not Included
Max's Group has been the master franchisee license of the global Krispy Kreme brand since it first landed on Philippine shores in 2007. 
The brand boasts a storied heritage as an American doughnut and coffee company founded in 1937 in North Carolina, USA. To this day, over ten years after it opened its doors in the country, Filipinos and other doughnut-lovers continue to flock to the stores for a hot-off-the-line Original Glazed doughnut, especially once the Hot Now light switches on.
Check out Krispy Kreme's franchise details here!
9. Alberto's Pizza
Last FMPH Rank: 4th
In recent years, Alberto's has become Cebuano's go-to pizza shop.
Alberto's Pizza, a Cebu-grown pizza company, has its humble beginning at B.Rodriguez., Cebu City, across from Vicente Sotto Memorial Medical Center Hospital. A group of friends looking for ways to augment their income thought of establishing a small business.
Today, Alberto's is a well-known pizza parlor offering affordable food for Filipinos.
Check out Alberto's franchise details here.
8. Grainsmart
Last FMPH Rank: 2nd
In 2014, when local rice retailing was a struggle, GRAINSMART, positioned itself to provide Filipino consumers a superior rice quality that is locally grown and reasonably priced.
It is a 100% Filipino-owned company that started with only one branch at Suki Market. Since then, it has grown to more than 200 units nationwide that offer a network of the same line-up of rice quality and brand.
Get your "bigasan" business today! Check out Grainsmart's franchise details today!
7. Happy Cup
Last FMPH Rank: 9th
Owned by celebrity stars Alex and Toni Gonzaga, Happy Cup is another famous milk tea brand in the Philippines. It offers affordable prices for various beverage products such as frappes, milk teas, and pearl coolers.
Check out Happy Cup franchise details now!
6. Red Ribbon Bakeshop
Last FMPH Rank: 14th
When it comes to cakes, Red Ribbon has been a household name. In 1979, a hobby-induced business in Timog, Quezon City, expanded into a proudly Filipino-owned and professionally run business. 
Red Ribbon has grown to over 450 outlets all over the Philippines and over 30 stores in the US, with locations in California, Nevada, Washington, Hawaii, New York, New Jersey, and Virginia. 
With its acquisition in October 2005 by Jollibee Foods Corporation, Red Ribbon entered a new phase in its company history. The company soon became one of the biggest and fastest-growing bakeshops in the Philippines and has taken part in every Filipino's special moments.
Check out Red Ribbon Bakeshop franchise details now!
5. Master Siomai
Last FMPH Rank: 3rd
Master Siomai began as Masterrific Foods in 1999 as a company specializing in producing and distributing processed meat such as ham, bacon, burger patties, and siomai to its diverse clientele from hotels, restaurants, and marketplaces. 
By 2007, the Company ventured into Food Cart and Franchising of its siomai products under the brand name Master Siomai. Later on, the Company became MC MASTER SIOMAI HUT, INC.
Learn more about Master Siomai's franchise details now!
4. Dunkin'
Last FMPH Rank:13th
Dunkin' is one of the most known international donut brands in the Philippines.
Dunkin' is the world's leading baked goods and coffee chain, serving more than three million customers daily. They offer 50+ varieties of donuts, but you can also enjoy dozens of premium beverages, bagels, breakfast sandwiches, and other baked goods.
It was founded in 1950 by Bill Rosenberg in Quincy, MA. Just five years later, a franchise legacy was born.
Check out Dunkin' franchise details now!
3. McDonald's
Last FMPH Rank: 6th
McDonald's serves the world some of its favorite food like the Big Mac, Big n' Tasty, Quarter Pounder with Cheese, Cheeseburger, French Fries, Egg McMuffin, Apple Pie, and Sundae. This is what we are famous for, globally and locally.
McDonald's Philippines serves local favorites like Chicken McDo, Burger McDo, and McSpaghetti that were specially made to cater to the unique Filipino palate.
Check out McDonald's franchise details now!
2. Andok's
Last FMPH Rank: 5th
In December of 1985, Mr. Leonardo "Sandy" Javier Jr. decided to establish a 'Litson Manok' stall along West Avenue in Quezon City, Philippines.
It is one of passion, purpose, and family. The first outlet was built as a means of survival for Sandy and his wife Cora, but little did the couple know that they created a brand that would positively impact millions of Filipinos' lives in the years to come. 
The very essence of Andok's is built on passion, loving what you do, perseverance, and common sense. With those values, Sandy created the delicious and now famous 'Litson Manok' that is loved all over the Philippines.
Check out Andok's Franchise details now!
1. Aice Ice Cream
Last FMPH Rank: Not Included
Aice started in Singapore in 2014. Its first market was Indonesia. In the year 2018, Aice was newly established in the Philippines. It provided tens of thousands of job opportunities and helped over 100,000 low-income families to increase their income.
Today, it invests from the market to the factory based in Asia and brings the beauty of ice cream to every corner of the world. With the wish to create a better future, we will provide more and more job opportunities and contribute more to society.
Check Aice Ice Cream's franchise details here!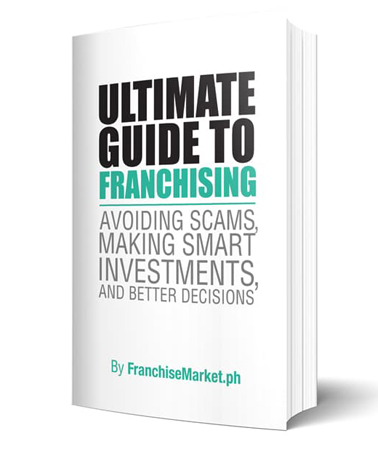 Ultimate Guide to Franchising
Avoiding Scams, Making Smart Investments, and Better Decisions
The franchise industry is booming, and entrepreneurs are wondering about how this sector works. This ebook aims to help aspiring franchisees achieve their business goals.
Learn more
Back to Blog
Disclaimer: Franchise Market Philippines strives to provide relevant and accurate information in all its articles. However, some information in our articles may differ or might be outdated from what you can see or read directly from the establishments' or businesses' websites. Please get in touch with us directly for any discrepancies.