Are you looking for the ideal franchise to have right before this year ends?
If this is what's taking your time in the past days, then scroll down this list of the 30 most searched franchises this year.
With all the extra money you have this Christmas season, putting it on a good investment is the right choice.
You see, there are a lot of investment options available for you; franchising is only one.
So, choose well.
Now, take a look at this list of  30 most searched franchises in our platform, together with some of the vital franchise information you should know.

30. L.C. Bigmak
Famous for the tagline "Big, fresh, convenient, affordable and made-to-order," L. C. Bigmak is one of Filipinos' favorites.
Nothing beats a good old burger to save the day for one's hunger pangs for snacks or main meal.
Unknown to many, the original home of Quezon Province's best tasting burgers lies at the corner of Lucena City's very own burger van where the first L.C. BIGMAK burger was born. For over 30 years, L.C. BIGMAK INC. has mastered the art of burger making, serving millions of burgers since 1984.
Check out L.C. Bigmak franchise details.
 

29. Hen Lin
Are you a fan of dimsum and other Chinese cuisines? Well, check out Hen Lin.
Hen Lin offers a variety of affordable and best-tasting dimsum, noodles, and rice toppings. Among its best-sellers is the signature Pork Siomai partnered with chili sauce, a constant favorite for over 30 years.
Check out more of Hen Lin's franchise information.
 

28. Aquabest
There are so many water refilling stations franchises available, but Aquabest has been continually winning the competition throughout the years.
Famous for their "Peace of mind in every drop. Sa Aquabest, Kampante ka!" slogan, Aquabest is one of the country's leading water refilling franchises.
At the heart of Aquabest's success is its commitment to the principles of quality, service, value, and technology.
They make sure that they have the best water quality by incorporating state-of-the-art technology. The goal of Aquabest is to provide the best water franchise not only for customers but also to franchisees.
Learn more about Aquabest's franchise details today!


27. Don Benitos
As Filipinos, everyone loves the goodness of our classic merienda favorites.
Don Benito's has been a known local delicacy shop for years, offering different "kakanin" that our palate always looks for.
It is a family heritage business that offers its own "Cassava Cake" and quality Filipino delicacies. Most people described their cassava cake as a "Melting Cassava Cake" due to its soft and delectable quality.
Bring in your hometown the awesome goodness of this food. Check out Don Benito's complete franchise details.
 
26. JM Shawarma
There is no doubt that shawarma's popularity is overwhelming.
Despite the competition, JM Shawarma prides itself on striving in the economy, making it a viable franchise option.
JM's Shawarma offers Middle Eastern food with a Filipino twist to give you the best-tasting shawarma. It boasts of regular and all-meat shawarma wraps, shawarma noodles, and shawarma rice Filipinos instantly fell for JM's Shawarma, thanks to its sweet and spicy beef, topped with its freshly-made signature garlic sauce and perfectly-blended cream cheese—a flavorful combination to crave for!
Check out JM Shawarma's franchise details now!
25. VIP Payment Center
Are you also considering a service franchise? We've got VIP Payment Center for you!
This payment center specializes in bill payment for electricity, water, telephone, internet, etc. They also cater government payments for PAG-IBIG, DFA, NBI, SSS, and more. Moreover, they also process credit card payments, airline ticket payments, local and international remittances, and Bancnet ATM over the counter transactions.
Discover more information about the VIP Payment Center franchise today!
24. Family Mart
Experience Japan with Family Mart!
Family Mart is the 2nd largest convenience store retail chain in the world. Established in 1973, it was the first Japanese-owned convenience store chain to go global and currently operates over 18,000 stores in Asia, including the Philippines, Taiwan, Thailand, China, Indonesia, Vietnam, and Malaysia.
Check out Family Mart's franchise details now!
 

23. Bayad Center
Looking for authorized payment centers to settle your bills can be tiring, especially if nothing is available in your area.
If you think this is a pressing issue, it is best to look for a business that can solve that problem.
Well, look no further because Bayad Center is here!
Bayad Center is the country's pioneer and leader in the outsourced payment collection industry. 
It is a subsidiary of the Manila Electric Company (MERALCO) and a member of the MVP Group of Companies.
As a pioneer and leader in the industry, Bayad Center continues to expand its network strategically by putting up new branches and partnering with major retail and community-based establishments to provide convenience to Filipinos addressing all their payment needs.
Check Bayad Center's franchise details now!
22. Milk Fridge Taiwan Bubble Tea
Are you also a milk tea fanatic?
Well, if yes, Milk Fridge is one brand you must consider.
Developed and conceptualized in Taiwan in 2018, Milk Fridge Taiwan Bubble Tea opened its first flagship store in San Fernando, Pampanga, in February 2019.
It quickly gained massive attention in the region and other places, prompting them to open additional branches.
All their beverages become instant crowd favorites since they use only the highest quality, premium ingredients imported from Taiwan.
Check Milk Fridge Taiwan Bubble Tea franchise details now!
21. Crystal Clear, Inc.
Water is life.
There are many available water refilling stations in the country, but Crystal Clear, Inc. remains a steadfast contender.
Crystal Clear is an all-Filipino corporation engaged in the sale, franchising, and management of water refilling stations. It has firmly established itself as a competent and trustworthy supplier of water filtration, sterilization, and purification equipment throughout more than two decades of existence in the field.
Check out Crystal Clear franchise details now!
20. Potato Corner
Filipinos love food, especially fries.
So, if doing a food business is your dream, try checking out Potato Corner.
Potato Corner opened its first outlet in the Philippines in October 1992 and began franchising the year after. Today, it has grown from small carts into in-line stores found in almost every corner of the world – in malls, schools, hospitals, bus stations, amusement parks, and even tourist destinations in multiple countries. In every corner of the world, someone wants Potato Corner.
Here is a complete list of Potato Corner's franchise details.
 

19. Happy Haus Donuts
Another "maka-masa" donut brand known in the country is Happy Haus Donuts.
The company was established in 2005 by individuals in the donut industry. They aim to create quality donut products at affordable prices. Hence, the birth of Happy Haus Donuts, a franchising business, giving not only quality and budget-friendly products but also formulating a superb business opportunity to Filipino families.
Check out Happy Haus Donuts franchise details  now.
18. Bubble Tea Station
Despite the growing competition in the milk tea industry, Bubble Tea Station is still a sought-after brand by many Filipinos craving a delicious cup of milk tea.
Bubble Tea Station was founded in 2011 in Cebu City by Meyan and Johann Young. It was just a dream come true for a small pep talk that happened while they were caught in traffic going to the sole milk tea shop in the city at that time.
Check out Bubble Tea Station's franchise details now!
 
17. Minute Burger
Minute Burger is best known for its rockstar buy one take one premium burgers.
For over 30 years, Minute Burger has been serving customers with delicious and affordable products. Since 2003, it has been a recognizable, stable, and profitable franchise business for many franchisees.
Check out Minute Burger's franchise details.
16. Petron Gasul
Petron Gasul is one of the country's leading petroleum companies.
Petron Gasul is the largest oil company in the Philippines and has always remained on top in market share. When you think about LPG, Gasul is still top of mind.
Browse more of Petron Gasul's franchise information.
15. Ministop
Ministop is another famous convenience store brand in the Philippines.
In 2000, Robinsons Retail Holdings, Inc., through a subsidiary, partnered with Japan's Ministop Co. Ltd and Mitsubishi Corporation to open one of the leading convenience store chains in Asia to service the Filipino market.
Ministop takes pride in its ready-to-eat offerings that suit the Filipinos' tastes and wants, such as the best-selling Uncle John's Fried Chicken. Being the first convenience store in the country equipped with an in-store kitchen facility, Ministop's food selections are served hot and fresh every day.
Check out Ministop's franchise details now!
14. Red Ribbon Bakeshop
When it comes to cakes, Red Ribbon has been a household name.
In 1979, what started as a hobby-induced business in Timog, Quezon City expanded into a proudly Filipino-owned and professionally run business. Red Ribbon has grown to over 450 outlets all over the Philippines and over 30 stores in the US, with locations in California, Nevada, Washington, Hawaii, New York, New Jersey, and Virginia. With its acquisition in October 2005 by Jollibee Foods Corporation, Red Ribbon entered a new phase in its company history. The company soon became one of the biggest and fastest-growing bakeshops in the Philippines and has taken part in every Filipino's special moments.
Check out Red Ribbon Bakeshop franchise details now!
13. Dunkin Donuts
Dunkin Donuts is one of the most known international donut brands in the Philippines.
Dunkin' is the world's leading baked goods and coffee chain, serving more than 3 million customers every day. True to our name, we offer 50+ varieties of donuts, but you can also enjoy dozens of premium beverages, bagels, breakfast sandwiches, and other baked goods.
It was founded in 1950 by Bill Rosenberg in Quincy, MA. Just five years later, a franchise legacy was born.
Check out Dunkin' Donut's franchise details now!
12. Mang Inasal
As the country's pioneer in unlimited rice meals, Mang Inasal has gained massive popularity over a short time.
Mang Inasal is recognized as one of the leading chicken inasal in the Philippines' branded eat-out category. Being one of Jollibee Foods Corporation (JFC), Mang Inasal has leveraged strategic business units onJFC'se existing system that ensures high-quality food and exemplary customer service. Building JFC's business units, resources, and success factors, Mang Inasal has successfully penetrated across strategic locations in the Philippine market.
Check out Mang Inasal's franchise details now!
11. Cycle House
Cycle House is the leading bike shop in the Philippines, selling bicycles and spare parts, and accessories.
Dubbed as the 'Ang #1 Motorcycle at Bike Shop ng Bayan,' Cycle House provides the best and professional repair services for motorcycle and bicycle users. It is the one-stop-shop for motorcycle and bicycle needs: parts, accessories, services. Mr. Jeff Chua owns it.
Check out Cycle House's franchise details now!
 
10. DripTea
Driptea started last March 2019. It was founded by Mr. Thor Gomez, a former barista in one of the Philippines' leading milk tea companies. He is also one of the top milk tea trainer and innovator in Luzon since 2019.
After months of researching and attending business seminars, the founder decided to put up a milk tea shop as he saw that the business is booming.
Check out complete Drip Tea franchise details now!
9. Happy Cup
Owned by celebrity stars Alex and Toni Gonzaga, Happy Cup is another famous milk tea brand in the Philippines.
Happy Cup is the business venture of celebrity sisters, Toni Gonzaga-Soriano and Alex Gonzaga, together with the Company's Board of Directors – Crisanta Gonzaga, Carlito Gonzaga, and Khrizia Sta. Ana. It offers various beverage products in the form of frappes, milk teas, and pearl coolers at affordable prices.
Check out Happy Cup franchise details now!


8. FlexFuel
Flex Fuel is an independent fuel company in the Philippines geared towards meeting motorists and travelers' needs by providing them with affordable gasoline, clean and safe ambiance, and membership card advantages.
Flex Fuel was established on June 5, 2016, by Bong Medel and Luis Manzano. Bong has been in the automotive sector since 1998, specifically in automotive repair. A few years later, Bong and Luis entered into a joint venture to form a public transportation company called LBR in 2007.
Discover FlexFuel's franchise details today!
7. Magnolia Chicken Station
San Miguel Foods, Inc. (SMFI) is a subsidiary of San Miguel Pure Foods Company, Inc. (SMPFC), the food division of San Miguel Corporation, one of the Philippines' largest business conglomerates. It is engaged in the agro-industrial sector, specifically in commercial feeds, poultry, pork, and beef, with leading market shares in each of these industry segments.
The SMFI Poultry Business, which uses the brand Magnolia Fresh Chicken, had its beginnings in 1953 when the first B-Meg feed mill in Balintawak began converting by-products of beer production from the Polo brewery into animal's feeds.
In 1972, the company's integrated poultry operations started with its first breeder farm in Cavite. The first chicken processing plant which produced the trademark Magnolia Fresh Chicken was set up in Muntinlupa in 1973. These initial forays were followed in the 1970s and '80s by two more feed mills, three more breeder farms, hatcheries, and another processing plant. 
In 1991, San Miguel Feeds and Livestock Division spun off from SMC and became San Miguel Foods, Inc., managing both the feeds and livestock businesses.
Check out Magnolia Chicken Station franchise details now!
6. McDonald's
McDonald's serves the world some of its favorite food like the Big Mac, Big n' Tasty, Quarter Pounder with Cheese, Cheeseburger, French Fries, Egg McMuffin, Apple Pie, and Sundae. This is what we are famous for, globally and locally.
The McDonald's Philippines serves local favorites like Chicken McDo, Burger McDo, and McSpaghetti that were specially made to cater to the unique Filipino palate.
Check out McDonald's franchise details now!
5. Andok's
In December of 1985, Mr. Leonardo "Sandy" Javier Jr. decided to establish a 'Litson Manok' stall along West Avenue in Quezon City, Philippines.
It is one of passion, purpose, and family. The first outlet was built as a means of survival for Sandy and his wife Cora initially, but little did the couple know that they created a brand that would positively impact millions of Filipinos' lives in the years to come. 
The very essence of Andok's is built on passion, loving what you do, perseverance, and common sense. With those values, Sandy created the delicious and now famous 'Litson Manok' that is loved all over the Philippines.
Check out Andok's Franchise details now!
 
4. Albertos Pizza
In the past years, Alberto's has become Cebuano's go-to pizza shop.
Alberto's Pizza, a Cebu grown pizza company, has its humble beginning at B.Rodriguez., Cebu City across Vicente Sotto Memorial Medical Center Hospital. A group of friends looking for ways to augment their income thought of establishing a small business.
Check out Alberto's franchise details here.
 

3. Master Siomai
Master Siomai began as Masterrific Foods back in 1999 as a company specializing in producing and distributing processed meat such as ham, bacon, burger patties, and siomai to its diverse clientele from hotels, restaurants, and market places. By the year 2007, the Company ventured into Food Cart and Franchising of its siomai products under the brand name Master Siomai. Later on, the company became MC MASTER SIOMAI HUT, INC.
Learn more about Master Siomai's franchise details now!
 
2. Grainsmart
In 2014, when local rice retailing was a struggle, GRAINSMART, positioned itself to provide the Filipino consumers a superior rice quality that is locally grown and reasonably priced. It is a 100% Filipino owned company that started with only one branch at Suki Market. Since then, it has grown to more than 200 units nationwide that offer a network of the same line -up of rice quality and brand.
Get your "bigasan" business today! Check out Grainsmart's franchise details today!
 
1. Macao Imperial Tea
Although known globally as the 'Vegas of China,' Macau is more than just casinos. Macau is beautiful, vibrant, and alive, and this change in perspective is what we want the world to see. As one of the fastest-growing cafe chains proudly born in Macau, Macao Imperial Tea takes a deeply-rooted approach that highlights a mix of the rich Macanese culture and a personalized experience.
Learn more about Macao Imperial Tea's franchise details now!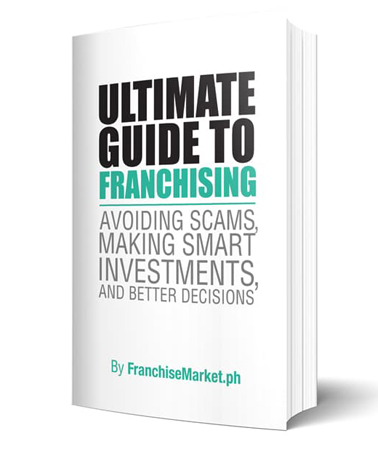 Ultimate Guide to Franchising
Avoiding Scams, Making Smart Investments, and Better Decisions
The franchise industry is booming, and entrepreneurs are wondering about how this sector works. This ebook aims to help aspiring franchisees achieve their business goals.
Learn more
Back to Blog
Disclaimer: Franchise Market Philippines strives to provide relevant and accurate information in all its articles. However, some information in our articles may differ or might be outdated from what you can see or read directly from the establishments' or businesses' websites. Please get in touch with us directly for any discrepancies.