We often hear our parents say that the most significant legacy they can leave us is the luxury of education. Education is a right. Everyone deserves to have at least the chance to learn the things that are most important in our life. Parents are willing to go beyond every means to give their sons and daughters the experience they deserve to live, and one of which is the opportunity to learn.
Do you have a passion for making education accessible to everyone? Do you like to earn at the same heed your true calling in providing education to the people around you? Then, franchising an education business is the one for you. Here are the five best education franchises in the Philippines.
1. Kumon Method Learning
Kumon Method Learning started when Toru Kumon, a Japanese high school math teacher, taught his son the concept of self-learning. They began with writing numerous calculation problems on loose-leaf paper. This technique spread worldwide, including the Philippines, establishing its first Kumon branch in 1996.
Kumon boasts itself by having a different approach in helping the students to learn to solve problems independently. It aims to allow students to study comfortably to work on and develop their academic ability. This method has been working for its customers for more than fifty years. They always ensure to revise their worksheet to have smooth student progress while developing their maximum potential. Among the programs they offer are mathematics, English (EE programs), English language programs (EFL programs), and skills programs using pencils.
To franchise Kumon, they require you to be a Kumon instructor first. You must be a Filipino citizen, and at least a college graduate. You must as well have the love to teach and take care of children and full-time commitment to Kumon instruction.
The Kumon franchise fee is P 60, 480. However, the total investment ranges from P600,000 to P800,000 or more. It is important to note that the franchisee will shoulder other related expenses like Training/Instructor Development Program expenses, purchase of materials, costs of construction, professional fees, and marketing costs.
2. Logiscool
Logiscool established its ever school in Budapest, Hungary, in January 2014. It has now expanded to more than 90 locations in 15 countries, including the Philippines. Driven by its mission to make computer encoding accessible to a lot of children, Logiscool offers regular computer coding after-school classes and summer camps. They have well-equipped, dedicated, and inspiring classrooms and a unique and innovative education platform tailored for every student at any age.
Young and enthusiastic trainers teach the kids and teens computer coding through writing their computer animations, games, and applications. In this way, the children develop the ability of logical thinking, problem-solving, and process creation. Among the popular topics during their summer and winter camps are computer game and application design, photo and video editing, and website creation.
Should you wish to make a coding school accessible to children within your neighborhood, then franchising Logiscool can be the best option you can take. Their franchise package includes the right of use of Logiscool brand, corporate identity, and full education concept,  access to courses curricula and unique education platform, initial franchise business training, initial and regular exercise for the instructors, central marketing support including creative planning and strategic assistance regarding your local marketing campaigns, professional presence on the website, Logiscool email address, access to proprietary and proven systems (CRM), administrative and financial regulations and procedures, and professional ongoing support by dedicated staff.
3. Seriously Addictive Math
Seriously Addictive Math or commonly known as SAM, was founded in Singapore and is now known as the largest Singapore Math learning center. It has more than 190 centers in 18 countries like the USA, Canada, Australia. UAE and the Philippines. They opened their first franchise center in the country in January of 2019 in SMX, Mall of Asia.
Singapore Math curriculum is a renowned and most successful Math program in the world based on international assessments like Trends in International Mathematics and Science Study (TIMSS), and Organization for Economic Cooperation and Development (OECD)'s Programmed for International Student Assessment (PISA).
SAM offers programs modeled after the Singapore Math curriculum. They ensure that students learn to comprehend and think of an answer to word problems. They aim to let the children understand the "hows" and "whys" of Mathematics. Skills such as critical thinking, heuristics, logical reasoning, metacognition, modeling techniques, and situational word problems are their focus for children to develop.
In order to become a qualified franchisee, you have to be passionate about educating children and helping them to be the best that they can be, a great communicator who is capable of interacting with and influencing parents and children, have the confidence to run and market an education business, build and lead a team of trainers, and a university or college graduate who is competent in math and has a high level of integrity. The cost of investment for franchising SAM starts at P 900,000 to P1M, inclusive of the franchise fee, training, manipulatives, furniture, marketing collateral, and center renovation.
4. Eye Level Learning Center
Eye Level was once known as Daekyo and established in 1976. Dr. Young Joong Kang developed the learning method the center is using. It boasts its individualized systematic program that nurtures the children's skills through the use of proven and testing method of teaching. Crucial skills like self-confidence, analytical, and critical skills, and their learning interest are some of the areas that Eye Level focuses on helping your children to develop. The center now has various centers all around the Philippines.
It offers various programs tackling different skills that a child should develop. They offer Math, which can improve students' problem-solving skills up to the advanced concepts and applications through small steps approach. Play Math is designed for early preschoolers to prepare and provide them with a solid foundation for life-long Math. Another program is English, which enhances the students' reading, writing, and speaking skills of the language. English Sparks focuses on common syntax patterns and situational vocabulary to improve children's fundamental English language skills. Korean and Chinese languages are also offered, which are aimed to provide personalized learning at everyone's level of literacy and help children in learning to read, write, speak, and listen to the languages, respectively.
For one to be granted the franchising rights, he/she should have formal or informal teaching experience, a solid business background, a passion for working with young children, possessing high math and reading skills, and holding a four-year college degree. The initial investment may cost from $50,000-$100,000, depending on the size, leasehold improvements, locations, and other factors.
5. Tinker House
We owe to the children to give the best childhood dreams they deserve. Make learning fun to make it the best learning experience. Tinker House firmly upholds the sense of duty to provide the children with the chance to explore their creativity and answer their curiosity.
Tinker House is a mall-based learning and activity center that aims to promote the Arts and Science, Technology, Engineering, and Math (STEM) through creating fun and innovative home project for children. Their missions are to promote the importance of creativity, love for science, and parent and child bonding.
Franchising Tinker House comes to a lot of benefits. Aside from being a recognized brand, its business model ensures a high success rate. Low-cost supplies, proper placement, and useful marketing techniques may as well result in huge profits. Several factors have to be considered when deciding to franchise Tinker House. Visiting a store can help you select and be more aware of the operation and proceedings. After the observation, you can come up to your decision of whether owning a franchise of Tinker House is the best business venture for you. Location is another essential factor to be considered since it can make or break your business. A conducive environment for the area of your Tinker House can influence the performance of the company and affect the profits earned. The franchise fee starts at P250,000, but the total investment may go up to P800,000 to P1M.
Education has been given much importance, and education businesses are undeniably in demand in the Philippines. Given the much improvement done in the education system of the country, more companies offering basic to advanced education to students from varying ages are becoming accessible.
Franchising now has a crucial role in the country's economic performance. It provides various benefits that not just business people can enjoy but the country as well. One of which is the diverse business ventures as it offers more job opportunities for the Filipinos. Once you have decided which education franchise you would like to venture out, prepare your franchise business model that will guide you along your franchising journey. You might as well consider getting yourself a franchise consultant that may assist you and help you with your decision for your upcoming business venture. Lastly, assess carefully and meticulously the location of where your business will be established to ensure your profit and your return of investment.
For more business ventures for franchising, visit Franchise Market for more ideas.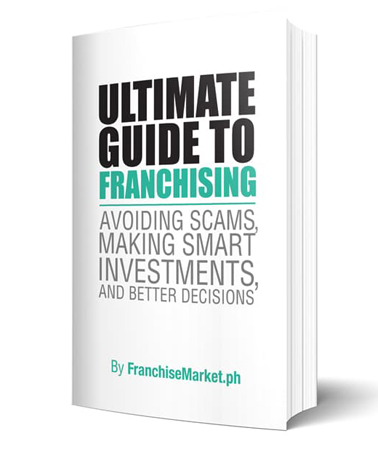 Ultimate Guide to Franchising
Avoiding Scams, Making Smart Investments, and Better Decisions
The franchise industry is booming, and entrepreneurs are wondering about how this sector works. This ebook aims to help aspiring franchisees achieve their business goals.
Learn more
Back to Blog