Nowadays, the food cart business remains to be a lucrative franchise idea in the Philippines, particularly amongst entrepreneurs. Just like the fast-moving consumer goods (FMCG), the food cart business is also very dynamic. It is also booming since people are always looking for new food concepts available in the market.
Look around you and observe. Food carts are everywhere because there are demands from the people. Moreover, it is noteworthy to note that Filipinos generally love food, which means more franchise concepts are possible to happen in the coming years.
The Basics of Food Cart Business
First of all, you must understand the reach of the food cart franchising in the country. It is not only limited to the street food craze. In fact, in malls and other establishments, a lot of food carts and kiosks can be seen. Hence, there is always a market and opportunities for those who want to venture into this business.
So, if you think this business is for you, then start it right by evaluating the following steps in starting a food cart business:
Do Market Research
Any business technically needs a well-done and thorough market research. It involves understanding and finding answers for the 5W's (Who, What, When, Where, and Why). It is very unsafe to assume that things will work out; hence, the need for this research before investing. During this phase, you need to address concerns about the operations, target market, competition, and location.
Adhere to Business Legal Requirements
Just like the other types of franchises, there are still legal documents that need to get processed. These documents include food service permit, health requirement, business license, sales tax permit, and truck or cart registration. When it comes to these requirements, there is usually a difference from one city or municipality to another. Therefore, it is best to inquire to your city or municipal hall to have the correct information about the requirements you need to fulfill.
Start the Business
Take note that in the food cart business, you have the right to start your brand or just franchise. There are pros and cons for each choice, but the good thing is that there is always an advantage for a franchise since the business is already established in the market.
Choosing the Right Food Cart Franchise
Engaging in a business that you like and close to your heart is the primary key to a successful franchise business. So, if you opt to get a franchise instead of starting your own business, be sure that the franchisor has a good standing and a member of either Association of Filipino Franchisers, Inc (AFFI) and/or Philippine Franchise Association (PFA). 
It can also be helpful if you do a background check first, then talk with other franchisees, and consult a lawyer before signing the franchise agreement. Often, franchisees also tend to feel overwhelmed over the benefits of successful brands, but as the golden rule, you should never feel intimidated with the franchisor's success.
Instead, you must bear in mind that you too can be a tycoon in the business and manage other franchisees in the future. Moreover, you should always know whether you want a food cart business alone or if you prefer to have kiosks. Though they differ in the space area, carts and kiosks remain competitive in the market carrying brands that are successful in the field.
Tips for Starting a Food Cart Franchise Business
When starting the business, there are helpful tips that can help you stay on track. Specifically, for food cart and kiosks, here are some useful tips to follow.
Do Not Go Hybrid Right Away
While it is also a good option to offer more than one food in your cart, focusing on just one first is a good way to build the foundation of your business (if you are starting your own brand). This will give you a complete focus on developing your business model and system, which are considered pillars of successful franchise brands.
Observe Proper Sanitation
Always make sure that you prioritize clean food preparation and handling at all times unless you want people to talk about your dirty business.
Invest in the Food Cart Design
It can't be denied that visuals are very helpful in catching people's attention. Hence, it will be helpful if you can have an attractive food cart or kiosk design.
Prioritize Customer Service
Remember that in a food cart business, you are not just selling food; you also provide services to the customers. Always try to smile at your customers and serve them well despite the long queues.
Are you planning to start your dream food cart business soon? If yes and you are ready to jumpstart your franchise business, then do not hesitate to follow the points and tips we have for you.
Let us help you in achieving your franchising goals! Check the latest franchise listings too!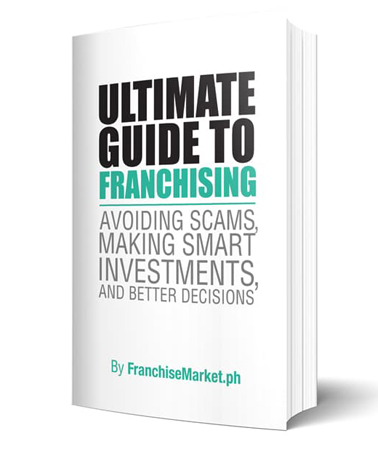 Ultimate Guide to Franchising
Avoiding Scams, Making Smart Investments, and Better Decisions
The franchise industry is booming, and entrepreneurs are wondering about how this sector works. This ebook aims to help aspiring franchisees achieve their business goals.
Learn more
Back to Blog