Getting an investment is not something everyone does right away.
At times, it will take up years and some realizations before you finally think about investing and growing your hard-earned money.
It is undeniable that there are ways to invest in the Philippines, but not everything yields the best results.
Given this, you should be looking for investment opportunities that will give more value to your money and time. One good example is investing in the stock market.
But how do you get started with the stock market?
This guide will walk you through how to invest in the stock market in the Philippines.
What is a stock market?
Stocks mean shares. Technically, it means a share from one company you invested in makes you part of the owners of that corporation.
Simply said, you get to be a shareholder of a company, but only if you buy stocks listed in the Philippine Stocks Exchange (PSE).
On the other hand, PSE is the marketplace that handles different stocks from companies in the Philippines.
PSE was originally a non-stock company founded on July 14, 1992. Its primary goal is to provide and maintain an ideal market for the exchange, purchase, and sale of all types of securities and, eventually, stocks after it became a stock corporation on August 3, 2001.
It has two wholly-owned subsidiaries, the Securities Clearing Corporation of the Philippines and the Capital Markets Integrity Corporation.
The first one functions as a clearing and settlement agency, while the other one is PSE's independent audit, surveillance, and compliance unit of trading brokers.
Now, does it still sound confusing?
Well, here is one relatable example.
Remember that significant companies in the Philippines open their doors to potential investors through the stock market.
In the process, the prices of their stocks or shares vary from time to time - sometimes it is way too affordable, but sometimes not.
Let us say you buy stocks from Jollibee and SM Investment Corporation.
Doing this makes you a shareholder of those companies. Simplified, you become a co-owner of the company.
It is fascinating to know, isn't it?
One day you are only an ordinary person, but then you suddenly become a shareholder. This is one perk of investing in the stock market, even if the amount you are investing is not too significant.
Types of stock in the Philippines
There are two types of stocks  in the Philippines:
Common stocks
Common stock is a stock that represents equity. This means it gives you the right to share in the profits, get dividends, and the ability to vote. 
Preferred shares
Owners of preferred stock are prioritized to receive dividends.
Hence, if the company went bankrupt, their claim on the assets comes first before common stocks.
The downside here is that they do not have any voting rights. Besides that, very few preferred stocks are available in the market, which is also traded very infrequently.
What are blue-chip stocks?
Blue-chip stocks are those stocks offered by companies with established profitability and stable earnings through the years. 
The term "blue chip" is borrowed from poker chips of the highest value. As of now, 30 top companies are considered blue chips.
All of them are part of the Philippine Stock Exchange index or only stock index. This means that aside from buying them directly, you may also invest in index funds.
But how much should you invest initially?
This one is the perfect question to answer in the next part.
How much do I need to get started?
There is no pressure when it comes to your investment amount.
Did you know that for as low as P5,000, you can start investing in the stock market?
Yes! You read it right. You do not need a huge amount right away to get started.
However, if you want to start with an amount higher than that, then go ahead. You can always begin to mid-range, like between PHP 6000 to 10,000.
Why invest in the stock market?
So, why invest?
You need to understand that in a stock market, your investment grows as the company grows.
Stocks offer the most growth potential compared to short-term bonds or other investments.
This means if you compare the growing interest you can have in the stock market rather than putting your money safe in the bank is way too higher than the current interest rate that banks provide.
If the stock market is doing well, then your shares also grow and receive profits. But if an economic crisis happens, you lose too the chance of increasing your money.
As part of the company, you realize that their loss is yours too. And there is no way to avoid that since everything in the stock trading industry is unpredictable.
Some say it is pure luck, but who cares more about fate anyway? By the end of the day, you still are in control of your finances and investments.
Hence, if you think it is way too risky to invest a considerable amount in one go, then trust your instinct.
Nobody will judge you for doing that.
Short-Term vs. Long-Term Stock Investment
Like any other investments, there are short-term and long-term perspectives to help you make better investment decisions.
Either way, you need to be sure about what you want in life.
Ask yourself and imagine if you can see yourself doing this kind of investment in the next years to come, or you just want it to do in a few months and stop after seeing significant growth?
For better understanding, take a look at this:
Short-Term Stock Market Investment
This type of investment is also known as day trading and quick gains.
Here, you want to have quick gains by buying a stock you think is performing well in the market and then trade.
Some institutions, like COL Financial, for example, offers this. You can start buying the stocks that you believe in most and trade daily.
However, as a beginner, you will need to learn the basics of trading and its technical analysis, plus real-time price updates.
Long-Term Stock Investment
In this type of stock market investment, you buy stocks and diversify your portfolio.
In other words, you need to nurture your stocks further and make them powerful for years, although some changes are inevitable.
You need to study and do more research before buying the stocks of companies you think will last long.
The ideal timeframe will be around five to ten years from now. This is acceptable since you are willing to let your hard-earned money sleep for long.
The good thing about this is that the longer you hold them, the better the gains. But again, you need to understand that investing in the stock market has risks.
So, friendly advice is to be ready with whatever setbacks can happen within that timeframe.
How can you make money in stocks?
One common question for interested investors is how do you make money in stocks.
It is evident that your money grows as a shareholder of a company but aside from that, are there other known monetization channels?
Luckily, yes! Take a look at the following ways on how you can make more money in stocks.
Dividends
First, you need to know that corporations issue dividends to shareholders.
These dividends mean the company's earnings, which need to be shared with other shareholders via cash or additional stocks shares.
Capital Appreciation
When you visit the PSE website, you can see that each stock has a corresponding price.
Capital appreciation means there is an increase in the price of your stock. It is practically the difference between the price you paid and the current market price.
For example, if you buy stocks from Company A at P500.00 and five days the price became P600, then the appreciation is P100.
However, for you to make use of it, you need to make sure that you also sell it at that price to gain that 100 PHP difference.
Otherwise, if the price decreases, you sell it at P500.00 without any gains.
How to invest in the stock market in the Philippines?
Are you ready to invest?
Here are seven simplified processes that can help you get started.
1. Choose your broker
There are hundreds of licensed brokers accredited by PSE. This gives you more freedom and discretion to choose the type of service you want based on convenience and preference.
2. Online brokerage and trading
Even before the pandemic, making online stock market investments is already prospering.
Many online stock brokers communicate with their clients online,  giving them the best assistance they can get.
Among the most popular platforms online are COL Financial, First Metro, and Phil Stocks. These websites allow you to connect with a broker and discuss your needs. 
After your thorough communication with the broker, you execute the orders while the broker directly accesses the market's information.
COL Financial has been receiving excellent reviews as the best and easy-to-use online platform for the stock market. As mentioned, you can start funding your account for as low as P5,000.00 as of this writing.
3. Open a stock market account.
It is best to open an online stock market brokerage account, especially as a first-time investor.
It is more secured and accepted than relying on some modern-day apps you can download online. After creating the account, try to check out some possibilities as seen on the market's current pricing, and if they are favorable for you, then talk to your broker.
4. Traditional Brokerage
As mentioned, there is now the so-called "online brokerage." Some people are not comfortable using smartphones, tablets, or even laptops.
In this case, how can you tap the market that is not used to these technological advancements?
The right answer is by using a licensed broker or salesman to handle your account traditionally, following the old norms without involving much of the modern processes that may seem difficult for the clients.
There is no need to worry because these traditional brokers are licensed salespeople to handle your account while taking orders over the phone.
5. Fund your account
Going back to the online brokerage, you can fund your account via online banking.
Once approved, the platform you are using will provide the bank details to fund your account. Most of the time, you will have three months to support it, so it gets activated. 
If you are not comfortable with online bank transactions, you can also go to the bank directly to fund the account or deposit the money directly to the broker's office.
6. Engage in the stock market
After putting your worthy stocks into the hands of the companies you prefer, all that is left to do is to make some money out of it.
You learned that aside from earning interest over time, there are other monetization ways to try. For instance, you can place your order, buy or sell online or through a phone with your broker's assistance.
But before you buy or sell, do your research first. You may want to read more about the companies you want to buy stocks from. This is one way not to regret your decision later, especially if everything goes downhill due to unforeseen circumstances.
Beginners should buy stocks on a regular schedule with the same amount of money. It is one useful technique you are going to invest in long-term. 
In other words, it is the Peso-Cost average where you grow your money in the years to come.
7.  Monitor or track your investments
Investing is an ongoing process, as you may want to track and monitor your stocks' progress.
If you choose to go online, checking and monitoring the stocks are relatively easy since you can just log in to their website and view the information you need.
The Pros and Cons of Stock Market Investment
Like any other endeavor, there are advantages and disadvantages associated with the stock market investment.
Here is a quick list you can check.
Pros
Increasing returns
Based on previous data, the returns of the stock market have been increasing.
One way to know this is through the stock index - a collection of the top 30 companies in the Philippines called "blue-chip" stocks.
Earn dividends
As mentioned above, investors can receive dividends, which are part of the company's earnings that they decide to pay out to all their shareholders.
There is no fixed amount to this since it is really up to the board of directors how much dividend to give away or whether they pay one.
This happens because the earnings may be reinvested back to the business without any taxes, unlike giving the dividends to the shareholders subjected to a 10% tax.
Long-term investing
If you are tired of looking for other ways to invest your money, then the stock market is the right choice.
The stock market is ideal for long-term investing. This is because long-term investing can make up for market corrections such as the recession's effects, for example.
Be part of the company's growth.
Your shares in companies make you part of its growth story.
If its business expands and gains profits, you can be part of its increased valuation since the stocks this time will be priced way higher than they were before.
Corporations such as BPI, BDO, Metrobank, Security Bank, Unionbank (banks), PLDT, Globe, Smart (telecommunications), SM, Ayala, Puregold (retail), and DMCI, Ayala Land (real estate) are household names that also offers stocks.
Choosing one of them or any other stable companies you believe will make a difference in the next years can be a great choice.
Influence on company's decisions
People who own shares have voting rights.
Practically, as a part-owner, you can always exercise your right to vote and air your opinions.
However, this depends on their equity, which means the more significant the investment, the larger the equity is and the more weight their votes count.
In terms of voting rights, investors with small equity can still be heard since they may form minority blocs to influence its direction. 
You may have a voice on decisions such as the choice of directors and acquisitions of the company.
Cons
Inflation
Inflation is one significant disadvantage of owning stocks.
Because of unmet expectations, the entire worth of your investments might be lost due to inflation. This means the value of your portfolio may rise to meet or exceed the usual price increase of goods and services.
This is not a good thing because it will be even more challenging to navigate and buy or sell your stocks.
Concentration risk
Investing is like a gamble. You must be willing to take risks.
Hence, if you only have one stock, there is a chance for higher losses. So, how can you prevent this from happening?
This risk can be mitigated by diversifying your stocks and activities. For example, you can start purchasing shares of companies belonging to different industries, businesses, or markets.
By doing this, you do not focus only on one stock that may hit rock bottom. At least, you still have others to nurture later on.
Non-guaranteed dividends
If you are hoping to earn from dividends, they may not be guaranteed.
At times, it is most likely to happen when you hold common stocks, unlike, say, Pag-ibig MP2. Preferred stocks may even face unpredictable yields, especially when these are prioritized over the others.
Non-guaranteed returns
In the stock market, returns refer to the increase or decrease of stock prices. This alone is not guaranteed. Hence, there is the term volatility; there is no telling which way the fee goes.
Liquidity
The only way to buy stocks is when someone else is willing to sell them.
This also means you can only sell when someone else is willing to buy. Aside from that, you and the seller/buyer would need to agree on a price that you are both comfortable with a win-win situation where both parties are happy.
This practically refers to liquidity - a measure of how easy it is to buy or sell stocks. Some may not have difficulty at all, but the challenges are real in trading them for very unpopular stocks.
Stock Market in the Philippines: Frequently Asked Questions (FAQ)
How to open an account?
The process is very similar when opening a bank account.
You will be required to fill out a form called Customer Account Information Form (CAIF) and submit the following documents, namely:
Two (2) valid IDs
Specimen signature cards; and
Proof of billing
Sometimes, the broker may require additional documents and an initial cash deposit to begin investing.
How can OFWs open a trading account?
For OFWs, the most convenient way of investing directly in the local equities is to open a trading account with an online stockbroker.
They can also apply directly with any overseas branch of Philippine banks affiliated with any of the active stock brokerage houses in the PSE.
However, doing this online gives OFWs more perks since they can access the Philippine stock market and trade stocks in real-time.
Do I need to have physical evidence of my stock ownership?
The PSE, the Philippine Depository Trust Corp. (PDTC), uses the computerized book-entry system (BES) to transfer ownership of securities from one account to another through its central depository.
This process eliminates the need for the physical exchange of script between buyer and seller. It is often referred to as "scriptless" trading.
However, you may still request an upliftment of your shareholdings to get a physical certificate when necessary.
For a list of more FAQs, you can check it here.
Final Thoughts
So, what do you think?
Is now the best time to deal with the stock market or just focus first on investing for your life insurance, business from scratch, or a franchise?
Honestly, there is so much to advise about this, but the final decision is still up to you.
As the investor, you know what is best for you and the hard-earned money you have. Everything is just a matter of having the right decision after careful considerations and thorough evaluations.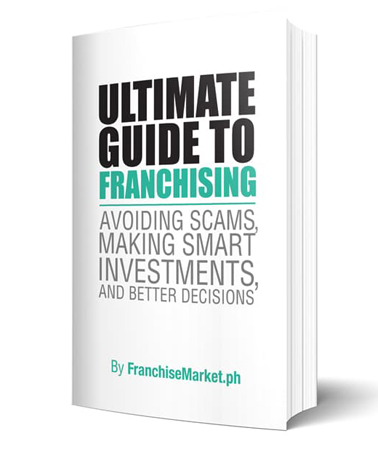 Ultimate Guide to Franchising
Avoiding Scams, Making Smart Investments, and Better Decisions
The franchise industry is booming, and entrepreneurs are wondering about how this sector works. This ebook aims to help aspiring franchisees achieve their business goals.
Learn more
Back to Blog