When it comes to the e-commerce industry, one thing is always sure: it has a bright future ahead.
There is no denying that e-commerce businesses are booming and dominating the economy. Indeed, it has shaped the kind of businesses and services offered these days and changed many aspects of a buyer's persona.
Yet, despite this, the rise of online stores instead of traditional brick-and-mortar shops does not always negatively impact the market.
Instead, it shows everyone how versatile the industry is in terms of influence, business models, and operations.
Are you a business owner?
If yes, are you currently present in the online market or just focused on improving your physical store?
The former gives you an edge in the market, while the latter also has advantages that online stores cannot provide. But, do you know what makes the combination of these two things exciting?
Simple: you get wider reach and more significant sales if both of these channels are used.
So, never settle for less.
Today, having a physical store is excellent, but with people going online for everything and the pandemic, leveraging the benefits of an online store increases your chances of having a fast-paced business.
Now, how do you exactly get started with an online store?
This article will walk you through everything that you need to know about setting up your online shop from start to finish.
Remarkably, the following topics are covered.
What is e-commerce?
What is an online store?
How to start from scratch?
What is Shopify?
How to start an online store using Shopify?
Overall Steps in Launching Your Online Store
Alright! Let us start.
 
What is e-commerce?
To understand what a Shopify store is all about, you need first to know how e-commerce works.
You can find different definitions of e-commerce online. But, all of those still bear the same idea as below:
E-commerce refers to the process of buying and selling goods and services online. It plays a massive role in the marketing and sales tactics of most businesses.
What is an online store?
As the name suggests, an online store is any shop that is accessed virtually via the internet.
Most of the time, online stores are websites that sell different products or services to online shoppers.
Today, the range of products available online is diverse and exciting. You get to check goods you never knew before in just a few clicks.
The idea of an online store sparks the interest of many people in engaging with different online shopping activities.
Hence, the term "online shopping" was officially coined to refer to any person's online selling and buying activities.
Reasons Why Businesses Should Have Online Stores
Why should you have an online store?
You know for sure that competition is always a part of your entrepreneurial journey. Whether you like it or not, you need to face your competitors and be ready to win in the game.
This means you must be open-minded in exploring other sales channels and coping with technological advancements.
And, it means going digital, even if you have no idea how to get started. After all, you can utilize online resources to study and self-learn digital marketing concepts, one step at a time.
So, why is having an online store a lucrative business opportunity?
Here are some reasons to ponder.
Wider Reach
Look around you. Almost everyone is going digital.
This change in the buying behavior of consumers empowers the e-commerce industry. Without people interested in purchasing goods and services online, the online market world will not thrive.
Just think about it. Having physical stores in your area is great, but it does not give you diverse customers.
You always have limitations. Frequently, you only reach consumers who live near your location—nothing more, nothing less.
But, with an online store, you can reach thousands of people, regardless of their location, age, race, and beliefs.
Through the power of the internet, entering a whole new market is not impossible and challenging. You just have to know the right strategies.
Boost the Company's Credibility
If you already have a physical store, you can quickly build the company's image within your area. But, it is not always the case when it is already time to expand your network.
The traditional "word of mouth" (WOM) marketing strategy can help you gain some loyal customers, but going online will allow you to tap more significant markets.
Hence, if this is something you want to venture into, it is best to present your online business positively by ensuring you have a well-optimized website, good customer service, and an efficient marketing strategy.
More Flexible Operating Hours
With an online store, you can pretty much leave it running outside the usual operating hours without worrying about the operations.
Building an e-commerce store allows you to automate processes to accept orders without actual human intervention still.
One key benefit of having an e-commerce website is that your clients and customers can read about your products and place orders at any time of the day.
Lower Cost
You do not need a huge capital to start an e-commerce store. The start-up cost is way lower than building a physical store.
Depending on the nature of your business, there are some aspects of the brick-and-mortar store that you do not need to have any more in the online world.
For example, there is no need to hire more staff to manage the online store. You can do this by yourself, especially if you are still starting.
Moreover, venturing into the online business sphere allows you to utilize your existing store's resources still. Hence, if you sell cosmetics and gadgets, you can already use your current inventory to fulfill any orders from online customers.
In other words, you do not need to buy new stocks just to fulfill the orders immediately. You continue selling the same products that you know and get interested customers in one go.
Better Customer Support
When it comes to good customer service, having online channels to allow customers to connect with you is a brilliant solution.
Imagine the hassle that your customers will need to experience by going back and forth to your store to file disputes.
You directly address this issue by giving them a more accessible way to settle the problems with their purchases.
Ensure that you always have a page for your frequently asked questions (FAQs), educational video materials, or product spec sheets to give firsthand information to your customers.
Remember that your clients and prospects are looking for specific information, such as the following:
Information before buying the product
To solve a problem with an existing purchase
Researching alternatives for certain products
Work Remotely
With an online store, work at your own pace and convenience. You are the boss.
As long as you have a stable internet connection, you can live virtually anywhere and manage your store remotely.
Of course, if you are maintaining offline and online stores, you should have someone to oversee the physical store while you manage the online channel.
Access to the Global Marketplace
As mentioned, a brick-and-mortar store is always the best option to conduct business locally.
At the same time, going online is the best way to penetrate the global marketplace. With a good website, you can have thousands or millions of people visiting your online store at once.
This means increased potential sales and revenue for your company. Still, you should not be complacent. Here is a concept you need to understand: having thousands of visitors and having them are two different ideas.
The success of an online store depends on marketing, specifically digital marketing. You can try optimizing your strategies with the following:
Learn how to increase blog traffic because content marketing is always the king.
Utilize social media. Having some valuable social media accounts can be powerful enough to get followers and online recognition. It is also a cost-effective marketing tactic.
Consider using powerful copies by leveraging the benefits of good copywriting.
Alright!
Indeed, there are still several out there that can persuade you to start an online store. But, the real question is this: "How can I start my online store?"
Do not worry! The following topics will guide you throughout the process.
How to start an online store?
If you reached this part of the article, you already know the basics of online stores and why entrepreneurs choose to venture into this field.
But, what you still need to know is how to set up your store.
To get started, you need to understand that an online store is not only a simple website. It is the integration of several resources that makes an online store functional.
Basically, you will need the following:
Working and well-audited website for your business
An integrated e-commerce platform will allow you to sell products such as Shopify, WooCommerce, and BigCommerce.
Plugins to automate some processes
Why use an e-commerce platform?
The simple answer to this question is related to the fact that utilizing e-commerce software has a massive impact on the stability and profitability of the business.
It is your key to success, so you need to pay attention when setting this up to avoid mistakes.
Otherwise, if you think using one is not significant in growing your business, the only alternatives that you have are the following:
Build your platform from scratch, which can be costly and time-consuming.
Use a plugin, which is always a big downfall for the business, especially if you want to build or grow it the right way.
How to start a Shopify store?
This article focuses on Shopify store set-up.
So, if this is also your first choice, then here are the steps you need to undertake.
Adding the products to sell
Creating key pages
Picking and customizing a theme
Customizing the shipping settings
Configuring tax settings
Setting up the payment channels
Preparing for Launching
Launching the store to the public
Yet, before you can proceed with all of the steps above, you need to have a Shopify account.
As part of the testing process and familiarizing the software, Shopify offers a 14-day free trial. This gives you more than enough time to build an online store from scratch, test the features, and improve it until the final launching date. 
Of course, when you sign up for the free trial, you will be asked for a store name, which will also be your default URL.
You need to be sure about this on the first try because you cannot change it anymore. However, you can still change your domain by buying a custom domain.
When the 14-day trial is over, you have to buy a premium subscription to keep your store running.
Now, let us proceed with the steps.
Adding the Products
Since you are trying to make an online store, it is imperative to put products in the store.
To do this, go to Products > Add product to create your first product listing.
However, you need to consider the following when adding products:
Write compelling product title and description
Add media such as images or videos
Set the product's price
Create the inventory
Set your shipping and tax policy
Add product variants, if there are
Creating Key Pages
It is an excellent thing to perfect your product listings. But, you should also pay attention to the main pages of your shop's website.
You need to ensure that customers can have a way to check what your company is all about, what products do you sell, and other essential information that needs to get communicated with your customers.
To create these pages, go to your store, under Online Store > Pages, then begin adding content and necessary images or media.
Among these pages are the following:
Contact page - allows customers to reach you if they have questions about the products.

About page - talks about your company and connects you personally with customers. Here, you can explain your business model and share your mission, vision, and values.

FAQ page - lets customers find answers for some of the most common queries regarding your products or services.
Policy pages - give customers detailed information on how you use their data. It also protects you in case of disputes, such as your return policy and privacy policy.
Picking and Customizing a Theme
To choose a theme, go to Online Store > Themes in Shopify.
From there, browse some themes that you think may fit your products and the design you have in mind.
If you are unfamiliar with a theme, it refers to a template installed in the store to give your final store a presentable look.
The Shopify Theme Store offers a wide range of free and paid themes with different styles and features.
Customizing the Shipping Settings
Alright.
So you have the products available and the customers who are willing to buy them. The question now is, "how do you send them to the buyers?"
Simple: provide a shipping solution.
You see, shipping is a complicated process in running an e-commerce business. This is because you need to connect with other third-party companies to fulfill the orders, especially if you do not have your own warehouse.
Several factors are involved, such as product weights, packaging costs, shipping destinations, carrier rates, and your potential profit per order. Hence, it is best to hire someone that knows how logistics works to make the whole process easy.
Here are some shipping strategies that work wonders:
Offer free shipping - a free shipping option is a lucrative way to lure interested buyers. However, if you plan to use this scheme, keep in mind that you will need to factor this into the retail price of your products.
Charge a flat rate - flat rate shipping is the best option if your products have similar sizes and weights. Otherwise, you should explore other options.
Charge real-time carrier rates - like an e-commerce platform, Shopify allows real-time integrations and reasonable rates with several couriers worldwide like USPS, FedEx, UPS, and Canada Post.
Offer local pickup and delivery - for customers who still want to do it the old way, you can offer them the option to pick up their online order at one of your locations. Do this by setting specific notification and pick-up provisions.

Also, set up your shipping zones, other conditional shipping rates, and real-time calculated shipping rates.
Configuring Tax Settings
As an online business, you need to set your business' taxes and duties policy.
When you ship to other countries, your parcel is not automatically released by that country's customs. Every order is checked and subjected to taxes and duties.
Depending on your policy, you can override the default tax settings by following this: Go to Settings > Taxes in Shopify to set up your tax regions.
On this page, you can edit the default rates or apply overrides.


Setting Up the Payment Channels
Every online store should have reliable and secured payment gateways.
You should also decide how your store will accept payments and how you want to get paid.
To set this, go to Settings > Payments and set up your payment provider. Most major payment methods are available in Shopify, specifically under Shopify Payments.
There is no need to worry about the payment gateways as long as you operate your business in one of the supported countries and follow all the business rules.
Just activate Shopify Payments in just one click and pay 0% in extra transaction fees. You can also choose from over 100 third-party payment providers here, like PayPal and major credit cards.
Always consider the currency type of your store. It should be able to process several currencies without any problems.
Preparing for Launching
Wow! We are almost down to the last step.
To officially make the website live, just disable the password protection under Online Store > Preferences.
This is the first step before letting the people know about your site and begin buying products.
If you do not have enough time to audit the website again before the target launching date, it is okay. You can still proceed with the plan and just revisit the missing steps later.
Moreover, you need to check these pointers before officially going live.
Acquiring your customized domain
Installing relevant sales channels
Customizing your email notifications
Setting up your store for marketing which includes SEO, analytics, and Facebook Pixel.
Take note that for the first option, you need to go to Online Store > Domains. This is where you can buy your domain directly through Shopify.
As for the sales channels, not all are relevant for your unique business, but here are some that can be useful:
Shopify POS
Social networks
Marketplaces and Google channels
Buy button
Launching the Store to the Public
Finally! It is now time to let the people know.
Again, you have to make sure you already disable the password before announcing your launch publicly.
You can do this by sending newsletters to your leads, promoting the business on social media, collaborating with influencers, journalists, and other key opinion leaders in your niche, releasing press releases, doing guest shows, and other marketing activities that may add value the launch.
Key Takeaways
In a nutshell, online marketing is a powerful tool that creates fantastic opportunities for entrepreneurs.
The whole process of setting up a Shopify store needs familiarity and expertise, but it is something that you can learn by yourself.
You have to understand that there are other e-commerce platforms out there that you can try. But, Shopify should also be part of your choices.
For years, this software has been the industry's favorite, helping thousands of businesses achieve their goals.
Just remember to always weigh your options before deciding which platform to use. Always research the pros and cons, pricing, and other software features you are eyeing to use first before purchasing anything.
Doing this can help you save more money from premium subscription fees and other unnecessary costs for plugins and others.
Who knows? You might be the next prominent store owner to dominate the online market.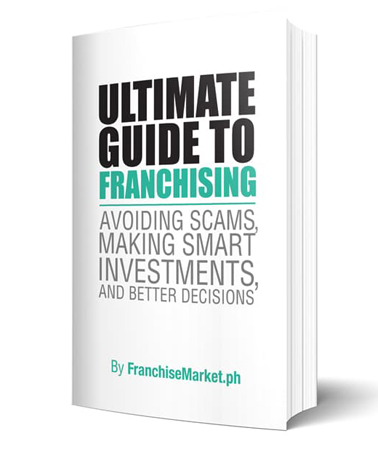 Ultimate Guide to Franchising
Avoiding Scams, Making Smart Investments, and Better Decisions
The franchise industry is booming, and entrepreneurs are wondering about how this sector works. This ebook aims to help aspiring franchisees achieve their business goals.
Learn more
Back to Blog
Disclaimer: Franchise Market Philippines strives to provide relevant and accurate information in all its articles. However, some information in our articles may differ or might be outdated from what you can see or read directly from the establishments' or businesses' websites. Please get in touch with us directly for any discrepancies.