Franchising is a growing industry where aspiring entrepreneurs are given the chance to explore endless possibilities in varied fields. It makes them appreciate the value of creating a business from scratch or preserving an existing business model in the market and make it grow in the long run.
Just like any other investment, franchising also has its pros and cons that every franchisee must evaluate before anything else.
Research Well
For many aspiring entrepreneurs, franchising offers the chance to become a boss without risking the chance to start a business from scratch. Hence, it offers several advantages for interested franchisees.  
As mentioned, there are disadvantages that you should be more aware of before embarking on a franchise purchase. So, make it a habit to do a research before making any decision.
The first topic to research is franchise ownership. It is an important aspect of franchising and should not be taken lightly by a prospect franchisee. This needs a detailed talk with the franchisor and doing your research can help you understand it better.
Next, you can try to look at more in-depth information about its monetary needs and the return on investment (ROI). Since this is a business and an investment at the same time, it is safe to assume that your financial capability plays a role in your decision.
On the other hand, breakeven or the point where the business starts to gain profit is another factor to research because you may develop unrealistic expectations beforehand. Any business that is well-handled will give profit but following a certain timeframe.
Try to read up articles, talk to friends and family, make lists, speak with business and franchise owners, and if possible, set a meeting with a franchise consultant to sort out all your doubts, especially in making a business plan.
Furthermore, understand that this is not a decision to make impulsively. Remain true to your instinct, goals, and of course, your mindset. Embrace an entrepreneurial mindset always because it leads you to more opportunities.
Franchising Advantages
Talking about pros, franchising offers advantages that are quite beneficial to any soon-to-be entrepreneurs, just like the following:
Capital Investment
Franchising offers an advantage as an alternative form of capital acquisition. As observed, the main reason why most entrepreneurs want to venture in franchising is that it allows them to start a business without the risk of debt or the cost of equity.
The process is understandable and simple if done well. The franchisee provides all the capital required to open and operate a unit, cart (for food carts), or kiosks. Then, the company itself grows by using the resources of others.
On the franchisors' side, we can say that there is also an advantage since the franchisee and not the franchisor signs the lease and different contracts, franchising allows expansion of the business without any liabilities. This means reduced risk to the franchisor and a win-win situation after all.
Motivation and  Management
Hiring the best people in the field is always an issue in franchising but with motivation and great managing skills, it is possible to retain the best talents in the field, including the best unit managers and crews.
However, franchising allows the business owner to stop this problem by having the owner directly than a manager. It makes sense since no one is more motivated than someone who is materially invested in the success of the operation. As a franchisee, you become an owner and your goal will be to generate compensation that will be from your profits.
Lower Risk
In terms of security, a franchise is a more secure investment than new business. This is because they are supported by an established business in the market with an effective business model that has been tested over time locally or internationally.
In other words, there is a history of proven success. Another perk is the ease of acquiring a franchise business loan. It is easier to get a loan for a franchise than a loan for a start-up business.
It is obvious that the banks already know that investing in a franchise is a safer choice than investing in a new business where the business model is not yet tested and has not yet a history of success.
Loyal Customers and Brand Recognition
Building a strong customer database is a challenge for most new businesses. However, with franchising, you already have the list of your loyal customers and patronizers, which is why many people consider franchising.
It is an actual advantage to bypass a lot of the work that goes into marketing and branding a new business if you opt to have a franchise.
In an instance, you already have access to an established customer base and potential employee pool. Hence, buy a recognized brand that can give you an accelerated path to profitability by bringing in customers starting from day one.
Buying Power
Remember that you get the best connections and network when you buy a franchise. As you become part of the franchise system, you will be in touch with the franchisor's established relationships with suppliers. In other words, all materials needed in the business will be less expensive because of the franchisor's collective buying power.
Extensive Franchisor Support
One of the busiest people in franchising is the franchisor itself. This is because all-out support is needed to make the franchise a success. Most franchisors prioritize supporting their franchisees, especially during the early years of the business.
Franchisors offer pre-opening assistance, specifically in site selection, design, construction, financing, training, and grand-opening programs.
However, it won't stop there; franchisors still offer extended trainings and support to the franchisee until he or she can manage the business independently. In some cases, franchisors even give loans and other forms of financial assistance to their franchisees.
Be Your Own Boss
Owning a franchise gives you the chance to be your own boss. You can enjoy a flexible schedule, have autonomy in your career, and even decide where you work. In other words, you run a business with a support system available when problems arise.
Franchising Disadvantages
High Initial Investment
It is a fact that in franchising, the initial investment can sometimes be hefty. This is usually determined based on the type of franchise you choose to invest in. Moreover, for big-name franchises, expect to have quite big initial investment to complete the deal.
Yet, it does not mean that you cannot franchise anymore because of the high capital needed. With the booming franchise industry, affordable franchises are always available. In connection to this, be mindful of the monthly royalty fees that some franchisors charge to franchisees.
As defined, the royalty fee is usually the 4 to 6 percent of your gross sales revenue and can potentially affect your profit. However, the good thing is that not all franchises charge royalty fees.
Limited Creativity
A franchise is an established brand so everything that has to do with branding and innovation is considered predetermined. As a franchisee, it is impossible for you to add anything to the existing business system unless approved by the franchisor. There is a creative limitation for the brand's innovation.
Moreover, there are also restrictions on your location, the products, and the suppliers you can use because of the existing business model of the company.
Shared Corporate Financial Information
If you value privacy, then you need to be a bit lenient when it comes to franchising. Franchisors continuously collect financial information from their franchisees in order to improve its business model, and to audit the royalty payments (if there is). Technically, you do not have any financial privacy when it comes to this.
The good thing only on this part is if the franchisor itself shares financial information back with their franchisees. If this is the case, then it allows them to benchmark their performance with the rest of the franchise system. In return, franchisees can improve its financial performance and business profitability.
Final Verdict
Given the mentioned pros and cons, there are many points to consider as a possible franchisee. The best practices will make you stay on top of the game but the bad ones will make you crumble. So, if you want to succeed in the venture, it pays to do your part as well.
Do not rely only to your franchisor's skills and knowledge. Equip yourself too with information that will give you an edge as a business owner. Doing this helps you improve in managing the franchise.
Moreover, if you are still in the process of deciding whether you should get a franchise now or now, make sure that you know the advantages and disadvantages of franchising. Weigh everything and make sure that you get more benefits in the long run.
So, step-up your entrepreneurial mindset as early as now! Make franchising an avenue for better financial stability. Franchise Market makes all your franchising ends meet. Discover endless franchise opportunities using the leading online franchise platform today.
Let us empower you towards a successful franchising venture.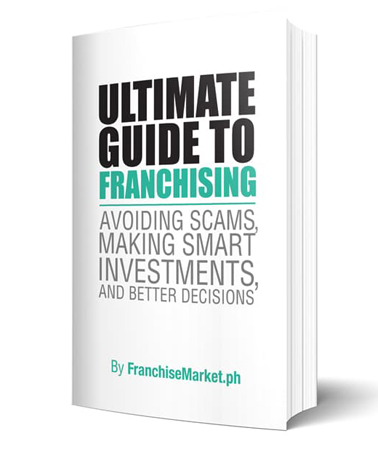 Ultimate Guide to Franchising
Avoiding Scams, Making Smart Investments, and Better Decisions
The franchise industry is booming, and entrepreneurs are wondering about how this sector works. This ebook aims to help aspiring franchisees achieve their business goals.
Learn more
Back to Blog