Managing a business is not an easy task. Every entrepreneur shares the same sentiment. Being productive, whether in business, work, or daily life, is an enduring process, especially with the distractions around you.
For business owners, it is a must to observe and practice business productivity at all times. In layman's term, business productivity means accomplishing more tasks than what you're supposed to have in a day or a week. 
For a businessman, there is so much to think and do about your business, and slacking off should not be part of your day. It is always good to start the day right by staying optimistic and energized.
As part of an entrepreneur's productivity journey, you can try doing the following:
Getting a Sound Sleep and Waking Up Early
Getting a good night's sleep is vital for a productive morning. Make sure you get enough sleep, so you can wake up early and prepare for your morning tasks on time.
Doing a Routine Exercise
Spare five to ten minutes of your time doing some exercise or stretching. You can do a morning run, or some yoga poses too.
Eating Breakfast
It is the most important meal of the day, so make sure you eat one before starting all your business-related tasks.
Organizing Your Tasks
Before the end of the day, try to check your tasks and remove those that are already done. This will give you time to prepare for your tasks the next day and prevent wasting time for tasks that are not a priority.
The best way to accomplish this is by creating a to-do list that will give you a structure and a plan. There are already many applications you can use in managing your to-do list tasks such as the following:
Trello - one of the most used tools not just for to-do list tasks but also for project management
Todoist - a project scheduling tool with document management and project management feature
TickTick - another popular to-do list application that is also a checklist and task manager
Omnifocus - this is perfect if you want a task management tool for different organizational systems
Google Tasks - specially built for Google users that lets you create a list on your desktop or on the application itself
Things - for Mac and iOS users that lets you organize all your to-dos in a simple and effective way
Nozbe - another popular project management tool that comes with a time management application
Habitica - is perfect for those who want to accomplish tasks in a fun way by doing role plays
Using a Learning Management System (LMS)
Defined, an LMS is any software application that lets you learn all things about administration, tracking, reporting, and even documentation of relevant information about your business.
It aids in entrepreneur's productivity by letting them spend more time on learning e-courses that help in overseeing the overall business operations.
Avoiding Distractions
Staying alert and focused is perhaps the most challenging part of being productive. Distractions are everywhere, and this alone can make your day unproductive. Try to get rid of unnecessary things and give more attention to doing something related to your tasks.
Incorporating Useful Technologies
Leverage your business and productivity skills by taking advantage of technology. Take note that aside from the mentioned to-do list apps above, there are several apps available to increase your productivity and efficiency.
Take advantage of the following personal wellness apps that can help in improving your productivity.
Fitness Buddy - an app for your workouts
MyFitnessPal - you can use this to track what you are eating
Calm - a meditation app to relieve stress
Sleep Time - an app for a sound sleep. This is essential since inadequate sleep cannot make you focus properly
On the other hand, the following apps are recommended for your business and teams.
Sendtask - it is a task management and team collaboration software
Time Doctor - is a time tracking software for effective time management
Slack - software that improves communication between your teams
Google Drive - an "all in one place" tool with cloud storage
Dropbox - another alternative for Google Drive
Skype - another messaging app for effective communication
Zoom - popular application for conference calls/meetings
The Ultimate Guide and Tips for Small Business Owners
Any successful business is a fruit of hard work and perseverance. Many startups and micro-businesses are striving hard to remain and dominate the market. With this, having a guide for small business owners makes them feel confident and at ease.
Here are some of the most advantageous productivity tips for small business owners.
For scheduling:
Set a daily routine. Practice starting your day on time and ending it at the designated time as well. Leave no space for overtime thoughts. Always remember that you can finish your tasks on the same day and start the next day anew.
Keep a detailed schedule for your day. Do not let someone ruin your schedule. Just stick to it.
Discover the goodness of scheduling tools! The most common and easy to use is Google Calendar, so you might want to try that one first.
Get an internet break! However, you must always schedule this one to make sure that you are not spending much time checking your social media accounts or watching videos.
Prioritize tasks and say no to procrastination! Finish what you can do today. This is the most efficient thing to do in a day.
Take a break! Even if you are into time management, taking a break should not be a big deal. That is what you needed most in a day. 
Multitask, only if you can. It is not always recommended to multitask just to save time. Remember that quality is more important than quantity.
For balancing priorities:
Pause for a while and evaluate if doing many things in a day makes you more productive. Consider it as auditing your progress in a weekly or monthly schedule.
Learn how to say, "No!" Getting unexpected invites is the most annoying and probably, the main reason why you cannot focus on your deliverables. For example, an unexpected meeting is something you can always decline since it is not on your list in the first place.
Have your "me" time in your schedule. Give your mind and soul a moment of peace. If things are too difficult to handle, relieve your stress.
Focus on self-management, too, by eating well, getting enough sleep, managing stress, and relieving your anxiety in the way that works best for you.
Adopt a work-life balance scheme. Do not just focus on work; give time still for your family and friends.
Don't be afraid to reward yourself (and your team as well!) Spending a bit does not make you an extravagant person. Remember that rewarding yourself makes you feel happy and satisfied, and it increases your determination always to do better.
Care for your health. Do not just slouch on your chair all day. Do some stretching or take a quick walk outside to refresh your mind.
For project management:
If you are overwhelmed with what you are facing, try to focus on achieving three concrete tasks in your checklist.
For any tasks, turn off your phone notifications, especially email and social media.
Do not push yourself to do a task you do not like. Try to look for someone who can do it more effectively than you.
Use social media tools for your business accounts. It'll help you do the task faster and more effectively.
Identify the challenges and distractions around you.
Jot down notes properly. If you love taking down notes, be sure to have a notebook or any notepad with you to jot down ideas. It is better than memorizing everything.
Have a guideline not just for your tasks, but also for the whole team.
Talk about productivity with your team.
In the end, productivity is influenced by various factors. Any of these factors can affect your tendency to perform your tasks and might make you look incapable of overseeing your business. However, facing the challenges is now more comfortable given the advanced technology. Yet, you need to have the determination as well to succeed.
Time is valuable and should not be underestimated. Always think that tomorrow is not set for you to finish some unfinished tasks. Instead, it is there so you can start new duties. As an entrepreneur, you must also do your part and give your best effort in every aspect of the business. Your employees are there to help you, but you are in control of everything. Hence, being productive is a positive trait that every business owner should have.
Are you wondering how you can be productive today despite the pandemic? Check out here our informative article intended just for you! Also, read more franchise and business-related articles here on Franchise Market Philippines, the go-to franchise information portal for both franchisees and franchisors, or stream our latest podcast episodes for more meaningful discussions. We are here to help you achieve your franchise goals, make your business grow, and turn you into a successful entrepreneur.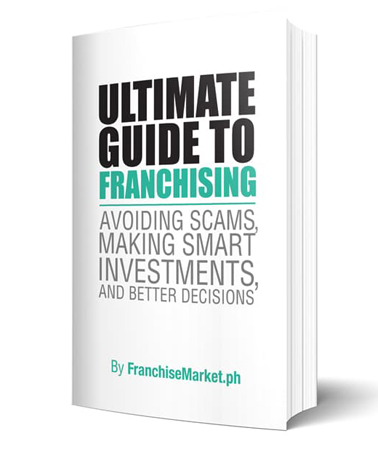 Ultimate Guide to Franchising
Avoiding Scams, Making Smart Investments, and Better Decisions
The franchise industry is booming, and entrepreneurs are wondering about how this sector works. This ebook aims to help aspiring franchisees achieve their business goals.
Learn more
Back to Blog