With the rising prices of food and utility, a single source of income isn't practical anymore. A grim reality that many faced during and after the pandemic. A whopping 64% of Filipino households reported that a member of their family lost their job. 
It was a harsh reality check for the majority but it taught us that it is best to diversify income streams. Starting an online business in the Philippines is a great way to begin. 
Finding out what kind of online business you want to launch is the next element to keep in mind. An online business selling unique and easy-to-sell products is the answer. A major factor for the company is that it should allow you to continue to do your current job while having a passive income.
Related article: 15 Passive Income Ideas in the Philippines
What to consider when starting an online business in the Philippines?
Before starting an online business in the Philippines, you need to understand some things, like what products you are selling, the logistics, and your business plan.  Here are the top characteristics of the best trending online products in 2022:
Related article: Ultimate Guide in Creating a Business Plan
1. Unique or Eye-Catching
Make sure the item you have chosen to sell is of the high quality or has unique selling point.
2. Rare Enough
Just because you're selling the same thing, it doesn't mean that the product isn't unique. If it is niche enough, there will be a demand of people who want to buy this product. Take the lead and start marketing it to the right platform and right people.
3. Hard to track down
Ensure consumers can't find products' actual prices. Most dropshippers buy products from Alibaba and sell them online on their eCommerce stores or through Shoppee or Lazada.
4. Available for a Healthy Markup:
On average, dropshipping products range between PHP 500 & PHP 2000. This is because people can spend this amount online to buy products. Anything above this price tag makes people skeptical. They start to think, 'Will they get value from this product?' and then compare prices on various eCommerce stores and buy from those with the lowest price. The behavior is called buying on impulse.
Related article: What is dropshipping, and how it works in the Philippines?
For one of your online business ideas to take fruit, these characteristics should be considered before venturing into a new business.
Now that you know the chief characteristics of trending products to sell, here is a list of those products that can double your conversions in 2022.
What products should you sell in the Philippines?
1. Affordable Smartphones Under 5K

Photo: Lazada
There is a huge market for inexpensive cell phones in the Philippines, with the smartphone market growing by 22.6% in 2021. The terms "Smartphone under 5K Philippines," "Cheap smartphone 2022 Philippines," "Best inexpensive smartphones Philippine," and many others were among those we came across.
Smartphones are among the most popular online products in the Philippines due to their high sales and positive ratings. With RealMe is one of the most popular brands.
View proudcts on Lazada
View proudcts on Shopee
2. Tablet or Mobile Phones Accessories

Photo: Lazada
Selling phone accessories like covers, screen protectors, Bluetooth speakers, and earbuds is very popular in the Philippines. Their low price range makes these items easy to move and sell. It's a small online business that could provide a steady income with low risk. 
View Proudcts on Alibaba
View products on Lazada
View products on Shopee
3. Home Office Electronics
The rise of 'work-from-home' during the pandemic likely helped laptop sales significantly uptick in 2020, with September sales increasing 100% over 2019. 
Apart from laptops, other product groups that did well were cameras, recording equipment because of the surge in live streaming activities, social media and blogging experiments, or zoom calls. Such as this computer laptop camera which helps people work from home and set up for a regular 9-to-5 job or online business.
View products on Alibaba
View products on Lazada
View products on Shopee
4. Second-Hand Laptops
There is no better feeling than opening up a brand-new laptop that has not been used or dropped. Filipinos love a good bargain and are drawn to reconditioned and used computers. Do they have a high level of demand in the Philippines? 
The answer is simple - laptops of all prices are still very popular, provided the price is reasonable, and the specs are enough. But most of the brand-new laptops that appear to be in demand are older or less expensive versions. However, research suggests that refurbished laptops are growing in popularity in the Philippines.
5. Game Consoles
Game consoles, according to Lazada, are now among the most popular items sold under the electronics category. Along with Kindles and other tablets, gaming console sales have increased for the PS4 and XBOX One (and the games they come with). While more capital is needed, this could greatly increase your income.
View products on Alibaba
View products on Lazada
View products on Shopee
6. USB drives & Power Banks
As with the growing technology, the need to stay connected to the world grows, and the use of portable electronic devices also increases. Power banks and USB drives top the best-selling items in Southeast Asia via web stores. Selling USB drives and power banks can be great products to choose from when you think about starting your online business.
View products on Alibaba
View products on Lazada
View products on Shopee
7. Computer Chairs And Gaming Chairs
When visiting your neighborhood retailer, you can discover that gaming chairs and computer seats are expensive. It should be no surprise that many Filipinos are using online retailers to find cheap computer chairs. This product is in high demand in the Philippines and is one of the great online business ideas. 
Gaming chairs are an intriguing product because they are only sometimes in demand, but over the years, we've observed a gradual rise in product trends with occasional spikes. It's interesting to note that several online retailers promote this product to customers.
View products on Alibaba
View products on Lazada
View products on Shopee
8. Women's Dresses And Fashion Accessories
Women's dresses are one of the most popular goods in the Philippines. Even items with unfavorable ratings did well on the market. A top-selling online product in the Philippines resulted from some merchants selling more than 200,000 copies in total. But not every outfit is created equal. In studies, one-of-a-kind aesthetics and sized items frequently do well.
View products on Alibaba
View products on Lazada
View products on Shopee
9. Women's Fashion Accessories
Women's accessories like a necklace, hair accessories, belts, rings, and such were others that did exceptionally well in the Philippine market.
Many of these goods were imported from China. The original products were then discovered to be offered for sale on websites like Alibaba.
View products on Alibaba
View products on Lazada
View products on Shopee
10. Automobile Care Products
The automobile industry is a niche market, but some products, such as spark plugs, are more popular than others. Still, automobile care products, such as cleaning and car wax, were the most popular.
A drawback is that only some car care products are very expensive. It is likely that the product would have been their winning product if they were selling plenty of orders. Nevertheless, in the Philippines, there is a considerable need for products related to automobile upkeep.
View products on Alibaba
View products on Lazada
View products on Shopee
11. Cheap And Cheerful Products
Products that are inexpensive and cheery are an assortment of goods from many businesses. These are quite well-liked on websites like Lazada. Fundamentally, these are transportable goods that cost less than PHP 100. To achieve a high level of profitability, the seller will probably sell items in large quantities. 
Numerous of these products garnered thousands of positive reviews and were highly well-liked.
View products on Alibaba
View products on Lazada
View products on Shopee
12. Men's Oversize Wear
Oversized clothing has gained popularity in the Philippines during the past several years. The crowd targeted for the trend is a younger set of the trend rather than the older group. For instance, tight gym clothes and jeans were once pretty common, but certain generations now prefer bigger clothing. 
The temperature in the Philippines is something to consider while conducting internet sales. Tight clothing might increase your body temperature and make you appear more perspiration-marked. Wearing something bigger, however, looks stylish and has several advantages.
View products on Alibaba
View products on Lazada
View products on Shopee
13. Covid Care Products
The pandemic has caused numerous businesses to open their doors, which has led to increased demand for items in the Philippines in 2022 and 2023 and is anticipated to persist for the foreseeable future. Which goods are the most well-liked in the Philippines? 
One of the goods with the highest demand in the Philippines is face masks. The following are two categories of face masks that are hugely popular online: 
1. Bulk face masks 
2. Colorful or designer masks
Antibacterial hand soap has also seen many increases in demand, and the Philippines continues to sell a lot of it.
These items remain to be good online business ideas.
View products on Alibaba
View products on Lazada
View products on Shopee
14. Baby Clothing
Regarding the highest number of products sold, baby clothing is definitely in the top 5. Some sellers have sold millions of units of baby clothing, but why is it one of the Philippines' most popular online business ideas? There are many reasons, but two common reasons are that they are cheap (often under PHP 100), and there is often a sentimental reason for buying.
View products on Alibaba
View products on Lazada
View products on Shopee
15. Baby Products
But baby clothing is not only the only type of baby product popular with Filipinos. An increasing number of product terms related to babies remain popular such as diapers, toys, and baby food. For example, baby wipes and breast pumps have had spikes which are interesting to know when looking at the top-selling online products in the Philippines.
Most households have children aged 0-2 years, so they are changing their lifestyle to raise kids. Easy and convenient solutions are a top priority, and online shopping is a good place for it, offering extendable shopping hours and a larger product assortment.
One of the online business benefits is that it helps your own family and other families with babies.
One study found that Lazada sells up to 5% of all the diapers sold in South East Asia each month. It's challenging to simply go out and buy diapers because of the nature of raising children. Online diaper shopping are simpler, especially when there are attractive discounts available.
New parents often seek reliable products, read user reviews, follow trends and get what's best for their children. Nielsen's research report states that almost 17% of consumers in Southeast Asia frequently browse for baby food and purchase it then and there. Health and nutrition are among the common reasons that drive consumers to look for baby food online.
View products on Alibaba
View products on Lazada
View products on Shopee
16. Coffee Equipment
The future of coffee within the Philippines is bright. Even when it is an on-the-ground business to an online business, it's thriving. 
Over the last ten years, coffee consumption in the Philippines has increased, and now with more and more Filipinos working at home, coffee brewing equipment is in high demand.
The Philippines has a sizable market for small kitchen appliances. Many of these are high-demand products in the Philippines, which are fantastic for selling. But coffee machines and manual coffee equipment have steadily increased over the years, and this trend looks to continue as we look into the next ten years.
View products on Alibaba
View products on Lazada
View products on Shopee
17. Finger Sleeves
With a growing community of mobile gamers, finger sleeves are often cheap products to buy and sell. But over the years, they have become popular, and there have been several spikes in popularity for this desired product. Like other low-price products, finger sleeves must be sold in large quantities to reap the benefits of online business.
As technology evolves, so is the equipment we use to enjoy technology. The popularity of finger sleeves has only recently began to be more common. As the market holds some unique opportunities for online sellers looking for top-selling products in the Philippines.
View products on Alibaba
View products on Lazada
View products on Shopee
18. YouTube Camera
YouTube is one of the most widely used websites and applications in the Philippines. Sales have increased dramatically, and popular keywords and phrases include "Youtube camera Philippines" and "Best vlogging camera cheap." As time passes, more Filipinos become creators, creating new business prospects.
Both more expensive and less expensive YouTube cameras were popular. With the pandemic, more and more people stayed at home as a result of COVID-19. YouTubers or content creators gained more visibility and increased their inc. This may be one of the factors in the popularity of both expensive and inexpensive equipment.
19. Cheap Makeup
You won't go wrong researching makeup if you'd like to choose a best-selling online business in the Philippines. Any cosmetics sold for less than PHP 100 are considered cheap makeup. Also, there is a market for this, with multiple live sales on Facebook and! The Philippines has a high need for makeup in general. However, the price of some products can be a drawback. 
As a result, affordable makeup and alternative solutions have become more popular. Investigate the cosmetic law we covered while looking at how to launch a skincare business in the Philippines if you want to consider selling makeup there.
View products on Alibaba
View products on Lazada
View products on Shopee
20. Pet Accessories
Although not a product, pet accessories include several of the best-selling items in the Philippines. The most popular pet products in the Philippines have dog muzzles, toilet training aids, and pet beds. 
There are a variety of well-liked pets in the Philippines, and each has particular requirements. So, this is a distinct niche market with a range of choices.
Even though pet accessories are not a product, it covers many of the Philippines' top-selling products. The most sought out pet products in the Philippines are dog muzzles, toilet training products, and pet beds. While a niche market, it can provide online business benefits.
View products on Alibaba
View products on Lazada
View products on Shopee
21. Branded Sneakers
Filipinos love their shoes. The rise in popularity of sneakers is not a surprise. The most widely used footwear is naturally labeled. Cheap branded sneakers have elevated to the top of the most-purchased items on Lazada and Shopee across South East Asia. However, are Nike and Adidas the only well-known brands in the Philippines? 
Diverse shoe types have been in demand, but Korean footwear appears to be a crowd favorite. Several Korean-style sports sneakers were discovered that did well in online shops in the Philippines.
View products on Alibaba
View products on Lazada
View products on Shopee
22. Products Not Found In The Philippines
Items that are unique, hard to get, and not available in the Philippines - hit all points on the checklist. There is a gap in the online business market in the Philippines.
Due to the potentially high cost associated with shipping goods from other countries, several items are unavailable or difficult to purchase in the Philippines. As a result, many retailers decide not to sell these items, which has increased demand for specific goods. For instance, it can be the most recent VR headset or a certain kind of drone.
23. Watches
Today, people experiment with watches to enhance their appearance, whether for formal occasions or everyday usage. Men prefer diversity in wristbands, patterns, and materials, while women prefer having a say in how it looks and feels. The market for watches, whether digital, conventional, or smart, will remain, particularly if technology is used more frequently. You can even offer wooden timepieces that are incredibly biodegradable and cozy to wear.
View products on Alibaba
View products on Lazada
View products on Shopee
24. Leggings and Shapewear
In the past, leggings and shapewear were used as innerwear. But with time, they have evolved into a need for every person's wardrobe. Legging sales have increased recently, but this trend will only last for a while before something more significant emerges. People want to display their newest leggings collection as part of their everyday attire.
View products on Alibaba
View products on Lazada
View products on Shopee
25. Modest Fashion
Modest fashion is dressing in less exposed clothing. It frequently prioritizes fit and comfort, meeting your customers' needs.
If you consider this to be hard to penetrate the market, reconsider. Be aware that the route is modesty and comfort without sacrificing appearance and elegance. Abayas, onesies, scarves, and complete swimsuits are a few examples of the products in this category. 
View products on Alibaba
View products on Lazada
View products on Shopee
26. Woodcrafts
The Philippines is blessed with tropical forests. These forests provide a huge amount of timber used for the wooden craft by the native people of these lands. Many artisans live but don't have enough resources to sell these products, kitchen utensils and carved scented woods are some of the antiques used for decoration. 
They are marketable globally due to their unusual definition of each small feature. Since the products in this category are distinct, managing the listing demands meticulousness. Therefore, set up a first-rate catalog management system if you intend to sell woodcrafts.
View products on Alibaba
View products on Lazada
View products on Shopee
27. Home and Office Furniture
When the amount of time people spent at home increased, a lot of people began looking for ways to improve their living spaces. Indulging in online shopping without leaving the comforts of their homes but also looking to maintain the sanctity of their work space.
Ergonomic chairs, dining sets, and other home furnishings swiftly rose to the top of popular search terms on sites like Lazada and Alibaba.
View products on Alibaba
View products on Lazada
View products on Shopee
28. Earthenware
Although people have switched to modern techniques of pursuing lifestyle, there is still good taste in design and decoration with pottery if you've got a good eye and great taste, channel that energy to start a creative online business in the Philippines.
View products on Alibaba
View products on Lazada
View products on Shopee
29. Branded Plastic Bags
The plus side of the Philippine eCommerce industry is that your online business can sell nearly anything. For people who want to carry a branded bag as they browse the market but lack the cash to buy one, the new trend is to use a common or expensive plastic or paper bag. You might be astonished to learn that, depending on the bag's quality, you can sell each component for more money than you originally paid.
30. Aesthetics
Consider selling home furnishings, office aesthetics, office necessities, and grooming supplies. Being inventive can be profitable. 
With many working at home, many people stay indoors and would find it refreshing and calming to see a home aesthetically pleasing. Women are gradually buying wallpapers and designs online as many consumers are doing the same too – an attestation that home and office decor will be in-demand now until the succeeding year.
What's your next step when starting an online business in the Philippines?
The goal of eCommerce selling is attainable if you figure out the right products. To better understand product behavior and consumer demand, try checking your order insights across all sales channels. Choose a product, polish your proposal, and begin your online business in the Philippines.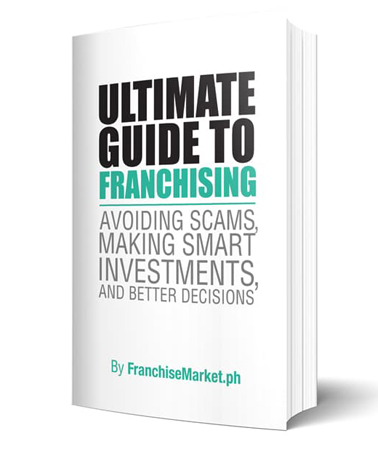 Ultimate Guide to Franchising
Avoiding Scams, Making Smart Investments, and Better Decisions
The franchise industry is booming, and entrepreneurs are wondering about how this sector works. This ebook aims to help aspiring franchisees achieve their business goals.
Learn more
Back to Blog
Disclaimer: Franchise Market Philippines strives to provide relevant and accurate information in all its articles. However, some information in our articles may differ or might be outdated from what you can see or read directly from the establishments' or businesses' websites. Please get in touch with us directly for any discrepancies.