Companies struggle to transition into a new way of hiring individuals through the work-from-home setup until the unique requirements of the "new normal" become established as the COVID-19 virus wrecks havoc on many countries.
Employers now permit employees to work remotely at their speed and location without physically reporting to the office. Because of the limitations on personal contact, this arrangement gives workers a good reason to remain adaptable.
Telecommuting is a great solution to address the requirement for staying home during the pandemic. It is anticipated that the economy can continue with secured staff who can oversee the operations if employers choose this type of structure.
But what exactly is telecommuting or a remote job? Here is a simplified answer for you.
Remote Job vs. Freelancing Defined
Remote employment mostly depends on the type of business the organization conducts. But in essence, it refers to labor away from the office. 
However, remote employment is distinct from freelancing because you are still associated with an organization and have an operating agreement. Depending on the necessity stated by your business, this type of agreement allows you a full- or part-time position.
You must also be open to the possibility that some employers still demand employees to report to the workplace a few hours per day or a few days per week.
On the other hand, freelancing is more about you hunting for a job. You visit websites where freelancers are available for hire. If you believe you are qualified for the position when it is posted, you apply, go through the interview process, pass the exams, and, if lucky, make it through the entire application procedure and sign the contract.
If you are one of the fortunate workers who can work from home, keep it up and ensure you follow the guidelines established by your employer. Otherwise, consider applying for the following online job openings if you're currently unemployed and seeking work.
Top 30 Online Jobs to Check this 2023
1. Project Manager
Project managers are usually people with a degree in business or engineering and keen attention to detail. The ideal candidate should also be well-versed in cost analysis and has excellent interpersonal skills for dealing with vendors and contractors.
A project manager oversees the execution of a project from start to finish. They ensure that all elements are working and within the desired time frame and budget.
Best Practices: project management experience, ability to beat deadlines, manage a team
2. Digital Marketing Manager
Digital marketing managers are computer science graduates with a mastery of SEO tools and analytics. He or she can produce timely and top-notch content for the web and can spearhead lead generation.
A digital marketing manager creates and develops strategies for promoting a website, brand, or business online. They are knowledgeable in web analytics, content creation, search engine optimization (SEO), social media, email marketing, pay per click, lead generation, and more.
Best Practices: familiarization and expertise in all fields of digital marketing, team management skills
3. Web Content Manager/Editor
For a web content manager/editor position, one needs to have excellent writing and editing skills, with native English-level proficiency, both oral and written, at an advanced level. They should be able to manage deadlines and handle multiple tasks simultaneously. Those who are familiar with digital marketing and SEO are a plus.
A content manager or editor works hand-in-hand with writers and other personnel whose main task is to produce content for the client. They evaluate, design, and oversee the development of the material that will be used. The content editor ensures the top-notch quality of content being produced. 
The usual work is to check grammar and style errors and make sure it is readable and tailor-fit to the target audience. Sometimes, they should also generate the content plan to ensure that the content writers are on track.
Best Practices: CMS familiarization, expertise in English language, specifically in subject-verb agreement
4. Client Services Specialist
This role requires candidates to have a business or marketing degree, strong management, and client-relationship skills, and excellent account management skills.
Once onboard, they spearhead and lead teams communicating with existing and potential clients. They also need to maintain good relations and develop more connections while also managing sales teams and handling escalations. Moreover, a client services specialist is the chief point person for the company's contacts abroad.
Best Practices: account management experience, retention skills
5. Business Analyst
​​A business analyst is a graduate of a business or engineering degree with excellent verbal and written skills. They should be knowledgeable in solving problems and issues. 
The ideal candidate for the role should improve and develop current processes through research and feedback and must have strong knowledge of MS Excel, including Pivot Tables, VLOOKUP, and VBA.
A business analyst serves as a business specialist capable of handling complex issues. Creates solutions by analyzing, documenting, and developing processes to improve and maintain business workflow.
Best Practices: interest in the economy, trends, familiarity with MS Excel or Google Sheets
6. Software and Systems Engineer
Most software and systems engineers are graduates of computer science or related courses. They are also well-versed in Multiple Coding Languages and can analyze Complex Technical Information. They are also experts in computer science, software engineering, IT, and Networking systems.
They keep and manage all systems, including installation, testing, and operation of software and hardware support. Moreover, they create and develop software using engineering principles and programming code. At the same time, they also manage and maintain network control systems and databases. On the other hand, a systems engineer's task is to provide technical issues around the company's processes.
Best Practices: coding and programming expertise
 
7. Technical Writer
A technical writer has a degree in computer science or engineering. The candidate has strong writing skills and working knowledge of Office-based suites and is familiar with Java, CSS, and HTML.
Being a technical writer means something other than creating thousands of user manuals and guides. Instead, it is about presenting intricate technical details in an easy-to-understand manner. Sometimes, they also make tutorials and guides to aid in better understanding and visualization.
Best Practices: familiary with technical concepts of the product, basic knowledge in codes or programming languages, ability to write in simple and understandable way
8. Quality Analyst
Suppose you want to pursue a role as a quality analyst. In that case, you need a business or technical degree with a strong working knowledge of software QA methodologies, tools, and processes.
A quality analyst or QA work entails reviewing and checking for product and service errors. They develop and follow steps and processes to ensure that all produced goods and services meet the company and industry standards.
Best Practices: attention to detail, experience in different QA aspects
9. Web Designer and Developer
Web designers and developers are usually graduates of computer science. They know HTML, CSS, Javascript, Photoshop, PHP, SQL, Ruby, and Python.
A web designer and developer creates and designs websites. They are classified into two types: Front-End & Back-end Developers. Front-end developers focus on the design, while back-end developers are more into the coding part of web design (databases, logic, problem-solving, etc.).
Best Practices: expertise in coding and programming languages, familiarity with CMS tools
10. Marketing Specialist
A marketing specialist has a degree in Marketing with excellent verbal and written skills. Expertise in using social media and other outlets to promote content is also a plus.
A marketing specialist researches current trends and expands social influence for clients locally and abroad. They are also responsible for creating programs and campaigns to ensure the success of the client's products or services.
Best Practices: sales skills, familiarity in marketing approaches 
11. Video Producer/Editor
Video producers are responsible for creating and editing videos, animations, and images for distribution across social media platforms, websites, etc. They are proficient in using popular video editing programs like Adobe Premiere, After Effects, and Final Cut.
A video producer/editor is responsible for shooting, assembling, and editing video footage to have a product ready for viewing and broadcast. They efficiently use editing software such as Adobe Premiere and After Effects. They should also have a creative side to generate ideas that best capture the promoted content.
Best Practices: familiarity with video editing tools, an eye for cinematography and aesthetics
12. Web Content/Copy Writer
Most web content or copywriters have an excellent command of the English language, both oral and written. They also can research and create engaging copy for various forms of media and are familiar with internet marketing, Search Engine Optimization (SEO), or web development.
The pen is always mightier than the sword. A writer leverages the power of words to write persuasive and compelling content that engages and draws readers' interest. The content created captures the audience's attention and converts it to sales. The modern copywriter or web writer must be versatile in writing engaging content for client websites, blogs, email campaigns, video scripts, social media, and newsletters.
Best Practices: understanding of SEO concepts, craft for writing compelling content
13. Virtual Assistant
Practically, anyone can become a virtual assistant. The usual requirement is to have at least a High School diploma. You should have superior organizational and interpersonal skills, an excellent command of written and spoken English and be Internet and computer savvy.
Being a VA is one of the most in-demand jobs in the Philippines. VAs are responsible for providing all sorts of services to clients, such as social media marketing, e-commerce, web design, email, managing calendars, setting appointments, etc.
Best Practices: flexibility in doing VA tasks, sense of urgency
14. Customer Service Representatives
Customer service reps have strong English communication skills, can provide solutions to customer inquiries or concerns, and fulfill customer expectations in a manner that complies with policies, practices, and procedures.
CSR agents' primary role is to provide timely and appropriate answers to customer inquiries. They answer calls and email inquiries from customers. Their expertise depends on the line of business they are catering to, such as technical support, billing, customer support, product specialization, etc. 
Best Practices: ability to emphatize, good English communication skills, 
15. ESL Tutor
Most ESL tutors have superb English communication skills, both written and spoken. They should be enthusiastic about online education and have a passion for helping individuals improve their lives through learning, strong teaching ability, and an academic mindset, plus a degree in Education or Teaching.
ESL teaching is also one of the most in-demand jobs from home in the country, with most Filipino teachers teaching students of various nationalities, such as Chinese, Japanese, and South Koreans. They teach these international students to read, write, and converse in English.
Best Practices: good English communication skills, mastery of subject matter
16. Sales Account Executive
Salespeople usually finish a business degree. They have strong salesmanship skills, are master communicators with an emphasis on managing client accounts and maintaining relationships, and are also useful in numerical skills for presenting sales reports.
The central role of the sales account executive is to generate new clients. They usually make phone calls to potential customers and do on-site visits to meet the clients.
Best Practices: sales management skills
17. Graphic Artist/Designer
Graphic designers have finished multimedia or Fine Arts degrees. However, they could also be someone who learned the craft along the way.
Most designers are skilled in Adobe Photoshop and other design software. They can practically do photo manipulation/editing, typography, illustration, logo design, motion graphics, UI/UX, and other multimedia content.
Graphic designers use software and digital tools to design, create, and develop visual concepts. Their outputs are usually used for magazines, advertisements, digital media, brochures, and many more.
Best Practices: expertise in editing tools, creative mind
18. Human Resources Manager
A human resource manager serves as an administrator of the organization. Their main tasks include recruiting new staff, interviewing, and hiring applicants.
It would help if you had strong leadership, organizational, and people management skills when working as an HR. The candidate should have a bachelor's degree in Business, Management, Psychology, and other related courses.
Best Practices: familiarity with HR rules, management expertise
19. Accountant/Bookkeeper
Accountants and bookkeepers have bachelor's degrees in Finance, Accountancy, and Banking. Moreover, they should have relevant work experience in financial accounting.
CPAs analyze financial records and reports to ensure that budgets, tax returns, and assets meet the company's targets and are efficiently executed. 
On the other hand, bookkeepers are in charge of the company's general ledger, which contains transactions like debits and credits. They can also create financial statements and other related reports that the company needs.
Best Practices: expertise in accounting concepts
20. SEO Specialist
SEO specialists have excellent research, organizational, and analytical skills. They are proficient in using web-based tools such as Google Analytics, Search Console, and Google Tag Manager. 
Also, they have a firm grasp of how web searches and search engine optimization work. They know how search results work and always apply the necessary optimization to improve the web search ranking. Moreover, an SEO specialist is tasked with analyzing a website's performance.
Best Practices: familiarity in SEO
 
21. Podcast Editor
A podcast editor oversees the overall podcast pre and post-production. The ideal candidate will be able to create exciting and engaging podcasts, giving listeners a unique experience. They should work efficiently and effectively collaborate with the internal team members.
Best Practices: familiarity with audio editing software, sense of urgency
22. Data Entry Specialist
An entry-level or junior data entry specialist's job is to enter data into databases quickly and accurately. Sometimes, the role entails taking orders from customers and entering the order details into a tracking system for faster processing.
These are only some home-based jobs available these days that can help you earn enough money despite the ongoing economic downturn caused by the pandemic. Be innovative and proactive in seeking opportunities. Remember that the best chance to advance your career may come only once. You should be ready at all times.
Best Practices: attention to detail, familiarity with the tools
23. Data Analyst
Data on sales figures, market research, logistics, languages, and other behaviors are gathered and stored by a data analyst. They contribute technological skills to guarantee that the data is accurate and high-quality. The process, present, and design it in ways that will aid individuals, companies, and organizations in making better decisions.
Best Practices: critical thinking skills, attention to detail, familiarity with Microsoft Excel or Google Sheets
24. Subject Tutor
Subject tutors review the subjects and assignments covered in students' curriculum with their homework, projects, tests, papers, research, and other academic studies. They assist pupils in understanding important ideas, particularly those covered in class.
Best Practices: critical thinking skills, attention to detail, familiarity with Microsoft applications, subject expertise
25. Social Media Manager
A social media manager directs how a business interacts with the public by putting content strategy for social media platforms into practice. They must analyze engagement data, spot patterns in customer interactions, and develop digital initiatives to foster an online community.
Best Practices: expertise in social media platforms, creativity, graphics design, copywriting experience
26. Resume Writer
In this position, you would deal directly with a person who requires a well-written CV. The customer would provide information regarding their job qualifications, work experience, talents, and areas of expertise. You would take that data and create an interesting document that catches the reader's attention.
Best Practices: writing expertise, attention to detail
27. Transcriptionist
A transcriptionist is a person who converts recorded dictation, such as medical terminology, into written form. The work frequently involves listening to audio recordings and typing what is heard using a stenotype machine or a word processing tool.
Best Practices: attention to detail, familiarity with transcription tools, good listening skills
28. Online/Social Media Influencer
A social media influencer is a person with a significant following, access to a large audience, and the ability to persuade others to follow their advice. When done properly, influencer marketing quickly becomes a crucial weapon in a company's toolbox.
Best Practices: creativity, familiarity with social media platforms, meaningful content
29. Search Engine Evaluator
The accuracy of web search results, the usefulness of the results pages, and the relevancy of the search results are all measured by search engine evaluators through their study and feedback.
Best Practices: attention to detail, knowledge of the search engine
30. Patient Advocate
A patient advocate acts as a liaison between patients, healthcare professionals, and everyone else involved in a patient's care. Additionally, they might schedule appointments and respond to simple inquiries about protocols, invoicing, and insurance.
Best Practices: billing process know-how, accuracy, customer service skills
31. Medical Coder
To record, organize and report information by regulatory standards, medical coders who work in the healthcare industry give unique codes to medical procedures and diagnoses. Additionally, they are in charge of coding audits, policy compliance, reviewing probable medical malpractice for accurate coding, and confirming the integrity of patient charts and paperwork.
Best Practices: attention to detail, critical thinking skills, good communication skills
32. Tester
Software testers and website testers are just two of the many positions that can be classified as testers. In this position, you would be in charge of utilizing an online product for a company and giving feedback on your experience, such as whether you found the procedure to be unclear or helpful. Since testers are frequently independent contractors or freelancers, you can choose your own hours and still get paid.
Best Practices: tech-savvy, familiar with software, coding background is an advantage
Where to look for online job opportunities?
Searching for online work can be tedious and time-consuming, especially when finding the right client. Most Filipino freelancers look for clients via platforms like Upwork, OnlineJobs.ph, LinkedIn, Fiverr, and even traditional job sites like Mynimo, Jobstreet, and Indeed. 
Aside from this, some job seekers resort to joining Facebook groups with a community of existing Filipino freelancers. Through these groups, members share their freelancing journeys and give useful tips to all aspiring freelancers. 
Also, some members post job vacancies from their respective clients or companies and encourage those actively looking for a job to apply.
Most remote jobs can also be found on these websites, but most are common on LinkedIn or the companies' official Facebook pages and freelancer groups. Upwork is popular with freelancers because most international clients use this to look for the perfect candidate they need. 
To get started, you need to have an active Upwork account and some "connects" to send proposals to selected clients. The client will review your submission, and if you are a good fit, you will have to take tests (optional) and attend the interview. If you nail this, congratulations! You are now employed!
Source: Grit.ph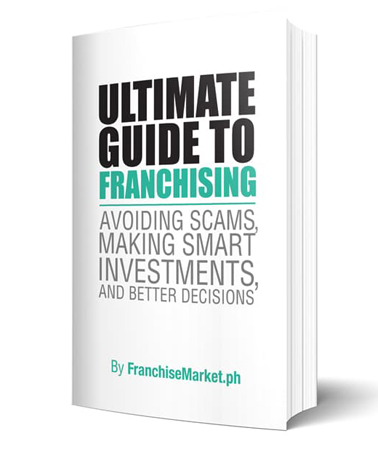 Ultimate Guide to Franchising
Avoiding Scams, Making Smart Investments, and Better Decisions
The franchise industry is booming, and entrepreneurs are wondering about how this sector works. This ebook aims to help aspiring franchisees achieve their business goals.
Learn more
Back to Blog
Disclaimer: Franchise Market Philippines strives to provide relevant and accurate information in all its articles. However, some information in our articles may differ or might be outdated from what you can see or read directly from the establishments' or businesses' websites. Please get in touch with us directly for any discrepancies.