OFWs sacrifice to be away from their families to provide them with a comfortable life. And every year, more and more Filipinos are becoming overseas workers. It may be because they seek to have better opportunities, and they want to hone their skills. But it is mainly because of the higher pay other countries offer to specific positions and abilities. 
But you might find along the way that you are not earning enough to fund all of your family's needs, and you start looking for another means to get income. Well, this might be the right time for you to engage in business. And there's a lot of business ideas in the Philippines. But why should you consider opening or starting up a business?
Money
Mostly, the main reason for putting up a business is for the money. If you start-up a business, you can earn as much as you want based on your efforts that project to the success or failure of your business. Not like when you are working in a company, your salary is limited, and superiors establish promotions. 
Improved Lifestyle
Other than earning more cash, you will also have the power to adjust your schedule. Pursuing this route will be your ticket out of the '8 to 5' work schedule in the corporate world.
Expression and Passion
You might be one of those that want to keep their original jobs and just wants to earn some extra cash here and there. Then, your own business will serve as a place where you express yourself. Where you nurture your creativity and do something, you're passionate about. Even learning new skills and add-up knowledge along the way.
Most likely, you will have these reasons in mind, so here we will provide you the top 20 business ideas in the Philippines.
1. Franchising 
If you are looking for a flexible business idea in the Philippines, then franchising might be the one for you. Franchise business is not limited to food only. It can cover a lot more from fast food, pharmacies, spa, salon, and just about anything.
If you do want to start up a business, definitely check out franchising. Not only will you have your pick for the business you want to have, but also, the franchisors will provide you the marketing support and brand you need, especially if you are new to the business world.
The cost for starting up will also range from low to high, depending upon what franchise you want to invest in. Deciding to take on franchising will give you tons of benefits and some of these are lower risk of failure, you will be funding an established business that has already been tested in the market, you will be handled with an experienced franchisor and more reasons you could check out right here.
But venturing on to franchising needs more determination and drive to see through the process. So it is significant to find out if you have the traits to become a successful franchisee, read more here.
2. Invest in Real Estate
Probably one of the most valuable possessions that would not markdown is real estate. The price of land or other real estate properties like house and lot or condominiums have been escalating fast and investing in real estate would be gratifying. So, one of the best you can get out of your money is investing in real estate business.
3. Water Refilling Station
Another business idea in the Philippines would be water refilling stations. Water is essential to our lives. But sadly, not all households in the Philippines can easily access safe and clean water. Some may have to travel far from their homes to buy water, or some may even settle on drinking tap water. So as an entrepreneur, you can address this need and assess places where there is a lack of potable water supply and start your own business, or you can franchise an existing brand.
If this is the business that clicks for you, you can find out more about how to start water refilling stations right here.
4. Restaurant Business
Everyone loves food. However, starting up your own restaurant business may not be as smooth sailing as you think. It will involve a lot of consideration for the type of food that works for customers in an area and having that significant impact on the quality of your products because people will buy value and not products. 
Engaging yourself with this challenge will guarantee you a great adventure. You will never get bored; you will continuously be learning, and you will have massive progress as a person. You can either build your restaurant or franchise a real restaurant name.
5. Food Cart
Filipinos love to stop by for a snack when they're out in the malls or just anywhere for fun. That is why a great way to take advantage of this is to franchise a food cart business. For this type of business, you need to research what brand appeals most to your chosen customers in specific areas. It is also best to put out your food cart at places where there's a lot of people all the time, like malls. What's also good about this is that you do not have to pay for a lot of employees, you just need to at least hire one.
6. Coffee or Milk Tea Shops
Coffee and milk tea shops have become popular hangout places for students and professionals alike. It is where they enjoy the sweet blend of coffee or milk tea while reviewing their lessons or catching up with their friends. You could make use of this popularity to appeal to the people and make it a profitable business. To attract a lot of customers, you can establish a distinct and creative twist for your store. Or maybe provide a comfortable hang out place for coffee and milk tea lovers to stay.
7. Laundry Services
People are becoming busier - either with work or their social life. There is a growing population of households with both parents working who do not have plenty of time at home for doing household chores, and if they have, they probably will choose to rest rather than doing something else. Therefore, leaving the laundry unattended. 
You could use this as an advantage to start your laundry services to households who do not have enough time to worry about laundry. Instead, you will do it for them. You can get a group of individuals and have them manage your laundry business. 
Some laundry businesses even have only one staff to supervise the business with the rise of do-it-yourself laundry shops.
8. Cleaning Services   
In connection with the previous one, cleaning services could potentially be a great business idea for you since family members may be too busy doing other things than clean. Or you can even unite cleaning and laundry services for more significant scope for your business.
9. Retail Business
A typical business idea to venture into is a retail business. Since OFWs have access to imported products overseas, this could make their put-up retail store distinct from all others. This would also appeal to a variety of customers, which would turn this into a big income-generating business.
10. Online Business
Or you can turn into a more modernized approach that is switching your retail business online. Online businesses disrupted the brick and mortar retail business. 
Online Business spares people from the hassle of going inside malls and tiring their legs as they search for things they want to purchase. With just a tap, they can sit comfortably on their bed and get the items that they want. You can put up your products online either on your website or on existing online shopping platforms.  
11. Salons
There had been an ever-growing trend with beauty and hairstyles, especially for girls. Women would usually go to salons to make them feel confident, empowered, or they want a different style for themselves according to how they think. You can offer your service menu for nails, haircuts, hair color, eyelash extensions, and the likes. 
Hairstyles come and go, but salon business never gets old.
12. Spa and Massage 
With the fast and stressful life, people have been living; there is no doubt they would turn to spa and massage to pamper and relax. There are many varieties of spa and massage that you can choose from to set you from the rest.
With the right people to manage and cater to your customers, this could become a successful business for you.
13. Language Tutorial Services
Because OFWs go to different countries, they have the advantage of learning and being exposed to different languages. You can use your knowledge and experience to teach other Filipinos who want to learn other languages and impart some tips along with it. You can also offer tutorials for the Filipino language to other countries who want to learn Filipino or want to improve. 
14. Transportation Business
There is an apparent lack of public transportation services in the Philippines. 
As much as we want to relax after a day's work, we just can't due to heavy traffic, congested rides, and many more. Jeepney, taxi and bus franchises are growing due to high demand, especially in busy cities.
For vacation, everyone wants to have a relaxing ride to their destination rather than going with a crowd on a bus ride. Van and car rentals are also booming for both local and foreign tourists.
Whether you want to venture for a jeepney, taxi, or car and van rentals, the banks are open to supporting the people in getting loans. As long as you follow all the rules and regulations regarding your chosen business venture, your business will be excellent.
15. Hotel and Resorts
When it comes to vacations, hotel, or resort business is also viable. The Philippines is one of the hottest travel destinations.
You can convert your empty lot in the seaside to a hotel or resort with varying amenities for your guest.
Although the influx of guests may vary per season, you can come up with flexible promos for your guests to make up for slow seasons.
16. Home Rentals
Maybe you have a vacant lot or a brand-new house that you can convert into home rentals. It may be near a university where students can rent rooms for their convenience and hassle-free transport. Or this might be near a beach or situated on the mountains-great for people who want to have a relaxing vacation. 
Considering this business will serve you its benefits, and more importantly, you don't have to keep a close look at it personally. You can hire a caretaker, and payments could be even sent online. 
17. Life Coach
If you are someone who loves to give inspiring advice to people, why not turn it into a business? 
Most people would want some help in their everyday life struggles or needs some gentle, encouraging push through to their goals and self-discoveries. Your job is to gather people who love to give advice and keep people redirected and on track towards fulfilling their purposes. 
These groups of people that you manage will counsel and encourage clients from their professional to personal uses. Also, to provide them with plans on how to combat life obstacles and to keep them guided of which and where they should focus their attention and aspirations on.
18. Blogging
Another way to reach out to people, even without having to face them, is blogging. The original intention of blogging was to share personal events. But, the purpose of blogging has developed from private to professional objectives. Not only is this used to share their own experiences, but it is also now used to promote a brand and business. Through blogging, you can earn through advertisements, sponsored posts, and more.  And if you have already established your desired business venture, then blogging is one of the ways that will help you gain popularity.
19. Invest in the Stock Market
Investing in the stock market is one of the potential ways to grow your money. Provided that you invest in stable companies. Benefits for investing in the stock market are that you can invest in different kinds of investment products, and some would even provide you with dividend income. If you are ready to take on the risk, maybe it's in you to start buying stocks.
20. Travel Agency
The Philippines has remarkable tourist spots- beaches, mountains, falls, etc. 
So, in response, you can establish your traveling agency to promote tourism in the country and help those people who are looking for a beautiful place to spend their vacation. You can offer services such as booking for their tickets, contacting different resorts for their accommodation, transportation services, and many others.
Conclusion
Being an OFW does not limit you to only one job. There are hundreds of opportunities out there that can help you gain some extra cash, especially in the business world. And here, we have provided you some business ideas that you can explore. But before starting a business, the fundamental of a good business is knowing your clients well and giving them what they want with the right quality products and services.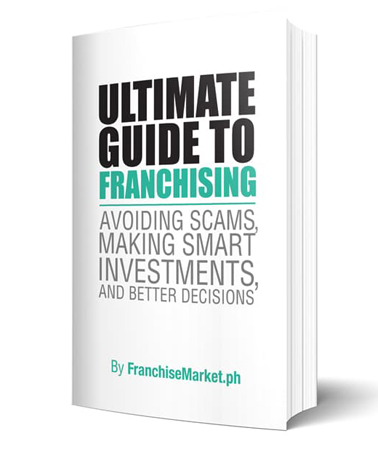 Ultimate Guide to Franchising
Avoiding Scams, Making Smart Investments, and Better Decisions
The franchise industry is booming, and entrepreneurs are wondering about how this sector works. This ebook aims to help aspiring franchisees achieve their business goals.
Learn more
Back to Blog