Business is always a risk, and entrepreneurs are risk-takers. One thing that is common to these people is the ability to calculate risks. Yes, you read it right. Risks can be calculated and managed.
This is one of the most critical skills that you should have if you are thinking of putting up a business. After learning how to put up a business in the Philippines, then you should know these fundamental processes.
You may ask, as an entrepreneur in the making, how such successful business owners can calculate and manage risks. Before they start running their business, they had to identify the key business processes which now have played a significant role in the success of their businesses nowadays. This increased the efficiency of the methods, guaranteed profitability, and effective management of the business. 
As defined by the Merriam-Webster dictionary, a process is a series of actions or operations conducing to an end. As far as business is concerned, an end could mean a specific organizational goal. An organized and systematic approach to achieving a business goal involves identifying the key business processes. 

There are three categories for key business processes:
Operational processes
This is also known as the primary process. It deals with the core processes—a set of functions, processes, and capabilities that delivers value to the customers.
The core processes may differ in the nature of the business that you have. For small food manufacturing businesses to start, it has five core processes. Under this are the following areas in the business that can help in yielding high profit:
Purchasing of Raw Ingredients
- Inclusive in this process are order pooling, ingredient pick-up, hauler, and producer payrolls. 
Processing Ingredients
– This involves the inventory of the raw materials, schedule of the plant, production, and list of the finished goods.
Packaging
– This is the process of purchasing packaging materials, scheduling of the plant, inventory of the packing materials, and packaged products.
Distribution
– It entails the contract maintenance, sales order, packaged inventory onto trucks, order fulfillment, and invoicing.
Marketing
– This is on the setting of sales goals for the internal marketing team, developing marketing materials for each product, and contracting with a third-party PR firm to purchase ad space in print, television, and radio. 
The aforementioned core processes may not apply to the industry that you are venturing into. There are some of the areas that may not be considered as a core process in your business. Specifying first the goal to be achieved is a great step before identifying the core processes to make everything easier to brainstorm. 
Supporting processes.
This is considered as the Secondary Processes. These processes back up the core processes and work within the organization. Below are some of the processes that belong to supporting operations:
Marketing and Sales
– Marketing is concerned about communicating with customers. With the high competition in the marketplace, an effective marketing strategy is necessary to introduce, promote, and advertise your products and services to the consumers.
- Sales are responsible for establishing the relationship between the customers and the products or services that you offer. It is important to note that you should have an efficient sales team as they are considered as the front liners of your business. Their roles can have an impact on achieving the organization's goals. 
Quality Delivery Process
– It is the way on how to collect the money from the customers. The products or services that you offer must be delivered well. Ensure a quality process that will satisfy your consumers so they will be happy to pay you for the products or services that they avail from you. 
Management, Human Resource, and Finance
– It is important that tasks are delegated to the right people to achieve high productivity from the employees, which is very crucial in attaining the organization's goals. Decision-making can be tedious, thus hiring employees that can decide on behalf of you can save up your time and energy. When managing a business, there should be someone with a professional background necessary to the job needed to be done. 
Accounting and Technology
– Technology is now a necessity in every business, most especially in terms of handling the cash flows. A software development, which may be considered as a technology that your business can use, will be a great aid to record all the financial reports. It will make your accounting employees' jobs easier. Data can be stored safely. 
Product Development
– The product that you offer must set above from the existing and available ones in the market. Product development is a significant process because this will help the customers distinguish you and your product from the usual and of the same nature of products that they already know.
It is important to be reminded that customers are willing to pay for the value of the product; thus, your product development has to speak your product's quality as it will add up to your business credibility. This is where your customers will start to trust in your product and eventually patronize it in the long run. 
Like the operational processes, some supporting processes may not be applicable to the industry of business you are in. For example, management, human resource, and finance. If you are a sole proprietor, you don't need to consider this area to be part of your supporting processes, since all the decision-making will be done by you alone.
The type of business ownership is also a determinant of what processes your business needs. This is the reason why it is important to know first and identify which of the five areas of supporting processes are vital in the operation of your business. Once you have set your goals, it would be easier for you to identify the processes that you need to take. 
Management processes
These are the processes that encompass the measurement, monitoring, and controlling of the activities related to the business systems. This governs the operation of a system. Some of the examples of these processes are:
Strategic planning
– It is an activity that is done to set priorities, strengthen operations, define new goals and implement necessary actions towards attaining envisioned outcomes.
It specifies the direction of the organization to where it is heading, steps to address and execute to ensure progress and the assessment needed to check how the plan will make the business successful. 
Internal communications
– It is the process of relaying relevant and sensitive information among the members of the organization in the business. The clear and concise communication process is crucial in making the organization's goal a reality. 
Budgeting
– There should be a scientific and systematic way of where the money should go.  Always remember that the purpose of having a business is to gain profit. A carefully laden plan on the cash flow must be established to ensure that you are not losing. 
More management processes might be pivotal to your business. You may include them when you start planning your business. Mentors of your chosen industry may be of great assistance when you start doing all the planning processes for your businesses.
Their knowledge of this venture can help you start your small business. It is best you seek their guidance and expertise to make everything bearable, and at the same time, they can explain to you some systems or processes that worked or didn't work for them. 
Keep in mind that the operational processes deliver value to your customers by providing them the products or services that they need, while the supporting and management processes do not. These three key processes are vital for operating your business efficiently and earning the highest profit possible. 
Do not get too overwhelmed with all this information you have read. Opening a business requires so much energy and time, most especially in the planning stage. The processes mentioned are mostly applicable to those who are starting a small business from scratch.
If you feel information overloaded with what you have just read, and you are still eager to start a small business, then you can opt for franchising. All the processes needed to run the operations in the business are all laid out, and all you have to do is to follow them. With just the capital amount and your eagerness to start a small business, then you are good to go to be the next successful entrepreneur in your area.
Join us and let us create a wonderful franchise journey.
For franchising options, Franchise Market Philippines provides you a wide array of lists of franchising businesses that you can choose from. You may choose the industry of your interest, whether be it at food and beverages, services, education, and retail industry.
You may also find the option of your investment level. No matter how much amount you have prepared, there is a corresponding business opportunity available, and it has been waiting for you.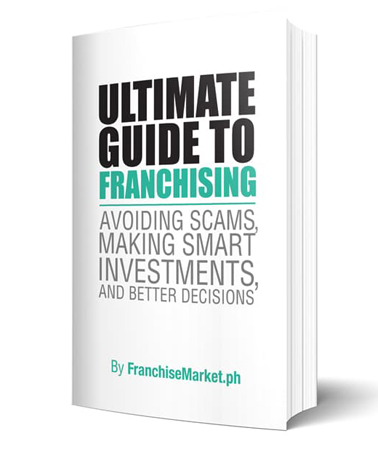 Ultimate Guide to Franchising
Avoiding Scams, Making Smart Investments, and Better Decisions
The franchise industry is booming, and entrepreneurs are wondering about how this sector works. This ebook aims to help aspiring franchisees achieve their business goals.
Learn more
Back to Blog