Protecting something valuable is not easy, especially if it is not tangible at all. In the Philippines, the law has recognized the importance of protecting intellectual property by encouraging businessmen to protect their brands by registering their trademarks.
This is a safe way to prevent others from using the idea of a business and to avoid future litigations that may arise out of false claims by people trying to steal the idea of the business.
With this, it is one of the paramount concerns that every franchisee should take note and ask during a Franchise Discovery Day.
What is a trademark?
The Intellectual Property of the Philippines defines (IPOPHIL) is the agency responsible for trademark registration in the country. According to them, a trademark is a word, a group of words, sign, symbol, logo or a combination that identifies and differentiates the source of the goods or services of one entity from those of others.
In a nutshell, a trademark becomes your brand's identity and it distinguishes your products or services from others. It gives you an edge against the other brands of the same nature.
Trademark and Marketing
This trademark is often considered part of the marketing because it makes the brand stand out and be recognized by the consumers. In the general thought, a trademark is also known as a service mark, although the latter is used to identify marks used for services only.
The IPOPHIL always reiterates that a trademark is an important tool for franchisors and that they should secure it as much as possible. With a trademark, the public can remember a brand and make it known to people, who will patronize it as well.
Benefits of Trademark
As a franchisor or business owner, you must know that trademark registration can only be done once, by the individual who first claims ownership for the mark.
Having Full Legal Rights
Even in the case of registered trademarks in the country, there are still some businesses that dare to use the legally identified trademarks by some businesses. If this happens, you can always file for a case against the violator from the Bureau of Legal Affairs of the IPOPHIL. Just make sure that you're the registered owner of the trademark.
Secure your trademark as early as you can because not having your trademark registered gives you less position to fight for rights that should have been yours already.
Hence, trademark registration is essential if you want to protect your business in the Philippines. It should also be part of your checklist if you plan to buy a franchise.
Building the Business' Identity and Branding
Practically, it is the same thought by which a trademark can boost your marketing. By just seeing the logo, people instantly recognize a business. Usually, starting brands should not take this lightly because once it is claimed by another person, it is very difficult to acquire legal rights again to the trademark.
Protection Against Unauthorized Use
If you want to have the full protection against unauthorized use of the trademark in any campaign or other partnerships unknown to the real person who conceptualized the idea, do not bring down the guard - register your trademark.
Trademark in the Philippines: Frequently Asked Questions (FAQ)
What law governs trademarks?
Republic Act No. 8942 or the Intellectual Property Code of the Philippines governs intellectual property rights in the Philippines. Moreover, the Philippines adheres to the Paris Convention for the Protection of Industrial Property Rights and the Agreement on Trade-Related Aspects of Intellectual Property Rights or the TRIPS Agreement.
What marks cannot be registered?
A trademark cannot be registered if it falls under the following:
(a) Consists of immoral, deceptive or scandalous matter, or matter which may disparage or falsely suggest a connection with persons, living or dead, institutions, beliefs, or national symbols, or bring them into contempt or disrepute;
(b) Consists of the flag or coat of arms or other insignia of the Philippines or any of its political subdivisions, or of any foreign nation, or any simulation thereof;
(c) Consists of a name, portrait or signature identifying a particular living individual except by his written consent, or the name, signature, or portrait of a deceased President of the Philippines, during the life of his widow, if any, except by written consent of the widow;
(d) Is identical with a registered mark belonging to a different proprietor or a mark with an earlier filing or priority date, in respect of:
(i) The same goods or services, or
(ii) Closely related goods or services, or
(iii) If it nearly resembles such a mark as to be likely to deceive or cause confusion;
(e) Is identical with, or confusingly similar to, or constitutes a translation of a mark which is considered by the competent authority of the Philippines to be well-known internationally and in the Philippines, whether or not it is registered here, as is already the mark of a person other than the applicant for registration, and used for identical or similar goods or services: Provided, That in determining whether a mark is well-known, account shall be taken of the knowledge of the relevant sector of the public, rather than of the public at large, including knowledge in the Philippines which has been obtained as a result of the promotion of the mark;
(f) Is identical with, or confusingly similar to, or constitutes a translation of a mark considered well-known in accordance with the preceding paragraph, which is registered in the Philippines with respect to goods or services which are not similar to those with respect to which registration is applied for: Provided, That use of the mark in relation to those goods or services would indicate a connection between those goods or services, and the owner of the registered mark: Provided further, That the interests of the owner of the registered mark are likely to be damaged by such use;
(g) Is likely to mislead the public, particularly as to the nature, quality, characteristics or geographical origin of the goods or services;
(h) Consists exclusively of signs that are generic for the goods or services that they seek to identify;
(i) Consists exclusively of signs or of indications that have become customary or usual to designate the goods or services in everyday language or in bona fide and established trade practice;
(j) Consists exclusively of signs or of indications that may serve in trade to designate the kind, quality, quantity, intended purpose, value, geographical origin, time or production of the goods or rendering of the services, or other characteristics of the goods or services;
(k) Consists of shapes that may be necessitated by technical factors or by the nature of the goods themselves or factors that affect their intrinsic value;
(l) Consists of color alone, unless defined by a given form; or
(m) Is contrary to public order or morality.
But for signs or devices mentioned in paragraphs (j), (k), and (l), nothing shall prevent the registration of any such sign or device which has become distinctive.
How are the rights to the mark acquired?
One can acquire rights to a mark by registering it with IPO's Bureau of Trademarks. Only marks duly registered with the IPO can provide you with protection against infringement. It must be must done as soon as possible because the IPO follows the first-to-file rule. This means that no one else can file an application for the same mark covering the same goods after your date of filing.
What is the difference between a Trademark and a Service Mark?
A trademark pertains to goods and those under International Class 1 to 34 while service marks refer to services under International Class 35 to 42.
Can I file an application even if I am not using the trademark yet? Is it important that it is currently used for goods or services under my name?
No. An application for registration may be based on actual use or intended use of a mark in the Philippine commerce industry. However, the prior use of a mark in the Philippines is not necessary to file an application. 
The use of mark becomes necessary only after the application for its registration has been filed because a Declaration of Actual Use ("DAU") in Philippine commerce is required to be submitted within 3 years from filing date. Hence, you may already file an application for registration.
Can we file multiple classes in one trademark application?
Yes. One application may relate to several goods and/or services, whether they belong to one class or to several classes of the Nice Classification. Where goods and/or services belonging to several classes of the Nice Classification have been included in one application, such an application shall result in one registration.
What is the period of protection of trademark registration?
The period of protection is ten (10) years, starting from the date of issuance. It is renewable for a period of ten (10) years at a time.
Therefore, if you are a franchisee, it is necessary that you know everything about the trademark because it affects the operation of a business that has no secured mark. Get assurance from the franchisor that the business has secured a trademark; otherwise, do not pursue it anymore if it does not have one.
Moreover, beware of the red flags in franchising to avoid being scammed. It pays well to be vigilant, especially that franchising requires a significant amount of money as funds.
Also, check more of Franchise Market articles that should inspire you to become a franchisee or an entrepreneur in the future. We guide you in fulfilling your dream franchise goal.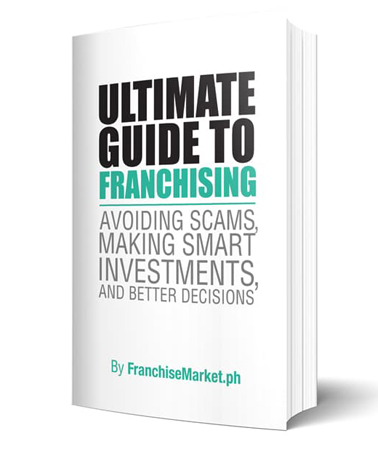 Ultimate Guide to Franchising
Avoiding Scams, Making Smart Investments, and Better Decisions
The franchise industry is booming, and entrepreneurs are wondering about how this sector works. This ebook aims to help aspiring franchisees achieve their business goals.
Learn more
Back to Blog