After all the considerations and weighing the pros and cons, it is good to know that you have understood what it takes to start franchising. Yet, how ready are you?
Being ready does not always mean you are well-prepared about what lies ahead of you. Sometimes, you still need to consider a few tips coming from the franchise experts.
Here are some of the most useful tips you must know.
Franchising Tips in the Philippines: Tips and Traps
Given the high success rate of franchising in the country, the Philippine Franchise Association (PFA) has been consistent in guiding prospect franchisees. This is especially true in choosing the kind of business they must acquire.
Hence, PFA pointed out some of the known franchising tips in the Philippines and misconceptions associated with it.
Do a self-assessment
The belief that 'franchising is easy' becomes the most common misconceptions these days. Franchisees are lured with the idea that all they need to do is to shed out money, and everything will fall into place.
By doing a self-assessment, you must ask yourself if you can commit 24/7 of your time in the business or if you have a commitment to embark on this endeavor until it becomes another successful franchise business entity.
Study the concepts
Another trap that brings negative outcome when franchising is the belief that 'franchising means instant success.' It is a fallacy that led some franchisees to fail in the long run. Hence, it is essential to study every franchising concept. There is a lot of work in franchising and familiarizing the needed ideas can ease the workflow.
Research the market
'Franchising can be everywhere' is another misconception that can cause long term damage to your business. Doing market feasibility is reasonable, and this saves you from any problems concerning who will buy your products. Market research is considered to be an additional cost but could save you in the end.
Take your time
Franchising is neither a race nor a game. You do not need to be in a hurry to accomplish everything. Sometimes, the discount offers of some franchisors in the fees and other franchising payments can make you opt right away in the business, which must not be the case. Remember that an upfront discount does not necessarily mean a good deal. You may save a few pennies, but you compromise the chance to review the business thoroughly.
Hence, in times like this, it is better to stay rational and do not ever be in a rush. Do the math, do your research, read the agreement thoroughly, and if needed, consult your lawyer. It is best to be cautious while searching for the best franchise.
The Five-Point Checklist 
The list of franchising tips can go on, but it is also essential to consider having a checklist as your guide. As mentioned, franchising in the Philippines is not a game, and even with the hundreds of successful entrepreneurs in the country, it is recommended to follow this five-point franchising checklist.
Make sure it is unique and exciting brand you like
In franchising, choose a business concept that you love. Search for a business that you will be proud of, considering the brands that you believe in, or even products and services that are interesting for you. These days, a food cart franchise in the Philippines is the choice of most entrepreneurs given that Filipinos love food all the time.
Evaluate yourself in terms of financial capability and legalities
Venturing into a franchise business requires you to be financially ready. It is crucial to franchise a business that has the right profitability for the investment that you put in. Study the length of time needed to recover your investment. Moreover, understand the monthly profitability of the business.
In addition to this, you must understand the following startup fees when franchising:
Franchise fee – It is a one-time and upfront fee for you to gain a license to operate and use the franchise brand's proprietary information legally. Take note that popular brands usually charge a higher franchise fee than the others.
Royalty fees –  This fee for franchise businesses in the Philippines usually range from 3% to 10% of the monthly gross sales. This is charged on a monthly basis, so this can reduce your net income. The good thing is that not all franchisors charge this fee.
Advertisement and marketing fees – This is a fund used by the franchisor to continue its marketing support and is charged on a monthly basis.
Cost of supplies – It is usual for franchisors to provide the first sets of supplies needed in the business. However, the next batch of supplies must be bought by the franchisee directly from the franchisor or its suppliers. This method can cost you higher compared to sourcing your suppliers, so it is better that you evaluate options here.
Moreover, in terms of legalities, a legitimate franchise business must have the needed registrations under concerned departments such as Department of Trade and Industry (for single proprietors), Securities and Exchange Commission (for business partners and corporations), and the Bureau of Internal Revenue (BIR).
Also, the business must have the permit granted by specific government offices. For example, if you are planning to start a food cart franchise here in the Philippines, the business must be registered with the Food and Drug Administration (FDA).
Choose a franchise with a rigid business model
You must choose a business concept that is well-established and tested over time. You cannot handle a business franchise just by downloading necessary manuals; you need thorough hands and minds as your back-up. Therefore, make sure you understand how your team prepared the overall business franchise program.
Evaluate its marketing program
Even if the business is known in the field, having a hardcore marketing and innovation program is a plus. Franchisors charge a monthly fee for marketing plans, and this is a good sign that the business owner is willing to grow the brand and reach a wider audience. This means there is a continuous effort to strengthen the brand's image over time.
The franchisor's all-out support
The 90% franchising success rate is impossible without the aid of franchisors that they give to their franchisees. Make sure that you make the best out of it by understanding the type of support you will get and who will support you from the headquarters.
Given all the tips above, it is evident that there are so many points to consider when franchising a business. Nowadays, the effort to get customers or franchisees be connected directly with franchisors is booming; and this is what franchisemarket.ph is all about.
To make all franchising ends meet, franchisemarket.ph helps businesses connect to the right franchisee. It is a digital space that provides an all-around guide for franchise seekers who are ready to invest but have no platform to move forward. With FranchiseMarket, there is a win-win situation for the franchisees and franchisors as both are allowed to utilize the platform in ways that can benefit each party.
FranchiseMarket promotes business opportunities for both franchisees and franchisors using a medium that is digitally accessible and absolutely for free. We envision to be the first leading online portal operator for franchising in the Philippines, providing a channel where people can understand the basics of franchising. Furthermore, we offer endless franchise opportunities that let you showcase your capabilities to grow your business in the market.
If you are someone who dreams of duplicating a franchisor's successful business, then we are here to help and assist you in choosing the franchise tailored to your business and investment needs! Likewise, if you are an entrepreneur who has created a well-established business, FranchiseMarket is the right space for you.
Let us help you in achieving your franchising goals!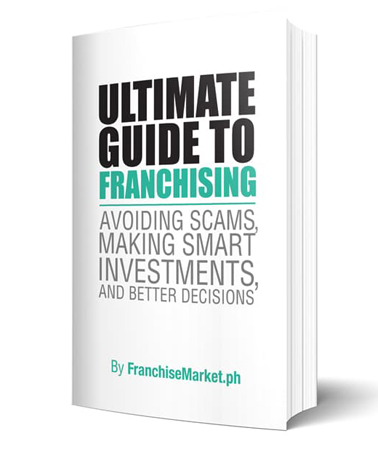 Ultimate Guide to Franchising
Avoiding Scams, Making Smart Investments, and Better Decisions
The franchise industry is booming, and entrepreneurs are wondering about how this sector works. This ebook aims to help aspiring franchisees achieve their business goals.
Learn more
Back to Blog