Doing any entrepreneurial work is a risk that requires research and the motivation to prosper. Whether it's for a start-up venture or not, the business remains as it is until further innovations happen.
It is the same thing with franchising. It is an incredible business that paves the way for aspiring entrepreneurs to compete and grow in the competitive market today.
However, it may change over time to suit the needs of customers and is the main reason why you must choose it well in the first place.
So, how do you choose a franchise? Let this guide help you.
Understanding Franchise
If you are reading this guide, then for sure, you have already done tedious research about what franchising is all about. It is an excellent step to start your journey but, other than knowing what it is all about; you must understand its concept straight from your heart.
First, franchising is a gateway for your entrepreneurial dream. If you are not a risk-taker enough to start your own business, then franchising is an alternative option.
The key is to understand it well in all aspects. Meaning, from its definition, scope, role players, business model to legalities, you have to comprehend everything. That is how successful franchisors and franchisees can get into the top of the game.
Find the Great Common Trait
Just to set anyone's expectation right, franchising is not always a  win-win situation because it is entirely subjective in the first place. What does it mean?
Simple. There are still franchisors who do not consider their franchisees as partners. Transparency-wise and in other matters, these franchisors may only care about the money and not with the overall system's success.
It is not valid for all franchisors. So, what do you need to do as an aspiring franchisee? Find a great common trait.
This trait is often associated with a franchisor that cares for his/her franchisees as much as they care for the business.
Therefore, it is all about finding a trustworthy franchisor who has experience in the field and can empower and leverage the business for the benefit of both parties.
The Perfect Investment Opportunity
Franchising is an investment opportunity other than real estate and the stock market. As an investor, you weigh things and the factors to consider by doing thorough research.
So, if the time comes that you are convinced enough to venture into this, consider it as the perfect opportunity to invest and grow your money.
Useful Tips in Selecting the Franchise
It is a must that you choose the right franchise to invest in. A single mistake on this part may result in unexpected circumstances, with the worst not being able to gain your capital investment at all. 
Here are some of the most useful tips in selecting the right franchise based on your financial capability and other factors.
Define your personal goals
For sure, you have goals in mind if you start a business or make an investment. In the process, you need to have both short-term and long-term plus personal goals altogether since it will motivate you more in pursuing the franchise opportunity.
Determine if you really like to franchise or just start a small business
Here, you need to decide whether are you ready to become a franchisee or only a small business owner from scratch. 
Comparing the two concepts, a franchise belongs to a franchisor, and if you want to enter the established business of that franchisor, you become a franchisee by paying a franchise fee.
In return, you are assured of an established business model that works in the market through the supervision and proven expertise of the franchisor.
On the other hand, a small business owner who starts from scratch has still yet to develop the business model and test it through the years on various aspects of business management.
Moreover, you are not affected by any decisions coming from a superior, unlike in franchising, where all decisions come from the franchisor.
However, this does not mean that you are banned from sharing opinions and other matters to the franchisor. It's just that they always have the final say after you pitch your ideas. Not that bad if you think about it.
Assess your financial capability
Money is always a determining factor in franchising. Your financial capacity will always be part of the decision-making process as the monetary part of the investment does not stop only with the franchise fee.
You must have the right expectation from the beginning that a franchise won't generate right away profits after you start operating. It will take months or years to reach the breakeven point or the time when the business is already profitable.
Moreover, there are other fees that you need to fulfill, aside from the other operating expenses that you may incur during the early stage of the business' operations.
In other words, you need to have a steady source of income aside from the franchise for the first few months or years to sustain your needs and other unexpected expenses.
Yet, one thing that makes aspiring franchisees be able to fulfill their dreams is through other financing options such as bank loans and/or lending companies that offer realistic financing alternatives.
Just make sure to have a ready business plan to support your application and for the lenders to know and evaluate if you are a trustworthy individual to get a loan. Learn how to create the perfect franchise business plan and start exploring other options for your business.
Market vs. Franchise Research
In doing your research, you must do first a market feasibility study before the actual franchise research. In most cases, it is beneficial to know the trend of the market first and check what is the most in-demand needs of customers in the current time than knowing if the franchise business will prosper in the field.
After determining information related to the market research, proceed right away with the franchise research. Often, franchisors will give you possible locations where to put the business, but you can still have an option not to adhere to the suggestion. After all, you are the franchisee.
Use the franchise Discovery Day well
Interview the franchisor like it is one of the most critical decisions in life. During Discovery Day, ask all the questions you have in mind and leave no space for doubts. Ask the franchisor about the system, the business model, the market, customers, and competitors. Asses whether the franchisor can provide you accurate information about your questions.
Read the initial franchise agreement and disclosure document carefully
Understand the terms of the deal you are getting into and get to know the franchisor well. People run good and prospering businesses for people who invest in their system.
Make sure to read everything carefully. From the franchise disclosure document and the agreement, read every item and provision well. You can also ask legal advice when reviewing the document to make sure that you understood everything.
 
They provide full support in all aspects of business management and make sure that the franchisee can stand on his/her own. You can check provisions about this on the agreement, and it is always your right to clarify things with the franchisor before signing it.
Remember that as a franchisee, you must feel welcomed by the rest of the system's members. The right franchise marketing system has people behind the brand with a genuine interest in you and your goals.
 
Franchisees from a great franchise system will respond to your questions thoroughly. Know more about who are you doing business with and make sure they have good personalities personally and professionally.
Proceeding With the Franchise
If you are satisfied enough now with all the information you have, then great! You are now all set in starting your franchise journey. If there is a chance to talk to a franchise consultant before closing the deal, then it will be helpful. At least, you will have expert advice coming from a competent person in the industry. 
In the end, choosing the best franchise is a balanced decision. You weigh each factor carefully and consider the pros and cons of franchising at the same time. It is one right way to assess if you are just acting by impulse or with the genuine intention to be the next successful franchisee.
Do not be discouraged with the setbacks that may come in the way, especially in the financial aspect. Determined individuals usually surpass this stage in franchising, so you must be able to do it too.
Millennials are already into franchising these days, and it will be useful to begin your franchise venture too! In today's digital world, discover how a franchising portal can meet all your needs in just a click - just like how the Franchise Market helps both franchisors and franchisees in achieving franchising goals. Discover endless franchise opportunities using the leading online franchise platform today.
Together, let us be successful in franchising venture.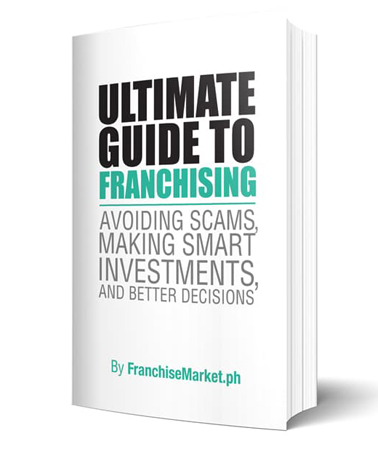 Ultimate Guide to Franchising
Avoiding Scams, Making Smart Investments, and Better Decisions
The franchise industry is booming, and entrepreneurs are wondering about how this sector works. This ebook aims to help aspiring franchisees achieve their business goals.
Learn more
Back to Blog
Disclaimer: Franchise Market Philippines strives to provide relevant and accurate information in all its articles. However, some information in our articles may differ or might be outdated from what you can see or read directly from the establishments' or businesses' websites. Please get in touch with us directly for any discrepancies.