Venturing and starting up in the business world is just as stressful and challenging as looking for a wholesale supplier, you can efficiently work with. Suppliers are essential in business because they will provide you with the things needed to operate your business.
The Philippines does not have many wholesale suppliers for different products, just like the industrialized countries. Nonetheless, the constant boom in the Philippines ' business industry in the country will surely thrust wholesale suppliers to increase in number and expand.
Looking for a small business wholesale supplier to provide you with things you need in your business is easy; however, finding a supplier that is both reliable and well-organized is not. You can work with several suppliers, test their ability to level-up to your demands, and hopefully discover the best out of them. Although this is not the best way to do it, uncertain changes with suppliers might create some hindrance in your business' workflow, and different product quality might lead to customers questioning your brand and affect the quality you sell.
This is why building a partnership with the best wholesale distributor right from the start is a requisite to achieve and maintain the quality of the products you sell and establish a good partnership with your supplier. So the question remains, how do you find wholesale suppliers for your business?
Determine the Products Needed in Your Business
First and foremost, before you even start searching for a small business wholesale supplier is to recognize the products you need for the business you want to put up. The best way to do it is to review the products you will offer in your business and list all of the necessary things you need to order to the suppliers in a paper, notebook, or mobile phone. You can use this as a checklist when you order from the supplier to guarantee that no product is left out.
To further note, wholesalers deliver from different industries. This is why you must take note of only those suppliers that provide for the industry where your business is included and offers all of the products you need for your business.
Research for Wholesale Suppliers
After finalizing the products you need to purchase from the suppliers, the next step for you is to start searching for the right wholesale supplier that works best for you. Here are some ways where you can find suppliers.
Inquire from business colleagues and other entrepreneurs
The best and easiest way to search for wholesale supplier Philippines is to ask business colleagues and entrepreneurs you know for recommendations. Also, the efficiency of the suppliers they recommend is already guaranteed by them, which gives you more reason to trust these suppliers and ensure their reliability.
However, not all of them will be willing to disclose the wholesale suppliers they have trusted and partnered with, or in other cases, the suppliers might not have the products you need for your business. If these things happen, there is a need for you to search somewhere else.
Searching through the internet
Undoubtedly, browsing through the internet is one of the easiest ways nowadays to search for small business wholesale suppliers. And seeing how the internet has been the growing medium where businesses can be discovered, it is seen as an opportunity for entrepreneurs to advertise and put their business information on the internet – and wholesale suppliers is not an exemption.  
Magazines and newspaper ads
A more traditional but one of the most trusted ways of finding suppliers is by getting information through business sections in magazines and newspaper ads. This is one of the recommendable ways of searching for some local suppliers and a must to check into.
There are multiple ways, other than the common ones mentioned above, on inquiring for business suppliers. Other than asking business friends and colleagues, you can even go to business centers or do field hunting yourself to places where suppliers are mostly found and personally check on them. It depends upon what method you are most comfortable with as long as, in the end, you get to pick good options. It is also important to save or jot down the suppliers' information you want to contact. 
Contact Wholesale Suppliers
Before picking one wholesale supplier for your business, you must contact them first via call or email. It is vital to address your queries first to arrive at a considerable and well-thought-of conclusion as to which supplier should be chosen for your business. The most important things you need to ask the wholesale suppliers once contacting them are the following:
What is their minimum order requirement?
What is the wholesale unit price for the products you need?
What are their payment terms?
What region(s) do they supply?
Besides, you can ask if they can recommend another supplier that sells the same products as they do if you feel your list is still not enough and you still want to discover more suppliers.
Slash Down Your Wholesale Supplier List
The next thing to do after contacting your probable suppliers and have satisfied all your queries is to review the following:
Checking your budget
You need to check first if your allotted budget for product supplies is capable of shouldering the unit prices and the minimum order requirement demanded by the wholesale suppliers. However, this does not imply that you should choose the supplier that offers the cheapest product. It is still best to value the product quality over the price-provided that it is at a reasonable price, and you are financially capable of it.
Assess the payment terms
There are a lot of payment terms wholesalers might require (e.g., advance deposit, cash on delivery, sale, or return). You need to weigh on the benefits and disadvantages in every payment term and as well as its risks. There is no fixed and best way for these payment terms; it only is dependent upon your understanding and preferences. 
Evaluating the location
Also, check for the region the small business wholesale suppliers are only limited to deliver their services. It might be best to choose a supplier that is closer to where your business is put up for easier and faster delivery time. But it does not necessarily mean that you always should because again, you have first to assess the quality you want to provide for your customers.
Choose the Wholesaler You Want to Partner With
After researching, long lists and a lot of consideration, it is not surprising that you have found your best wholesale supplier that you feel is the best fit for your business. But the actual test begins once you start working with each other. And there are attributes of suppliers you must observe to conclude that you have found an excellent small business wholesale supplier.
Qualities of a Good Supplier
To determine an excellent wholesale supplier Philippines, listed below are some of their merits. If you find that your supplier has some of these commendable attributes, then you have found a supplier worth partnering with.
Taking accountability for product issues
Taking accountability is just hard for most people, yet it is an outstanding quality the right supplier must-have. Suppliers admitting to product defects and taking responsibility for it rather than blaming it to the distributor and other people is an admirable trait that tops all other qualities.
Easy to communicate
Language barriers may not be a big issue in the Philippines, so it is most likely assured that you will be able to understand each other using the national language or English. But finding a supplier you can communicate with very well, to reach an understanding, and to have a timely discussion with each other with ease is also an excellent point to look into.
Responsive
A right supplier is also sensitive to your queries, is comprehensive with their responses, and who keeps you updated with the status of your orders.
Firmly trusted on product quality
Mostly a wholesale supplier who is praised with their services and product quality by other entrepreneurs is a reputable one.
Meets quality standards and product requirements
Always keep the promised product quality of your wholesale supplier is on point. Product requirements, such as dimensions, colors, and other specifications are met.
Conclusion
In franchising, you do not need to look for a wholesale supplier since your franchisor will recommend some of the notable suppliers connected with them. However, if you have your own business, you need to do scrupulous research to find the right wholesale supplier.
But finding the right supplier for your business may not be so bad as it seems. You get to meet and engage with a lot of people as you will experience on day to day routine once your business starts operating. You will also get to have a good grasp of your business and what it needs to continue providing quality products for your customers.
Looking for the right supplier is just like searching for the one. You are going to meet a whole lot of suppliers, but you are going to have to choose the one that complements and works best for you the most. All the tedious search and endless considerations will all be worth it in the end.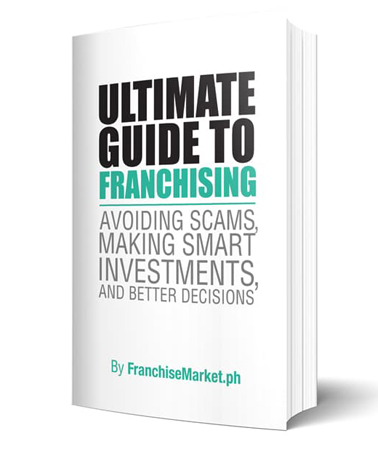 Ultimate Guide to Franchising
Avoiding Scams, Making Smart Investments, and Better Decisions
The franchise industry is booming, and entrepreneurs are wondering about how this sector works. This ebook aims to help aspiring franchisees achieve their business goals.
Learn more
Back to Blog