There are so many OFWs that earn a lot of money but do not have an idea where to invest in so that they can grow their money to provide their family a comfortable life or to fund their comfortable retirement years. Progressing into a franchise business is one of the most recommended methods of making use of their savings. But how do you find the right franchise opportunity for you?
Considering Your Interests and Experience
True enough, the benefits of franchising are very much captivating; however, the variation between franchises can lead to confusion. Which one should you choose? 
Well, you should first consider your skills, strengths, and experiences to select which industry to undertake. Some work best in the food industry while some are in transport, health care, and others. 
This is the first step, so you should choose the one you are most comfortable with and will make use of both your skills and experiences. Considering that overseas workers work in different industries with different jobs, the knowledge you have with your current situation is something to reflect on.
Preferably, you should choose those industries that are most in-demand and can still cater to the knowledge you have in that specific industry, your experience, and your interests. By doing so, from a much larger scale, now you have focused on just one sector only and have reduced the multitude of options set in the market for you.
Choosing In-Demand Franchises
The next step you should take is to choose a franchise opportunity within your business industry selected wherein their brand and services have been proven in the market to be booming and in demand. You can utilize the internet and search for franchises. It is also better if you choose at least the top 3 of your potential franchises and tap on the possible franchisors and ask for their current demand rate and projected growth. By doing this, it will help weigh upon their given business data so you can establish a well-thought decision.
Besides, whichever you choose, you are confident that it will deliver and is a lot quicker to create rather than putting up your own business. For reasons being, (1) you will not have to spare an effort of thinking for the branding and popularity index for your product as you are already investing in a recognized and established brand, (2) you are also then spared from the hassle of finding customers because this will already give you access to the brand's customers. Thus establishing your franchise business is a lot quicker than developing your own business and brand
Checking your budget
Money is vital in business, in the sense that starting up a company will be deemed impossible without it. This is why, as crucial as choosing the best franchise opportunity to grow your money a hundred folds back, you need to examine if you are financially capable of funding such a franchise business.
Always and never forget to check your allocated capital before you commit to your selected franchise. However, if after your monetary assessment, you discover that you are short of funds, there are a lot of other ways of getting funds. And because venturing on franchising business can be quite expensive than establishing your own, your savings may not be enough especially if you choose a more widely known brand, so you might as well look into other ways to find funds for your start-up. 
Making Your Own Business Plan
While it is helpful to think of executing and making into reality your chosen franchise opportunity immediately, still, an excellent comprehensive business plan will make it more fruitful. Not only is this useful in getting funds and convincing lenders that you are capable and motivated to pursue your business, but this will also keep you guided by the business goals you have set out and wanted to achieve from the start. This is why the role of a business plan sets off to be quite significant.
This will provide you the guidance you need as you go along and considerations you need to take into account; thus, you will arrive at a well-evaluated decision. If you want to further your understanding of how and why you should make a franchise business plan.

Examining Potential Business Locations
The next thing you should think about is to find and to inspect possible areas wherein you can set up the franchise opportunity you desire and have chosen. Firstly, you must pick an area where there are a lot of people, and more people means more probable customers for your business.
The second thing to do is to examine whether your franchise opportunity complements the needs in the market of your chosen area. It is fundamental for an entrepreneur to evaluate the lack in his preferred area and supply the needs or desires of the purchasers.
Relating to the second one, it is also a must to check on the density of the competitors. Setting up your business where there are a lot of similar businesses in the area may not be a good idea. This lessens the entry of customers and, in turn, lessens your profit. In weighing upon where you should set up, always keep in mind to consider these three things.
Determining Sufficient Business Support from Franchisors
There is a lot to learn from the franchisors when it comes to how they operate, their business model, customer services, and the likes. Still, you need to investigate whether the support and training they provide will be enough to supply you with the knowledge you need in the business. Especially if you are new in the business industry, you might need more support from your franchisors. So you have to examine if the training and marketing support is sufficient for you. 
Discussing with Other People in the Industry
While you learn all the roundabouts in the business when you talk and train with the franchisors, discussing with other people already in the same business industry or other franchisees may be able to help. You will find more about the franchise opportunity you want to establish with the other franchisees and maybe gain some tips from other people in the business to help you with your decision.
Some Examples of Franchise Opportunities 
Food Kiosk
Filipinos love to eat and stop by for some quick snacks. And one of the most affordable franchise opportunities out there is a food kiosk. All you need to do is find a convenient spot where there are a lot of people passing by and hire at least one employee. Investing in food kiosk is one of the best out there. 
Water Refilling Stations
Water is essential in our life. So, the demand for potable water will only increase over time, which is why water refilling stations are necessary for the people. That means investing in a water refilling station will always be a good choice.
Education
Education is something that our parents want us to have. And around the globe, there have been continuous innovations in different fields. Which means there is extensive knowledge you can provide for the children. Different education franchises offer varied ways of teaching, and the parents of this generation would love to see their children learn a lot more and hone their skills.
Milk Tea Shops
Milk Tea has just been popular. Grabbing this opportunity of the milk tea craze might help you earn a lot of profit. To check out the best milk tea franchises in the Philippines.
Spa & Salon
People will always want to look their best and sometimes change how they look now and then. Additionally, people have also become more career-driven, and coping with work everyday stress can be a real struggle. They would want to have a place where they can relax and feel rejuvenated. As an entrepreneur, beauty and wellness franchises are something you should check out too.
Indeed, there's a multitude of franchise opportunities you can find in the Philippines. The vast information you see on the internet can be quite overwhelming. That is why the Franchise Market Philippines makes everything easier for you. It provides you with diversified franchises that may appeal to you as an entrepreneur. This online platform will not only spare you from the hassle of repeatedly searching for franchises, provide you with franchise opportunity but will also allow you to access different blogs that will supply you with knowledge and information about franchising.  
Conclusion
The constant boom in the franchise industry makes the advantages of venturing into the franchise business weigh more than its risks, which is why many entrepreneurs enthusiastically pursue this path. This will not only contribute to the Philippine's economy, supply opportunity to the Filipino workforce, but also hold the potential to grow money, and provide financial stability to the franchisees.
This is ideal for overseas workers who want to progress from their usual day work to franchising. Who desires to earn extra cash and make the most out of their hard-earned income to save it for future retirement needs or future emergency purposes. 
Undoubtedly, finding the right franchise opportunity can take a great deal of time to research different kinds of franchises in the Philippines and to plan for future actions. However, successfully finding the right one for you may lead you up to your game. Additionally, one does not have to be an expert in this field to ensure its success; what it needs more is dedication and perseverance to see through your business.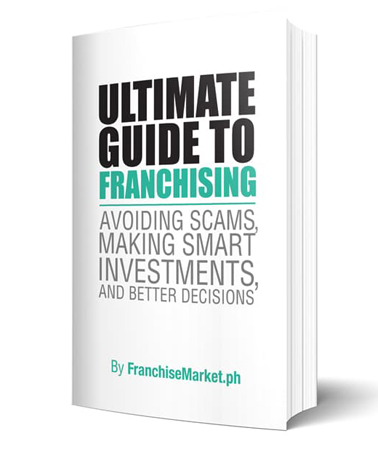 Ultimate Guide to Franchising
Avoiding Scams, Making Smart Investments, and Better Decisions
The franchise industry is booming, and entrepreneurs are wondering about how this sector works. This ebook aims to help aspiring franchisees achieve their business goals.
Learn more
Back to Blog