An effective marketing strategy is a crucial road map for the success of your business. It sets the overall direction and goals of your marketing to achieve the objectives of your organization. A coherent, research-established, and data-driven marketing strategy can enormously help the organization promote its business, serve the target audience, retain the loyal base of customers, attract a new set of customers, allocate the resources efficiently and effectively and gain a competitive advantage against the competitors.
Importance of Marketing Strategy
Competitive Advantage
A marketing strategy can provide the company with a competitive advantage against the competitors present in the market. While competition is growing exponentially higher, there is a need to establish a unique selling point about the products and services offered by your business. Highlighting this unique selling propositions through an effective marketing strategy will set your products and services above from the competitors.  
Brand Presence
One of the essential functions of a marketing strategy is to strengthen your brand presence in the market. You want the public to recognize and recall your brands, among others. This is necessary to establish because you need to study the consumers' behavior towards your products and services. With this, you will be able to predict how the consumer behaves and how to address it to generate more sales. 
New Customers
As much as the retention of existing customers is concerned, so as attracting new customers is also crucial because they are the key to expanding your business in the long run. Making the business always relevant and exciting to new customers and clients is another vital step in developing the marketing strategy. These new people will bring other sources of revenue for the business. 
Utilized Resources
Budgeting plays a vital role in almost everything in our daily lives, and this is as well applicable to businesses. Proper allocation of resources is a must to utilize such efficiently and effectively. A planned and aligned marketing strategy ensures that the allocated budgets for marketing tools and promotional tactics are spent according to plan to attain the goals established for the business.
Optimum Growth
An effective marketing strategy is a blueprint that will guide your business towards the road of success. It is crucial for accomplishing your business' short and long-term goals. This blueprint will also be important for promoting your business' brand value, increasing your market share, providing competitive advantage among competitors, generating higher sales, and elevating profits that will contribute to the optimum growth your business aspires to achieve.
Now that the importance of an effective marketing strategy has been established, it is now time to learn how to develop a marketing strategy effectively.
STEPS TO DEVELOP A MARKETING STRATEGY
Conduct SWOT Analysis
SWOT stands for strengths, weaknesses, opportunities, and threats. A SWOT analysis is conducted to gauge the position of the company in terms of its competitiveness among other existing businesses in the market. It helps the organizations identify all the internal and external factors involved in making a business decision in order to arrive with fact-based analysis, fresh perspectives, and new ideas. Conducting a SWOT analysis can help in developing strategic plans like a marketing strategy. Such analysis will provide assessment tools that can help in discerning what needs to be improved inside or outside the business. Aside from that, the analysis can also envision the position of the company, its products, and/or services in the market. This can guide you where your business is going and the possible reasons behind it.
Define Value Proposition
Value proposition technically answers the question, "Why should we do business with you?" It is a promise of value that you wish to deliver to the customers. In defining the value proposition, Forbes enumerated 4Us to be considered:
Is the problem unworkable?
Is fixing the problem unavoidable?
Is the problem urgent?
Is the problem underserved?
If the answer to these questions is yes, then most likely you are on the right path towards establishing a good value proposition. If otherwise, perhaps, you consider re-evaluating your business venture. These questions are essential to answer because this will give you an edge over your competitors. In addition, this is also how your prospective clients evaluate you. A concise and clear value proposition can make a high impact on your business as far as clients are concerned.  
Define marketing strategy objectives
Goals are identified and established by formulating objectives. They should be specific, measurable, attainable, realistic, and timely. When these factors are met for every objective set, it will be a great assistance in examining the effectiveness and success of the marketing strategy. This will also help in aligning the efforts and increasing the chances of achieving the established goals. In setting SMART goals, it should answer the Wh- questions:
Who is involved in this goal?
What do you want to accomplish?
Where should this goal be achieved?
When shall this goal be achieved?
Why shall this goal be achieved?
How shall this goal be achieved?
The formulated objectives will answer these questions within a given time frame. Thus, it is essential to specify the goals clearly and coherently.
Empathize with your customers
A great way to provide excellent services to the customers is to understand them by being attentive to them. By doing so, you can increase their loyalty and bring in new business through positive word-of-mouth recommendation. There are three ways on how to empathize with your customers. One is to understand them and look at your business from their perspective or point of view. Then collect and analyze the data to identify their behavior. You can search for patterns to see the trends of their reception on your business. You can also simply ask their opinion about your products and/or services and their recommendations on how to improve it.
Determine your buyer personas
Buyer personas, sometimes referred to as marketing personas, are fictional, generalized representations of your ideal customers. They are vital in internalizing the perfect customers that you wish to attract your business. Well-Done market research will serve as a basis to get the strongest buyer personas. This will pave the way for developing content and messaging that will appeal to your target audience. With this, it will be easier to improve and tailor the products and services according to the specific needs, behaviors, and concerns of different consumers. The number of personas you need depends on the size of your business. One to two personas may be enough, and you can add more when the situation needs so. 
Study your market and competitors
According to the Queensland Government, growing your business without understanding your competitors is risky. Market research yields relevant data to help solve any marketing challenges your business may face in the future. This involves two types of data: (1) primary information which can be gathered by yourself or someone that you hire, and (2) secondary information which is already compiled and organized for you. Examples of the latter are reports and studies by government agencies or other businesses within the industry. On the other hand, it is also important to do competitor research to analyze and monitor as well as learn from their methods and mistakes. It is important that you also study their Search Engine Optimization, which is the most important step in link building, to find out why and how they are ranking better than you in the search engines. 
Identify your marketing methods
With the advent of technology and slow shifting from traditional to digital, more marketing techniques and methods have emerged to help any growing business. Some traditional marketing methods such as word-of-mouth, broadcast advertising, and networking still work and deem as effective until today. Due to the increasing usage of gadgets, there are also marketing methods in the digital world like content marketing, social media marketing campaign, search engine optimization, pay per click. There are varied ways of marketing your business. You have to identify which one is more beneficial for your business.
CONCLUSION
Starting a business can be very tedious. It will take up a lot of your resources like time, energy, and money. Before jumping to developing the marketing strategy, you have to study and take into account first the key processes that are crucial for running your business. While a business plan establishes a clear direction for your business, a marketing strategy keeps your business afloat in this competitive industry. Reaching more consumers can ensure an increase in sales; thus, a well-thought and research-driven marketing strategy are crucial in achieving the set goals and hitting the target sales. 
Venturing into franchising business is also risky, like starting a business from scratch. Understanding the science behind this business industry can get you through your entrepreneurial dreams and prevent you from committing mistakes. Here is a quick guide to help you with your franchising decisions. For franchising listings, you may visit franchisemarket.ph.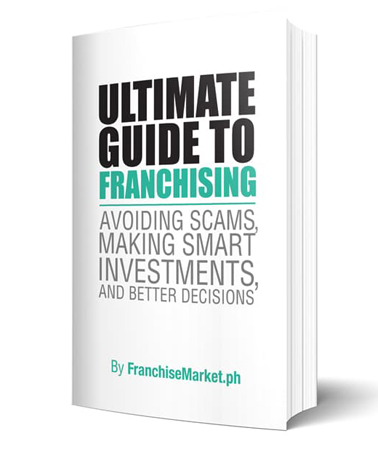 Ultimate Guide to Franchising
Avoiding Scams, Making Smart Investments, and Better Decisions
The franchise industry is booming, and entrepreneurs are wondering about how this sector works. This ebook aims to help aspiring franchisees achieve their business goals.
Learn more
Back to Blog
Disclaimer: Franchise Market Philippines strives to provide relevant and accurate information in all its articles. However, some information in our articles may differ or might be outdated from what you can see or read directly from the establishments' or businesses' websites. Please get in touch with us directly for any discrepancies.