Image source: https://www.facebook.com/altspace.ph/
The idea of investing has drawn much attention in the past years, empowering Filipinos towards their road to financial freedom and stability. Recent data show that Filipino middle class and millennials are into a stock investment at the beginning of this year, while others focus on other forms of investment such as franchising.
Investing at an early age is a wise choice, but it must be the right investment. You can think about starting your own business as a startup or consider investing in real estate but the important part is seeing your investment grow and give back returns in the coming years.
Financial Stability As a Franchising Millennial
Franchising, as an investment is a big deal. It involves huge capital so you must be sure if you are ready to embark on this venture.
Given the varied fees and legalities involved, you must have extra funds if you are planning to franchise a business. This is because franchising fees are generally expensive, with some fees being paid as one-time payment while others on a recurrent basis.
Moreover, as a long term investment, franchising returns are not expected within the first few years of the business so you must have another source of stable income or sufficient savings that can help you stay on foot while waiting for your return on investment (ROI).
Hence, it is always the best practice to start evaluating first your finances before making any decision to franchise a business. You must weigh the pros and cons, including the length of ROI and your commitment.
The Legalities of Franchising in the Philippines
As per the law, Filipinos are considered eligible to do any legal transactions and decisions at the age of 18. With this, Filipinos can generally become a young entrepreneur, provided that the business has fulfilled all the legal papers needed to start operating.
In the case of franchising, the Philippine law permits only those citizens of legal age to start a franchise business, either as a franchisee or a franchisor. Moreover, there is a need to fulfill specific government requirements such as registrations from the Securities and Exchange Commission (SEC), Department of Trade and Industry (DTI), Bureau of Internal Revenue (BIR), and Mayor's permit, etc.
Successful Filipino Franchisors and Their Stories
For franchisees, the decision to start franchising is a calculated risk. They tend to do a thorough research before committing into the business. Hence, there is no wonder that franchisees share their success stories to inspire others and motivate them.
Franchisors, on the other hand, also play a vital role in the overall franchising process, which gives us the idea that the success of the franchisor is also the victory of their franchisees.
Let us check some of our successful Filipino franchisors today.
Kristine Mae Chan

Owner, Mango Magic

Mango Magic started in 2012 with its first store opened at Robinsons Place Tacloban. Their specialty is the "Best Mango Shake Ever" that is formulated from a milk base and 100 percent fresh Philippine mangoes. Things were going well for the brand, extending its reach to other provinces when typhoon Yolanda hit in 2013 and almost wiped out the business.
Kristine came up to the point of giving up after the unfortunate event but still pursued it for her employees and passion. In 2014, she reopened the business with the goal of not just recovering but also building a stronger brand as great entrepreneurs.
Source: https://www.entrepreneur.com.ph/franchising/franchise-talk-meet-4-successful-women-franchisors-a1964-20190307-lfr
Jude Gabato

Owner, Jude Gabato Salon
As a startup entrepreneur, Jude Gabato is now expanding his reach by opening up his Jude Gabato Salon for franchising. This is also to help aspiring entrepreneurs kick off their plans to start a business on their own.
His first franchisee is Joma Leovent Dosdos, one of his avid customers. At first, Gabato admitted that he was a bit hesitant to open the business to franchising because he felt he wasn't fully prepared.
However, Gabato later accepted the challenge, finding confidence in the excellent track record of his beauty salon business. In return, he wanted to inspire more Cebuanos to become entrepreneurs.
He even became the recipient of  2019 World Class Philippines Awards, an award-giving body that recognizes the achievements of brands, companies, and individuals in their journey towards world-class excellence.
Source: https://www.sunstar.com.ph/article/1810248
Jonalyn Sison

Owner/Founder, SkinPotions
The beauty industry has always been competitive, but Jonalyn Sison surpassed the challenges. A native of Bacoor, Cavite, Sison, together with her sister, Aileen, developed effective beauty products for every Pinay's skincare needs.
A part of Jonalyn's expansion strategy includes entering the world of franchising. Hence, after a few months, Skin Potions has finally delved into franchising where they were able to open over ten franchised outlets. The brand was also awarded the NxtGen Award in Franchising in 2017.
Source: https://www.entrepreneur.com.ph/franchising/franchise-talk-meet-4-successful-women-franchisors-a1964-20190307-lfrm

Alright! So, those are just some thoughts to ponder about franchising. In a nutshell, millennials always have the right to choose as to where to invest their money.
Starting a business at a young age indeed sounds very triumphant. However, you must always be able to understand the reason why franchising remains a good business option as early as now.
Look for the franchise in our listings and start your dream business now.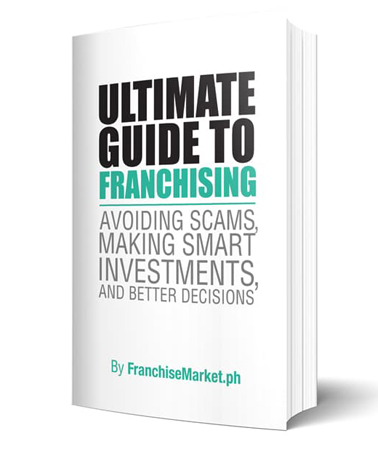 Ultimate Guide to Franchising
Avoiding Scams, Making Smart Investments, and Better Decisions
The franchise industry is booming, and entrepreneurs are wondering about how this sector works. This ebook aims to help aspiring franchisees achieve their business goals.
Learn more
Back to Blog