The Overseas Filipino Workers' remittance is one of the largest sources of the Philippines' gross domestic product or GDP. It comprises 10 percent of the country's GDP, thus making it a staple of the Filipino economy. Working overseas is influenced by several factors.
One notable factor is the goal of lifting the family's living status by earning a higher salary abroad. Every Overseas Filipino Worker (OFW) or fondly called as balikbayan seeks greener pastures miles away from their family to provide them with a comfortable life and be financially stable. However, life is always uncertain, and it is best not to only depend on those who are working abroad for financial support. 
It is a given fact that balikbayans earn more while working abroad. Opting for entrepreneurship is often their fallback when they want to grow their hard-earned money. Working abroad is not forever.
Some would like to retire early and spend their time with their family. That is the reason why some of them wish to start a business to secure a constant flow of money that will sustain the family for a long period of time. Most kababayans have the capital to venture into a business; however, they fear the risks involved with it. Seeking advice from the experts would be a great move to be guided on the necessary steps to take and to minimize the mistakes committed. 
Researching for balikbayan business in the Philippines on the internet can also be a great move while you are still considering what business you would like to invest in. It may be quite confusing and intimidating at first, but fret not, you can take this as a guide in choosing the business you want to pursue.
Why should you start a business?
Starting a business may need a considerable amount of time and effort. It is a big step and a significant risk for everyone to take. It may require rigorous and intensive planning, enough capital to invest, and great faith that the business idea will work out. Working abroad is not forever.
So, if ever you are an OFW, this might be the time you should consider choosing a balikbayan business in the Philippines. Securing enough finances to meet your family's needs has always been your motivation while working abroad. Having your own balikbayan business in the Philippines will even secure you and your family's future by having the opportunity to earn an unlimited income through your business venture. 
You can even monetize your passion without sacrificing your time with your family by working miles away from them. If you are good at cooking or preparing food, then you can venture into food carts, which have always been proven to be a stable balikbayan business idea in the Philippines since Filipinos love food so much.
Apart from flexible time, managing your own business can provide you the lifestyle that you want to have. If you find yourself drained from the usual 9-5 schedule from the corporate world, this is the time that you choose a new lifestyle.
Express yourself and be more creative through your chosen business venture. You can be the manager of your time, set directions instead of following it, be the decision-maker, and more other things that you can do in your business that you couldn't do being an employee of a company. 
Where to get cash for unforeseen operating expenses?
It is inevitable to have unexpected expenses in business, but the good thing there is you can plan how to address these expenses. When starting a balikbayan business in the Philippines, you need to be in a stable financial state.
You need to have a contingency or buffer fund. Have it set aside in the bank, so when the time comes, you don't have to resort to borrowing money at a high-interest rate to pay on something immediately.
Having a high credit rating can also go a long way. and it is an integral part of the business. Banks can trust you to borrow money from them from the basis that you have been useful in dealing with money according to your credit score.
A high credit score can also allow you to have a lower interest rate on the money that you borrowed. It is also best if you can set aside a budget for unexpected expenses. You can plan that a certain percentage from your monthly revenue will go to the bank where you save the money intended for unforeseen costs. Over time, this money will be accumulated and can help on paying off whatever it is needed to be paid. 
Why should you choose franchising?
Franchising is the most sought off balikbayan business in the Philippines. It is one of the feasible opportunities for the OFWs for a stable source of income without the fear of failing since franchising has a proven successful business concept. 
There are various franchise choices available in the market where you can choose from, which aligns with your area of expertise, perhaps, or the nature of business you are most interested in. What makes franchising more advantageous from other business ideas is its nature of accessibility.
You can choose which brand to franchise with the set amount of money for the capital and start immediately after meeting all the necessary documents and other requirements. Like any business, franchising is a huge responsibility. Thus, studying and researching topics and other related informational concepts about this balikbayan business in the Philippines is very important before you engage in it. 
Venturing into franchising business can be both demanding and challenging, but nothing is more worth working and sacrificing when you already see the returns of your investment. Franchising is a good investment since it has the most significant potential to grow and prosper. 
How to ensure franchising success?
Any balikbayan business in the Philippines comes with a risk; however, it can be managed. A franchisor can help you in the decision-making on your franchising journey to ensure a smooth flow and help you avoid committing mistakes.
While there is no standard formula to follow to secure the success of your franchise business, there are sure ways that you can do to achieve the success that you want. One of which is having enough money. Identify the amount of money that you are willing to invest, and the amount of money you set aside as a contingency fund.
Another thing is you need to follow the system of the franchise business that you chose. This means preserving the brand and protecting your investment and your fellow franchisees. Make sure to follow the franchise agreement to prevent you from jeopardy, which may lead to termination, and we don't like that to happen.
Be enthusiastic about your new venture without sacrificing your time with your family and friends. One of the most critical factors in achieving success with your balikbayan business in the Philippines is great customer service. Smile and let your customers know you are happy to serve them.
Whatever balikbayan business in the Philippines you wish to venture, you need to do your part first. Approach it with care. Study well and research some helpful information that could help you in deciding which business you will start.
You have to do your market research first to check if this business is feasible in your area or on the location where you wish this business will be established. Market research involves answering the 5Ws, the Who, What, When, Where and, Why.
Once you have gathered the necessary details that you need to consider, you can then proceed to establish your business plan. This will guide you to the next step of your business endeavor. It doesn't have to be complicated. It will serve as the blueprint of your venture; thus, it must be taken into consideration properly and seriously. 
Another essential aspect of business that you should not forget to consider is the legal requirements to start a business. You must strictly follow and adhere to the set rules in establishing a company to avoid penalties. 
Are you thinking of the best balikbayan business in the Philippines? Franchise Market has a wide-array of lists of businesses that you can choose from. It has useful information as well that you can read to guide you for your entrepreneurship journey. Should you decide to franchise, it got a list for you! You can start your business as early as now, even if you are still working abroad.
While you are still earning money, it is best that you can gradually begin your business, so by the time you come home and decide not to go back abroad anymore, you already have a stable source of income. You will not have to worry about where to get funds for your family's needs.
You can also enjoy and spend your time with your family without being miles away from them. That is why it is important to invest now on the business venture that you want to harvest the fruit of your labor earlier than you expect. 
For more balikbayan business in the Philippines, visit franchisemarket.ph.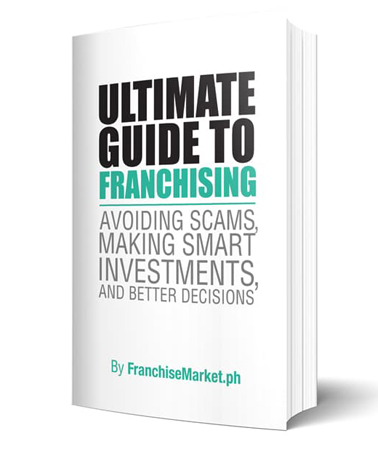 Ultimate Guide to Franchising
Avoiding Scams, Making Smart Investments, and Better Decisions
The franchise industry is booming, and entrepreneurs are wondering about how this sector works. This ebook aims to help aspiring franchisees achieve their business goals.
Learn more
Back to Blog