Being a franchisee offers the flexibility of becoming a small business owner and the support of a large corporation. This is why it's a great option for any budding entrepreneur. 
If you want to own a business by becoming a franchise owner, there's one thing you should take care of first: your capital. 
While it's possible to start a franchise business using small capital, most of the time, you're going to need lots of it. Keep in mind that your initial franchise investment covers the franchise fee, your initial inventory, supplies, equipment, grand opening, lease, and supplies, among others. 
Because not everyone has cash readily available, you may need a franchise loan to kickstart your investment. 
If you plan on franchising a relatively successful business, you may be wondering if you have a higher chance of getting a franchise loan approved by a bank.
Because franchisees can enjoy all the packages, structures, and systems offered by franchisors to help them achieve success, the answer is yes. After all, banks want a guarantee that loaners will be successful enough to pay back their loan. 
Ready to know what loans you can apply for in the Philippines to start your franchise business? We'll let you in on the best loan choices you can apply for, plus a step by step guide on how to take out a franchise loan.
Related Guide: Best Ways to Find Funds for your Business
Best Franchise Business Loans in the Philippines
Here are your options for the best franchise business loans in the Philippines. 
Security Bank Franchise Loan
With the security bank franchise loan, starting your own business has never been easier. This no-collateral business express loan can help you:
Buy equipment
Pay for franchising fees
Buy a stall or physical location
Settle other business equipment 
Minimum loan amount: P500,000
Maximum loan amount: P5 million 
Loan terms and monthly add-on interest:
12 months (1.40%)
18 months (1.50%)
24 months (1.80%)
36 months (1.85%)
Fees:
Processing fee: P2,000 (waived if an average daily balance of P100,000 is maintained for 3 months from the opening date)
Notarial fee for sole proprietorships: P400
Notarial fee for partnerships and corporations: P800
DST: Approved loan amount / 200 *1.50
Penalty fee: 3% of the past-due amount for the month 
Requirements:
The business must be: 
Duly registered to operate as a business in the Philippines;
Must have been operating for at least 3 years, and profitable for the latest 1 year.
Must have no outstanding debt that exceeds 40% of the company's monthly income
The franchise must also be tied to the business' primary owner. For partnerships and corporations, this means: 
Owner with simple majority (individual with the single largest stake in the company) must provide details and sign off on the loan application form, and ultimately be the signatory in the surety agreement prior to loan booking
If simple majority is shared across multiple owners, only (1) of them is required to sign off on the loan
 
The identified business owners are required to have:
Have an existing account with Security Bank (at least 6 months old with PHP 50K ADB) OR Existing credit card (any bank; credit card number/s must be provided in the application)
Permanent residency in the Philippines;
At least 21 years of age at the time of application and not more than 65 years of age upon maturity of the loan
UCPB BizEasy Franchise Loan
With this loan, you can bring your dream to become a business owner to reality. This loan is only open to new franchisees with an approved or pending franchise application with a registered local franchise brand. 
It cannot be availed by any existing or operational franchise business.
Minimum loan amount: P100,000
Maximum loan amount: P1 million
 
Loan terms:
12 months
24 months
36 months
 
Calculate your interest rate with the UCPB Franchise Loan Calculator here.
 
Required documents: 
Franchise Documents

 Valid Franchise Agreement/Endorsement
 Lease Agreement/Proof of Ownership of the location
 Franchise Investment Quotation
 Franchise Income Projection

Checking Account
Employment or Self-Employed Income Documents
 
Eligible franchise options:
SEC or DTI Registered
Filipino-owned and established company
At least 3 years as Franchise Operator
With at least 3 company-owned and 3 franchise outlets
Preferably a member of any recognized franchise or business group:

Association of Filipino Franchisers Inc
Philippine Franchise Association
 
Visit a UCPB branch to apply, or request a loan application form via [email protected]. 
Blend PH Franchise Loan
This loan is designed for people who want to franchise any brand partnered with Blend Ph. 
This includes Drip Tea, 1740 Coffee Genesis, and Wow Lugaw, among many others. For a complete list of franchise partners, visit this link. 
To apply for a loan, simply create a Blend PH account, choose your desired brand franchise, and wait for the team to validate and process your requirements. Processing for this loan only takes 1-3 days. 
Minimum amount: P50,000
Maximum amount: P2 million 
Interest rate: 2% per month
Loan terms:
12 months 
18 months
24 moths
30months
36 months
Landbank Franchise Lending Program
This franchise loan is designed to help qualified players to try their luck in the franchising industry. This also enables Landbank to promote inclusive growth in this sector. 
Minimum amount: P100,000
Maximum amount: up to 80% of the project cost/repayment capacity of the borrower, whichever is lower
 
Loan terms:
Short-term line: 360 days
For Fixed Asset Acquisition/ Capital Expenditure/Payment of franchise investment package and pre-operating overhead cost, or initial investment: Maximum of 10 years, inclusive of grace period of up to 3 years on principal payment 
Permanent working capital: maximum of 3 years without grace period on principal payment  
To apply, visit the nearest Landbank Lending Center. 
Tonik Bank Loans
One of the leading digital banks today, Tonik is revolutionizing the way Filipinos do financial transactions. With the Tonik Bank loans, budding franchise owners can apply for a loan in just minutes and get up to P50,000 immediately. In the coming months, Tonik Bank is set to increase this to P2.5 million. 
Aside from fast approval and disbursement, this no-collateral loan does not need to examine your credit history. All you need is 1 valid ID and 1 month's payslip
Minimum amount: P5,000
Maximum amount: P50,000 (set to increase to P2.5 million in the coming months)
Loan terms:
6 months
9 months
12 months
18 months
24 months
BDO SME Term Loan
If you need a financial boost to start a franchise business, this loan can help set your idea in motion. To qualify for BDO's SME term loan, you just need to have a stable source of income from employment or business.
Minimum amount: P1 million
Maximum amount: P20 million
Collateral:
Residential: 70% of the appraised value
Condominium: 70% of the appraised value
Mixed-use: 70% of the appraised value
Commercial: 60% of the appraised value
Vacant lot: 60% of the appraised value
 
Loan terms and interest rate (subject to change based on yearly appraisal):
1 year (7%)
2 years (7%)
3 years (7%)
4 years (8.50%)
5 years (8.50%)
Fees:
Handling fee: P5,000
Notarization fee: P500
Collateral registration fee: variable, based on the approved loan amount
First Circle Revolving Credit Line
With the First Circle Revolving Credit Line, you're one step closer to growing your business. 
This credit line gives you flexible and ongoing access to funds so you can settle your inventory bills, as well as cover cash flow gaps in your franchise business. The entire application process only takes 2 business days upon submission of requirements. 
Maximum amount: up to P5 million to re-usable credit
Loan duration: up to 6 months 
Interest rate: starts at 1.39% per month (can be lowered for those eligible to avail of the Best Price Guarantee)
 
Eligibility:
Business must be registered with BIR and DTI, or SEC
Business address must be in NCR, Central Luzon, CALABARZON, Central Visayas, Northern Mindanao, or Davao region
Annual revenue must be P5 million 
Apply here. 
How to Get a Loan for Franchising a Business
Let's assume you already have your franchise business plan completed. Once you have this, you can proceed to the steps you need to take to take out a franchise loan.
Assess what you need
Determine how much money is needed to meet expenses, including franchise fees, franchise equipment, and operating expenses. As much as you can, do not borrow more than what you need. This may only drown you in debt.
Once you've determined how much money you need, review your financial situation to see what you can offer as collateral.
Compare different lenders
Compare interest rates, fees, and services that each lender offers. Then, find out about the terms and conditions each lender requires. 
Determine if you qualify for a loan
Lenders determine your loan worthiness based on your credit score, income, and cash savings. If you have a good credit score, it will be easier to qualify for a loan.
Prepare documents in advance
When you apply for a franchise business loan, you will likely be required to submit documents such as tax returns, bank statements, and personal financial statements, as well as documents from your franchise business of choice. Having all the necessary documents readily available will make the loan application process smoother. 
Apply for the loan
Once you have assessed your financial situation and found a lender, you can proceed to apply for the franchise loan. 
Once approved, you can use the loan to pay franchise fees, get franchise equipment and supplies, and start operating your business. 
Keep proper financial records
Keep time-stamped records of all payments made, including down payments and annual payments. This will make it easier to track your finances.




Author Bio:
Jason Acidre is a serial entrepreneur and the publisher of Grit PH - one of the fastest growing online publishing platforms in the financial & business space in the Philippines. Follow him on Twitter @jasonacidre.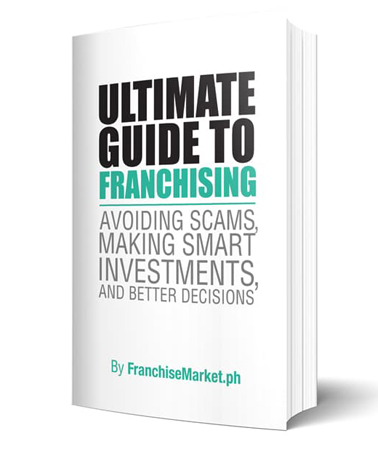 Ultimate Guide to Franchising
Avoiding Scams, Making Smart Investments, and Better Decisions
The franchise industry is booming, and entrepreneurs are wondering about how this sector works. This ebook aims to help aspiring franchisees achieve their business goals.
Learn more
Back to Blog
Disclaimer: Franchise Market Philippines strives to provide relevant and accurate information in all its articles. However, some information in our articles may differ or might be outdated from what you can see or read directly from the establishments' or businesses' websites. Please get in touch with us directly for any discrepancies.