Photo courtesy: bilyonaryo.com.ph
Over the years, you have probably heard about some successful entrepreneurs in the Philippines and their stories - how they managed to start small and eventually build an empire, most of which are known brands today.
Well, these success stories are compelling and encouraging enough to fuel anyone's entrepreneurial dreams. However, there should be effort and willingness too for you to make it right.
You dream and work hard to make it come true. The successful Filipino entrepreneurs today do not start reaping the rewards in just a blink of an eye. All of them have various struggles and stories to tell.
If you are curious about how these successful entrepreneurs in the Philippines managed to secure their places in the business world, check this list of 11 iconic and successful Filipino entrepreneurs and be inspired to move forward in taking the little steps to your victory.
11 Recognized Successful Filipino Entrepreneurs
1. Henry Sy (Shoe Mart)
There have been several malls in the country today, but SM is the first thing people think about when it comes to malls.
Shoe Mart, popularly known as SM, is one of the country's retail giants. Through the years, SM has managed to capture Filipinos' hearts and minds, making it more than just a mall.
Nowadays, it is a beloved institution that serves as the home of many Filipino families' memories. It offers various services from shopping, cinemas, venues for a date night and other occasions, ice skating, or food trips.
Contrary to its glamorous recognition in the market, SM has started small and from very humble beginnings. Despite having several shopping centers in the Philippines, Sy does not forget to look back on the old days.
Sy came from a low-income family in Jinjang, Xiamen in China. Due to their country's hardships, they left it in 1936 and moved to the Philippines, where they started a small convenience store in Manila.
Not long after the relocation, World War II broke and damaged the family's business. However, Sy did not stop and used his business-minded passion by selling used military combat boots and other goods to American soldiers.
If you wonder why this business's name is Shoe Mart, then the answer is obvious - it was the first shoe store in Manila at that time.
Despite the lack of suppliers that could manufacture the shoe designs he had in mind, Sy persisted. The rest was history.
In 2019, the 94-year old Sy died and was survived by his clan. Today, Sy's legacy has lived on as represented by SM and his other acquired businesses. It is no wonder that he has been one of the richest men in the world.
2. Tony Tan Caktiong (Jollibee Foods)
As Filipinos, you have been familiar with the catchy tagline "langhap sarap." Indeed, this line alone never failed us, and there is only one brand embracing this popularity for years now - Jollibee.
The man behind this successful food franchise is Tony Tan Caktiong, an immigrant from China. Back then, his family owned a Chinese restaurant in Manila, which helped him in finishing college.
In 1975, he bought a Magnolia ice cream parlor, but he decided to add other products such as fried chicken, fries, and burgers due to low sales. After the news broke out in his neighborhood, several customers flocked to his store and patronized his products.
These products are now known as our favorite burger and fried chicken in Jollibee stores nationwide and abroad. After incorporating the fast-food business model, Caktiong has been able to expand across the country. Since then, he has been one of the successful entrepreneurs in the Philippines.
Moreover, offering the franchise option has also opened doors for him to penetrate even the international market. This makes Jollibee a fast-food business giant with more than 2,500 stores in the county, plus locations in the US, China, Saudi Arabia, Vietnam, Singapore, and Brunei.
3. Socorro Ramos (National Book Store)
Going to school is perhaps one of the most exciting moments for some children, and part of this is buying school supplies.
Growing up, you may have been familiar with the tagline "Laking National," attributed to the successful publishing and retail empire of Socorro Ramos, the National Book Store.
Before establishing National Book Store, Ramos worked as a salesgirl at a bookstore. She and her husband started the National Book Store with only P200 capital.
They used it to sell books and school supplies to students despite the strict regime of the Japanese. After the war, the company became more profitable and is now known as one of the most prominent school and book supplies chains in the Philippines.
4. John Gokongwei Jr. (J.G. Holdings)
Unlike the usual rags to riches stories, John's life story has a twist. It is more known as a "rich-to-rags-to riches" story. He was born in China to an heir of one of Cebu's wealthiest families.
However, when his dad died, everything just went downhill, so he supported his family by selling Cebu items. Then, he tried trading items by boat and truck until he started importing items from the US.
Then, Gokongwei realized that there were smaller margins in this field, so he borrowed PHP 500,000 from Chinabank to start a corn milling business known today as Universal Corn Products.
This venture was a success, but he did not stop there. He started to add other products such as Blend 45 and then soon renamed his business as Universal Robina Corporation.
Today, his family is one of the most successful Filipino entrepreneurs that also owned the Robinsons Supermarkets and Department Stores under the Robina Land Corporation and the commercial airline Cebu Pacific.
5. Edgar Sia (Mang Inasal)
Considered the pioneer in unlimited rice meals in the Philippines, Edgar Sia is the genius man behind Mang Inasal.
He hailed from Iloilo City, and a college drop-out turned entrepreneur at age 19. Before starting Mang Inasal, he had a laundry and photo-developing business. In 2006, Mang Inasal was established with its first branch located in a mall's parking lot.
Businessman tycoon Tony Caktiong of Jollibee decided to buy Sia's booming enterprise for a whopping PHP 5 billion. Sia used this amount for other investments and healthcare but is still considered one of the country's youngest billionaires.
 
6. Joe Magsaysay (Potato Corner)
Potato Corner is one of the known food cart businesses in the country. It was established in early 1990 by Joe Magsaysay, who left school to work at a fast-food chain.
He was then given a chance to become a manager, and his store management skills became useful when he decided to establish Potato Corner together with a friend. From there, he has become part of the successful entrepreneurs in the Philippines.
In 1992, the Potato Corner food cart business boomed, and they started offering franchises to interested franchisees.
Today, you can see Potato Corner still as one of the best go-to stalls for people who want to get a quick snack.
7. Cresida Tueres (Greenwich Pizza)
In 1971, Cresida Tueres started Greenwich. Back then, it was only a small over-the-counter pizza store in Greenhills, but her cooking skills paved the way for a giant enterprise.
Later on, Tueres decided to offer the franchising option of Greenwich Pizza to interested franchisees. Her business is doing great, and the fast-food tycoon Caktiong is impressed with this and later obtained a deal with Tueres.
This deal allowed Jollibee Foods Corporation to acquire 80% of Greenwich's shares. Since then, the pizza parlor has included other foods on the menu as we know it today.
8. Milagros, Clarita, and Doris Leelin (Goldilocks)
Goldilocks is one of the known cake stores in the country. The business was the product of siblings Milagros and Clarita, together with their sister-in-law, Doris Leelin.
Their success is primarily attributed to opening the business for franchising in 1991. Today, Goldilocks is a multi-million food enterprise with various branches in the Philippines and some abroad.
9. Cecilio Kwok Pedro (Lamoiyan Corporation)
Back in the old days, Cecilio used to head Aluminum Container Inc., the company manufacturing the aluminum toothpaste tubes for Procter and Gamble (P&G), Unilever, and Colgate-Palmolive.
After the company closed its doors in 1986 due to some environmental issues, Cecilio decided it was the right time to start his company. He named it Lamoiyan and focused on manufacturing toothpaste that was 50% lower in price than the competitors. Some of these known brands are Hapee and Kutitap. Years after, his enterprise boomed, and he was able to expand across Asia.
10. Mariano Que (Mercury Drug)
Mariano Que found a business opportunity after World War II. As someone who had worked in a local drugstore before the war broke out, Que was dedicated to starting his drugstore business, especially when he saw the need to supply sulfa drugs, a medication used to treat bacterial infections.
He started selling sulfa at a lower price, but he did not settle for low-quality ones. Because of this, he was able to build his clientele. His strong network, hard work, and dedication paved the way to open up his first drugstore in 1945.
He named it Mercury Drug, named after the Roman god Mercury known for speed, together with the medical industry's symbol caduceus. Over time, he made the company grow more significant and is now one of the country's trusted drugstores.
11. Araceli and Jun Manas (Hen Lin)
Hen Lin is another popular restaurant in the country built by entrepreneurs Aracelin and Jun Manas.
Both of them had expertise in Chinese cuisine, so they used their PHP 30,000 capital to build Hen Lin in 1983.
They opened the first Hen Lin store in SM Makati and offered delicious dimsum offerings that people have loved for years.
Now, after more than 30 years, Hen Lin is still the crowd's favorite in many malls, offering various products such as hopia, noodles, congee, steamed rice, breakfast food, and other Chinese cuisines.
Now, these 11 people on our first list are the legendary business tycoons. We know that by heart. Their stories are insightful and inspiring to keep us going. However, everything is not only about inspiration; you need to have also the willpower to do it.
Hence, here is a fresh perspective for you. Something that will make you believe in yourself. Be like these emerging business owners who have been building their names slowly on the industry and creating business empires. Some of these people's names may not be known yet by you, but it is normal.
It is best to not exclude them and also learn from their stories.
So, here is the list you may want to check.
15 Emerging Filipino Entrepreneurs
1. Risa Mananquil Trillo
Rissa Mananquil Trillo is the co-founded of the popular cosmetics brand, Happy Skin. Her journey started in 2013, prioritizing innovative makeup products and techniques that promote holistic caring for the user's skin.
Today, Happy Skin has 13 stores and almost 100 beauty counters in the Philippines. It has won 30 beauty awards, including the Most Promising New Cosmetic Brand from Watsons Philippines.
2. Angeline Tham
If you have been commuting before the COVID-19 pandemic, it is likely that you know what Angkas is.
The innovative ride-hailing service is the idea of Angeline Tham who made sure to address the traffic congestion in Manila and eventually, the rest of the Philippines.
She is the founder and CEO of motorcycle taxi service app Angkas. This app has been downloaded for more than 1.5 million times with a 99.99% safety record.
Prior to the pandemic scare, Thank has ensured the public that all of its riders are knowledgeable in driving motorcycles and have attended free training courses.
Today, Angkas has been strictly implementing safety protocols set by the COVID-19 Interagency Task Force (IATF).
3. Abby Napa
Abba Napa co-founded The Moment Group. This company owns some of the notable bars and restaurants in the country such as the Mo Cookies, Phát Pho, Ooma, Manam, Mecha Uma and Bank Bar, and Din Tai Fung.
Aside from being an entrepreneur, she is also a part of the World Wide Fund for Nature Philippines' Next Generation Council.
4. Mica Tan
Tan started her entrepreneurial dream at 19 years old. Now 27, she is now the CEO and co-founder of the private equity firm, MFT.
It operates in nine countries and 18 cities worldwide with assets of more than US$61 million. Aside from this, she also won the Most Influential Filipina Award in 2019 from the Filipina Women's Network.
5. Anne Arcenas-Gonzalez
Anne is the president of Terry SA, a popular Philippine fashion and lifestyle retail distribution company in the country.
She is most known with the moniker "flip-flop queen," since Terry SA is best known for distributing Havaianas. Her company now has more than 300 people in three countries and distributes several brands such as Aura Athletica and other known international brands. Moreover, she also owns CommonThread which sells both Filipino and international brands with her own Thread 365 as its main product.
6. Kayne Litonjua
Kayne Litonjua is the owner of Marquine Shoemaker and Busy Bee Cleaning Co.
He is interested in the fashion industry, especially in shoes. That is why he created Marquine Shoemakers together with his partners. On the other hand, Busy Bee Cleaning Co. is simply his way of addressing the opportunity to offer healthier and affordable home cleaners for customers.
7. Alvin Ong
Avin Ong owns the Fredley Group of Companies - the house of popular brands like Macao Imperial Tea and Sandaya Yakiniku.
Growing up as a scholar, Ong has made sure that he can give back to the community. Hence, he also founded the Fredley Foundation to help other aspiring students to pursue their dreams.
8. Leandro Leviste
Leandro Leviste is the founder of Solar Philippines. It is Southeast Asia's largest and only integrated solar developer, investor, manufacturer, procurement and construction (EPC) solar company.
Due to the increasing electricity rates in the country, Leviste thought of a way to reduce it using sustainable measures. Hence, while he was studying at Yale University as a sophomore, he founded Solar Philippines.
Electricity rates in the Philippines are among the highest in Asia. Leandro saw an opportunity and founded the company in his sophomore year at Yale University. The company buys solar panels from different suppliers, then provides customers with financing, engineering and installation.
9. Matthew Cua
Matthew Cua is the founder of SkyEye Analytics Inc. It was initially a university project back in 2009 while he was taking a master's degree in Environmental Science. Through the years, SkyEye has developed its software, hardware and operational techniques that makes them provide better and cheaper services..
10. Ken Costales
Kenn Costales is the founder and CEO of Monolith Growth Consulting, a company that focuses on growth marketing, enabling business owners to improve their growth marketing strategies.
The main purposes are to grow traffic and get conversions. It has served over 30 clients with a growth management team specializing in paid acquisition, conversion rate optimization, content marketing and conversion-based design.
11. Georgianna Carlos
Georgianna is the name behind some of the successful brands in the market today such as:
Fetch! Naturals - an all natural pet care products made out of 100% plant Aqueous Extract
MyOffice Philippines - one of the first Filipino-owned and operated virtual offices for mobile workers
Permitly PH - an online platform to help entrepreneurs start a business in the Philippines
Her three businesses have helped her raise awareness and support to pet owners, entrepreneurs and fellow workers.
12. Janlord Luga
Janlord Luga is the owner of Groom & Brew, a company that sells Minoxidil which helps people grow a beard.
This is a scientifically proven solution that also treats alopecia, a genetic disease causing baldness for men. Aside from this, he also creates his grooming products such as pomade, balms and oils, and perfumes.
As a Minoxidil user, he was only using it for personal use when the thought of selling it came across his mind. He started the business then eventually learned the craft of making other grooming products.
13. Robby Isaiah Hernandez
Robby Hernandez is the owner of Dig Deep Ice Cream. He started the business in 2014 after working at a corporate company. His entrepreneurial journey started when he felt that routinary work was not enough. Today. Robby continues to explore business opportunities and acquire knowledge with other business owners.
14. Carl Ocab
Back in the internet's primitive days, Carl Ocab could be seen hitting the keyboard and looking for stuff online. He was only 12.
Then, he created information websites and forums, including carlocab.com. This marketing agency has been known in the industry and one of the websites that hit the top spot of Google for an in-demand keyword.
15. Earl Patrick Forlales and Zahra Halabisaz Zanjani
Earl and Zahra seek to tackle the housing problem in the Philippines. Together, they started a business as the co-founders of Cubo, a company that designs and constructs bamboo houses.
They do it within hours only and are a fast and easily deployable solution. The original design for the units was inspired by the bamboo huts of Forlales' grandparents. It also supports community housing using a larger scale model.
Conclusion
Not everyone is born with a silver spoon in the mouth. Some have to work really hard to achieve what they have now. The most successful entrepreneurs in the Philippines are examples of how poverty should not hinder anyone's success.
These stories of successful Filipino entrepreneurs are here to inspire and not to brag. It is always best to look back at what you have accomplished and improve them more today.
There are several available business ideas you can try if you are running out of concepts but before diving into the pit, make sure you have done adequate research about that business and its niche.
Now, if you are already decided into starting your particular business but has no concrete business plan to start with, check this comprehensive business plan article to help you create an organized plan.
2021 is another year to strive hard and make the best out of it. If you think you have failed in the past years, continue to think positively this year. Even with the recent unfavorable events, you should not get discouraged.
Instead, you should use it as your strength - something that will make you more optimistic. So,what do you think? Are you all powered-up to start your entrepreneurial journey?
Who knows? This may be your lucky year to shine and start your booming business.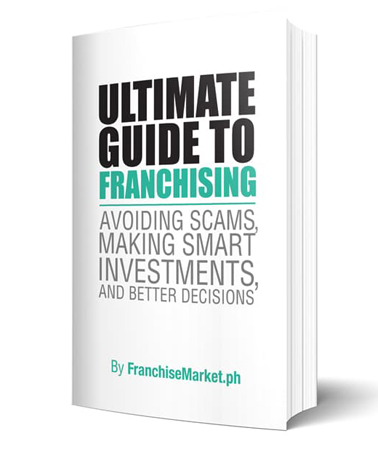 Ultimate Guide to Franchising
Avoiding Scams, Making Smart Investments, and Better Decisions
The franchise industry is booming, and entrepreneurs are wondering about how this sector works. This ebook aims to help aspiring franchisees achieve their business goals.
Learn more
Back to Blog