As the pandemic affected various countries, the preventive measures are also tightened, resulting in lockdowns and other quarantine protocols. Indeed, being on quarantine for months is never easy. The government's decision to place cities and provinces under the enhanced community quarantine (ECQ) is an excellent move to curve the pandemic.
However, some may think that this makes them unproductive, especially if they are forced to stay at home instead of going to work or school. Some may slack off at home, watch favorite television dramas, or play online games. But don't you think you can make each day productive?
The internet has much to offer during this time and is not just limited to helping you get over with boredom and stress. It gives you access to the most relevant platforms that can help enhance your skills in different areas.
eLearning Via Online Platforms
Learning online has become a convenient way to educate people. By taking online courses, individuals interested in learning specific topics or skills may have the chance to do so without attending physical classes.
This pandemic has limited our physical interaction with others and makes things impossible to happen. Yet, many of us have managed to turn the quarantine life into a productive and meaningful learning opportunity through the internet and experts who are willing to offer online courses. This is why it is a viable option right now so people can continue learning without the risk of getting infected by the virus.
Finding the Suitable eLearning Platform for You 
As part of the learning process, it is essential to understand the types of courses you are interested in. You need to find your niche and discover what other topics matter to you. It is normal to gain an interest in topics that are even not in line with your expertise.
There are many websites offering learning courses, and the topics are varied, like the following:
Digital Marketing Courses
Blogging Courses
Search Engine Optimization Courses
Business and Entrepreneurship Courses
Computer Science Courses
Humanities Courses
Data Science Courses
Art and Design Courses
Personal Development Courses
Health and Medicine Courses
Social Sciences Courses
Engineering Courses
Programming Courses
Science and Mathematics Courses
Education Courses
Foreign Language Courses
Hobbies and Lifestyle Courses
 
The best way to find the appropriate eLearning platform is to identify first the courses that you want to take and look for online platforms offering them. Do a benchmark first and compare one platform to another, especially in terms of content, price, and resource person.
Tips to Consider Before Taking an Online Course
If you are considering taking an online course, here are some tips to help you:
Consider Your Interests
There are always topics that can get your attention. However, you need to evaluate first if such curiosity is inclined with your current interests and if it can give leverage in the skill that you are trying to build.
Topic Should Be Close to Your Heart
Do not force yourself to learn something that you never had the interest to start with. 
Find the Link Between Topics
If you are a businessman, your interests are likely inclined with business management and other related topics. Yet, if you get interested in another topic, it is time to find the link between the two.
Ask yourself if a particular course will help add more skills to your expertise. If there is no connection at all, then you may want to consider your decision. However, the only answer to curiosity is to try and find the answer. So if you think learning something beyond your expertise is what you need, then go for it.
Evaluate Your Willingness and Capability
There is nothing wrong with wanting to learn more. However, you need to evaluate your capabilities first so you can challenge yourself to learn new things. Remember that not all online courses are offered for free. Some require a premium membership, so it will be just a waste if you cannot finish all classes at all.
Consider Your Budget
As mentioned above, not all classes can be free. While it may depend on the platform you are using, it is recommended to do thorough research about the topic that you want and list down your platform options. If the platform offers a free trial, try signing up first and checking if it is worth the price.
Best Sites for Taking Online Classes
Coursera
Coursera is the best choice if you want to receive quality college-like education without worrying much about tuition. This website offers impressive courses in almost all fields, all created and taught by professors at top institutions across the globe, such as the Princeton, Johns Hopkins, and Stanford  University.
Udemy
Udemy is perfect for those learners on a budget. This website offers complete free courses on selected topics taught by experts, professors, entrepreneurs, and professionals. It is focused on topics related to technology, business, and marketing, as well as productivity, health, and hobbies.
Alison
This website offers a range of free and comprehensive classes on topics ranging from technology, languages, science, financial literacy, entrepreneurship, and others. This is perfect for all kinds of learners.
General Assembly
General Assembly offers both online and in-person classes. Another good thing about this website is that students have a choice to have a full-time or part-time schedule. Its topics are harnessing digital marketing skills, iOS and Android development, data analytics, and even JavaScript.
LinkedIn Learning
This online course site is more focused on thousands of courses related to business, design, technology, and education. The platform requires premium membership, but it offers a free one-month trial.
Udacity
Udacity's expertise is on software development. It is offering free courses in programming, web design and development, and data science. If you are looking for a way to get certified for a skill set related to technology, Udacity can help you as it offers a nano degree program for those interested in mastering a technological skill.
edX
edX is somehow similar to Coursera. It offers anyone the chance to take university classes and get certified online by some of their prominent partner universities such as Harvard, Berkeley, Dartmouth, Georgetown, and the University of Chicago.
Moz Academy
Moz Academy recently offers free courses related to search engine optimization (SEO). While these courses may last only during this pandemic, it is helpful to grab the chance to learn them today.
 
Skillshare
Skillshare is the perfect platform for busy individuals who can probably spare only 15 minutes a day. This website provides "bite-sized" classes to learners and has more than 500 free courses. It also offers a range of premium classes covering topics such as film and writing, technology, lifestyle, and others.
LearnSmart
LearnSmart is focused on career development. Hence, it is an excellent platform for those who want to learn about project and team management, IT and security, human resource management, and business management.
Pluralsight
Pluralsight is the online website for those who want to learn or harness more their software skills, mainly intended for 3D development and VFX, design. It also offers classes for game design, web design, and CAD software.
FutureLearn
For those looking for a completely free online learning site, there is FutureLearn for you. Universities and specialized organizations teach all of their classes. Among its popular topics are business and management, creative arts, law, health, politics, science, digital skills, sports and leisure, and teaching.
Indeed, the current situation worldwide is taking a toll on our daily lives. Yet, instead of being discouraged and pessimistic, we should think about being productive every day. Acquiring new skills is just as important as making your day meaningful. Instead of thinking that it is a waste of time, why don't you change your priorities and point of view?
'If there is a will, there is a way,' is a saying that is cliche but true. Learning is always a continuous process and is never confined within the four walls of a classroom. Regardless of where you are, you can learn things the way you want.
The true cost of learning something is not measured by the kind of university you attended or the tuition you paid. Instead, it is assessed by how you apply that knowledge in your daily life. Learning online courses does not demand you to spend a fortune because even with free classes, you can already learn a lot of things - all you need to have is the right platform. Distance learning is now part of the 'new normal.' It will continue to do so unless this pandemic subsides.
Let us strive hard to make our day productive without forgetting to relax as well. If you do not feel like taking a class for a day, then try browsing for useful information instead that is related to business and franchising, health and wellness, and other topics that might interest you. After all, the internet is a powerhouse of information.
During these difficult times, the Franchise Market Philippines is with you. We continuously provide meaningful and useful information to every franchisor, franchisees, and aspiring entrepreneurs who have plans to venture into franchising. Browse more informative articles and podcasts today!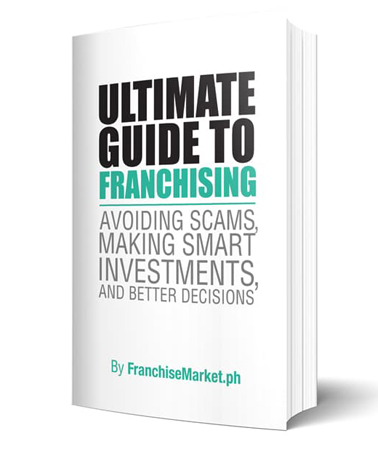 Ultimate Guide to Franchising
Avoiding Scams, Making Smart Investments, and Better Decisions
The franchise industry is booming, and entrepreneurs are wondering about how this sector works. This ebook aims to help aspiring franchisees achieve their business goals.
Learn more
Back to Blog
Disclaimer: Franchise Market Philippines strives to provide relevant and accurate information in all its articles. However, some information in our articles may differ or might be outdated from what you can see or read directly from the establishments' or businesses' websites. Please get in touch with us directly for any discrepancies.