It was late 2019 when the news about a deadly virus in China broke out in the media. It has killed lives, infected thousands of people, and affected the world. The virus was first identified as a new strain of the deadly coronavirus, the same family of viruses that caused the Severe Acute Respiratory Syndrome (SARS) outbreak in 2003 and the Middle East Respiratory Syndrome (MERS-CoV).
As the news about the outbreak has stirred every nation, the World Health Organization (WHO) later named it as Coronavirus-19 (COVID-19) instead of Novel Coronavirus (NCOV). The rapid spreading of the virus in Asia and other parts of the world poses serious business implications in the economy, especially in the Philippines, where several places are in lockdown as part of the government's mandate to stop the pandemic.
The Economy and COVID-19
It is evident that COVID has been affecting several small businesses and even large companies in the Philippines. With the month-long lockdown in Luzon and other places in the country, "a recession can't be ruled out," said Socioeconomic Planning Secretary and National Economic and Development Authority (NEDA) Chief Ernesto Pernia in an interview with Inquirer.
Pernia also added that the economy might contract in the second quarter due to lockdown imposed by the government to contain the spread of the disease. He explained that a recession technically happens when the country's Gross Domestic Product (GDP) drops in two consecutive quarters in a year, just like the case during former President Joseph Estrada's reign in 1998.
With the current enhanced community quarantine (ECQ), Pernia said it would slash GDP during "one quarter at least, the second quarter."
To note, the ECQ is already taking a toll on manufacturing, with over 700 factories in Luzon shut down, leaving thousands of workers jobless. In Cebu, many business process outsourcing (BPO) companies and factories are also affected.
COVID-19's Business Implications, Impacts, and Expectations in the Philippines
As the fight continues against this invisible enemy, the Philippines must be ready for its impact. Even if we experience another recession, the government and the Filipinos must remain resilient and aim to restore the booming economy.
Here are some business implications and impacts that should not be taken lightly by anyone.
It Will Be Hard
Fighting against the disease is difficult, and mitigating or minimizing its effect on the economy is foreseen as another battle that nobody's ready for. Some businesses may survive, and others will not, but we still hope for the best. Right now, being optimistic is the best we can do.
The Signs of Inflation
It is not yet happening, but it is still a possibility. Once inflation happens, prices of goods will increase, and businesses will have to cope up with this to get supplies and vice-versa. With this, the Filipinos' quality of life will be significantly affected, and only the big conglomerates might survive.
Impact on Travel and Tourism
Based on NEDA's latest report, the disease is expected to significantly affect the tourism sector, given the travel restrictions and the fear of foreigners to visit the country even after the pandemic subsides.
Moreover, the report states that the restriction in passenger traffic from China and its administrative regions, and parts of South Korea is already a 10.0 percent drop in foreign tourists from other countries until June. This means a hundred percent decline in foreign tourists and airline revenues for one month. The results: a loss of gross value added of PHP 77.5 to PHP 156.9 billion, equivalent to 0.4 to 0.8 percent of GDP in 2020. Likewise, the slowdown in economic activities may reduce employment by about 33,800 to 56,600.
Impact on Exports
Another business implication of the disease has something to do with the exports. Our exports to other countries are greatly affected and, as per the report, will result in a loss of gross value added of PHP 4.9 to PHP 9.8 billion, equivalent to 0.02 to 0.05 percent of GDP in 2020. This could result in an employment loss of 3,000 to 6,700.
Impact on Remittances
Cash remittances for Filipino workers abroad (both land and water) amounted to a total of  USD30.1 billion in 2019 and have been growing. However, if they lose their jobs overseas due to this pandemic, we expect to lose approximately PHP 5.7 billion in remittances.
Impact on Consumption
The report further clarified the current situation's impact on consumption. The latest data show that household consumption is expected to decelerate until June as consumer confidence dips due to health concerns and social distancing measures.
This means a 5.0 to 10.0 percent decline in household consumption of non-essential commodities (i.e., alcoholic beverages and tobacco, clothing and footwear, furnishings, household equipment and routine household maintenance, recreation, and culture, restaurants and hotels, and miscellaneous goods and services).
This could result in a loss of gross value added of PHP 45 to PHP 94 billion, equivalent to 0.2 to 0.5 percent of GDP, and reduce employment by 16,500 to 62,500. 
How can small businesses survive?
At this time, most big companies have the chance to adopt new applicable policies for their business. It includes the telecommuting arrangement (work-from-home) scheme to help employees keep their jobs without reporting to the office.
However, what happens to small businesses? This is not the end for them; instead, it is a good time to innovate and follow suggested measures that should help them during these trying times. Among these solutions are the following:
Strengthen the Business' Social Media Presence
Due to the lockdown, people are encouraged to stay at home and only go out when necessary. It is the perfect chance to make visible your brand's presence online. As the business owner, you can utilize the power of creating useful content that people want.
Do not forget that Facebook and Instagram ads are also powerful in educating your consumers on how you're adapting to the current changes. Spending a little dime can make your brand shine.
Setting Up an Online Shop
If you are into a brick and mortar type of business, now is the best time for you to go digital. Today's economy is heavily influenced by digital marketing, so the option of putting up an online store can generate more leads and income.
Improving Your Online Services
If you already have an online store or are solely running your business online, improving some of your services can make your customers patronize more the brand.
For example, if you do not have a delivery service for your business before, then having one now is a best choice, especially that most cities are in lockdown and people cannot go out.
Improving Your Customer Service
It is part of the basics to provide excellent customer service to your customers. It has become part of the brand's image of every company, so if you think yours is not good, then consider using this time to make necessary changes on your customer service manual.
Be More Creative
Due to the quarantine, people are most likely bored already. Seize this opportunity to steal their attention by introducing more creative marketing tactics.
The overwhelming number of social media users in the country can become your leads or followers, if you only have the perfect strategy to attract them into liking your business.
Create Promotions and Offers
Everyone loves promos and discounts, so make use of this time to engage them into your tactics using social media or word-of-mouth. Give out ebooks, offer to buy one take one item, or a huge discount to your products and services.
On the other hand, the government can also help businesses through the following:
Disaster/Calamity Loans
As business owners, it will help to seek disaster loans that are offered by the government. Through this, you can have the extra fund to sustain your business despite the pandemic. In the Philippines, you can inquire about this from the central agencies like the Social Security System (SSS), Government Service Insurance System (GSIS), and PAG-IBIG.
Giving Bank Extensions
This is another huge help not just for business owners, but also for the people. Providing an extension for the payment of credit cards, business loans, and even car and home loans is a relief for everyone.
Delay on Tax Payments
While the government must still collect taxes from businesses, giving a grace period for the owners will help them maximize the cash flow that they have, and use it to support the business.
Wage Assistance
Due to the pandemic and the business' nature, some owners,  especially small businesses, may choose to layoff employees to reduce costs. However, if the government will help them in retaining their employees by giving wage assistance, it will be a win-win situation.
As of now, the Department of Labor and Employment (DOLE) has been assisting affected individuals in the country. They prioritize those people whose companies' operations are in a temporary halt to protect them from the disease.
Stop Supply Chain Disruptions
Despite the pandemic, fast-food chains, and other food businesses should remain open to serve the public. Likewise, other establishments such as supermarkets and pharmacies should continue their operations without any interruptions.
If this is the case, ensuring that there will be no interruptions with the supplies from their suppliers will help them continue to do the business as usual.
Targeted Assistance
The threat of COVID-19 inevitably brings serious business implications that can affect the Philippine economy. While the government's efforts must remain focused on saving its citizens and containing the virus, the higher-ups must also include their economic plans.
One thing they must consider is giving targeted assistance to entrepreneurs. It is one way to help them sustain the business until they can recover their loss.
Conclusion
COVID-19 pandemic is a universal problem that endangers almost every nation in the world. If not handled properly, the situation can get worse anytime and could wipe out a whole population. Despite its health risks, the economic problems created by this outbreak will affect everyone, and its effects could make businesses completely shut down.
If you are a franchisor, we hope that you stay resilient despite the circumstances. It is the only way to survive and continuously cherish your brand for the years to come. It might not be the best time to look for new franchisees, but stay optimistic, and everything will fall into place.
For all the overseas Filipino workers (OFWs) who are on the verge of losing their jobs, make use of your hard-earned money, and invest it in something profitable such as a franchise. Moreover, it is best to understand franchising as early as now, so you will be ready and prepared.
In the end, we should still hope that this dilemma will end sooner, so we can live a healthy life again and for business to recover right away. During these difficult times, the Franchise Market Philippines is with you and hopes for the best. We continuously provide meaningful and useful information to every franchisor, franchisees, and aspiring entrepreneurs who have plans to venture into franchising. Browse more informative articles here!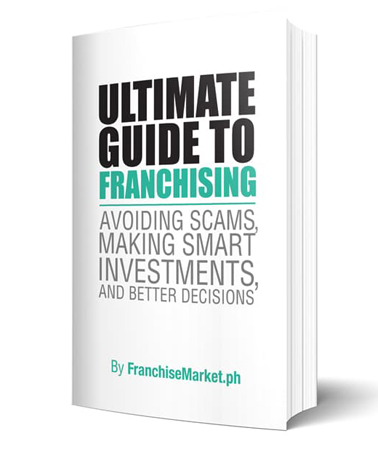 Ultimate Guide to Franchising
Avoiding Scams, Making Smart Investments, and Better Decisions
The franchise industry is booming, and entrepreneurs are wondering about how this sector works. This ebook aims to help aspiring franchisees achieve their business goals.
Learn more
Back to Blog