The e-commerce industry is booming, and many businesses are starting to utilize online stores than traditional brick and mortar units.
Growing along with the popularity of online businesses is the wide range of courier services offering logistical solutions to fulfill products and services.
But what is a courier service, how does it work, and how to start one?
Here is a comprehensive article to help you understand. Specifically, these are the topics covered:
What is courier service?
Types of Courier Businesses
Why is logistics important in business operations?
7 Steps in Starting a Courier Service
Legal Requirements to Start a Courier Service in the Philippines
Courier Services Tips and Best Practices
List of Courier Services in the Philippines
Alright. Let us begin.
What is a courier service?
As the name suggests, courier services provide fast and reliable logistical solutions for big and small to medium enterprises.
Their coverage can either be nationwide or international, depending on the current reach you can establish.
However, you should understand that the main definition of the term is diverse. Here is one concise explanation found online.
A courier company delivers not only packages but also messages and mail in a speedy and secured process. This means ensuring that the receiver will get the parcel or document without any damages or missing items.
Types of Courier Businesses
In the logistic industry, couriers can offer different services as long as they have the means to fulfill them.
In the Philippines, some of the common couriers such as LBC, J&T, JRS Express, 2Go Express, DHL, Ninja Van, and FedEx offer varied services such as the following:
Door-to-door delivery
Pick-up delivery
Drop-off services
Documents Fulfilment
Delivery of large and heavy items
Secured parcels
Signature upon delivery for important documents
Tracking option
However, the services offered are different with the types of couriers businesses. Here are the most common ones.
Same-day delivery courier
Standard courier
Drone delivery service
International courier services
Bicycle courier
Motorcycle courier
Van courier
Why is logistics important in business operations?
Logistics companies are essential for two things:
It helps businesses function properly and continue daily operations, especially for local businesses and e-commerce shops.
It makes other forms of correspondence and delivery of personal packages possible, just in the case of company documents, checks, and balikbayan boxes.
Are you fond of online shopping? Imagine ordering your favorite items online, but there is no means to reach you.
That is quite frustrating!
Good thing that there are available logistics companies that can address this need. Otherwise, the online market will remain stuck and not thriving at all.
So, all hail to the big evolution in the industry and for making this possible.
7 Steps in Starting a Courier Service
1. Get the Right Vehicle
As a courier company, you need to have the right kind of vehicle to start a business. This part plays a big role in the company's overall operations, so it is crucial to get this right in one go.
When choosing the vehicle, it is best to check a reliable provider. For example, most couriers have cargo vans to transport goods from one place to another.
Just like purchasing any new vehicle, cargo vans can be costly. But, you do not need to buy a new one if you can utilize a refurbished one or lease.
From there, you can save enough capital to purchase a brand new van whenever you are ready. You can also use a pickup truck with insulation covers or beds to get started as an alternative.
 
2. Invest in Right Equipment
One key to any successful business is investing in high-quality equipment.
Although it may be costly, just think of it as part of your initial capital investment. You can get it back in no time, especially if you can manage the business very well.
Think about it. Without the necessary tools and equipment, carrying boxes and parcels can be tedious and painful. It is also not time-efficient and cost-effective.
Here are some of the must-have equipment to secure.
Dolly or hand truck - This is most important if you are mostly delivering parcels or boxes.
Cargo straps
Moving blankets
Packaging tapes
3. Formulate Your Brand Name
After securing the first two important things to start a courier business, it is now time to name your business.
It should be catchy, unique, and embodies your business' mission, vision, and goals. List down the possible names and check them individually on domain sites like GoDaddy. This is one way to see if the name is available for your future website.
You should register your business name for the legal side, and checking this ahead of time is also one good thing to do. Try using LegalZoom to check a business name and if another owner already takes it.
4. Get a Business Insurance
All of your tangible assets in a courier business should be insured.
It is essential to secure business insurance for your vehicle, cargo insurance, or liability insurance.
You may think that this is an additional expense on your side, but having an insurance policy in place is one way to get customer's trust.
For the customers, knowing that their parcels are insured gives them peace of mind. It is best to find some time to talk with your local commercial insurance broker to determine how much it will cost to insure your business.
5. Market Your Services
Nowadays, it is best to utilize the power of digital marketing in promoting your business.
The best ways to do this is to design a website, make social media accounts, allocate ads budget for Facebook, Instagram, or Google, and enhance your content marketing plans.
Also, do competitive market research and analysis combined with detailed audience targeting and see for yourself the wonders of online marketing.
6. Calculate the Monthly Expenses
Even if you have a solid business plan, it is not a guarantee that you can make the business successful in one go. At least, you want to make it feasible.
So, you have operational expenses, and estimating your monthly expenses can help you ensure that the business can continue.
Calculating your monthly expenses is one factor in determining how much to charge for your services. Among the main monthly expenses will be vehicle insurance, cargo insurance, and fuel.
7. Plan Your Pricing
Considering your monthly expenses and other factors, you need to consider how much to charge your customers.
In doing this, it is best to consider first your location. If you are in the city, you can likely charge a bit higher.
Then, check your competitors. It is best to know how they do the business so you can benchmark from them. You should also study your target market.
Legal Requirements to Start a Courier Service in the Philippines
In a nutshell, a logistics company moves packages from one location to another for a certain fee.
It can be a lucrative opportunity, but you should take note of considerations to ensure a smooth start and transactions.
Here are some of the legal requirements to get started here in the Philippines.
Business License/Registration
Mayor's Permit
Bureau of Internal Revenue (BIR) Registration
Special Licenses/Permits, if needed
Department of Trade and Industry (DTI) Registration
Security and Exchange Commission (SEC) Registration
Barangay and Zoning Clearance
Land Title or Contract of Lease
Community Tax Certificate
Courier Services Tips and Best Practices
In courier services, time is always the essence of the business.
You need to ensure that you put great emphasis on the time element because this is one great way to satisfy your customers.
Aside from this, here are other tips and best practices to consider when operating a courier company.
Always make sure you pick up and deliver parcels on time.
Make sure you honor your delivery timeframe, unless affected with other external factors such as flight and ship delays, bad weather, border restrictions, and other regulations.
Promote transparency with your customers.
If there are delays, always communicate with the affected customers.
Always remind customers of the prohibited items such as the following:

Alcoholic Beverages
Firearms/Ammunitions
Gasoline
Toxic or Infectious Substances
Tobacco products
Living Animals
Pornographic Materials
Drugs and other pharmaceutical products
Illegal Objects (may be different between countries)
Fragile Items
These things are always prohibited because they are too dangerous to transport or they cannot be packed no matter what.
List of Courier Services in the Philippines
LBC
2Go Express
J&T Express
JRS Express
DHL
UPS
FedEx
Air Mail
Ninja Van
3PL Service Provider Phils., Inc.
AAI Logistics Cargo Express, Inc. (d.b.a.) Black Arrow Express
ACE-REM Messengerial and General Services, Inc.
Airfreight 2100, Inc. (d.b.a.) Air21
Airspeed International Corporation
Arnold Mabanglo Express
Entrego Express Corporation
F2 Logistics, Inc.
Quadx, Inc. (d.b.a.) Gogo Express
Check out other accredited courier services in the country here.
Conclusion
Indeed, the courier service business is a lucrative industry.
If properly planned and executed, this business can give you a promising business opportunity. This is always possible, especially that the e-commerce industry is booming.
People and businesses will continuously need the help of courier services to fulfill daily needs and operations, so there is always a golden opportunity in this field.
All you need to do is equip yourself with a great business plan and model (if you want to start from scratch) or franchise an existing business.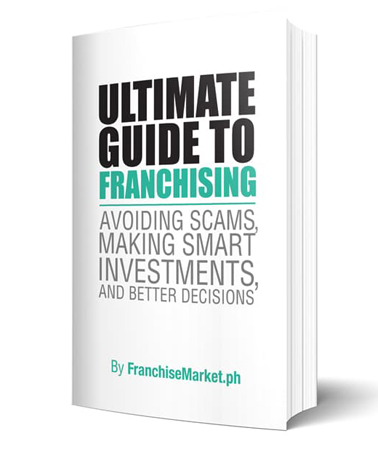 Ultimate Guide to Franchising
Avoiding Scams, Making Smart Investments, and Better Decisions
The franchise industry is booming, and entrepreneurs are wondering about how this sector works. This ebook aims to help aspiring franchisees achieve their business goals.
Learn more
Back to Blog