The end of the pandemic is in sight, but in mid-2021, 7-Eleven announced they would start at least 200 more stores this year. Currently, they already have over 3,000 stores across the country. This gives us an idea that there is money in the convenience store business. 
The Convenience Store Business in the Philippines
2020 was the first full year of the pandemic. The pandemic affected many industries. However, two sectors of the retail sector saw growth, e-commerce, and convenience stores. Initially, they got involved too, but they saw a rise towards the end of the year.
Both e-commerce and convenience stores addressed two needs faced during the pandemic. One is the need for goods, especially the essential ones and two is the need not to travel far. Now, we understand why 7-Eleven is expanding!
The forecast for the retail industry in the Philippines will rise at the compounded annual growth rate of 7.7% between 2020 and 2025, and this could reach ₱ 11,601 bn. in value. Convenience stores (including independents) and gas stations will lead the growth.
Given the details, companies offering convenience store franchises would be glad to entertain entrepreneurs. In this blog, we will present to you the top convenience store franchises in the Philippines.
Types of Convenience Stores
We have difficulty in defining what a convenience store is. The reason is that convenience stores come in different formats.
1. Sari-sari store
Sari-sari stores fall under a convenience store. They are family-run businesses found in neighborhoods, along the streets, and corners. Usually, they sell candies, food snacks, cigarettes, soft drinks, and beers. They sell some household necessities like rice, cooking oil, sugar, and salt. They also offer prepaid cell phone cards or loads.
Although small and informal business units, they contributed 13 percent to our gross domestic product (GDP), equivalent to P1.5 trillion in 2020.
From here onwards, the term "convenience stores" will not include the sari-sari stores since they do not offer franchises.
2. Kiosk
A kiosk is around 75 sq.m. in size and is usually found in gasoline stations. It is operated to support the gasoline station business. One can buy snacks, candies, beverages, and tobacco in the kiosk.
3. Mini convenience store
This format is like the kiosk, except that it is bigger. It is around 75 to 110 sq.m. in floor space. Goods sold in the mini convenience store are the same as in the kiosk, except it adds some groceries. You can also find some pre-packaged food like sandwiches. 
It supports the gasoline station business. Most are open for extended hours.
4. Limited selection convenience store
Like the other previous ones, the limited selection convenience store goes with the gasoline station. Its size is around 140 to 200 sq.m. Goods sold are similar but with more choices. Selection may include hot dogs and popcorn. 
They offer some parking space to customers. Most are open for extended hours.
5. Traditional convenience store
Its space ranges from 220 to 230 sq.m. It offers a broad selection of goods. It sells dairy products, bread, snack foods, beverages, cigarettes, grocery, health and beauty products, candies, and pre-packed foods. Sometimes, it has some fresh or frozen meat and fruits and vegetables. Most convenience stores fall in this format.
The parking area could accommodate six to twelve vehicles and is mostly open 24/7. Convenience store chains own most convenience stores of this format.
6. Expanded convenience store
Expanded convenience store carries the same products as the traditional convenience store. However, there are a few differences. It has more shelves for the products with a bigger floor space of 260 to 335 sq.m. It has seats for foodservice operations. It has a bigger parking area which can accommodate 10 to 20 vehicles.
Some are open 24/7, whereas some are on extended hours.
7. Hyper convenience store
This is the largest of them all, with a floor area of 370 to 460 sq.m. Usually, it has a bakery, restaurant, or pharmacy. It has the highest number of products and workers and the biggest parking area among all convenience stores. It operates on extended hours.
Pros and Cons of Convenience Store Business
Each business has its own set of pros and cons, and the convenience store business is no exception.
Pros
1. It is located at accessible locations.
Stores are located in convenient locations such as neighborhoods or workplaces.
2. It is relatively easy to get started.
Because of their size, the investment needed is not so big compared to other retail stores.  
3. The neighborhood is your market.
Your store will become the natural destination for immediate needs like snacks, drinks, ice cream, etc. It can even become a favorite hang-out place, especially for young people.
4. You set your prices.
Most likely, the items purchased are at wholesale prices. So, you can have a bigger profit margin than you want.  
5. Your business can provide economic stability.
The convenience store business is fairly stable. All the more, people will patronize you during difficult times. This is when they could not afford to travel far to buy things in bulk.
Cons
1. Convenience stores often need to open for long hours.
Most convenience stores open on extended hours or 24/7. Having 2-3 sets of workers and shifts becomes a necessity.
2. Convenience stores are easy targets for robbery and theft.
Convenience stores are easy targets for robbers, especially those which are open 24/7. They rob for money, but if they feel threatened, they could physically harm people in the store.  Another common problem is shoplifting. 
3. Convenience stores need constant cleaning.
As people enter and leave the store, they leave tracks on the floor. This becomes common during rainy days. To keep the store clean, you keep on cleaning or mopping the floor.
4. There will always be inventory losses.
There will be losses because of expiration dates. People do not want to buy drinks or snack foods that are expired.
Succeeding in Convenience Store Franchise Business
You enter a business intending to grow. Here are a few tips we can share with you to succeed in this franchising business.
Arm yourself with the essentials of franchising. Franchise Market Philippines provides you with these essentials.
Apply practical operation tips
The following will help you succeed in the running of the business.
Know your customers.
Convenient stores cater to grab-and-go customers. They attract young people. Knowing your customers helps you understand how to operate your store.
Hire the right employees.
Hire reliable people. You can trust them with the work given to them. They can work with minimal supervision.
Hire trustworthy people. You can trust them with money, especially the cashier.
Hire friendly people. You want to build relationships with your customers. Being friendly and courteous builds bridges with the customers.
Offer a competitive pricing strategy.
Study the market trends. Balance your need for profit and your demand for customers.  Make your pricing comparable or lower than your competitors.
Get a strategic location.
Choose a location near a neighborhood, BPO offices, plazas, church, or school.
Offer loyalty perks
Create a loyalty program for your customers so that they will patronize your store.
Take advantage of technology.
The grab-and-go environment of the convenience store calls for technology. Technology makes stores flow faster and efficiently.
The pandemic also calls for technology. Technology can offer cash machines, self-checkouts, contactless and mobile payments.
List of Convenience Stores offering franchises
1. 7-Eleven
7-Eleven is a Japanese-owned company but US-based. Philippine Seven Corp. (PSC) bought the master franchise in 1982 for the Philippines. It opened its first store in Quezon City in 1984. At present, the 7-Eleven is the number one convenience store in the country, with 3,000 stores.
Franchise Fee: P600,000.00
Initial investment: P3.5M - 5M
ROI: less than a year
Website: 7-eleven.com.ph
Email: [email protected]
Contact Number/s: (02) 711-0-711, 0919-0-711-711
 2. Ministop
Ministop Philippines is a joint venture between Robinsons Retail Holdings, Inc., Japan's Ministop Co. Ltd, and Mitsubishi Corporation. Ministop is a Japanese convenience store chain with over 500 stores all over the country.
Franchise Fee: P600,000.00
Initial investment: P3.8M
ROI: 24 - 36 months
Website: https://www.ministop.com.ph
Email: [email protected]
Contact Number/s: (632) 8635-0751 to 64
3. FamilyMart
FamilyMart is another Japanese convenience store chain. In the Philippines, they started in 2013. Phoenix Petroleum Philippines, Inc. is the one holding the Philippine master franchise. Currently, there are 87 stores in the country.
They have two models for the franchise: FamilyMart Convenience Store and FamilyMart Express.
Franchise Fee: P600,000.00
Initial investment: P4M - 6M
ROI: 4 to 6 years
Website: http://familymart.com.ph/
Email: [email protected]
Contact Number/s: +63 2 403 4013 local 757
4. All Day Convenience Store
This Filipino-owned convenience store chain started in 2008. Since they partnered with Vista Land, we will mostly see their future stores in the developer's residential subdivisions. At present, they have 73 stores in total.
Franchise Fee: PHP 1,800,000
Initial investment: P1M - P5M
Space area: 120 square meters
Website: http://www.alldayconveniencestore.com.ph
Email: [email protected]
Contact Number/s: (02) 836 0518
 5. Lawson Philippines
Lawson is another Japanese-owned convenience store chain. Lawson came to the Philippines when Puregold partnered with Lawson Japan to put up PG Lawson in 2014. Now, it is majority-owned by Lawson Japan. Now, it has 55 stores in the country.
Franchise Fee: P1.8M
Initial investment: P1M - P5M
Space area: 120 square meters
Website: http://www.lawson-philippines.com/
Email: [email protected]
Contact Number/s: 285279682
6. Ultra Mega Value Mart
Ultra Mega Value Mart is the convenience store version of the Ultra Mega Wholesale and Retail Mart. Their minimum space requirement is the smallest of them all.
Franchise Fee: P350,000
Initial investment: P10M - P15M
Royalty Fee: 3%
Space area: 40 - 60sq.m.
Website: www.ultramega.com.ph
Email: [email protected]
Contact Number/s: (02)904-5882, (02)862-0032
7. Super G Convenience Store
Super G Convenient Store started as Grainsmart in 2014. Grainsmart was into selling quality rice. Just recently, they ventured into the convenience store business, and Super G Convenient Store was born. It is a 5-in-1 Business: RICE+WATER+PAYMENT CENTER+LPG+GROCERY.
Franchise Fee: P298,000
Initial investment: P500k - 1M
Website: www.grainsmart.co
Email: [email protected]
Contact Number/s: 512-2533
8. Easy Day Shop
Easy Day Shop advertises itself as a neighborhood convenience store. Currently, they have ten stores around Metro Manila.
Franchise Fee: P250,000 + VAT
Initial investment: P 3M
Space area: 100 sq.m.
Website: http://www.easydayshop.com/ (under construction)
Email: [email protected]
Contact Number/s: 8657505
9. MerryMart
Edgar "Injap" Sia II, the founder of Mang Inasal, CityMall, Hotel 101, and Central Hub, started MerryMart in 2019.  The first franchise was opened in the same year in Capiz. MerryMart has an ambitious plan of having launched 1,200 branches by 2030.
At present, there are 11 stores already.
The franchise formats offered are MerryMart Grocery, MerryMart Market, and MerryMart Store. Only the MerryMart Store is available now.
Franchise Fee: not available
Initial investment: P10M to P15M
Space area: 250 sq.m.
Website: https://www.merrymart.com.ph/
Email: [email protected]
Contact Number/s:  (02) 8743 1111
10. SamGyup Plus Korean Mini Mart
Among the stores listed here, SamGyup Plus Korean Mini Mart stands out. It is a Korean Mini Mart bringing Korean products to the Filipinos. It started in March 2020, but now they already have branches in Pampanga and Quezon Province.
Franchise Fee: Php150,000.00
Initial investment: Php500,000.00
Renewal Fee: 50%
Continuation Fee: Php3,000/Month
Space area: 20 sq.m.
Facebook page: https://www.facebook.com/samgyupplus
Email: [email protected]
The Philippines is the fourth largest franchising market in Asia-Pacific Region and the number one in Southeast Asia. Adding to this is the bright prospect of convenience stores even during the pandemic. Convenience stores are essentials. 
Getting into the convenience store business is profitable even in this pandemic. But here is another benefit. The benefit is the feeling that your company provides the essential needs of the people.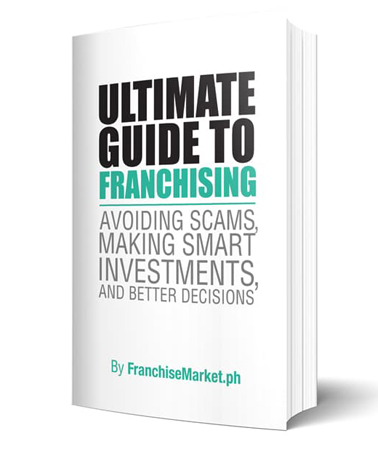 Ultimate Guide to Franchising
Avoiding Scams, Making Smart Investments, and Better Decisions
The franchise industry is booming, and entrepreneurs are wondering about how this sector works. This ebook aims to help aspiring franchisees achieve their business goals.
Learn more
Back to Blog
Disclaimer: Franchise Market Philippines strives to provide relevant and accurate information in all its articles. However, some information in our articles may differ or might be outdated from what you can see or read directly from the establishments' or businesses' websites. Please get in touch with us directly for any discrepancies.