Filipinos are coffee lovers. This is the reason why multinational and local coffee chains are putting up shops almost everywhere. 
Here is the list of the top 10 coffee shop franchises in the Philippines.
Philippine Coffee Shop Industry Overview 
Filipinos are coffee drinkers. In the morning, the greeting is "Nagkape ka na ba?" (Have you had coffee yet?). Then, you have our coffee break in the afternoon, and quite a number drink coffee in the evening.
The Department of Trade and Industry reports that the Philippines is the fifth-biggest consumer of coffee in the world after the EU, the US, Brazil, and Japan. It also notes that the country is the top importer of soluble coffee and the fourth total importer globally.
The Philippines has a rich coffee history. It goes back to 1740. A Spanish Franciscan monk brought some Arabica beans to the country. He grew them and later got some trees to the town of Lipa, Batangas. Because of that, Lipa became known as "the Coffee Capital of the Philippines."
Despite the early introduction, a coffee culture did not develop. The Spaniards saw coffee as an export product. They exported the beans to America and Australia and later to Europe. There was local consumption, but there was no deep appreciation for coffee.
Then, the coffee industry collapsed in 1891. Coffee rust wiped out our coffee trees. Throughout the years, Filipinos were still sipping coffee as an "energy-booster," especially in the morning. But during and after World War 2, Filipinos got a taste of American troops' instant coffee like Hills Bros. and Nescafe. From that time on, the craving kept growing.
In the late 1990s, a coffee breakthrough happened. This happened because of the Filipinos' thirst for coffee and rising income. By 2010, coffee businesses met the need by boosting the production of instant coffee and putting up coffee shops.
The local and multinational coffee chains had started putting up shops in the country. Starbucks came in 1997. Coffee Bean and Tea Leaf followed in 2003. Philippine-based chains began earlier. Figaro Cafe began in 1993 and Bo's Coffee in 1996.
Market researchers have projected that the Philippine coffee industry will grow at 8.65% (Compound Annual Growth Rate, 2021-2025). By 2025, the coffee shops and restaurants will get 69% of spending and 12% of the volume consumption of coffee.
What Makes a Coffee Shop a Great Business
Here are some reasons why a coffee shop is a brilliant business to own:
Filipinos' love for coffee
Filipinos drink coffee almost three times a day. According to Fitch Solutions, the Philippines will have a projected coffee consumption of 5.0 kg per capita by 2024. This means that each Filipino will drink around 5 kilograms of coffee in 2024. Last year's coffee consumption was 3.9 kg per capita in 2020, 
Coffee shops fit the Filipino culture
In other countries, young people are the primary customers. Here, in the Philippines, it is everybody.
Filipinos are pleasant people. They love to chat with friends over a cup of coffee. They call meetings "kapehan" regardless of whether there is coffee.
Low investment
The initial investment compared to other businesses is not that high. The firm only needs a few pieces of equipment. Although buying the best equipment, you can afford you in the long run. For sure, they are expensive.
Easy profit
The coffee shop's operation is not tedious, but it is profitable. It does not need many workers.
Create a community
A coffee shop is a hangout place. Eventually, it will create a community of loyal customers.
Pros and Cons of Coffee Shop Franchise
Pros
Trendy
Coffee shops and cafes are popular worldwide. This is one of the chief attractions of the coffee shop business.
Opportunity to cross-sell
Coffee shops sell other products aside from coffee. You can offer pastries and sandwiches to go with the coffee.  You can also sell merchandise like mugs, coasters, and other items.
Lower start-up cost
The initial cost of starting a tea franchise shop is lower than owned shops of the same size and operation.
Modern equipment and latest technology
Likely, they will provide you with the latest equipment and technology, such as having your website, online transaction apps, and many more.
Supplies
You do not have to look for the best and cheapest suppliers since they already have their suppliers.
Variety of choices
Because of the many suppliers that the franchisor has, you have a variety of tea or coffee choices in your shop.
Cons
Locked-in
Part of the franchise contract is the locked-in period. If you discover that the business or company does not meet your expectations, the agreement binds you to the locked-in period.
No guarantees
There are no guarantees that you will succeed. What worked for others might not work for you. 
Contractual obligations
Locked-in is just one of the contractual obligations. There are many more that bind you.
Restrictions
There are restrictions. You do not have the freedom to change and innovate to fit your situation.
Lack of control
You own the franchise but not the entire company. By buying their franchise, you have become part of the company. You do not have control. 
Sharing profits
You share profit with your franchisor.  Profit allocation will depend on the agreement entered or the franchise availed.
How To Succeed in Coffee Shop Franchise
If you want to succeed in the coffee shop franchise business, two things are needed.
Here are some basic principles to know about franchising in the Philippines.
Implement effective management tips
As mentioned above, there are no guarantees to success, but you can bring your business closer to the goal you are aiming for. Take hold of things that you have control over.
Here are some important tips to consider if you want to succeed in your coffee shop franchise:
Location
Location is on the top of the list. Find an area that is accessible to people who you think are your target group. A mall is a good place, but the rent is too expensive. Look around for a site that is accessible and affordable. 
Don't forget the parking area. There should be sufficient space for vehicles to park for those with cars.
Train your staff
Although the franchisor takes care of the training, just ensure that your staff understands. Then, check that they are doing according to the standard operating procedure. The well-trained staff knows their goals in work, thus reducing constant supervision. They also work efficiently.
Relaxed atmosphere
In a café concept, people expect this. The arrangement of the different furniture should be pleasant and cozy. Provide comfortable seats and chairs. Some come to the shop to relax. Others want to do their work in the shop. While others simply want to chat with friends and colleagues.
Serve other items
Remember that you can cross-sell. Offer any other kinds of food that go well with coffee. Offer alternatives to your primary product if the customer does not want it. Offer something like a tea, chocolate drink or hot milk.
Give rewards
You want customers to keep coming back. Offer rewards or loyalty cards with discounts.
Good Wi-Fi
Invest in good and strong Wi-Fi. If your Wi-Fi connection is spotty, your customers will go elsewhere.
10 Top Coffee Shops Franchises in the Philippines
Dunkin'
It used to be Dunkin' Donuts, but now it's just Dunkin'. In 1950, William Rosenberg established Dunkin' Donuts in Quincy, Massachusetts. It is a famous American fast-food chain selling donuts and coffee.
In 1981, Golden Donuts Inc., the local master franchisee, brought Dunkin' Donuts to the country. It established its first shop at the Quad Car Park (now Park Square) in Makati. Today, it has grown to 700 outlets nationwide.
Initial investment: Php 200,000.00
Website: http://www.dunkindonutsfranchise.ph
Email: mktgservic[email protected], [email protected], [email protected]
Contact Number/s: (02) 8988 7300; (02) 636-0550; (+63 (02) 636-0550) (Golden Donuts)
Bo's Coffee
Based in Cebu, Bo's Coffee is the largest Filipino chain of coffee shops. Steve Benitez established Bo's Coffee in 1996 with the launching of its first branch in Cebu City. Today, Bo's has 91 branches all over the country.
Franchise Fee: Php 1,000,000
Initial investment: Php 1M
Royalty Fee: 5%
Marketing Fee: 2%
Website: https://www.boscoffee.com
Email: [email protected]
Contact Number/s: +63 917 624 0642; (02) 8650 9894 loc. 115
Figaro Coffee
Figaro Coffee is a Filipino chain of coffee shops based in Manila. Pacita "Chit" Juan, Reena S. Franciso and five other friends started the company. They opened their first kiosk in Glorietta mall of the Ayala Center, Makati, in 1993. Today, there are 90 outlets nationwide.
Their franchise models are Full Store, Kiosk Store, and Cart Store. The figures below are for their Full Store model.
Franchise Fee: Php 600,000
Initial investment: Php 3.2M - 7M
Royalty Fee: 5%
Marketing Fee: 2%
Contract Terms: 8 yrs. renewal every 4 yrs. thereafter
Renewal fee: 40% of current franchise fee
Space Requirement: 60 - 80 sq.m.
Website: https://figarocoffee.com
Email: [email protected]
Contact Number/s: (632) 706-0564, (632) 671-4232 loc 19, 63932-8468228
Krispy Kreme
Krispy Kreme, Inc. is an American doughnut company and coffee shop chain. Vernon Rudolph in 1937 in Winston-Salem, North Carolina.
Max's Group, the Philippine master franchisee, brought the Krispy Kreme brand to the country in 2007. Its first branch was in City Center, Fort Bonifacio, Taguig City. Now, it has 52 branches all over the country.
Franchise Fee: Php 1,200,000
Initial investment: Php 5M - 7M
Space Requirement: 50-60 square meters with storage + drive thru 
Website: https://now.krispykreme.com.ph
Email: [email protected]
Contact Number/s: 784-9000
Mocha Blends
Mocha Blends Coffee Group is a Filipino-owned coffee chain. Mr. Florante Dela Cruz founded Mocha Blends. In 2002, the first outlet opened in Circle C Mall in Congressional Avenue, Quezon City. Today, it has 31 branches, mostly in Metro Manila.
Regarding franchising, it provides three formats: Espresso bar, Kiosk, and Full store.
Franchise Fee: Php 350,000 (Espresso bar), Php 700,000 (Kiosk) and Php 750,000 (Full store)
Initial Investment: Php 2M (Espresso bar), Php 3M (Kiosk) and Php 5M (Full store)
Royalty Fee: 5%
Marketing Fee: 2% (national), 1% (local)
Space Requirement: 6 sq.m. (Espresso Ba), 60 sq.m. (Kiosk) and 100 sq.m. (Full store)
Website: www.mochablends.com
Email: [email protected]
Contact Number/s: (02) 376-2889, (02) 376-2890, (02) 374-3098
J.Co Donuts & Coffee 
J.CO Donuts & Coffee is an Indonesian cafe restaurant chain. Its primary products are donuts, coffee, and frozen yogurt. Johnny Andrean is the founder of the company.
Based in Jakarta, J.CO started on June 26, 2005, opening its first branch in Lippo Karawaci, Tangerang, Indonesia. It now has stores in different parts of Southeast Asia and Hong Kong.
Contemporain Foods, Inc., the master franchisee, brought J.Co to the Philippines in 2012. The first store was in SM Megamall in Ortigas, Mandaluyong. 
Despite its steep fees to buy a franchise, there are now 44 stores nationwide.
Franchise Fee: $10,000 - $21,000
Initial investment: $250,000 - $1.5M
Website: https://m.jcodonuts.com/ph
Email: [email protected]
Contact Number/s: +632 844 8441 to 52
Tim Hortons
Canadian Tim Horton is a National Hockey League legend. In 1964, he opened his first coffee shop in Hamilton, Ontario, Canada. Now, Tim Hortons Inc. is a Canadian multinational coffee chain. It is the largest fast-food chain in Canada.
Tim Hortons entered the Philippine market in 2017. Its first branch was in Uptown Mall. Bonifacio Global City, Taguig. Now, there are over 20 stores, mostly in Metro Manila.
Initial investment: Php 1,750,000
Website: https://www.timhortons.ph
Email: [email protected]
Contact Number/s: (916) 445-1254
Café Amazon
Cafe Amazon is a Thai chain of coffee shops. PTT Public Company Limited, the Thai state-owned oil company, owns Cafe Amazon. The coffee shop company started its operations in 2002. It has a worldwide presence.
In the Philippines, Café Amazon started in 2016. PTT Philippines holds the master franchise license, and it has 17 stores so far.
Franchise Fee: Php 3,000,000
Royalty Fee: 3%
Marketing Fee: 3%
Website: https://www.cafe-amazon.com/
Facebook: https://www.facebook.com/CafeAmazonPh
Contact Number/s: 0917-5151788
Coffeebreak Cafe
Coffeebreak Cafe is a Filipino chain of coffee shops that started in Iloilo City. In 2004, it opened its first outlet in Timawa, Iloilo City. Today, it has 12 branches in Iloilo City and Metro Manila.
Franchise Fee: Php 650,000
Initial Investment: Php 15M
Royalty Fee: 7%
Space Requirement: 60 sq.m.
Website: https://coffeebreak.ph
Email: [email protected]
Contact Number/s: 02584-1601
Caffe Bene
Caffe Bene is a Korean coffee shop chain. Sun-Kwon Kim founded the company in May 2008. It is the second-largest coffee chain in Korea, with almost 1,000 outlets.
In 2012, Caffe Bene arrived in the country. Its first branch was in Eastwood City Walk 2, Libis. Currently, there are three branches in the country.
Franchise Fee: Php 1.5M
Initial Investment: Php 4m - 5m
Royalty Fee: 4.9%
Marketing Fee: 2%
Space Requirement: 1,500 sq.m.
Website: www.caffebene.com.ph
Email: [email protected]
Contact Number/s: (02) 708-0410
Conclusion
The coffee shop business will continue to grow because of the Filipinos' love for coffee. The pandemic affected business at its onset. But it slowly recovered. 
It is important to mention the change that the coffee shops made. To connect with their customers, they went into e-commerce for ordering and delivery. 
Before the pandemic, coffee shop delivery was unheard-of. Some of them started their delivery. Most partnered with food delivery companies.
So with the Filipino craving for coffee and the flexibility of the coffee shops, buying a coffee shop franchise is an excellent idea.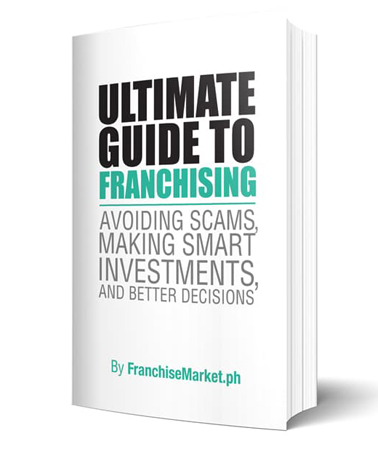 Ultimate Guide to Franchising
Avoiding Scams, Making Smart Investments, and Better Decisions
The franchise industry is booming, and entrepreneurs are wondering about how this sector works. This ebook aims to help aspiring franchisees achieve their business goals.
Learn more
Back to Blog
Disclaimer: Franchise Market Philippines strives to provide relevant and accurate information in all its articles. However, some information in our articles may differ or might be outdated from what you can see or read directly from the establishments' or businesses' websites. Please get in touch with us directly for any discrepancies.