Cliché but true. Change is the only constant in this world. Humans have to keep up with all the changes to survive. This goes the same way for businesses. 
Entrepreneurs must also adapt to changes to thrive continuously in the industry, especially with their companies. If you plan to become a business owner in 2023, consider one of the trendy businesses you can start here in the country.
Here are the 15 business trends in the Philippine industry  today.
1. Food Cart Business
Filipinos love food, and they love to eat; there's no argument for that. The food cart business never goes out of style. It is affordable and easy to market. 
There is a variety of food to choose from—french fries, siomai, fruit shakes, nachos, waffles, and others. This business offers a wide array of advantages in terms of generating sales. 
If you are someone new in the business industry, it is safe to try first franchising a food cart. One is the convenience of setting up the cart anywhere you want. You can assemble it near many people in malls, schools, parks, or places. It's a great training ground to learn the science of the food industry and business.
2. Eco-friendly Products
More and more entrepreneurs are starting to dominate the business world, producing eco-friendly products as more people are switching to and supporting those products. 
Driven by the passion and mission to save the environment, more organic and sustainable products are being produced and well-received by clients. 
Among the popular organic products are watches, toothbrushes, bikes made from bamboo, reusable baby diapers, bags made from discarded juice containers, and many more. 
Consumers are now more aware of how other products affect the Earth, so they are more than willing to purchase green brands to support and promote sustainability. 
This business venture has also created job opportunities for the locals because the business owners hire the former to produce the products.
3. Healthcare Business
Health is wealth. It surely is when you start your own healthcare business. It is a rewarding business venture, especially since it caters to many customers.
Pharmacy is just one of the many choices to choose from when entering the healthcare business. Although it can't be easy because of the established rules and regulations governing pharmaceuticals, it can provide more advantages and benefits. 
Franchising a pharmacy is easier when you want to have a pharmaceutical business since the people already recognize the brand name and have an existing customer base and vendor relations. 
A few renowned pharmacies in the country that are available for franchising are The Generics Pharmacy, Farmacia ni Dok, and Generika Drugstore.
4. Beauty and Wellness Business
With the onset of social media, people are more concerned with their physical appearances. 
The beauty salon business has been a staple in the industry because many Filipinos go to such establishments to pamper and relieve themselves from stress. 
They want to improve their physical appearance and feel good about themselves. Another study revealed that Filipinos are very particular in taking care of their hairstyles. 
The most common salons in the Philippines are hair beauty salons, barbershop salons, skincare salons, nail salons, facial salons, and spa salons. 
Despite the tough competition in this business industry, more entrepreneurs are interested in putting up their salons due to their high market demand. 
5. Water Refilling Station
Water keeps everyone alive. It is the most important resource that humans need to survive. 
However, due to pollutants, water becomes polluted and undrinkable. Thus, the water refilling station business has become an in-demand and profitable business in the country. 
Unlike other products offered in the market, water will always be in high demand, which makes the company relatively easier to handle. You can start your brand of water refilling station, but the stress and risk of loss can overwhelm you. 
You can opt-out of franchising established brands like Aquabest, Bluewaters, and Crystal Clear. These brands have long been in the industry and have a proven track record of success. Inclusive in your franchise fee should you decide to franchise one of the three are the necessary equipment installation, staff training, and marketing. 
6. Bill Payment Centers
Bills take the biggest chunk of anyone's salary. Electricity, phone, internet, water, cable connections, credit cards, and insurance are common bills that every Filipino household maintains. 
While we live through convenience, payment centers have greatly helped save time and make payments faster and more accessible. 
For aspiring entrepreneurs, such a service-centered business can provide a constant profit stream because it pays on a per-transaction basis.
Bayad Center is a pioneering bill payment center in the Philippines owned by Manila Electric Company (Meralco). It is a leading player in global outsourced payment collection, e-loading, money remittance, and application acceptance. A good location with many households and solid clientele can ensure a return on investment in up to two years. 
7. Laundry Shop
Most people have an increasing workload. As a result, they leave some household chores like laundry to be undone. 
Laundry shops are lifesavers for most people living in condominiums and apartments. This type of business venture is largely dependent on operational expenses. 
The cost of rent, supplies, utilities, wages, equipment, permits, and licenses must be considered and prepared well. You can have a coin-operated or self-service laundry business. 
WeClean is a fast-growing one-stop, all-in commercial and industrial laundry solution. Should you decide to franchise WeClean, you will get three units of industrial-type stacked washers and dryers.
Moreover, the package includes the use of the brand name, staff training, and end-to-end business operation knowledge transfer. There are other packages available that you can check out. 
8. Cold Beverage Stand
The milk tea craze is all over the town. There have been several known brands regarding milk tea, and it has experienced profitable gains in recent years. 
The franchising industry has expanded its offerings to those interested in owning a milk tea business. It saw an unexpected boom in 2018 as more people fell in love with the sweet, refreshing, affordable cold drink. Check out the list of Milk tea franchises available in the market. 
9. Car Wash Business
Cars have never been this accessible and affordable. There are easy installment plans available that people can choose from. 
With this, road trips have become a favorite getaway bonding for most people who want to stay away for a moment from real life. More cars are filling the roads, thus increasing the country's demand for carwash services. 
Nice Day Car Wash is open for franchising for such an affordable price. You can already own a car wash brand franchise for less than a million pesos. 
Inclusive are the construction costs, franchise fees, training, and equipment used when you start. They have been in the industry for almost two decades, proving their craft in their chosen business industry.
10. Education
Parents only want what's best for their child/children. Those working parents or those who are always away could only spend ample time with their child/children. 
They enroll the latter in supplementary classes or education to compensate and help their son/s and daughter/s in school. 
Kumon is a known after-class tutoring center that offers math and reading programs. Originating in Japan, Kumon has been in the industry for more than sixty years. 
They require the franchisees to complete their first semester of Kumon's Instructor Development Program to be granted a franchise. One may need to undergo rigorous training to ensure that the service brand Kumon offers is evident and will satisfy the parents' needs for their child/children. 
11. Vlogging
Vlogging is a form of video blogging where the creator makes videos about their life, interests, and opinions. It's a way for people to share their lives with others and also a good way for them to make money.
Many people are making money from vlogging, and many more are trying to do so. In the Philippines, many YouTubers earn thousands of dollars per month by making videos uploaded on YouTube and other social media platforms like Facebook, Instagram, and Twitter.
This is why vlogging will always become one of the most popular businesses in 2023. After all, vlogging is already business these days, with creators focusing on content that matters and the possible collaborations they can get from other people in the network.
12. Digital Marketing Services
Digital transformation is here to stay. From the rise of social media to the growth of e-commerce and cloud-based business solutions to the introduction of new technologies like AI and blockchain, there has never been a better time for businesses to embrace digital marketing.
As we look ahead to 2023, digital marketing remains a valuable business trend. More professionals have become interested in starting their own marketing agencies because many businesses out there need online marketing services.
More companies will turn to digital marketing agencies for help with their online presence and SEO strategies. They will also want those agencies to provide them with a range of services such as website design, PPC advertising, email marketing, and more.
13. Remote Auditing Business
Numerous online businesses have prospered throughout the years.  So where does a small auditing firm fit in, and what does this firm perform specifically? 
You can audit the company and aid in the expansion of other firms there. For instance, you can audit businesses in terms of their performance, financials, traffic, and other factors.
Then, you can help them improve these aspects so they can thrive in the market.
14. Buy and Sell
The Philippines has always been known as the shopping capital of Asia. This is because the country has one of the largest middle-income populations in the world. 
It also has a growing number of foreign tourists who come to visit the country's beautiful beaches and historical sites. As such, there are many businesses that have sprung up over the years that offer services related to buying and selling goods.
This kind of business will remain thriving in 2023 because many are still doing this, knowing that it can give so many opportunities as long as you know how to manage it.
15. Real Estate-Related Business
The Philippines' real estate market has been booming despite the ongoing pandemic. According to the data, the Philippines received investments worth slightly under 19 billion pesos from outside in the first three months of this year. A sizable portion of this is classified as real estate. 
A real estate firm in the Philippines has many opportunities and distinct paths to success. A few possible choices include running an online business, selling financial strategy courses, authoring a book, or working as a real estate broker. The Philippines is seeing a real estate boom in several areas, and the future is optimistic.
Conclusion
Business trends are always changing. There is no doubt that quality products and services always last long, but it is also best to consider that some changes are necessary, including adapting to the trends.
The business ideas listed may be trendy, but it doesn't guarantee that you will be successful immediately once you start with them. Careful planning, researching, identifying the target market, and complying with the legal requirements when starting a business are still important factors to consider.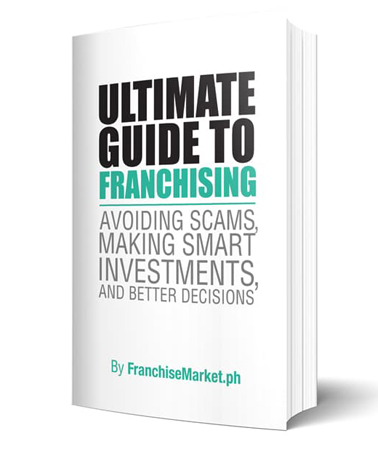 Ultimate Guide to Franchising
Avoiding Scams, Making Smart Investments, and Better Decisions
The franchise industry is booming, and entrepreneurs are wondering about how this sector works. This ebook aims to help aspiring franchisees achieve their business goals.
Learn more
Back to Blog
Disclaimer: Franchise Market Philippines strives to provide relevant and accurate information in all its articles. However, some information in our articles may differ or might be outdated from what you can see or read directly from the establishments' or businesses' websites. Please get in touch with us directly for any discrepancies.