Every entrepreneur wants to expand their business and reach a broader market. Opening your business to the franchising industry can be one of the better solutions to achieve the goal of increasing your business. Learning the basics of franchising and its principles can be a big help in understanding the franchise system. After this, you can now evaluate your business if it is ready to be franchised. You can conduct a SWOT (strengths, weaknesses, opportunities, and threats) analysis. In this way, you can limit and prevent damages that may affect your business in the future. To make your business ready for franchising, you have to remember these five ways:
Know your business by heart – Understand what your brand is all about and highlight the concept and plan for the business and the franchisees.
Replicate and operate your business – The business should be ready to survive whatever challenges it may face.
Team up with the experts – Learn from other people's mistakes and always acknowledge the need to ask for help from the experts to ensure the success of the business.
Get the right cost of franchising – Have a list of partners as investors and a buffer fund in this venture to ensure steady cash flow.
Have a realistic vision – It pays extra to remain committed in the business industry. Have faith and be patient.
Franchisees can be compared to children. They need your support. They need to learn through training about some business tips for OFWs and understand the processes in the system that you have developed for your business. These are among the challenges that you may face as a franchisor. Shifting from operating your unit to expanding your business to a multi-unit may require much effort, time, and perseverance from your end. Within the franchise system, you have to be always available to help and support your franchisees. Your management experience and the team can increase their chances of succeeding in the business industry.
The Overseas Filipino Workers' remittance is one of the largest sources of the country's gross domestic product or GDP. Such money coming into the country helps in the economic performance of the Philippines. Along with the latest economic changes, franchising has been seen as a booming industry in the country. Former Finance Secretary Cesar Purisima has also predicted that franchising will have a crucial role in sustaining the Philippine economy. 
Experts tell us to do our due diligence when looking for different opportunities to grow our hard-earned money when starting a business. The Overseas Filipino Workers or OFWs have income ready for investment.
When they seek to grow their money, going into entrepreneurship is their popular fallback. Most of them have the money to start a business. However, entrepreneurship is never just about having the capital. They may have the idea of how to go about a business, but they don't know how and when to start.
Somehow, they fear the risks involved in having a business. That's why you, as a franchisor, need to educate them with some business tips for the OFWs, including the ins and outs of owning a successful business before they can consider it an option once they finally come home. 
Helping OFWs start a business and teaching them to invest in the Philippines is a win-win situation. They can earn an income from another source apart from their salaries abroad, and at the same time, helping in boosting the country's economic performance. 
The main reasons why OFWs consider becoming entrepreneurs are because they see themselves retiring in the country and need something substantial to rely on income-wise that goes beyond the typical sari-sari store model, according to the Commission on Filipino Overseas. Besides, it also serves as a reintegration tool for OFWs to not only have a tangible connection to the country, but they can start a business locally and earn without having to be home just yet. There are seven businesses for OFWs while working abroad. These are agriculture, financial investments, franchising, small and medium scale manufacturing, services, retail, and real property. 
Franchising is a flexible business idea suitable for OFWs while working abroad, as it offers tons of benefits and lower risks of failure. This also gives them more exclusive perks and opportunities to explore. Franchising is a long-term investment and a perfect business for OFWs while working abroad. With more than 10 million of them around the world, this business tip for OFW will undoubtedly continue to contribute to the growth of any franchise network. There are a lot of best profitable business ideas for OFWs while working abroad.
As a franchisor, you have to sift through the qualities and traits that your OFW franchisee has before getting him/her to invest in a franchise. While there may be different qualities a franchisee may possess, there are some qualities that are common and present to successful franchisees, which you can use as criteria before getting the OFW franchisee to invest in your business. 
Apart from these qualities, you must as well ask your franchisees the following questions:
Who will manage the business?
Apart from knowing who will invest the funds for the business, it is crucial as well to know and understand who will manage the business. It is ideal if the OFW manages the business. However, should he/she plan to have their respective partner or children to manage the business, they should take part in deciding and applying which business venture to franchise, and the location where the business should be located. By doing so, they will feel being a part of the business. They must have a real interest in the business to ensure smooth management practices. 
Are they technology savvy enough to help run the business while being abroad?
As a franchisor, you need to know how your franchisee will run the business while they are working abroad. The advent of technology paves the way for monitoring the business, less hassle, and convenient wherever they are in the world. You can require them to invest in cloud-based point-of-sale (POS) and accounting systems so they can monitor the sales and expenses of the business. They can interview applicants or have regular meetings with key managers via Skype.  Closed-circuit television can be installed in the store to keep an eye on what's happening there while being miles away. 
Do they have a contingency fund?
Business in nature is unpredictable. You have to make sure that the OFWs have enough contingency funds to deal with the highs and lows of the business. As a franchisor, you have to examine if they are investing all their savings in just one business. As the saying goes, don't put all your eggs in one basket. If that is the case, then you have to reassess them once again and possibly provide business tips for OFWs before they can start franchising. It pays to be extra critical to guide and select franchisees carefully so that we continue creating win-win scenarios that help grow the franchising industry. 
MAJOR TAKEAWAYS
For OFWs, franchising may be another source of income. Thus, making a concrete commitment to managing the business can be a challenge. Most of them want to return to the country where they work to earn more money. The decision to opt for franchising is a lifestyle decision that doesn't only involve one who will provide for the capital, but also the family members. That's why it is essential to identify who will manage the business in case the OFW goes back overseas. You should require their managers to get involved in choosing the franchise business. They need to be a part of the process of searching and applying for the business. They should as well attend the training to give them a sense of ownership and spark real intention in running the business. 
Technology is now a big part of every business, and it makes business possible despite being miles away from your store. You need to know if the OFW is equipped enough with some technical know-how to ensure that he can still monitor the business while being far away. An emergency fund is significant. Though franchising has a higher success rate, you have to make sure that the franchisee has not invested all their savings in one investment. 
Last but not least, you need to earn your franchisee's trust. It would be best if you showed them that you would ensure the business will run smoothly. It takes a great effort for them to decide on investing their hard-earned money finally, and they want to make sure that it will not go to waste. Training for their managers and staff would be very beneficial for continuous improvement, not just their business but also the success of your brand. 
Expanding your business through franchising can as well be daunting when you started your business. For your business to be successful, you trust yourself first and have faith in your business and the products and services that you offer. Scary as it seems, but you have to remain committed and optimistic about your business venture. You don't have to fret because Franchise Market is your friend when it comes to franchising. It advocates to educate and provide useful information for your franchising journey. Seeking help from the experts when you don't know what the best thing is to do is the most significant step you can do to ensure the success of your business. 
Have your business posted on our website for free and join our growing family. For more information, please visit franchisemarket.ph.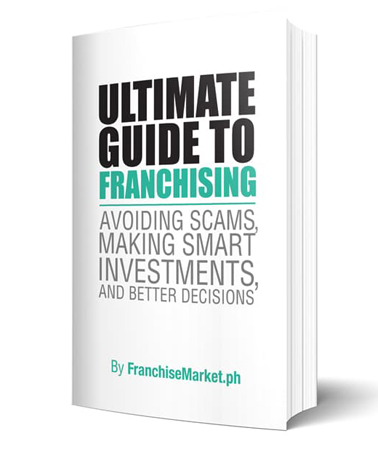 Ultimate Guide to Franchising
Avoiding Scams, Making Smart Investments, and Better Decisions
The franchise industry is booming, and entrepreneurs are wondering about how this sector works. This ebook aims to help aspiring franchisees achieve their business goals.
Learn more
Back to Blog