While the ongoing pandemic has limited people's mobilization, it also impacted some businesses and their operations.
Even with the flexible working arrangements, not all businesses are capable of embracing this change because of the nature of the companies, and perhaps, the lack of resources as well.
Both business people and employees face the harsh truths of the pandemic in terms of financial stability and source of income. So, it is time to innovate and venture new options available that are also appealing during this time.
Digital Marketing vs. COVID-19
Let's face it: there is a surge in online businesses today despite the pandemic. It does not matter what you sell, as long as it is not illegal. From foods, clothes, gadgets, and even services, the online platforms helped a lot of us provide alternative means to get another source of income.
Here are some of the most commonly used online platforms in the Philippines today.
Facebook Marketplace
With Facebook being a free platform, one can quickly create an account or a page to start a business online. Even using a personal account is possible to reach a broad audience, but since the Marketplace is available, it is the most preferred way to sell items via Facebook.
Instagram
Who does not get attracted to pictures? This advantage of Instagram has paved the way for ready-to-wear (RTW) sellers, food enthusiasts, and other people to showcase their online items.
Website
This is most common for business people who have existing businesses through brick and mortar stores, but decided to go online this time to reach customers. Some newbie entrepreneurs chose to use a website as a medium to sell items, especially if it is the type of business that requires more security in terms of payment and purchase.
The Importance of Logistics and Delivery Applications
Alright. You have a business, and everything seems perfect until you realize that something is missing with your plan: how to deliver your items to your customers?
In hindsight, this seems to be a big problem, but thanks to the brilliant minds behind today's popular delivery applications and logistics companies as they provide ways to connect entrepreneurs to their customers.
Here are some of the most widely used delivery applications and logistics in the country that help entrepreneurs worldwide.
Logistics
LBC
J&T Express
2GO Express
FedEx
JRS Express
Ninjavan
DHL Express
Logistikus Express
Lalamove
Grab Express
Delivery Applications
Grab Food
Foodpanda
Angkas
Maxim
Joyride
Lalafood
Mangan.PH
Zomato PH
Note that some delivery applications are only operational in some areas like Mangan.PH (Pampanga) and Zomato (Manila).
The rest is almost operational in most places in the country, especially Grab and Foodpanda. However, due to some restrictions on border controls, there are times that they become unavailable in affected areas.
Entrepreneurs' Challenges this 'New Normal'
Perhaps, the most obvious problem for entrepreneurs today is how to handle their businesses under the 'new normal' norm accordingly.
The pandemic literally imposed the importance of social distancing among people, and this alone impacted most businesses, especially those in the food industry.
Under the new standard, fewer people can dine inside restaurants at one go. This is the reason why most people opt to order online.
To address this issue, food businesses will most likely be focusing on accepting online orders, aside from keeping their stores open for those who want to eat on the premises.
For retailers, the new normal is expected to strike them, primarily if they are located in malls. There is a considerable possibility that under the new normal, malls are not anymore that jam-packed with people, unlike the old days.
Hence, the main challenge of these retailers is to embrace the idea of digital marketing. This applies to stores that do not have any online presence yet. However, for those businesses that both have online and brick and mortar stores already, they need to exert more effort in strengthening their online presence.
It is the best way to tap their customers again, make sales, and maintain the business up and running. Technically, it is crucial for business owners to consider other alternative methods other than the traditional way of doing the business.
The same thing applies to other businesses. What they need this time is innovation and willingness to accept the 'new normal' in operating a business.
Great Business Ideas to Start this 'New Normal'
On the same note, it is also the best time for entrepreneurs to start new business ideas that will make sense under the 'new normal.'
Check out some of these hot ideas you can start right away.
Health Essentials and Services
It makes sense to start building your own or being a reseller of in-demand healthcare equipment and instruments such as Personal Protective Equipment (PPE) and face masks. If you also have an idea on how to make soaps, sanitizers, or alcohol, it will also be great.
Grocery Services
With the limited mobilization, starting an online grocery service business is a viable business idea to help customers who have no vehicle or are afraid to go out totally. Despite the existing competition, there is still a high chance to beat your competitors since there is high demand even in the provinces and big cities.
Local Manufacturing of Goods
The pandemic already impacted and diversified the logistics and supply chain in the country as part of the health and safety protocols. Technically, it will make exciting entrepreneurs edge in local manufacturing to address the increasing demand in the country.
Courier and Delivery Services
As mentioned previously, this type of business is the best today because more people will opt for food deliveries and even buy gadgets or clothes online. Even with the border controls locally and abroad, eCommerce will never cease. Therefore, there will still be a market for this business.
Online Learning Provider
The fundamental of this is to teach children online via Skype, Zoom, or other video conferencing tools. You can also add additional services such as tutoring or coaching, other than the regular classes you can offer. This is in demand today since physical classes are on a halt due to the pandemic. We know that education is essential and that some parents may want their children to continue learning despite being at home. Others also prefer homeschooling from the beginning, and there is a big market from them too.
Food Business
Let us face the truth that Filipinos love food. At the height of this pandemic, people are busy offering various food and delicacies online without any doubts. Despite the competition and locally established restaurants, the food business is still a thriving and viable option.
Content Creation Business
When it comes to this, it refers to creating useful content about varied subjects that you can monetize afterward. Or it can be the other way around. Sell your services to others to boost their business' online presence.
Personalized Services Business
It is somehow similar to running an online grocery service, but this time, it is about running personal or other errands for your customers. It can be about buying their medications, hardware needs, gadgets, or any other things they need, as long as they are available in the area.
Franchising
Well, some may think this is not the best time to acquire a franchise, but it is the opposite. In the recent Online Franchise Expo 2020, Mr. Rudolf Kotik of RK Franchise Consultancy and Gofran shared his insights as to why you should franchise today. According to him, there is always the opportunity in franchising with all the discount offers of many franchises now, plus the fact that some landlords may actually be more generous now in giving discounts or rents.
Conclusion
In a nutshell, the pandemic hit us hard, and many are still actually striving to survive. For companies, letting go of their employees is hard, and more so, shutting down their services. Yet, since this is an unpredictable event, we cannot do anything other than to accept the fact that this virus is around us.
So, what can we do to at least lessen its effects, particularly on the economy? First, is to have the initiative to adapt to the trends. Second, use your creative juices to come up with a substantial new business idea. Third, make sure you have an interest in the business you chose; otherwise, it will be just a wasted effort.
There is always an opportunity for those who are ready. Rather than considering this pandemic as a threat to earn, view it as an opportunity to learn something new and gain new sources of steady money flow.
Still, we hope that you will continue to hold on until we finally contain this deadly virus. As part of our initiative, your Franchise Market Philippines team continues to provide useful and helpful articles that can add significant value to aspiring entrepreneurs' dreams of owning a business. Check out other franchise and business articles now!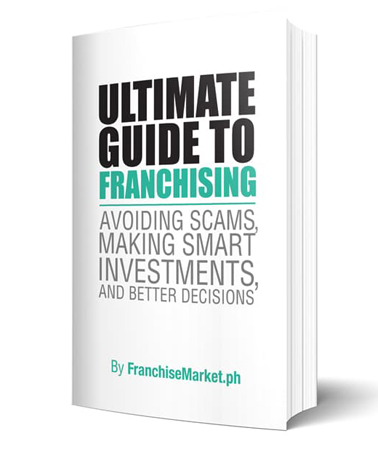 Ultimate Guide to Franchising
Avoiding Scams, Making Smart Investments, and Better Decisions
The franchise industry is booming, and entrepreneurs are wondering about how this sector works. This ebook aims to help aspiring franchisees achieve their business goals.
Learn more
Back to Blog
Disclaimer: Franchise Market Philippines strives to provide relevant and accurate information in all its articles. However, some information in our articles may differ or might be outdated from what you can see or read directly from the establishments' or businesses' websites. Please get in touch with us directly for any discrepancies.