Milk tea is one of the most popular teas in the Philippines in the past few years, with many tea shops and Franchises across the country. Indeed, Milk tea has gained a significant following among Filipinos of all ages and has become a go-to-beverage choice for many.
In the Philippines, the milk tea industry has grown continuously, presenting young businesses with a perfect opportunity to get into this developing market. 
This article will walk you through the world of milk tea franchises in the Philippines, emphasizing the most attractive business that may help you become a successful entrepreneur.
Franchising a milk tea brand can be a profitable company opportunity, but certain aspects that make a certain brand ideal for franchising must be considered. 
Here are some important factors to consider.
Has a competitive advantage
Adaptability and Innovative
Strong brand Reputation
Strong consumer Demand
Legal and regulatory compliance
Take a look at these awesome milk tea franchises in the Philippines:
1. Chatime
Chatime, as its name implies tea time, is just one of the most famous milk tea franchises in the Philippines. Henry Wang Yao-Hui founded it in 2005 in Hsinchu, Taiwan.
It has expanded to more than 1000 locations worldwide in just seven years, making this brand globally certified. The Chatime franchise package includes a contract term of three (3) years. 
Its franchise model is individual, which means that most of your sales go to you and a small part to Chatime. Store location has to be 40 to 60 sqm, with at least four (4) to eight (8) staff members for the store's operation. 
The franchising package includes a 15-day training for the crews. This consists of 6-day operational instructions, a 2-day management strategy for the franchisee or manager, 6-day functional training, and assessment days. 
What sets Chatime above its competitors is their research and development, where they have their exclusive food lab to innovate their drinks.
Quick Facts
Number of Stores: Approximately 2500 outlets in 38 countries
Franchise Fee: PHP 2,500,000
Investment Capital: PHP 2.5 to 8 million
Contact Details:
Email: [email protected]
Website: http://www.chatime.com.ph/
Facebook: https://www.facebook.com/chatimephilippines/ 
Learn more about Chatime's franchise information.
2. Gong Cha
Gong Cha, which means Tribute Tea, originated from providing the most premium and refined teas to China's Emperor. Contrary to what most believed that it is a Singaporean brand, it was established in Taiwan in 2006 by a Hong Kong native.
Six years after it was established, it has grown into an international brand with stores in different sides of the world such as Hong Kong, Macau, Singapore, South Korea, New Zealand, Australia, Malaysia, mainland China, Canada, the United States, the Philippines, Myanmar, Vietnam, and Brunei.
It has more than 1,500 outlets available in the world. This brand boasts various flavors that make their customers come back for more.
For those in the United States who wish to franchise Gong Cha, a single-franchise unit is available with a franchise fee of $39,500 per unit or around 2 million Philippine pesos. One can put up the franchise in New York, New Jersey, Massachusetts, and Texas.
Quick Facts
Number of Stores: 1,650 stores
Franchise Fee: PHP 1,500,000
Investment Capital:  PHP 1.5 to 16 million
Contact Details:
Email: [email protected] 
Website: http://gongcha.ph/ 
Facebook: https://www.facebook.com/gongcha.ph/  
Learn more about Gong Cha's franchise information
3. Macao Imperial Tea
Macao Imperial Tea, from the name itself, came from Macau. It is the first milk tea brand that served the people in China.
Its establishment has expanded with over 300 branches to Asia like Vietnam, Malaysia, Singapore, the United States, Canada, and the Philippines. 
In the Philippines alone, it already has forty outlets worldwide, most located in Manila. Macao Imperial Tea is proud to serve its customers with top-most quality controlled drinks and foods. 
The tea leaves are sourced initially out from Macao to ensure the authentic taste the customers deserve and stay true to its Macao roots. They have 61 different varieties of drinks, not limited to milk tea, soda, coffee, and chocolates, alongside nine add-ons that one can choose from. 
Their beverages come in cute reusable containers as part of their marketing strategy. Customers enjoy a ten percent off on the next purchase when they bring the reusable tumbler.
Quick Facts
Number of Stores: 400 stores
Franchise Fee: PHP 1,500,000
Investment Capital: PHP 9 million
Contact Details:
Email: [email protected] 
Website: https://fredleygroup.com/macao-imperial-tea
Facebook: https://www.facebook.com/MacaoImperialTeaPH/ 
Learn more about  Macao Imperial Tea's franchise information.
4. Serenitea
Serenitea was founded in 2008. Contrary to other popular milk tea brands available in the Philippines, Serenitea started in the said country. 
Juliet Herrera and Peter Chen began their line and brand of milk tea after immersing themselves in Taiwan to study tea. What makes Serenitea different from the others is the way they prepare their tea. 
They use an espresso machine in brewing the tea to customize it in terms of sweetness level and sinkers. They have also designed the tea shops with cozy settings and ambiance that people enjoy in coffee shops. 
The couple admitted that it was a risk to try it on, but they didn't lose hope. They are thankful to the food bloggers, writers from magazines and newspapers for the word-of-mouth advertising and recommendations that made the brand known to many Filipinos. Currently, Serenitea has over fifty (50) shops all over the country in ten years.
Quick Facts
Number of Stores: 62 stores
Franchise Fee: PHP 1,700,000
Investment Capital: PHP 2 million
Contact Details:
Email: [email protected]
Website: http://www.iloveserenitea.com/
Facebook: https://www.facebook.com/iloveserenitea 
Learn more about Serenitea's franchise information.
5. Ochado Milk Tea
From milk teas originating from Taiwan and China, Ochado started in Singapore in 2010. However, the word Ochado comes from two Japanese words OCHA and CHADO, which mean "tea" and "Japanese way," respectively. 
This brand focuses on brewing the tea the Japanese way, and it has been well-loved and accepted by the people in Singapore. Not too long after, it established outlets in its neighboring countries like Cambodia, Brunei, Malaysia, Indonesia, and the Philippines. 
They offer a cost-effective franchise program package and have a dedicated team working on product innovation and marketing strategies. One of the benefits of franchising Ochado is the security of enormous profit when success formulas are met, such as low-cost supplies, proper placement, and useful marketing techniques. 
Ochado currently has two franchise packages that you can choose from. Each package consists of the franchise fee, raw materials, essential equipment, POS system, and store construction. Security deposit and aircon are not included. The store size depends on the package that you will avail. The minimum area of the store is 30 square meters.
Learn more about Ochado's franchise information.
6. Happy Cup
HAPPY CUP is the business venture of celebrity sisters Toni Gonzaga-Soriano and Alex Gonzaga. Part of the company's Board of Directors is Crisanta Gonzaga, Carlito Gonzaga, and Khrizia Sta. Ana. 
This milk tea brand offers various beverage products in frappes, milk teas, and pearl coolers at affordable prices. Starting the business was not easy, but the excellent teamwork and outstanding management skills of the Gonzagas led to the success of this business.
Learn more about Happy Cup's franchise information.
7. Drip Tea
Driptea started last March 2019. It was founded by Mr. Lesther "Thor" Gomez, a former barista. After months of researching and attending business seminars, the founder decided to put up a milk tea shop as he saw that the business is booming. 
He named it Driptea. It is conceptualized after his mother's established wellness company specializing in Gluta IV Drip. Despite experiencing financial turmoil over a failed family restaurant business, he still tried his luck and opened a mini beverage stand at their old restaurant's place. 
He ventured into this business using a borrowed P20,000 capital. Soon, Drip Tea becomes a household name with the catchy tagline 'Your Daily Dose of Milk Tea.' It now has over 80 branches nationwide.
Learn more about Drip Tea's franchise information.
8. Cha Tuk Chak
CHA TUK CHAK is the leading Thai Tea brand globally, known for bringing Thailand's authentic flavors to the Philippines. 
This brand pioneered the Thai Tea wave in the Philippines and is recognized as the country's best Thai tea, mainly attributed to its superior taste and authenticity. 
All the products have the perfect blend of aroma, flavor, and like that captures the best representation of Thailand's local essence, making CHA TUK CHAK distinct from Taiwanese-influenced milk tea shops in the market. It is a growing brand with 14 stores and more new openings coming soon.
Learn more about Cha Tuk Chak's franchise  information.
9. Cha Thai
Developed by Farron Café, Cha Thai Authentic Thai Drinks is a famous milk tea franchise specializing in Thai drinks. 
Their creations are made from the finest quality tea with unique flavors and refreshing taste. The franchise fee is suitable for P56,000, including a wholesome milk tea franchise with a significant social media following, proven business model, and hands-on management. The total estimated investment is P299,000.
Learn more about Cha Thai's franchise information.
10. Bubble Tea Station
Popularly known as BTS, brace yourself but do not get mad; it is not the famous Korean boy group.
Bubble Tea Station is one of Cebuano's favorite. It is owned by Meyan Young, whose love for milk tea led to its creation in 2012.
It only started as a kiosk but now has more than 20 branches.
Learn more about Bubble Tea Station's franchise information
11. Coco Fresh Tea & Juice
Coco Fresh Tea & Juice first opened in 1997. Coco is presently the leading brand in the fresh tea beverage sector for bubble tea. Coco maintains its global reach by expanding in Japan, Thailand, Australia, New Zealand, the United kingdom, Canada, and the United States.
To be a leading brand in the freshly-made beverages sector, Coco Fresh Tea & Juice continues to embrace heritage while unleashing new innovations.
Coco is known for implementing a worldwide buying program to assure the quality of our goods by acquiring the best seasonal fruits and other essential components. Coco's distinctive drinks are filled with freshness and lovely flavors, made from fresh fruits and whole leaf teas acquired from the greatest sources, both local and beyond.
Quick Facts
Number of Stores: 4,500 Stores worldwide and counting
Franchise Fee: PHP 3 Million to 3.5 Million
Contact Details:
Website: https://coco-tea.ph/about-us/
Email: [email protected]
Learn more about Coco fresh Tea & Juice franchise information. 
12. D'Cream Coffee & Tea
D'Cream Coffee & Tea is a well-known milk tea chain that began in Taiwan and quickly garnered popularity among both residents and tourists. D'Cream Coffee & Tea has swiftly become popular among milk tea fans of Taiwan's unique taste since its entrance to the Philippines.
    
Muscovado pearls are a well known product from D'cream Coffee & Tea. This beverage has a refreshing taste profile that sets it apart from other milk teas by mixing the richness of fresh and creamy milk with the sweetness of 100% organic muscovado sugar.
If you love milk tea and want to start your own business, try D'cream Coffee & Tea. With their appealing menu and taiwan inspired tastes, you have the opportunity to capture milk tea fans and develop a profitable franchise in the Philippines dynamic and ever-popular milk tea business.
Quick Facts
Number of Stores: 6 stores
Franchise Fee:For inquiry-(02) 524 1352
Investment Capital: For inquiry-(02) 524 1352
Contact Details:
Phone: 025241352
Email: [email protected] 
Learn more about D'cream Coffee and Tea Franchise Information.
13. Dakasi
Enjoy a sensory experience with Dakasi, the pearl milk tea beverage brand that has taken Asia by storm and is now delighting taste buds in the Philippines. Dakasi has established itself as a beacon of quality and innovation via its devotion to perfection and commitment to making the greatest drinks.
Dakasi is more than simply a milk tea brand; it is a provider of beautiful tastes that linger in the mind. Dakasi mixes the best ingredients with precise workmanship to produce a selection of extraordinary milk tea masterpieces, drawing influence from the rich traditions of Taiwanese drinks.
If you have an unrelenting passion for outstanding beverages and a desire to indulge in the finest milk tea concoctions, Dakasi is the brand that will exceed your expectations. 

Quick Facts
Number of Stores: Over 1000 shops spread over asia
Franchise Fee: PHP 56,000
Investment Capital: PHP 299,000
Contact Details:
8355-6492
Learn more about Dakasi.
14. Happy Lemon
Happy Lemon, which was founded in Hong Kong in 2006, has committed itself to creating the world's most delicious beverages. With over 500 stores worldwide, including sites in China, the United States, Australia, the Philippines,Thailand, and South Korea, Happy Lemon has become a household name synonymous with delectable tastes and refreshing beverages.
Because of its dedication to sharing happiness through delicious beverages, Happy Lemon has expanded its worldwide reach. Happy Lemon's popularity has skyrocketed, captivating taste buds and bringing smiles to people's faces everywhere from bustling cities to remote corners of the globe. Happy Lemon's dedication to quality and the quest of Delicious at each location continues to delight customers.
Happy lemon values client happiness and strives to give not just excellent beverages but also an enjoyable time. Every part of Happy Lemon is meant to provide a pleasant environment where customers can relax an  d indulge in their favorite beverages, from the courteous and attractive staff to the bright and attractive store design.
Quick Facts
Number of Stores: Over 1000 stores globally
Franchise Fee: PHP 2,204,294 
Investment Capital: PHP 17,231,385
Contact Details:
Phone: (032) 410 6203
Learn more about Happy Lemon Franchise Information
15. Tiger Sugar
Tiger Sugar rose from humble origins in Taichung, Taiwan, in 2017 to become a beloved cult brand of Boba globally. Tiger Sugar's cocktails, known for their distinctive "tiger stripes" and exquisite taste, not only please the palate but also transmit a gripping tale through each hand-poured syrup-infused concoction.
Imitation is lovely, but Tiger Sugar is unparalleled in its dedication to authenticity. While many businesses have sought to recreate our legendary black sugar bubble tea, our time-tested methods continue to win.
Awaken your senses in the exciting world of Tiger Sugar. Walk into any of our locations and you'll be greeted by the tempting scent of freshly brewed tea, the amazing sight of handmade tiger stripes, and your excitement of sipping a genuinely exceptional cup. Our beverages not only taste great, but they also capture the soul of our unique tale, which is made with care and passion.
Quick Facts
Number of Stores: 40 stores
Franchise Fee: [email protected] 
Investment Capital: [email protected] 
Contact Details: [email protected]
Learn more about Tiger Sugar Franchise Information
16. Yi Fang
Yi Fang, which was founded in Taiwan in 2012, has become a well-known chain noted for its delightful fruit tea options and commitment to utilizing natural ingredients. Yi Fang has grabbed the hearts of tea fans worldwide, producing beverages that exhibit the authentic essence of Taiwanese fruit tea.
Yi Fang takes pleasure in creating tasty and genuine fruit tea drinks. Yi Fang's fruit teas capture the genuine flavor of freshly plucked fruits by utilizing only the best natural ingredients.
Each sip exposes a balanced combination of flavors, allowing you to savor nature's bright taste with every refreshing drink. Yi Fang's unique fruit tea beverages are a celebration of natural goodness, with flavors ranging from the sweetness of ripe mangoes to the tanginess of citrus fruits.
Quick Facts
Number of Stores: 200 stores
Franchise Fee: PHP 1,672,950
Investment Capital: PHP 8,420,515
Contact Details:
02-7623-0066
0917-638-6770
Learn more about Yi Fang Franchise Information
Advantages and Disadvantages of Milk Tea Franchises in the Philippines
ADVANTAGES
1.) Growing demand: The milk tea industry is enjoying an increase in popularity, providing potential entrepreneurs with a profitable market opportunity.
2.) Milk tea offers a wide range of taste combinations and personalization, catering to a wide range of client preferences and increasing the possibilities for consumer happiness.
3.) Social media appeal: The aesthetically appealing aspect of milk tea makes it widely shareable on social media platforms, offering free marketing exposure and the potential for popular promotion.
4.) Franchise potential: Milk tea businesses frequently offer franchise opportunities, giving a ready-made business model, proven brand awareness, and help for individuals looking to enter the field.
DISADVANTAGES
1.) Intense competition: The milk tea sector is extremely competitive, with an abundance of established brands and local competitors fighting for client attention and market share.
2.) Oversaturation: As more milk tea enterprises enter the market, there is a risk of oversaturation, making it more difficult to stand out and establish a devoted client base.
3.) Rising costs: Changes in ingredient pricing, rent, labor, and other operational expenditures can have an influence on profit margins and offer financial difficulties for a milk tea firm.
4.) Changing customer preference: Consumer tastes and trends change over time, therefore it is critical to keep current and alter the menu, flavors, and products to suit to evolving preferences while maintaining customer satisfaction.
CONCLUSION
Business is a risky decision. General knowledge on the market like how to run it is beneficial for entrepreneurs but seeking professional support will significantly make a long way in your business endeavor.
For those who wish to ride on the milk tea craze and have been contemplating to acquire franchising rights on one of the best milk tea brands in the Philippines, seeking help from franchise consultants can be a significant step towards attaining business success. Franchise consultants work directly with franchisors and help the latter to close deals for franchise sales.
But before anything else, it is best to understand and have in-depth knowledge about franchising. You can research and read a thing or two about franchising to see if this business venture is really for you. Learning it from the heart can prevent you from committing possible mistakes and saving you from franchising scams.
Once you have decided which milk tea brand you would like to franchise, make sure to complete and check first all the essential details you need. Have a checklist on you so you won't miss a thing. Should you wish to try on other brands aside from milk tea, you can browse other businesses in the market available for franchising.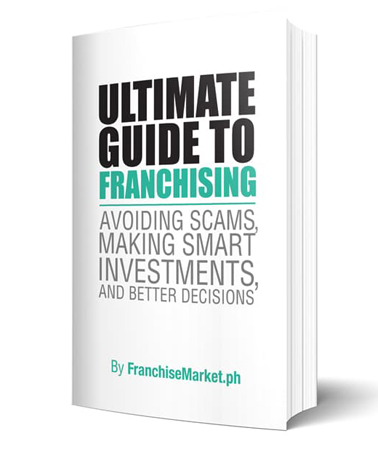 Ultimate Guide to Franchising
Avoiding Scams, Making Smart Investments, and Better Decisions
The franchise industry is booming, and entrepreneurs are wondering about how this sector works. This ebook aims to help aspiring franchisees achieve their business goals.
Learn more
Back to Blog
Disclaimer: Franchise Market Philippines strives to provide relevant and accurate information in all its articles. However, some information in our articles may differ or might be outdated from what you can see or read directly from the establishments' or businesses' websites. Please get in touch with us directly for any discrepancies.