The milk tea craze has just been getting crazier. Such a business industry has grown popular among the Filipinos over the past few years.
Several theories have surrounded where the famous beverage originated. Liu Han Chie of Chun Shui Tang Teahouse in Taichung, Taiwan, claimed that he tried out the idea of cold tea after observing the Japanese people who enjoyed drinking cold coffee. 
He experimented with cold milk tea by adding various elements like fruits, syrup, candied yams, and tapioca pearls in the 1990s. The drink became popular in most parts of East and Southeast Asia. Several milk tea brands have emerged over the years since it has become famous in the country.
Now, what makes a specific milk tea brand suitable for franchising.
Strong brand presence and recognition by consumers 
Something that people look for and remember
A good range of products
Adaptability and innovative
A handful of existing branches or franchises
Here are some of the best milk tea franchises in the Philippines:
1. Chatime
Chatime, as its name implies teatime, is just of the most famous milk tea houses in the country. Henry Wang Yao-Hui founded it in 2005 in Hsinchu, Taiwan.
It has expanded to more than 1000 locations worldwide in just seven years, making this brand globally certified. The Chatime franchise package includes a contract term of three (3) years. 
Its franchise model is individual, which means that most of your sales go to you and a small part to Chatime. Store location has to be 40 to 60 sqm, with at least four (4) to eight (8) staff members for the store's operation. 
The franchising package includes a 15-day training for the crews. This consists of 6-day operational instructions, a 2-day management strategy for the franchisee or manager, 6-day functional training, and a day for assessment. 
What sets Chatime above its competitors is their research and development, where they have their exclusive food lab to innovate their drinks.
Learn more about Chatime's franchise information.
2. Gong Cha
Gong Cha, which means Tribute Tea, originated from providing the most premium and refined teas to China's Emperor. Contrary to what most believed that it is a Singaporean brand, it was established in Taiwan in 2006 by a Hong Kong native.
Six years after it was established, it has grown into an international brand with stores in different sides of the world such as Hong Kong, Macau, Singapore, South Korea, New Zealand, Australia, Malaysia, mainland China, Canada, the United States, the Philippines, Myanmar, Vietnam, and Brunei.
It has more than 1,500 outlets available in the world. This brand boasts various flavors that make their customers come back for more.
For those in the United States who wish to franchise Gong Cha, a single-franchise unit is available with a franchise fee of $39,500 per unit or around 2 million Philippine pesos. One can put up the franchise in New York, New Jersey, Massachusetts, and Texas.
Learn more about Gong Cha's franchise information
3. Macao Imperial Tea
Macao Imperial Tea, from the name itself, came from Macao. It is the first milk tea brand that served the people in China.
Its establishment has expanded with over 300 branches to other parts of Asia like Vietnam, Malaysia, Singapore, the United States, Canada, and the Philippines. In the Philippines alone, it already has forty outlets worldwide, most of which are located in Manila. Macao Imperial Tea is proud to serve its customers with top-most quality controlled drinks and foods. 
The tea leaves are sourced initially out from Macao to ensure the authentic taste the customers deserve and stay true to its Macao roots. They have 61 different varieties of drinks, not limited to milk tea, soda, coffee, and chocolates, alongside nine add-ons that one can choose from. 
Their beverages come in cute reusable containers as part of their marketing strategy.  Customers enjoy a ten percent off on the next purchase when they bring the reusable tumbler.
Learn more about  Macao Imperial Tea's franchise information.
4. Serenitea
Serenitea was founded in 2008. Contrary to other popular milk tea brands available in the Philippines, Serenitea started in the said country. 
Juliet Herrera and Peter Chen began their line and brand of milk tea after the latter immersed himself in Taiwan to study tea. What makes Serenitea different from the others is the way how they prepare their tea. 
They use an espresso machine in brewing the tea to customize it in terms of sweetness level and sinkers. They have also designed the tea shops with cozy settings and ambiance that people enjoy in coffee shops. 
The couple admitted that it was a risk to try it on, but they didn't lose hope. They are thankful to the food bloggers, writers from the magazines and newspapers for the word of mouth advertising, and recommendations that made the brand known to many Filipinos. Currently, Serenitea has over fifty (50) shops all over the country in ten years.
Learn more about Serenitea's franchise information.
5. Ochado Milk Tea
From milk teas originating from Taiwan and China, Ochado started in Singapore in 2010. However, the word Ochado comes from two Japanese words OCHA and CHADO, which mean "tea" and "Japanese way," respectively. 
This brand focuses on brewing the tea the Japanese way, and it has been well-loved and accepted by the people in Singapore. Not too long after, it established outlets in its neighboring countries like Cambodia, Brunei, Malaysia, Indonesia, and the Philippines. 
They offer a cost-effective franchise program package and have a dedicated team working on product innovation and marketing strategies. One of the benefits of franchising Ochado is the security of enormous profit when success formulas are met, such as low-cost supplies, proper placement, and useful marketing techniques. 
Ochado currently has two franchise packages that you can choose from. Each package consists of the franchise fee, raw materials, essential equipment, POS system, and store construction. Security deposit and aircon are not included. The store size depends on the package that you will avail. The minimum area of the store is 30 square meters.
Learn more about Ochado's franchise information.
6. Happy Cup
HAPPY CUP is the business venture of celebrity sisters Toni Gonzaga-Soriano and Alex Gonzaga. Part of the company's Board of Directors is Crisanta Gonzaga, Carlito Gonzaga, and Khrizia Sta. Ana. 
This milk tea brand offers various beverage products in frappes, milk teas, and pearl coolers at affordable prices. Starting the business was not easy, but the excellent teamwork and outstanding management skills of the Gonzagas led to the success of this business.
Learn more about Happy Cup's franchise information.
7. Drip Tea
Driptea started last March 2019. It was founded by Mr. Lesther "Thor" Gomez, a former barista. After months of researching and attending business seminars, the founder decided to put up a milk tea shop as he saw that the business is booming. 
He named it Driptea. It is conceptualized after his mother's established wellness company specializing in Gluta IV Drip. Despite experiencing financial turmoil over a failed family restaurant business, he still tried his luck and opened a mini beverage stand at their old restaurant's place. 
He ventured into this business using a borrowed P20,000 capital. Soon, Drip Tea becomes a household name with the catchy tagline 'Your Daily Dose of Milk Tea.' It now has over 80 branches nationwide.
Learn more about Drip Tea's franchise information.
8. Cha Tuk Chak
CHA TUK CHAK is the leading Thai Tea brand globally, known for bringing Thailand's authentic flavors to the Philippines. 
This brand pioneered the Thai Tea wave in the Philippines and is recognized as the country's best Thai tea, mainly attributed to its superior taste and authenticity. 
All the products have the perfect blend of aroma, flavor, and like that captures the best representation of Thailand's local essence, making CHA TUK CHAK distinct from Taiwanese-influenced milk tea shops in the market. It is a growing brand with 14 stores and more new openings coming soon.
Learn more about Cha Tuk Chak's franchise  information.
9. Cha Thai
Developed by Farron Café, Cha Thai Authentic Thai Drinks is a famous milk tea franchise specializing in Thai drinks. 
Their creations are made from the finest quality tea with unique flavors and refreshing taste. The franchise fee is suitable for P56,000, including a wholesome milk tea franchise with a significant social media following, proven business model, and hands-on management. The total estimated investment is P299,000.
Learn more about Cha Thai's franchise information.
10. Bubble Tea Station
Popularly known as BTS, brace yourself but do not get mad; it is not the famous Korean boy group.
Bubble Tea Station is one of Cebuano's favorite. It is owned by Meyan Young, whose love for milk tea led to its creation in 2012.
It only started as a kiosk but now has more than 20 branches.
Learn more about Bubble Tea Station's franchise information
CONCLUSION
Business is a risky decision. General knowledge on the market like how to run it is beneficial for entrepreneurs but seeking professional support will significantly make a long way in your business endeavor.
For those who wish to ride on the milk tea craze and have been contemplating to acquire franchising rights on one of the best milk tea brands in the Philippines, seeking help from franchise consultants can be a significant step towards attaining business success. Franchise consultants work directly with franchisors and help the latter to close deals for franchise sales.
But before anything else, it is best to understand and have in-depth knowledge about franchising. You can research and read a thing or two about franchising to see if this business venture is really for you. Learning it from the heart can prevent you from committing possible mistakes and saving you from franchising scams.
Once you have decided which milk tea brand you would like to franchise, make sure to complete and check first all the essential details you need. Have a checklist on you so you won't miss a thing. Should you wish to try on other brands aside from milk tea, you can browse other businesses in the market available for franchising.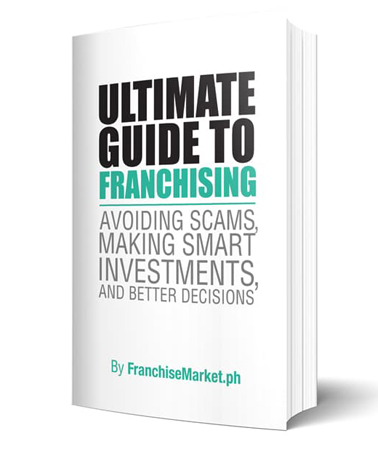 Ultimate Guide to Franchising
Avoiding Scams, Making Smart Investments, and Better Decisions
The franchise industry is booming, and entrepreneurs are wondering about how this sector works. This ebook aims to help aspiring franchisees achieve their business goals.
Learn more
Back to Blog