Are you an aspiring entrepreneur with a great idea in mind? Or perhaps, a businessman who plans to expand his business but has no fund? Well, this is the most common problem that most entrepreneurs face today - the lack of funding sources that can help them realize their dream businesses.
If you are reading this right now, you are probably searching for ways on how you can secure funding for your business venture. It is essential to understand the kind of financing that you need. Is it for a start-up business, for franchise expansion or to sustain your current funds? You need to find the answer to that question because that will technically give you the right approach to follow.
One should understand that finding funds, regardless of your country's economy, is never easy. It is challenging and stressful, especially if you do not have any idea of how this works. Hence, to help you find the money needed, here are some financing techniques (according to your needs) that can help you.
Common Ways to Find Financing for the Business
1. Bootstrapping
Bootstrapping means financing your company by scraping together any personal funds you have. This may include your savings account, credit cards, and any home equity sources you may have.
This method saves you from the pitfalls that may arise as a result of borrowing money from others. It has more advantages in terms of not paying interest or having collaterals in exchange for the loan amount. With this, some entrepreneurs continue to bootstrap until their business becomes stable and profitable.
2. Consider Friends and Family
This approach may seem unrealistic, but this works. Asking your friends or relatives for money might be embarrassing, but tapping only those closest to you is often an excellent way to get external funding.
However, before doing this, make sure that you have a secured business plan that you can present. This is important so they can understand what is going on, and explain to them the business. Of course, you should also set proper expectations and let them know the possibility of them getting their money back or not (though they can give it to you as a gift).
3. Check alternative funding sources
If your goal is to find funds for not a considerable amount, you can always opt to tap micro-loan organizations that offer loans with lower interests.
Another alternative is through crowdfunding sites such as Kickstarter and IndieGoGo, which provides you with a platform to raise money from individuals, and interested supporters across the web.
To do this, you need to set-up a campaign and indicate the target amount to raise. You must also create perks for donors who pledge a certain amount of money. The campaign should have a specified period.
Remember that with Kickstarter, you can only keep the money if you raise the full amount of your goal. Compared to IndieGoGo that will let you keep all the proceeds.
Funding Techniques for Small Business Owners
4. Look for Local Business Centers
In the Philippines, the Department of Trade and Industry (DTI) has the GoNegosyo Act to help entrepreneurs with micro small and medium enterprises (MSMEs) in their funding and overall business growth. This program enables you to connect with other entrepreneurs and widen your networks. Moreover, the local chamber of commerce and industry may also help you in getting information and guidance in terms of where to get local funding.
5. Try Bank Loans
Compared to lending companies, banks offer lower interest for businessmen. Unlike the other types of loans (housing, auto), a business loan has high chance of getting approved, provided that you have all the pertinent documents needed during the application process.
In the Philippines, many business opportunities are possible such as franchising. Hence, if you think this is a venture that you want to try, then secure your funds as early as now.
 
Here are some of the banks that offer business loans for entrepreneurs, including franchisees and franchisors.
BDO has a Small Business Loan specifically for entrepreneurs. They can borrow at least P1 million for a minimum term of one year.
Land Bank has a loan product specifically for overseas Filipino workers (OFWs) in cooperation with the Overseas Workers Welfare Administration (OWWA). Here, OFWs could borrow from P300,000 up to P2 million.
PSBank has an SME Business Credit Line, a one-year credit line where funds are accessed by writing checks. The SME Term Loans with Prime Rebate allows loan terms of up to 7 years will enable customers to earn rebates when they make advance or excess payments.
BPI Family Savings Bank, through BPI Family's Ka-Negosyo Loans, make financing available for entrepreneurs looking for loans, including franchising loans,  that is (and so far) unique to BPI; the minimum term for such a loan is two years at a base amount of P500,000.
Funding Techniques for Start-ups
6. Look for Angel Investors
For start-ups, it will be really hard to sustain your business with all that you have, especially if you do not have enough savings. You need more money than what bootstrapping, or crowdfunding can do. 
In this case, try to consider the help of angel investors. They are business professionals with high net worth investing in promising companies. Sometimes, finding angels can be frustrating, so try to use your network for leads, ask other entrepreneurs, or check out the Angel Invest Network, a platform that connects Filipino entrepreneurs to the angel investors.
7. Venturing Into Bigger Capital
What if you really need a huge amount in millions? This means you seriously need now venture capitalists (VCs) through venture capital. VCs are picky individuals since they need to evaluate your proposal carefully. They ask for a more in-depth explanation of the business and a comprehensive business plan. In return, if they approve your plan, they can give you larger amounts of money to pursue the business.
This type of investment is usually a high risk on the investor's side but always opens the potential for significantly higher returns than usual. Hence, the goal here is to make your business stand out from others.
Moreover, take note that VCs are looking for a return that is ranging from 3-10 times their original investment within 5-7 years. That is why choosing this option means having an effective exit strategy in mind.
 
Other Ways for Funds Strategy
8. Consider Peer to Peer Lending
This is the best option if you want to borrow money with a lower interest than banks. Peer-to-peer lending is the process of borrowing and lending money using a platform that does not require going to the bank or other financial institution.
Usually, the process of this starts with an online company bringing borrowers and lenders together. Then, they will discuss the terms of the deal, including the interest rates.
P2P works well because there is no need for bank intervention and offers better deals for the borrower and the lender. The flexible rates make the borrowers get the money needed without thinking too much overthinking about the interest. On the other hand, the lenders still get profit from the interest rate paid by the borrowers.
In the Philippines, there are many P2P lending platforms online that you can try. They provide an accessible and transparent financial exchange via a secured transaction. Moreover, they are governed by the Philippine laws and regulations while using secured state-of-the-art technology for the safety and privacy of its clients.
Here are some of the known P2P lending sites in the Philippines:
9. Try Government Loan
You can always opt for government loans to suffice your funding needs.
For example, the Social Security Service (SSS) offers business loans through its Business Development Loan Facility. It is a lending facility designed to contribute to the nation's economic growth and development by providing financial assistance to the business sector. It is intended to increase productivity and enhance the potential earnings of entrepreneurs through expansion, diversification, and other business development projects.
Also, the Government Service Insurance System (GSIS) also offers Enhanced Conso-Loan Plus, wherein members who have at least 15 years of service with paid premiums may borrow a 12-month salary loan while those who render service for not less than 25 years will be eligible for a 14-month loan.
The previous credit limit for members was only ten times their salary, but GSIS also extended the maximum payment term from 6 to 10 years for members with not less than ten years of paid premiums.
Conclusion
In the end, finding a funding source for your business is not a one-day task. It is something that makes you anxious and hopeless at times, but not a struggle that should push you down.
There are always available financing for every business venture. All you need is a great plan and the confidence that you can get the funds you need just in time.
Read more Franchise Market articles that should inspire you to become a franchisee or an entrepreneur in the future. With the Franchise Market, we guide you in fulfilling your dream franchise goal.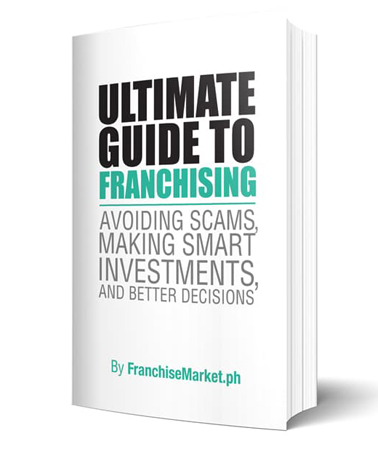 Ultimate Guide to Franchising
Avoiding Scams, Making Smart Investments, and Better Decisions
The franchise industry is booming, and entrepreneurs are wondering about how this sector works. This ebook aims to help aspiring franchisees achieve their business goals.
Learn more
Back to Blog