Franchising is a significant venture and anyone who got the will and determination to try this as an investment has the potential to excel in this industry. With the booming franchise in the Philippines, anyone can be entrepreneurs, but not anybody succeeds in becoming the right franchisees.
One of the reasons why franchises in the Philippines fail is because of the franchisee's wrong beliefs in franchising. There are prevailing ideologies that seem right for them, but in reality, it makes the business suffer.
Among these beliefs are the following:
1. Always Avoid the Grey Areas 
Franchising is a safe growth opportunity. However, you have to avoid grey areas as a newbie in the field. Otherwise, you will end up as a failure, as most new and aspiring entrepreneurs tend to overlook this part.
2. Bigger Business Does Not Guarantee You Success
The top franchises in the Philippines are not only those that come from big corporations. The stereotype that only big businesses thrive well in the industry needs to get debunked because small brands today can also give excellent franchise opportunities for everyone.
The key is to research well the business - the popularity of their service or product, the owner and his or her credentials, the marketing tactics of the brand, what is the media talking about the franchisor, or if there is a robust support and training system in place.
3. Being the First is a Risk
It is not a prank. You must be very careful and think it out clearly before committing to becoming the first franchisee of a business. Always think that being the first may put you in unexpected situations without having a smooth sailing ground.
This is because the franchisor himself or herself is still learning the game. When this happens, you may feel more insecure and might have to wait longer on return on investments (ROI).
However, put in mind that this is not to threaten franchisees but for them to take this advice as a personal choice for the chosen franchise.
4. Talk To Your Franchisor
It is the golden rule to discuss important requirements of running a successful franchise business with your franchisor. Do not act like you know everything and ask your franchisor all the questions you have in mind. Let your franchisor acknowledge the fact that you need help in running the business well.
While it is true that franchisors should provide necessary training to the franchisees, not having enough time may cut the learning process. If possible, you can self-learn or take personal training to improve your skills and knowledge about business management.
The bottom line is to always take into consideration who are you going to partner with. Always look for a partner who can impart meaningful training to you and make your business a success.
5. You Are Not Always Your Boss
When it comes to franchising, it is an illusion to think that you are the boss. Your franchisor monitors everything that you do, and you do not have the complete freedom to take charge of whatever changes you want to implement in the business.
Simplified, you have to orient yourself that you are the boss for your employees only but not against your franchisor and other franchisees in the system. Act accordingly and follow the protocols as this is one good way to maintain the best relationship with your franchisor.
6. Franchisor Is Equals to Franchisee
Reality will strike you hard when you realize that your franchisor is still doing well even if you are struggling. Why? This is because a franchisor can continue to make profits, even if the franchised business is not doing well.
In this case, the franchisor will continue to get margins and royalties from franchisees in the system. This sounds unfair, but it is part of the downsides and risks as a franchisee. Hence, think well and prepare yourself with the worst-case scenarios if possible.
7. Being Too Confident Financially
To tell you, banks and lending companies are always willing to finance franchises than independent businesses, especially if you have a well-done franchise business plan. This is because they know that the business already has a strong foundation in the market.
However, time may come that they may not believe in you or the chosen franchise. So, do not be complacent that you can always take loans to finance a franchise. If you are working now, set up a home-equity loan before quitting your job. In this case, the choice will be totally yours and not the bank or the lender.
8. All Franchise Systems Are The Same
This is a common misconception. Choosing the biggest franchise with the lowest price is a dumb choice. Remember that each system has a culture of its own. Hence, the best thing to do is to meet with the franchisor and talk to other franchisees to see how you'll fit in.
These days, some franchisors even offer lower royalties as you gain experience and grow your business. This also comes with minimal renewal fees and other features to show their commitment to your success.
9. I Do Not Need an Attorney or Accountant
If you think that a franchise business does not need a lawyer or a bookkeeper, then it is your choice. However, in reality, they are really helpful since the beginning of the business to avoid mistakes which can be costly in the long run. Therefore, be sure to have a professional involved before you close a deal or sign a check to your franchisor.
10. A Franchise Can Be Successful On Autopilot
The success of a franchised business is measured based on the level of hands-on management provided by franchisees and the support from the franchisor. The idea that a branch can operate well without the owner is a hoax. Any branch will always need the presence of its owner regardless of years in the franchise system.
It is for the fact that customers are usually drawn to branches where there is an owner on the floor. It is a common scenario for a business to have excellent products and services at the initial stage of operations but eventually fade away. Basically, it is because the owner is not there to oversee the operations.
11. Absence of Long Term Support
Another mistake is with the franchisees believing that it is okay not to receive full support from the franchisor. Note that it is part of the franchisor's responsibility in the franchise agreement to assist the franchisee in his or her operations until the end of the term, or until he/she can already manage the business.
12. Franchisee Has No Obligation
In franchising, it is a win-win situation for both franchisors and franchisees. It should not be a one-person battle only. Everyone must recognize that for the business to have leverage against other companies, there must be a joint effort and obligation.
13. Profits First Before Anything Else
When prospect franchisees look for possible businesses, it is a fact that they look for business models known to be lucrative in the industry. Money matters but there is also a clear correlation between franchises that succeed with having owners that embrace the industry of their choice.
14. Underestimating the costs
When talking about the cost of the investment, remember to always ask for the entirety of the amount. A franchisor may present you with a price that covers only the franchise fee and not the total cost. In other words, how about the legal fees and working capital? Are those not part of the costs?
This is why you should request a comprehensive breakdown of what is included in the fee and assess missing potential costs. After all, it is better to have an overestimated budget than an underestimated one.
15. Inadequate Research
This is already overemphasized but yes, do a comprehensive research before making any commitment. Don't fall for the franchisor's claims at once. Verify first the accuracy by browsing Google and other online forums to search for evidence of franchise failures.
16. Not Speaking To Existing Franchisees
Remember to always talk to existing franchisees. It is often a mistake made by prospect investors since they think that a reputable business is already credible. However, this should not be the case; regardless of how long the business is running, you must still talk to some of its existing franchisees.
Always have a prepared set of questions to several franchisees. Their answers will be more informative than any amount of sales patter from the franchisor. Choose franchisees with a similar background to yourself. Remember that you do not need to become a chef to run a franchised restaurant; you need the motivation, research, and opinions from people who are already in the field.
Neglecting to speak to established franchisees shows a reckless disregard for due diligence on your part, which is unacceptable for someone who plans to run a business.
In the end, the beauty of franchising should benefit both franchisor and franchisee. In doing so, be mindful of the common mistakes you may commit as a prospective franchise buyer as this can affect the overall business in the long run. 
Need help and guidance in your franchising journey? In today's digital world, discover how the Franchise Market can meet all your needs in just a click. Discover endless franchise opportunities using the leading online franchise platform today.
Together, let us be successful in franchising venture.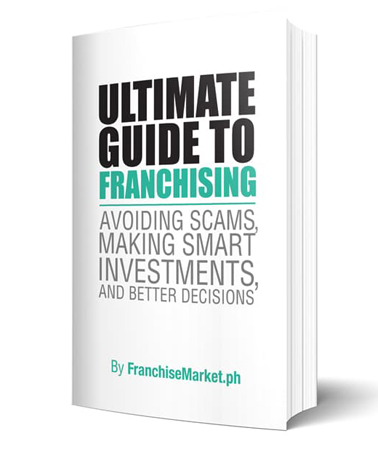 Ultimate Guide to Franchising
Avoiding Scams, Making Smart Investments, and Better Decisions
The franchise industry is booming, and entrepreneurs are wondering about how this sector works. This ebook aims to help aspiring franchisees achieve their business goals.
Learn more
Back to Blog