How to check if the franchise business is not a scam?
In franchising, the chances of encountering a great franchisor with a legitimate business are always possible. However, there are also some illegal entities in the industry that are conning aspiring business owners.
The presence of scammers in the franchising industry is affecting the trust of prospect individuals to pursue the franchise deal. This is a big deal in the franchising world as illegal activities continue to taint the credibility of the industry.
What is a franchise scam?
Somehow, at one point in time, dreaming to have your franchise is a goal achieved when done correctly. However, it can turn into a nightmare if you fall prey to franchise scams.
From the term itself, a franchise scam happens when a franchise deal occurred in which the business itself is not even successful or has no proven business model in the first place. In this case, the franchisee has no idea about it.
In other words, it is like investing in something useless and unrealistic. Paying attention to the red flags of franchise scams is one right way to make sure that you are not gullible enough to become a victim of these scammers.
The 11 Red Flags Checklist of Franchise Scams
In the Philippines, franchising is indeed a booming industry. There are so many reasons why you should franchise today, but before anything else, it is advantageous for you to evaluate all aspects of franchising first before signing any deal.
Remember to do a thorough evaluation first using the best tips on how to select a franchise in the Philippines, and checking the most commonly asked questions from franchisees. Moreover, watch out for the following red flags.
1. Lacking Legal Documents
The Philippine government has been strict in implementing rules and regulations related to the legality of businesses operating in the country. There are legal requirements needed to start the business which includes the following:
Department of Trade and Industry (DTI) registration for Sole Proprietor
Securities and Exchange Commission (SEC) for Partnership and Corporation
Updated or renewed Mayor's Permit and other local permits such as sanitary, building, occupancy, and additional applicable licenses
Bureau of Internal Revenue (BIR) registered for proper tax documentation
Other necessary certification and permit from any government agency concerned with the operations of the company such as the Bureau of Food and Drugs (BFAD) and Department of Health (DOH) for food-related franchises, Technical Education and Skills Development Authority (TESDA), Department of Education (DepEd), and Commission on Higher Education (CHED) for school and training related franchises
Please note that all of these legal papers must be consistent and registered under the company name itself with appropriate signatories like the president, proprietor or the managing director.
Hence, consider it a warning if the franchisor is unable to secure these documents or if there are discrepancies and inconsistencies in the declaration of business details in the legal papers prior to offering a franchise deal.
2. No Trademark
Companies that care for their brands will always make ways to secure their trademarks, logos, and slogans. This can be done by registering all of that with the Intellectual Property Office of the Philippines.
Franchisees must always ask this to a franchisor during the Franchise Discovery Day. It helps to know this ahead of time since having a secured trademark means an assurance of the business identity is protected, and nobody can claim it anymore.
Somehow, this is considered a red flag because this makes the business suffer when lawsuits arise out of the unprotected trademark. That is disadvantageous on the side of the business.
3. Less Than a Year of Company Operation
Most businesses that venture into franchising are already established and have effective business models tested over the years. This means the company has enough knowledge of its market and the target consumers, and therefore, can compete against its competitors with an edge over the others.
Make sure that the company operates for at least more than two years under the same company name, with no records of any litigations and with complete business systems. Otherwise, it should become a red flag that you should be wary of.
4. Lack of Available Retrievable Public Documents
In some instances, you can also verify a business's legitimacy by checking its available public documents like the SEC registration, articles of incorporation, and some audited financial statements.
If this seems impossible, then be careful again because you might fall prey to those scammers.
5. No Established Physical or Franchise Outlets
Another thing to consider is the number of outlets the business has, at least two more operating outlets. Although in franchising there is such thing as being the first franchisee, it is still a gamble to do. It is safe to franchise from a business with at least two or more franchise outlets already.
Again, if this is something that a franchise does not have, you should give it some second thoughts.
6. The Company Has Inadequate Manpower
As an established business, the franchise business is expected to be run by individuals assigned to specific departments of the company. These people provide a workforce for the business to run smoothly.
It does not mean that the company should have many employees. What matters is for the company to have the right person under the correct department that is essential for the business's daily operations.
7. No Reachable Corporate Office
This is also a very obvious red flag. Every business offering a franchise opportunity should have a corporate office. Moreover, it should be an office with a registered BIR Registration and other government permits.
In instances of food and beverage franchises, it is recommended that the business has a commissary center. Nevertheless, beware of this aspect and try to reconsider your decision of pursuing the deal.
8. Has Unclear Franchise Agreement
If the prospect franchise business presents a Franchise Agreement (FA), take the time to review first the details, clauses, and provisions of the said contract. It is always a good thing to consider that the franchisor has a ready contract for reviewing, so you should take some time checking it before signing any papers.
Remember that the agreement must contain crucial details of the business operation and your relationship with the franchisor. It should clearly define the terms of the franchise and the other provisions that should govern during the period of franchising the business.
Another thing to consider here is if the company requires or encourages the prospective franchisee to recruit additional clients. It is somehow the tactic of pseudo franchisers to create a pyramiding system that gives bonuses for every successful client referral. 
Hence, if the FA looks vague, do not hesitate to ask the franchisor. You can also consider it as a red flag, especially if the sales officer is rushing you to sign the contract without giving you ample time to evaluate it or seek legal advice.
9. Franchisor Has No Intention to Provide Support with the Other Aspects of the Business
Since it is a reliable company, the owner of the franchise business should be able to follow and provide support with business operations like logistics, marketing, and management. 
Aside from that, the franchisor must be proactive in suggesting other possible support that he/she can share with the franchisee. In most cases, a franchisor gives a feasibility study about the prospected location of the business, and this is a beneficial service that the franchisor can share with you.
10. The Company Has No List of Accredited Suppliers
Having trusted suppliers in the field is always important. Franchise companies must have their accredited list of suppliers of raw materials that they can share with their franchisees. 
Otherwise, it may affect the overall supply chain of the business and disrupt its operations. However, if this is something that the franchisor is unsure as of the moment, then it could be an indicator of an unstable company and that you should postpone first your plan of franchising.
11. Franchise Company Is Not a Member of Any Franchise Organizations
This is also an excellent indicator to know if a franchise is legitimate or not. In the Philippines, there are three respected franchise organizations, namely the Philippine Franchise Association (PFA), Association of Filipino Franchisers, Inc. (AFFI), and Filipino International Franchise Association (FIFA).
Any legitimate franchise business should be accredited by either one of the three associations mentioned above. This is a safe way of identifying which is a scam from not because all organizations require a specific business to secure the essential documents and trademark before accepting them as part of the organization.
Otherwise, start to doubt if the franchise business does not belong to any of the three or you can ask the franchisor directly since it might still be in the process of acquiring accreditation.
So, those are the 11 red flags that you should observe to protect yourself from the bait of those waiting to catch you on the pitfall. It pays to be vigilant at times, and it saves you from any untoward incidents in the future involving the business.
Get the best franchise information always at Franchise Market, your online portal for all franchising needs. Check more franchise listings if you are looking for one or post with us your inquiry and we will help you find the right franchise for you!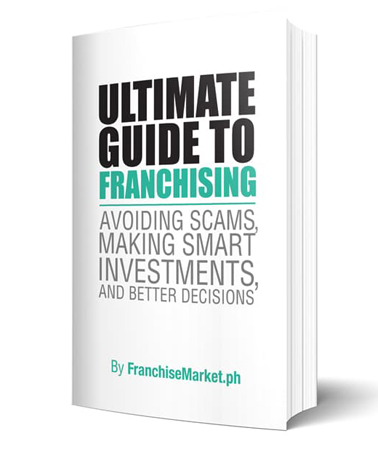 Ultimate Guide to Franchising
Avoiding Scams, Making Smart Investments, and Better Decisions
The franchise industry is booming, and entrepreneurs are wondering about how this sector works. This ebook aims to help aspiring franchisees achieve their business goals.
Learn more
Back to Blog