As an aspiring entrepreneur, you are drawn to the fact of getting the best franchise to manage. It is exactly the same goal of franchise owners. They want to find franchisees that can live up to their standards in doing the business.
You aim for success in the field just like a businessman's intention to dominate the industry. To them, your achievement becomes part of the business and is the reason why they should keep you.
Business owners have varied criteria in selecting their franchisees, and most of the time, they do not require the same qualities in a prospective franchisee. However, there are a number of common characteristics to successful franchisees, and you must strive hard to show all of it to the franchisor.
As an interested franchisee, you need to do a comparison. This comparison method is easy to comprehend, and the most common thing to do is to gather information from other successful franchisees.
It is similar to doing research. As a franchisee candidate, always ask yourself these basic questions:
Do I have the willingness to finish this endeavor?
The willingness to start a business is evident in the early stages. However, the real question is the determination to pursue it until the end. If you have what it takes to take the venture into the next level, then cheer up. It is a plus point for you.
Am I capable enough in terms of finances?
This is an important aspect of your franchise journey. The funds you have should suffice the initial stage of the franchise application. Franchise owners will likely evaluate this aspect thoroughly since they will want to get an ideal franchisee that can surely finish the deal until it becomes stable. 
Is learning new things appealing to me?
Ask yourself if you are open to learning new business concepts. The franchise industry helps you understand more in-depth aspects of your future role as a franchisee. If you are like this, it is likely to get some brownie points from the franchisor.
How well can I handle criticisms?
Feedback is always part of the business. The franchisor, as the main owner, has the overall control of the business - from the basic operations up to all managerial decisions. It is beneficial to accept criticisms constructively.
If you answer most of the questions above with a yes, then that means you have a high tendency to become a great franchisee in the future. 
This is a self-test, so it is recommended that you do this honestly as possible. It is vital to know that in the end, you really have what it takes to become a franchisee without any doubts.
The 10 Traits of Successful Franchisees
If you are planning to franchise a business, bear in mind the common mistakes of franchisees and make sure to avoid them at all costs.
In addition to being careful, you must have the following best values of ideal franchisees.
1. Good Attitude
Franchisors are vigilant and they always think that spotting the best candidate should start from the beginning. The best advice is to have a good attitude. Are you optimistic and focused on your goals? Are you results-oriented with the will to work toward a common goal? Take note that franchisors will be observing you during the research phase to see if you have this in you.
2. Knowledgeable Operator
Successful franchisees are not 'so-so' entrepreneurs. They need to impress franchisors and catch their attention. Hence, one must portray himself/herself as a careful and wise operator. You must be a franchisee who wants an operating system that has the ideal way to run the business and lessen the likelihood of mistakes and risks.
3. Skills and Experience
Franchise owners prefer franchisees who have developed prior life experiences that are beneficial for the business. It also includes common characteristics and strong leadership and management skills. You must also have good communication skills that can convince people about the business. To note, it is important as a franchisee to understand that you will be the "boss" of your new business. Hence, it pays to have vital skills and experience in the field.
4. Risk Aversion
Moreover, it is important to know the calculated risks. As a franchisee, you have the right to tell the franchisor that you are particular in doing some preventive measures for risks that can be controlled. If you show this kind of thinking, the franchisor is likely to do everything to remove potential enemies, in consideration of the new franchisees.
5. Learn Continuously
Be mindful of the opportunities in the field and make sure to learn from others in the industry. Always seek the advice from the franchisor's support staff and other successful franchisees of the business. The most important thing is to follow the advice by doing it accordingly. It is helpful to show the franchisor that even if you do not know everything yet, you are willing to learn and be the best in handling the business.
6. Having the Effort
What is the extent of the effort you can do for the business? Do you have the determination to do whatever it takes for the business to succeed? Try spending more hours and handling mutliple tasks. The nature of the franchise business does not matter; what you need is the determination to do it and make it successful. Diligence is key.
7. Powerful People Skills
The point of having good interpersonal skills are also essential as an entrepreneur. You must be excellent in this field to interact well with the people in the business and customers. Use these skills to improve the relationship between you and the employees, plus build loyalty and trust among each other.
8. Sufficient Capital
Franchisors are always cautious when it comes to the capital you can provide. It is a basic requirement so you must be aware at all times. They are interested to know the amount of capital you can provide to minimize or avoid the financial risk associated with the business. In most cases, personal funds may not be enough so expect to have a back-up loan. Such loan may also become a requirement eventually just to prove that you have enough sources for funds. 
9. Prevalent Values
You should share values that the franchisor believe in. This process allows you to easily cope with the franchise's culture and follow the organization's shared thoughts in a productive manner.
10. Specific Skills and Experience
Learn to debunk a misconception. Having specific skills do not give you a guarantee that it is fit for the business. In reality, most franchisors will ask you to unlearn specific skills that are not useful in their operating system and franchise business model. It is like doing everything from scratch but with more determination this time.
To note, these are not exactly the attributes that franchisors are looking for candidates. However, having these traits are assets that you must treasure. In line with this, ask yourself again if you are indeed a great franchisee candidate. Do a self-evaluation to clear your doubts and then make a sound decision.
Remember that aside from the franchisor, your chance of being a franchisee also depends on your character. Owners will seek individuals that are not only business-minded but also good in other aspects of managing a business.
In the end, we aim that through this guide, you can have an idea if you are a franchisee material or not. Although the final decision comes from the franchise owner, it is still important to understand yourself first as the applicant. By doing this, you can prove yourself even more in front of the franchisor.
Also, another takeaway is for you to understand that selecting the best franchisees is not an easy task as well on the side of the owner. Indeed, it is a win-win situation in the future but in to achieve it, one has to do his/her job of identifying only those who deserve the spots.
It is never wrong to ask yourself if you deserve to become a franchisee. Just believe in yourself that you can do it and everything will fall into place. So, should you become a franchisee? There is no definite answer to this question other than to what you know about yourself. It will come from an honest assessment of yourself.
 
Franchise Market continually advocates providing important information to everyone who is interested in franchising. We are here to help you throughout the process. Check out more of our useful articles here. 
We are hoping that this article helps you well with your franchise decision-making. Franchise Market continually advocates providing important information to everyone who is interested in franchising.
Seek help and get the best franchise information always at Franchise Market, your online portal for all franchising needs. Check more franchise listings if you are looking for one or post with us your inquiry and we will help you find the right franchise for you!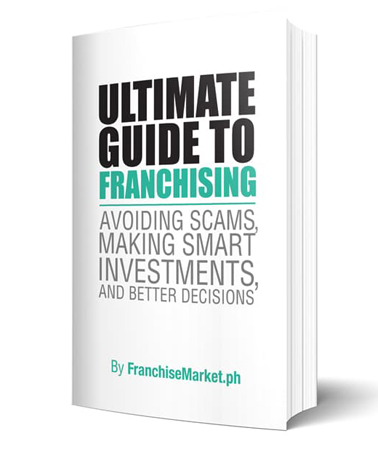 Ultimate Guide to Franchising
Avoiding Scams, Making Smart Investments, and Better Decisions
The franchise industry is booming, and entrepreneurs are wondering about how this sector works. This ebook aims to help aspiring franchisees achieve their business goals.
Learn more
Back to Blog