Is running your own business a part of your bucket list for this year? If the answer is yes, then stop wishing on it. Make it happen. Work for it now as great things do not come from the comfort zones. Start your own business.  There is nothing wrong with starting small. Successful entrepreneurs and company owners did not begin with where they are today. They also took a leap of faith and trusted their instincts on doing the things that they thought could make others' lives easier. At the end of the day, that is what business is all about. It is the innovation and creation of something, be it in the form of a product or a service, that can elevate and make people's lives more comfortable. 
Now is your chance to do your part and create an impact on the people around you. Here are the ten simple business ideas that you can start right away.
1. Online Freelance Services
The internet can do so much for us. It has provided numerous advantages that have helped us in our daily lives. As far as opportunities are concerned, the internet has also provided an avenue for those who want to work from home. You may start an online business offering various services. With freelancing, there are multiple niches that you can choose. Among the most popular are content writing, graphic designing, web developing, or working as a virtual assistant. 
Your pay depends on the kind of service that you offer. Do expect that this type of business is a one-person company since you do all the managerial and executive tasks. All you need to prepare is a good internet connection, a highly functional computer, and a simple website.
2. Co-working Spaces
With the emergence of the internet and its vast opportunities it offers, more people are venturing into online freelance services. As mentioned above, one of the requirements to start for the said business is to secure a fast internet connection. However, there may be some who are just starting on the business could not afford to pay for the monthly dues of the internet connection or the place they are living do not have good reception.
A co-working space is a shared work environment, and it can provide a place for these freelancers to do their jobs. This is also where most people meet to work, establish a network, share ideas, and collaborate projects. Location is one of the most critical factors you need to consider when venturing into this type of business. Old and underutilized buildings are good options for space as they may be inexpensive to lease. 
3. Load Retailing Business
In the Philippines, there are more prepaid mobile phone users. This means that there are higher demands of prepaid loads compared to the postpaid ones. The country has currently three major mobile networks, namely Globe, Smart, and Sun Cellular. 
You may offer a load from these networks according to your market. You can buy one retailer sim for each network and use separate phones unless you are using a dual-sim phone. The other option that you have is to purchase an all-in-one sim card from a third-party seller. In just one sim card, considered a special sim card, you can offer loads for the three networks, and this will only require you with one phone. One more advantage of this all-in-one sim is can also reload prepaid cable subscriptions, internet cards, and others. This means more profit since you can provide more load other than being used for cellular phones.
4. Social Media Management
Social media is now partaking an enormous amount of our time. It's now becoming unusual for someone who goes a day without accessing various social media platforms like Facebook, Twitter, and Instagram, among others. With this, businesses have taken this trend to their advantage. 
As the emergence of technology continues to grow, businessmen are investing in social media management. This job covers the creation, scheduling, analyzing, and engaging with content posted on various social networking sites. If you are the type of person who loves to access these social networking sites and you are creative enough to make original content to entice more customers while following the long term strategies established by the companies, then you might want to consider doing and offering this service. 
5. Event Planning
Do you love to organize and plan? Do you see yourself brainstorming styles and decorating places to celebrate any occasion? Then, event planning may be the business for you. Event planning is a fast-paced environment that requires your creativity and patience, most especially when handling prospective customers. 
There are a lot of options to choose from for your target market. These are but not limited to companies, hotels, organizations, and even family gatherings or events. You may specialize in certain events if you like. You don't need to have a degree to be an event planner. You need to be organized, approachable, keen to details, able to meet deadlines, and most especially, deliver your customers' wants.
6, Tutoring
A lot of foreign tourists are coming to the Philippines for dual purposes. One is to visit and enjoy a vacation, while some want to learn English. English as a Second Language or ESL job is booming as there is a high and steady demand for teachers to accommodate the needs of foreign students. These tourists come to the country by groups. For sure, there is not only one student from this group who would want to learn the language. By this, you need to hire more people to teach the language with you. 
Tutoring can be done offline and online. If you have a stable internet connection at home, then an online tutoring class may be feasible for you. Offline teaching also has its advantage since you can add more personal touch to your teaching styles. Whichever approach you choose, you need to have in-depth knowledge of the English language. You must also possess the teaching ability and patience as you venture into this business. 
7. Baking
Earn a living from your hobbies. Your favorite past time is baking pastries and sweet treats. It is time to make money from it. You can start selling specific or custom-made cakes or treats for any occasion at your kitchen.
Once you get your treats introduced in the event, the visitors can be your next prospect clients. There you can start to build up your client base. You may leave your business card or ask your client to spread the word about your delectables. 
8. Laundry Shop
Laundry shops are most common in the cities since more people are living in condominiums and apartments. It has been observed that most people have an increasing workload, thus leaving some household chores like laundry to be undone. Laundry business has proved to be a stable industry and a must-own business venture.
Establishing a laundry shop business may require you a lot of processes like a systematic washing process, purchasing proper materials and equipment, and choosing the place of business operation. If your place is a bit far from the customers you are serving, then you should establish pick up points where they can leave or get their clothes. 
9. Photographer
You may offer event coverage for all occasions. Be it weddings, birthdays, baptism, burial, or company events. You don't need to start your photography business with the latest high technology cameras, because this equipment does not guarantee good quality photos. 
You need to have an eye to detail and artistic mind to pull off and capture the best perfect moments. This business can be done at home. It is always best to research first and layout your strategy to ensure success in this industry. Aside from covering occasions, you may also opt for photography services for corporate or publishing companies. 
10. Food cart operators
Good food, good location, good concept. These are just a few of the things you need to consider when thinking of pursuing a food cart business. Filipinos naturally love to eat; therefore, food carts are not difficult to market. 
Food cart business is good for start-up entrepreneurs. It does not require bigger capital and initial investment compared to other businesses. It is also manageable and portable. It can be set up easily, and you can do concessionaires if there are events around your area. Given also with the new trend today of how Filipinos celebrate birthdays wherein the hosts will tap for food cart business owners to provide food for their visitors. 
It can be pretty overwhelming to start your business from scratch. You do not have to worry because franchising can also be your option to make your entrepreneurial aspirations become a reality. Franchise market provides a list of businesses that you can choose from. The franchising industry has also carved its name in the business industry, noting some of the renowned franchises and its success stories.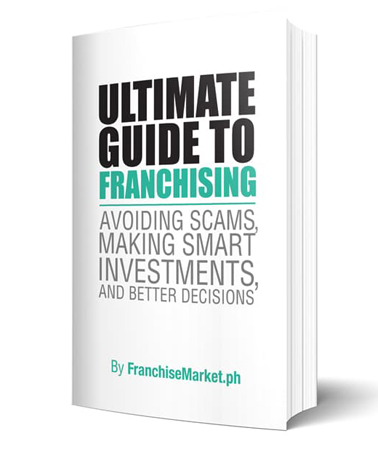 Ultimate Guide to Franchising
Avoiding Scams, Making Smart Investments, and Better Decisions
The franchise industry is booming, and entrepreneurs are wondering about how this sector works. This ebook aims to help aspiring franchisees achieve their business goals.
Learn more
Back to Blog